Certain pants colors give you the benefit of choice when it comes to shirt colors. However, too much choice can sometimes be overwhelming. So, what color shirt should you wear with brown pants?
Brown pants can be worn with a white, light grey, or light blue shirt in business-casual settings. In smart-casual settings, consider wearing brown pants with a black, navy, forest green, blue, or pink shirt instead.
There's a whole lot more to it.
First, we'll go through a few essential tips to make sure you choose the right brown pants and shirt combo for your specific situation.
Then, we'll run through a few examples of combinations (with pics) for you to try out yourself.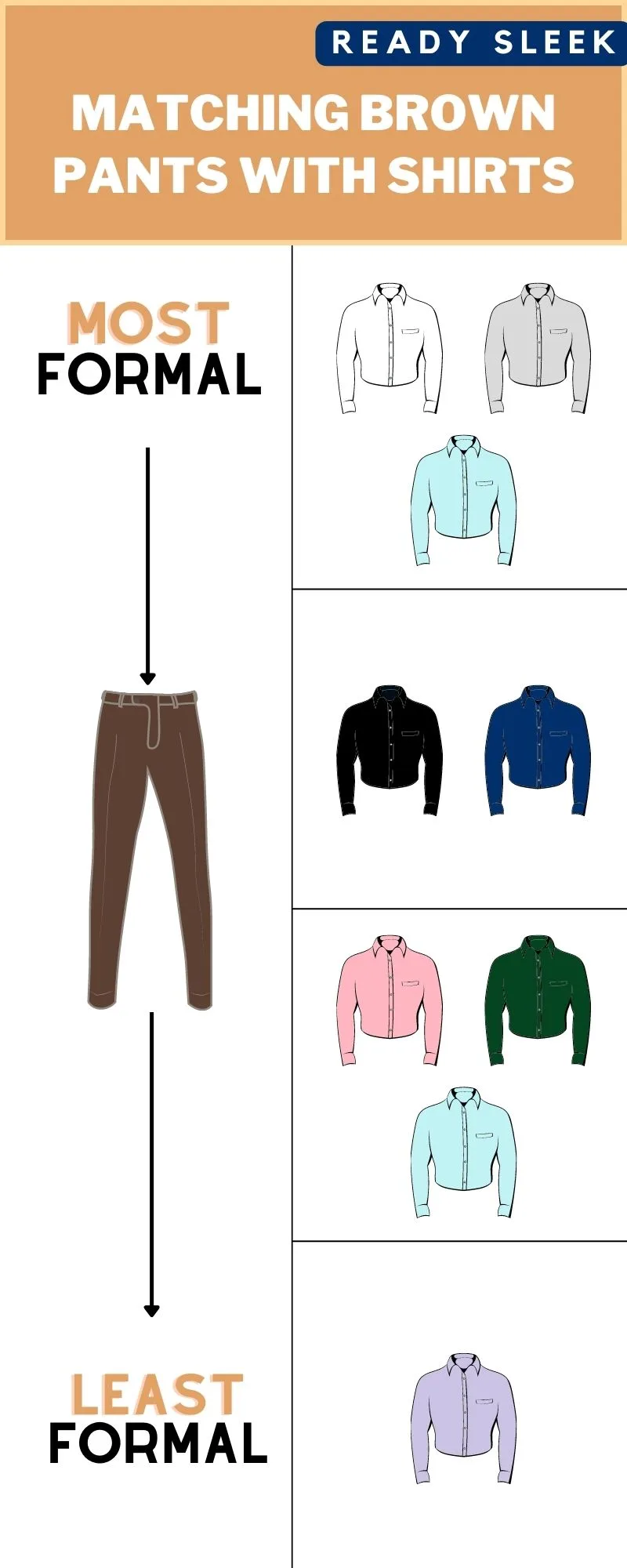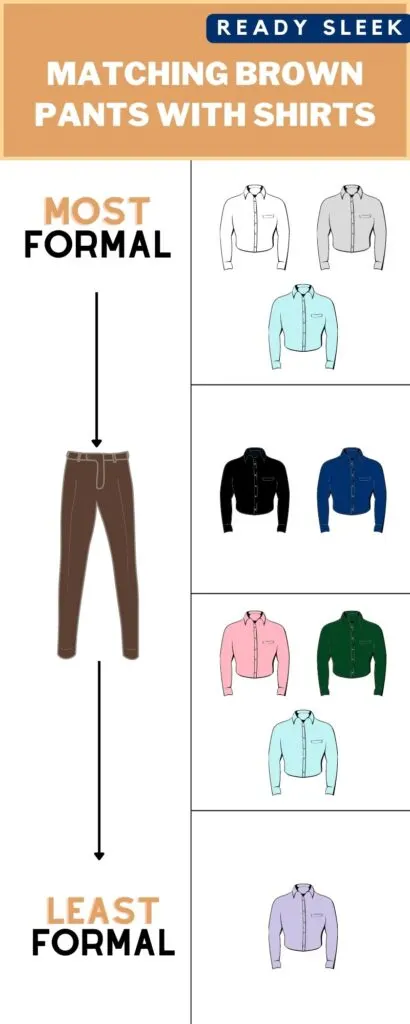 How To Color Coordinate Brown Pants With Shirts
Run through these tips whenever you're color coordinating brown pants with a shirt. There's a good chance one or two may make all the difference between an average outfit and a great one.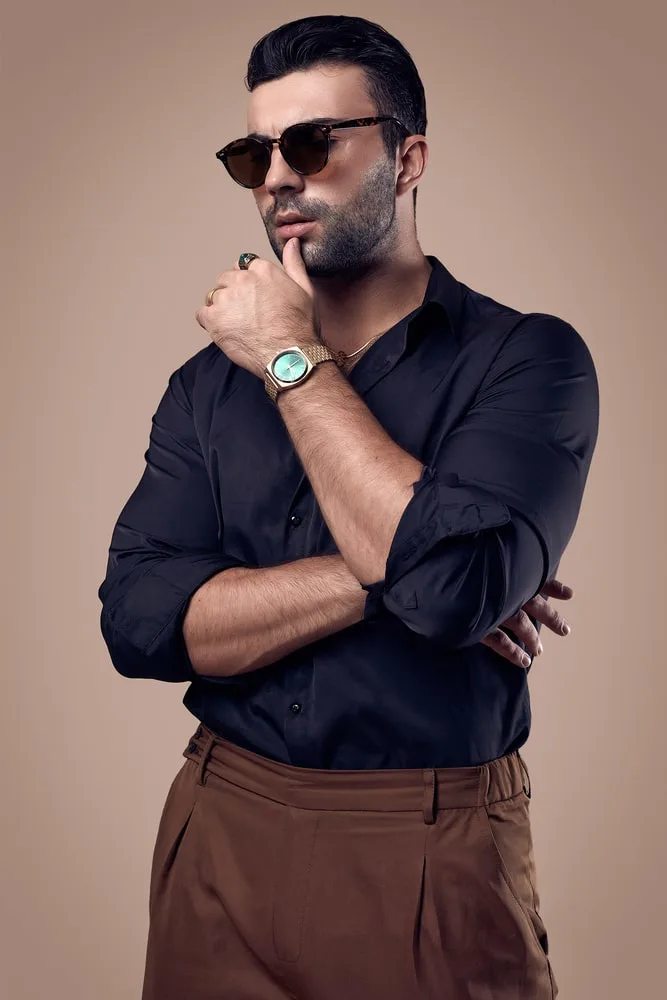 1. Always Consider The Dress Code
Brown pants are generally best suited to business-casual and smart-casual settings.
When dressing business-casual, consider a light and neutral-colored shirt such as white, off-white, or light grey.
In contrast, when dressing smart-casual, feel free to go for more vibrant shirt colors such as blue, green, pink, or red. Alternatively, consider a dark and neutral shirt color such as black or navy (especially in dressy social evening settings).
The main point here is that brown is neutral-is and pretty easy to color-match with other colors. It has warm undertones and isn't quite as neutral as white, black, or grey.
But it's neutral enough to pair with practically any other color you can think of.
Your decision should be based on the setting and dress code.
In more casual settings, you can choose between a neutral and a non-neutral shirt color. In more business-casual settings, be more careful and go for a light/neutral shirt color instead.
Ultimately, brown pants aren't formal enough to be worn in truly formal settings where colors such as black, navy, and grey take center stage.
2. Consider The Shade Of Your Brown Pants
The shade of the brown pants you're working with may influence the shirt color you choose.
You'll have to decide how much contrast you want between the brown pants and your shirt.
Do you want a high-contrast look (i.e light vs dark) or a low-contrast look (i.e light + light or dark + dark)?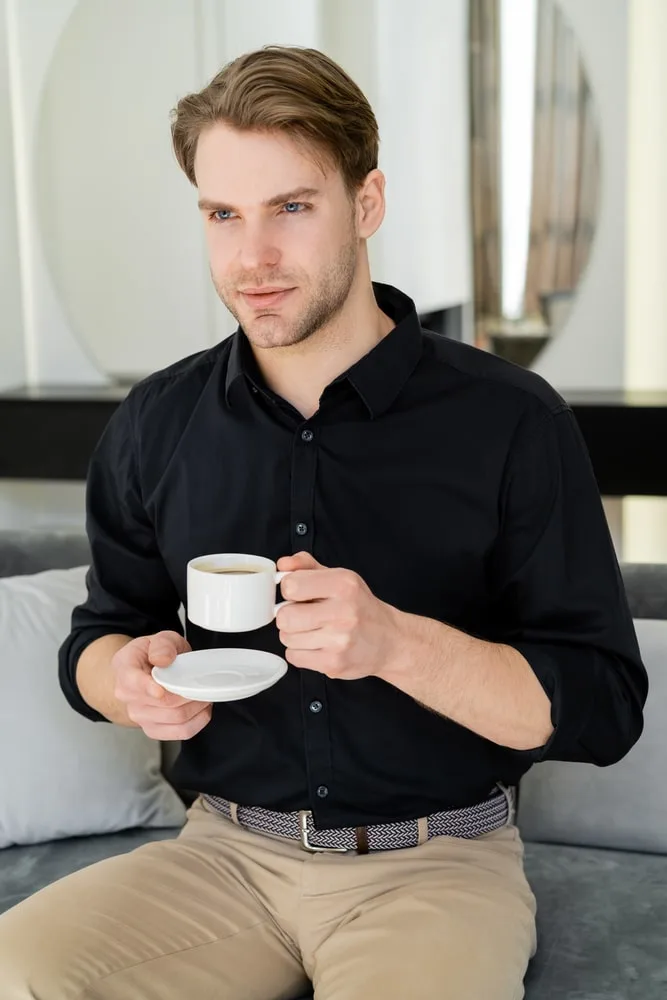 For example, if you're wearing light brown pants, you may want to go for a similarly light color for your shirt such as white, light grey, or light blue.
Alternatively, if you want a high-contrast look, you may choose to wear a dark-colored shirt with your light brown pants. A black shirt with light brown/khaki pants is a pretty common example of this.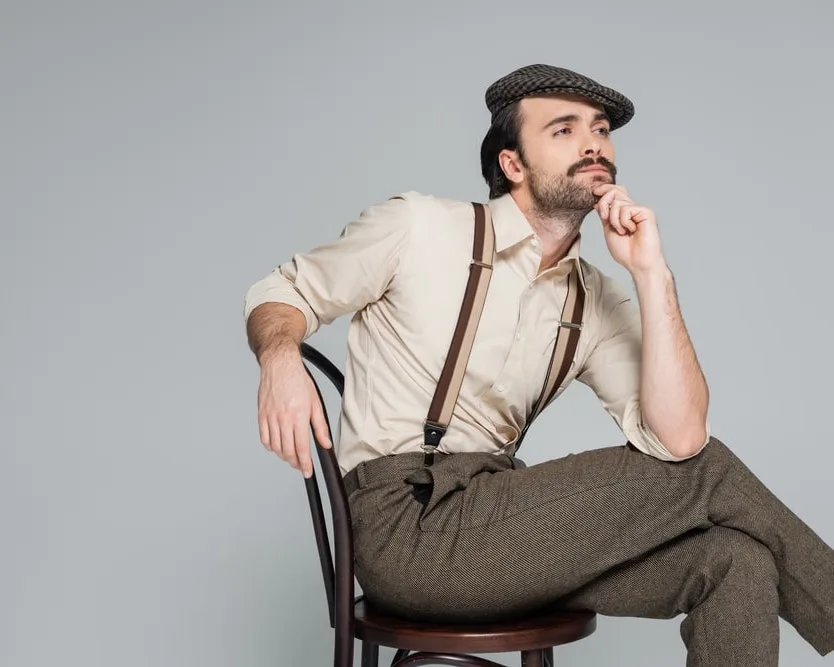 Neither option is wrong, but one might be better suited to your personal preferences. High-contrast shirt and pants combinations tend to be a little more attention-grabbing and casual-looking.
3. Consider Your Shoes
While it may be tempting to try and coordinate your pants with your shoes, resist the temptation.
It's perfectly reasonable to go for a pair of brown shoes, but strongly consider choosing shoes in a shade of brown that's different from that of the pants.
Choosing brown shoes in a shade that looks very similar to the brown pants often looks awkward and unstylish.
You want the two items to be easily distinguished from each other. For example, you could wear dark brown pants with tan brown shoes (or vice versa).
Other than this basic principle, it doesn't really matter what shoe color you go for. Anything could coordinate with brown pants.
It's more important to ensure that the shoes match the belt.
Brown Pants And Shirt Combinations To Try
Here are some great combinations you can try out for yourself.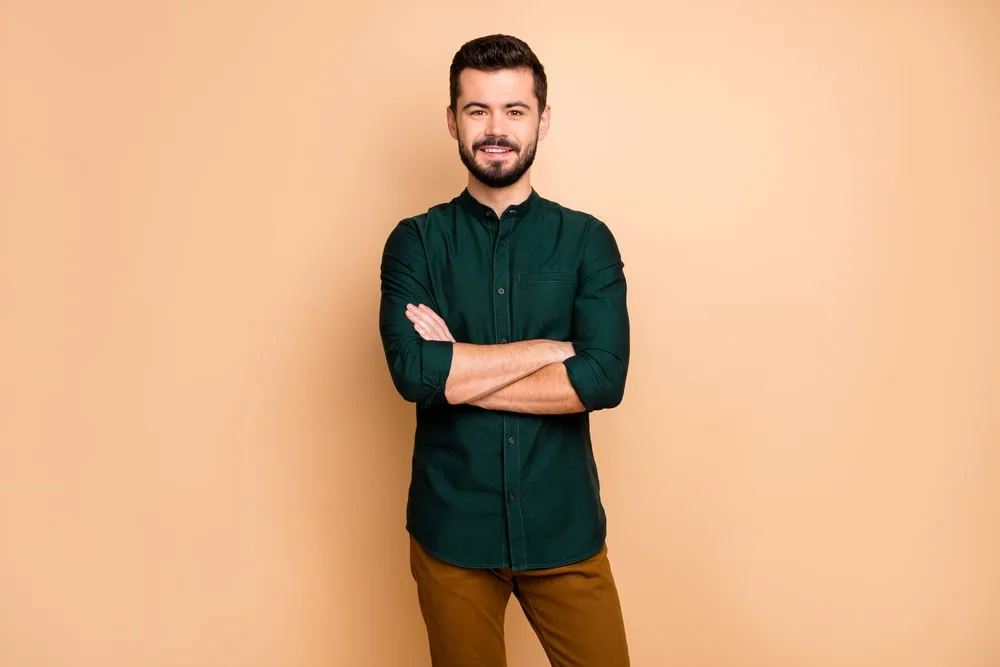 Brown Pants With A Black Or Navy Shirt
Color Scheme – Dark Neutrals
Dress Code – Smart-Casual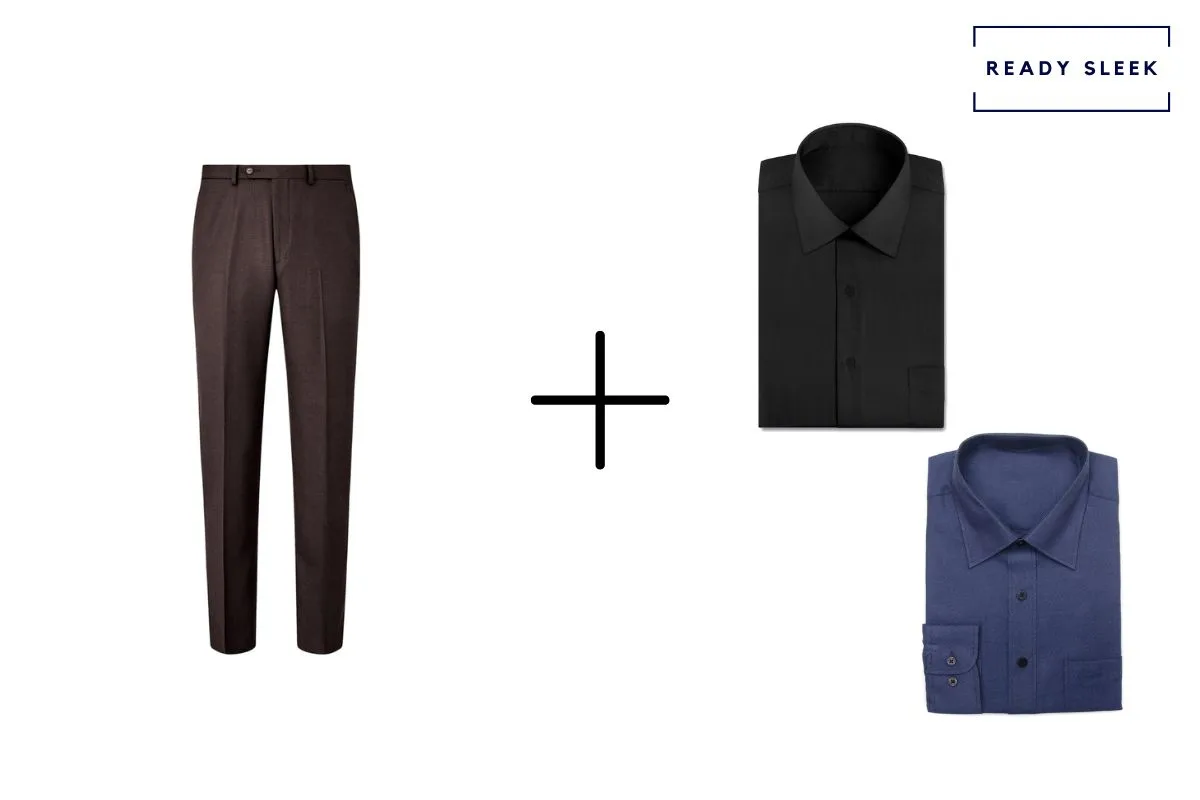 Brown pants can be worn with a black or navy shirt, especially to dressy social evening settings.
The dark and neutral shirt colors pair extremely well with brown pants, but the combinations tend to look better in the evenings than they do in the daytime.
The main reason for this is that it's a pretty dark aesthetic that can sometimes look a little jarring in the daylight.
Wear it in the evening, however, and the outfit is transformed into one of subtle sophistication and elegance.
As explained earlier, it's important to consider the shade of your pants.
Dark brown pants often look great when worn with a black or navy shirt. Sticking to dark and muted items creates a nice sense of harmony in the outfit.
If you did want a more eye-catching combination, however, consider a black or navy shirt paired with light brown pants (eg. khakis).
While it won't look quite as dressy, it's more likely to turn some heads. It works, but it's important to consider which look you prefer.
Brown Pants With A White Or Grey Shirt
Color Scheme – Light Neutrals
Dress Code – Business-Casual Or Smart-Casual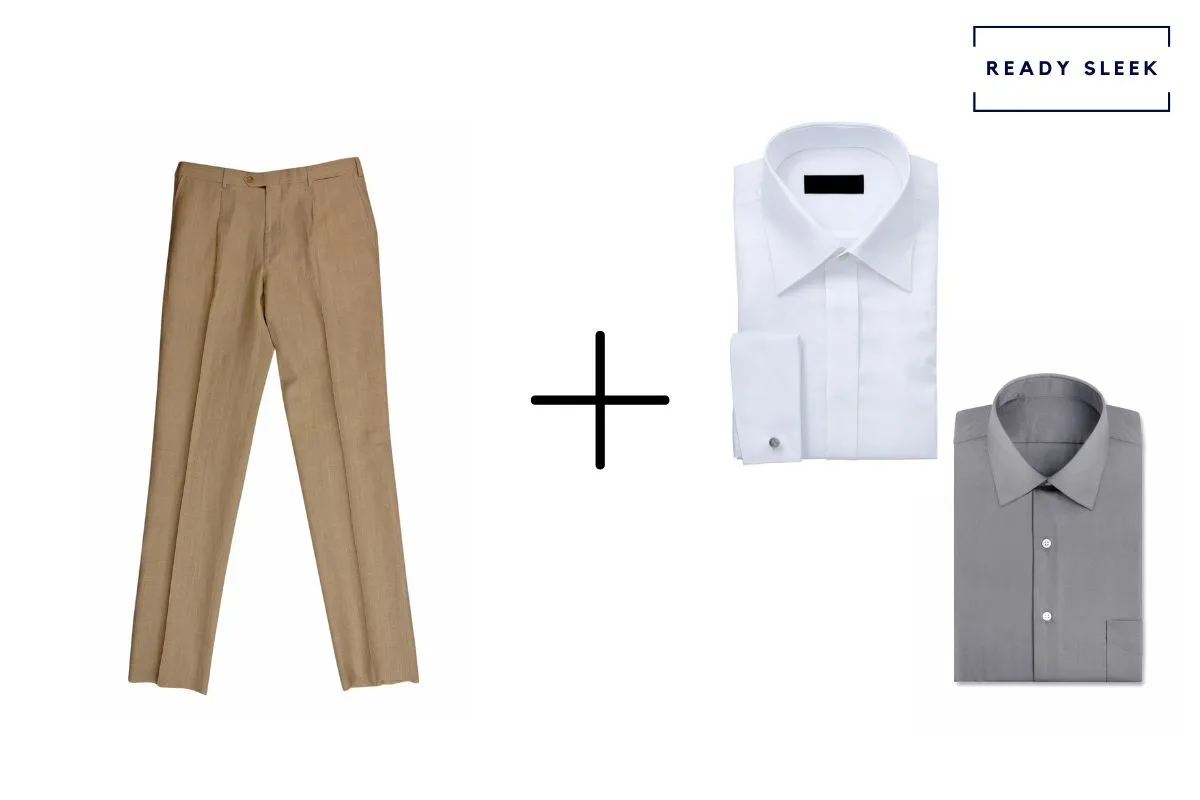 A white or light grey shirt could be worn with brown pants in business-casual or smart-casual settings. Sticking to light and neutral shirt colors such as these do give you more versatility when it comes to dress codes.
However, it still wouldn't be appropriate to wear in truly formal settings.
If you feel as though there may be a risk of underdressing with your brown pants, it's often best to go for a light and neutral shirt color such as these.
Once again, you'll want to ask yourself just how much contrast you want between the brown pants and the white or grey shirt (light vs dark).
For less contrast, consider a light brown pair of pants. For a high-contrast ensemble, go for a dark brown pair instead.
Brown Pants With A Pink Or Red Shirt
Color Scheme – "Warm" Colors
Dress Code – Smart-Casual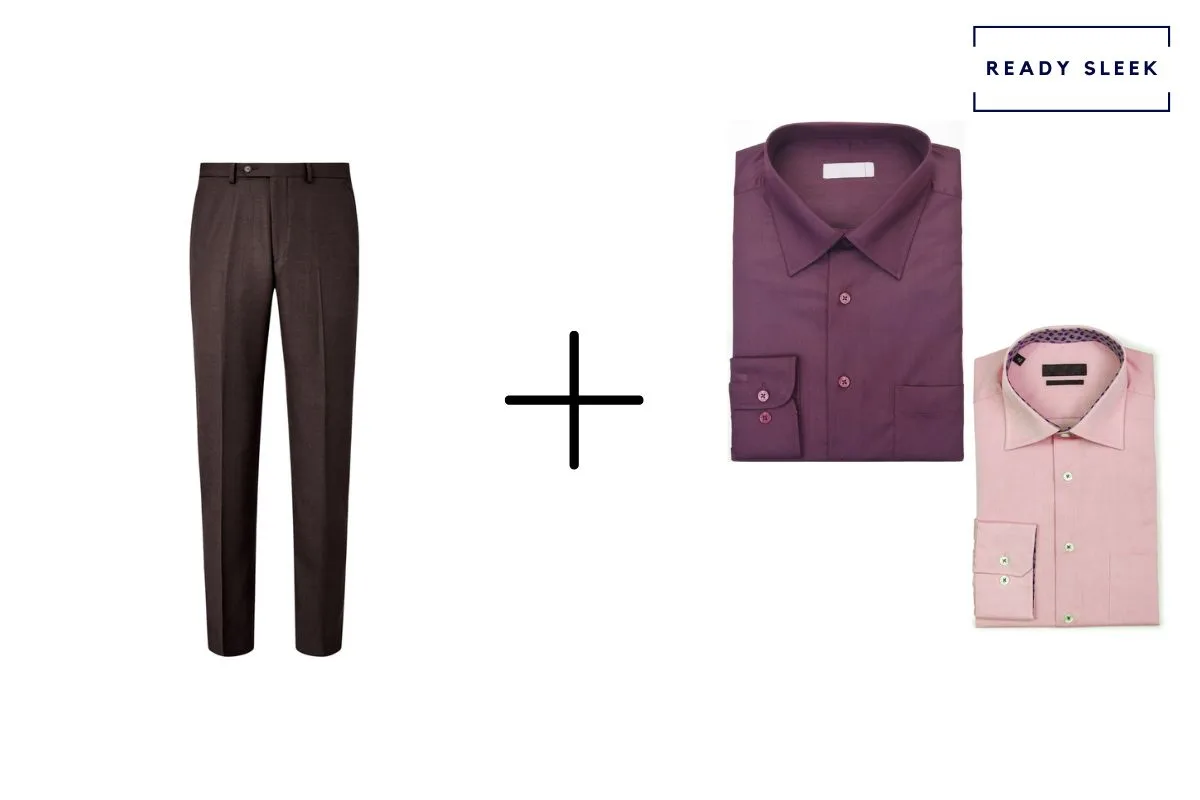 Brown pants can easily be worn with shirts in "warm" colors such as pink or red. The result is casual-looking but sharp enough to be worn to smart-casual events.
One reason these combinations work so well is that the color brown, although quite neutral, does have some warm undertones.
This makes it pretty easy to pair with items of other warm colors and get a great result.
A quick look at a color wheel will tell us what warm colors we can work with: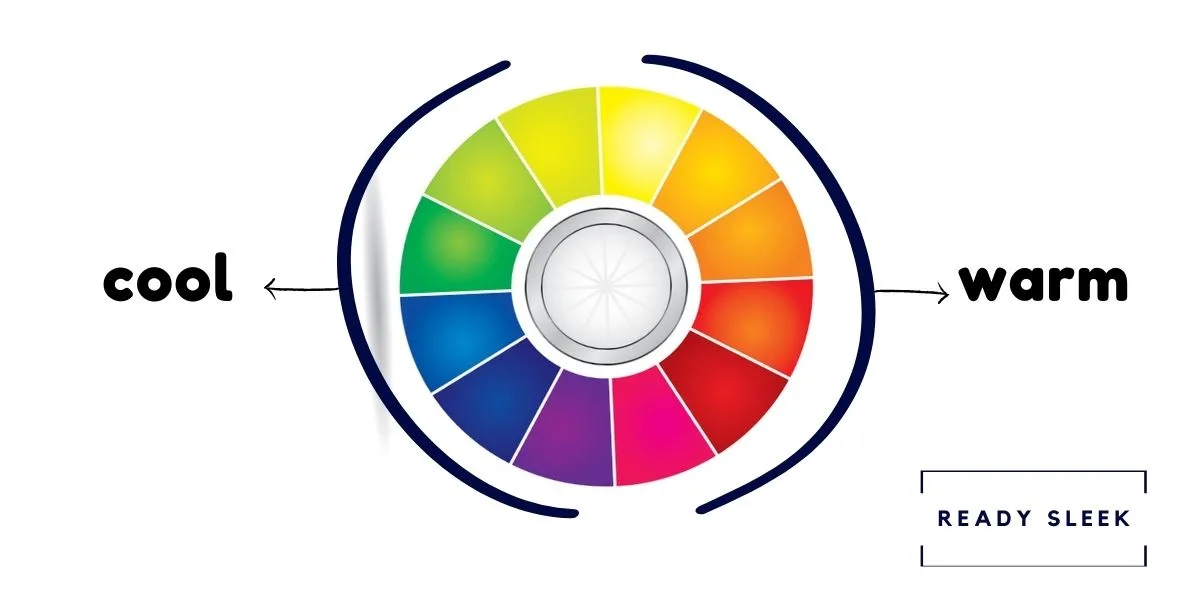 You've got reds, oranges, and yellows. While any of them could look great, pink and red shirts tend to work exceptionally well.
If you want to keep things subtle, go for muted shades of those colors. So, instead of going for a bright scarlet red, consider maroon or burgundy instead.
The less fluorescent and loud the shirt colors are, the better.
Brown Pants With A Blue Or Green Shirt
Color Scheme – "Cool" Colors
Dress Code – Business-Casual Or Smart-Casual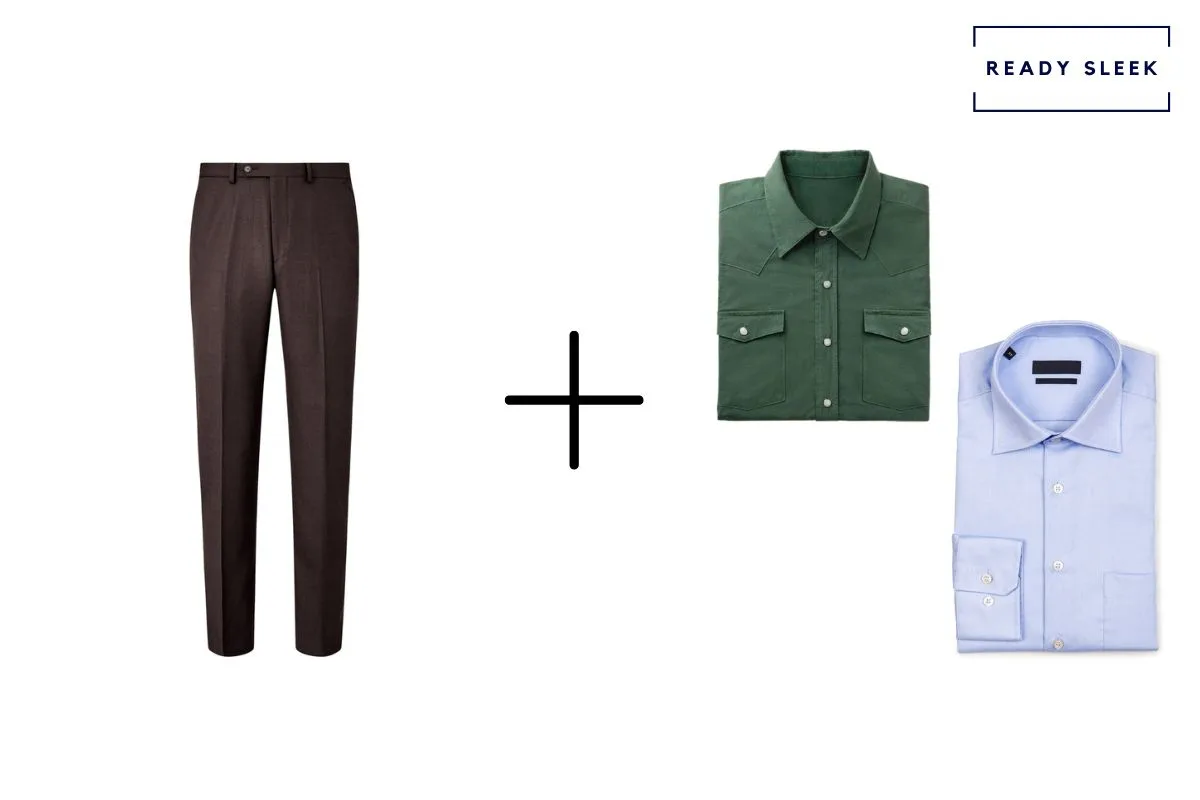 Brown pants can confidently be worn with a blue or green shirt to smart-casual events. In fact, light blue shirts would traditionally be acceptable in business-casual settings as well.
Here, we're working with "cool" colored shirts. Take another look at the color wheel above.
The "cool" colors we can select from include blues, greens, and purples. We'll be going through purple in the next example.
Shirt colors such as blue and green work great with brown pants. The mixture of the warm undertones of the brown pants and the cool undertones of blue and green often looks fantastic.
The brown pants and green/blue shirt combination looks especially good during the winter/fall months, but really is something you can pull off year-round.
Brown Pants With A Purple Shirt
Color Scheme – "Cool" Colors
Dress Code – Smart-Casual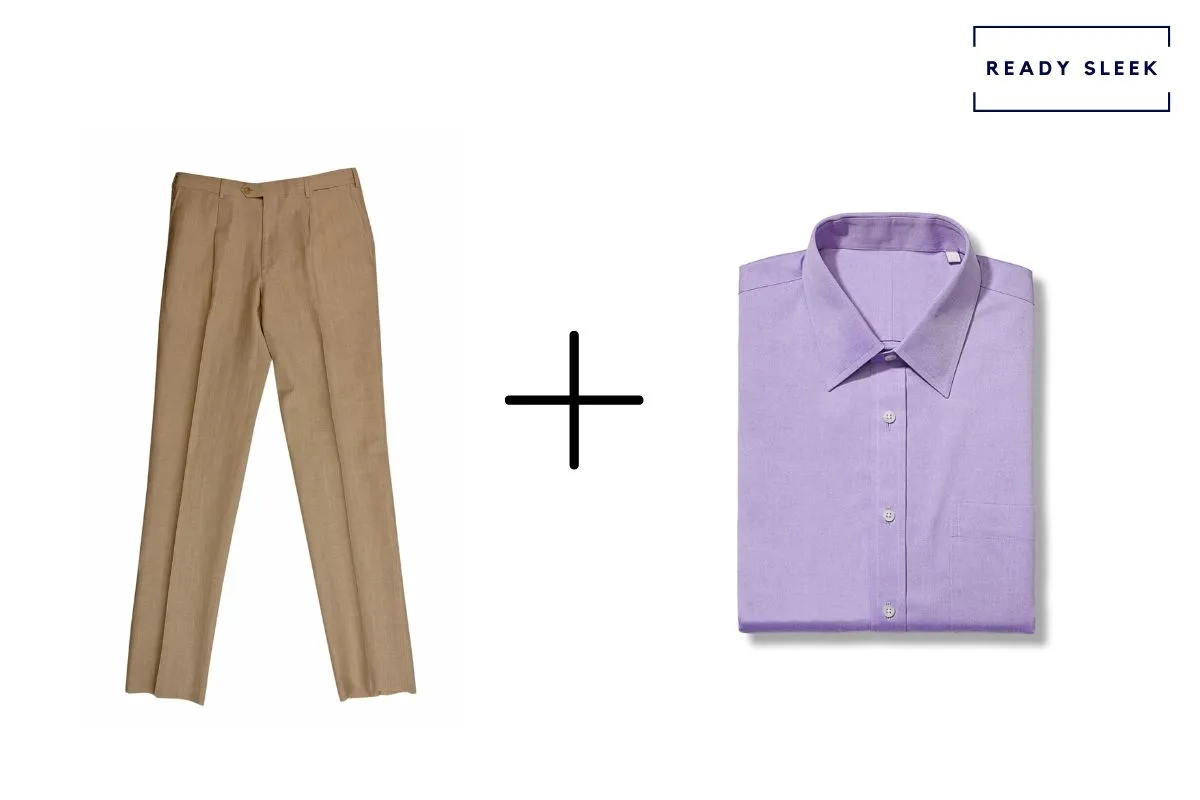 Brown pants worn with a purple shirt makes for a great casual combination. It's an especially good choice when you're looking for a less traditional and more unusual color match that still works.
This is arguably the most casual-looking combination in this list, but not by much.
As you can see from the image above, the combination works but is likely to turn some heads.
The purple shirt will pop out from the rest of the outfit and will likely be the focus. To keep the outfit understated as a whole, consider sticking to neutral items for the rest of it.
An example could be a purple shirt worn with brown pants, dark brown shoes, a slate grey blazer, and a white pocket square.
You don't want a heap of different bold and vibrant colors piling on top of each other, simply given how bold purple is, to begin with.
Let the purple shirt be the "pop" of color in the outfit, and keep things neutral for the rest.
Conclusion
Brown pants are exceptionally versatile and can be worn with a wide variety of shirt colors ranging from black to purple.
There's a good chance, however, that a particular shirt color (or range of shirt colors) will be more appropriate for you given the specific setting you're attending.
Using the combinations and tips you've seen and read in this article, you should now be several steps closer to choosing the right pairing.
Enjoy.
Ready Sleek founder. Obsessed with casual style and the minimalist approach to building a highly functional wardrobe. Also a fan of classic, vintage hairstyles.