"Chinos", "pants", "trousers", "dockers" – the number of terms is enough to make any style-conscious man's head spin. What are they? How are they different? Does it even matter?
That's what I'm going through today, keeping things as simple and no-nonsense as possible.
First of all – yes, it does matter.
Knowing what this stuff is actually called and how these items are different is the key to building a wardrobe built with purpose.
Without further ado, let's get to it.
Chinos Vs Pants (Trousers): What's The Difference?
"Pants" (also known as trousers) is a generic term for clothing that covers both legs separately, up from the ankles to the waist. "Chinos" are a specific type of pants made from the twill fabric chino cloth.
So technically, there is no real difference.
Chinos are a type of pants (a.k.a trousers).
Chinos only date as far back as the 1800s, originally designed as comfortable clothing for British and American soldiers. They gradually made their way into mainstream style and culture and are now a staple of casual and smart-casual attire.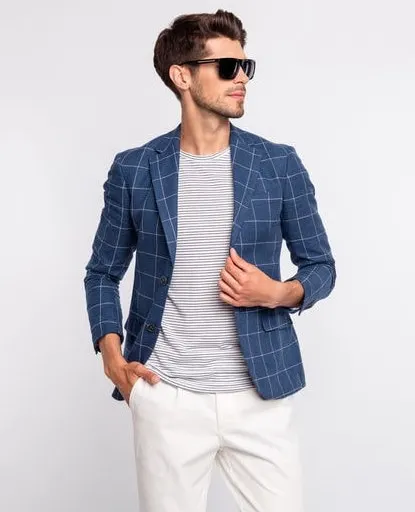 The oldest known pants probably date as far back as the 13th century BC, with straight-legged wool trousers found in present-day western China. Interestingly, it's thought that they may have been designed for horseback riding.
While pants have been around for thousands of years in some shape or form, chinos are a relative newcomer in men's fashion.
There are so many types of pants other than chinos that it wouldn't be possible to list them all. Here are some of the most common ones:
Jeans
Dress pants (slacks)
Cargo pants
Joggers
Sweatpants
As you can see, the options range from casual to formal and can be made from a wide variety of different materials.
Ultimately, the key to knowing whether an item of clothing can reasonably be called "pants" is if they cover all of the legs and cover each of them separately.
This will set them apart from "shorts" which only cover part of the leg, as well as robes, dresses, and kilts which don't cover each leg separately.
Chinos do meet the criteria for being called "pants", but calling them "chinos" is way more useful and important for distinguishing between items.
Let's go through some comparisons between chinos and other types of pants (trousers). I've already written a whole article on chinos and dress pants here. Check it out if you're interested.
Chinos Vs Cargo Pants
Cargo pants were originally worn as military workwear and are characterized by a loose cut, sturdy fabric, and having many utility patch pockets. In contrast, chinos are pants made from chino cloth, have fewer pockets, and are more suitable for smart-casual attire.
Both items can be called "pants" because they cover each leg separately and do so all the way down from the waist to the ankles.
But they're actually very different, despite both having military origins.
Although chino pants were originally worn by British and American military soldiers in the early 1800s, they are now worn by basically anyone looking for an effortless balance between casual and formal.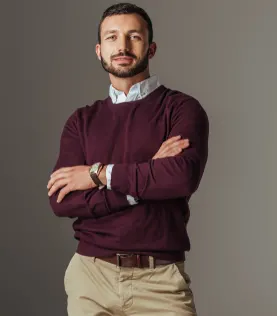 They're considered one of the most versatile types of pants out there thanks to slim-fit and straight-fit cuts, neutral, solid colors, and having little to no sheen.
While they're perfectly appropriate as purely casual wear, they're also incredibly popular as business casual or smart casual attire, often worn with blazers and sports coats.
Cargo pants, on the other hand, prioritize utility over style.
Here's a well-reviewed example of cargo pants on Amazon:
They're known for being rugged and sturdy, often made from durable synthetic fabrics or cotton-synthetic blends that dry quickly.
The cut is loose for the sake of agility and easy bending at the knees and hips. The seams are often felled to increase strength and reduce fraying.
But the most prominent and obvious feature of cargo pants is the pockets. There are lots of them.
It's the main reason why you would never confuse a pair of chinos for a pair of cargo pants.
Cargo pockets are a type of patch pocket, often secured with buttons, snap, or velcro. They make cargo pants ideal and extremely practical for workwear.
Having said that, cargo pants have also become quite popular as urban casualwear given the loose cut and practicality.
Both chinos and cargo pants are great examples of items of clothing that originated as military workwear but have gradually found their way into mainstream style and culture.
How To Choose
Choosing between chinos and cargo pants couldn't be easier, considering how different they really are.
Here are some points to consider when making your decision:
Cargo pants are only suitable as casual wear or workwear, especially where utility and practicality are important.
Chinos are a lot more versatile and can be worn in both casual and smart casual settings.
Chinos aren't as durable, loose-fitting, or practical as cargo pants. This makes them a lot less suitable as rugged workwear.
They come with fewer pockets, each of which has less capacity than a typical cargo pocket. If you require increased capacity, go for cargo pants over chinos.
Chinos Vs Joggers
Joggers are loose-fitting, lightweight pants designed for comfort and athletic performance. They're usually made from cotton or polyester and often have elastic waistbands. Chinos are pants made from chino cloth. They usually have a slimmer fit than joggers and don't have elastic waistbands.
Chinos and joggers are very different when it comes to look, feel, and function.
While chinos are perfectly suitable for both casual and smart casual attire, joggers are only appropriate as casualwear, streetwear, and sportswear.
Take a look at this pair of chinos on Amazon as an example:
It's pretty hard to confuse chinos for joggers.
Joggers are known for their loose fit. While chinos can come with a loose fit, they won't be as baggy as joggers. A slim fit or straight fit is a lot more common.
Here's a pair of joggers on Amazon:
Joggers are usually made from cotton, polyester, or a blend that will often feel a little more rugged than chino cloth.
When it comes to color, both chinos and joggers can come in a wide variety. The most popular color for chinos is khaki, while joggers often come in a shade of grey.
Finally, joggers make far more use of elastics than chinos. They very commonly have elasticated waistbands and even elasticated hems. Chinos almost never do, although there are exceptions.
How To Choose
So, how exactly do you choose between chinos and joggers? Consider the following points:
Joggers are designed for casual wear and sportswear. They would never be appropriate for office wear or business casual attire.
While chinos would never be appropriate for sportswear, they're very commonly worn as casualwear. They're also ideal for business casual or smart casual dress codes.
Joggers prioritize comfort and athletic performance.
Chinos prioritize style and versatility.
Chinos Vs Tech Pants
Tech pants are designed using a blend of fabrics and synthetic materials with the aim of building properties such as water repellency, stretch, and stain resistance. Chinos are made from cotton twill and don't prioritize the same functional properties as tech pants.
Having said this, it's important to note that the term "tech pants" can be used to describe a very wide range of pant styles.
In fact, there is such a thing as "tech chinos". These do include the typical cotton twill chino cloth but have a synthetic blend which does lead to the same resilient properties you'd expect from a pair of tech pants.
In much the same way, you can get "tech dress pants", which are usually made from a wool-synthetic blend. They do have a formal cut and the feel of a pair of dress pants, but they also have the additional properties and features you'd expect from tech pants.
Essentially, there are tech pants for every scenario you can think of – from playing golf, to loungewear, to workwear.
Here's a pair of tech pants on Amazon made from 95% nylon and 5% elastane as an example:
The incredibly function-focused properties of tech pants do make them incredibly versatile and suitable for multiple different purposes.
They may be hard to define, but ultimately, they prioritize utility and practicality using scientifically constructed materials.
Chinos, on the other hand, are a lot easier to define.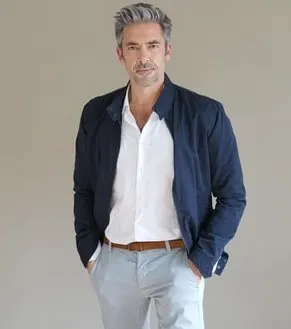 They're pants made from chino cloth – a cotton twill. Most chinos aren't 100% cotton these days – many are made from a cotton-synthetic blend.
But that's about it. No fancy water-resistant properties, stretch, or anything of the sort. You know what you're going to get when you hear the term "chinos".
They may not be as resilient as tech pants, but they're still incredibly versatile from a style perspective and seem to fit seamlessly into so many different dress codes.
How To Choose
Trying to choose between chinos and tech pants? Consider the following points:
Tech pants are much lower maintenance than your average pair of chinos. That's the beauty of being designed with resilience as a priority.
Tech pants are also generally more comfortable than chinos, often made with elastin included for added stretch.
Tech pants are often more expensive than chinos, simply because of the costly design process.
If you're struggling to choose between the two, choose a pair of tech chinos as a gloriously perfect compromise.
Chinos Vs Dockers
There is no difference between Dockers and chinos. While chinos could be any trousers made from the twill fabric chino cloth, Dockers is a specific brand owned by Levi Strauss & Co that happens to have its own range of chinos.
The term "Dockers" is often used to refer to any type of chinos, considering how prevalent the brand was in office and business casual settings at one point.
But this would be incorrect.
Dockers are a brand, while chinos are a type of clothing. The term "Dockers" should really only be used to refer to chinos actually made by that specific brand.
Although Dockers chinos do look like a regular pair of chinos, they often come in a "flex" variety that stretches for comfort due to a small amount of elastane being included.
A pair of Dockers on Amazon:
Dockers originally focused on the traditional and popular khaki-colored chino pants or "khakis", as they're otherwise known. But they can now be found in a range of colors.
They really took off in the 1980s when "casual Fridays" became a thing in the US. They became associated with office and corporate culture.
Since then, Dockers have branched out into other types of pants including jeans.
But they'll always be known for arguably being the most important brand responsible for the widespread popularity of chino pants today.
Conclusion
There you have it. Chinos compared with various different types of pants (i.e trousers) to help you choose between them.
It's true that there are definitely times when one will be more appropriate than the others. Knowing the differences between them is the key to ensuring you get things right.
Enjoy.
Ready Sleek founder. Obsessed with casual style and the minimalist approach to building a highly functional wardrobe. Also a fan of classic, vintage hairstyles.