While what you're going to wear may not be at the front of your mind before a funeral, it's common to worry about underdressing or dressing inappropriately. So, can you wear a white shirt to a funeral?
It's completely fine to wear a white shirt to a funeral. Combine it with a 2-piece suit in a dark, neutral color, a solid-colored necktie, and a pair of black or dark brown leather dress shoes to make sure the entire outfit looks funeral-appropriate.
Although that's the short answer, there's way more to it.
Now you need to know how to wear it in the most effective and respectful way possible.
Let's get to it.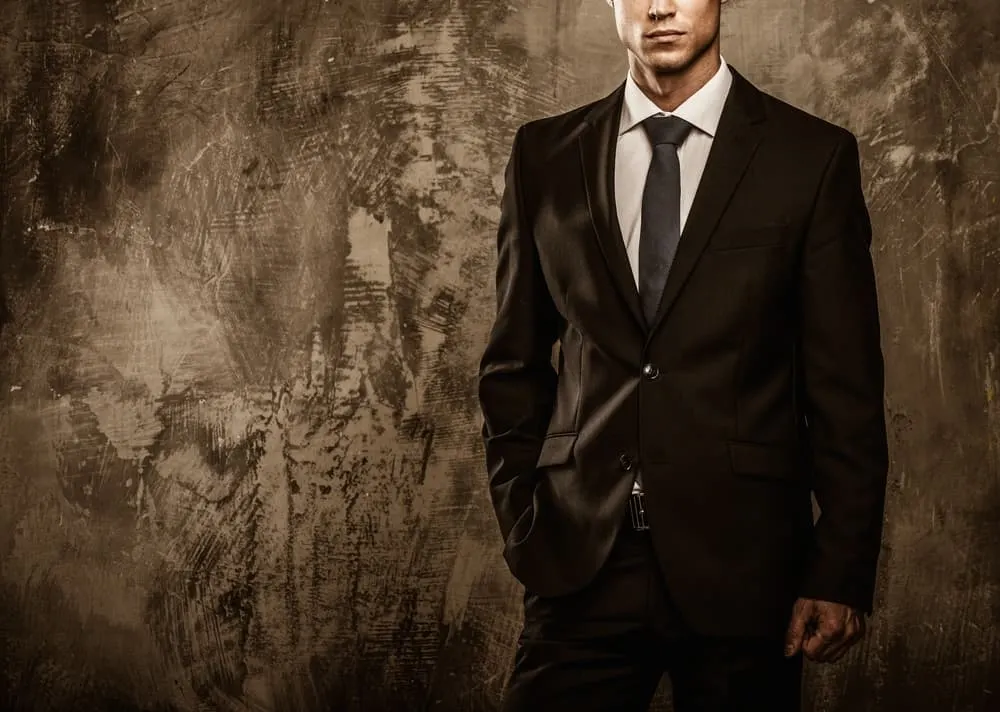 7 Tips For Wearing A White Shirt To A Funeral
Dress codes for funerals are generally becoming more relaxed. But there are still certain do's and don'ts you'll want to stick to.
These tips should help see you through.
1. Choose A White Collared Dress Shirt
When attending a funeral, wear a simple, collared white dress shirt with no patterns or branding.
Stick to dress shirts and avoid more casual-looking shirts such as OCBDs and flannels.
The fabric doesn't need to be silky smooth or have any sort of sheen to it. But it should be wrinkle-free and easy to pair with a 2-piece suit and a necktie.
Dress shirts come in many different fabrics now, but they're usually made from woven cloth. Good options would include cotton, wool, or a polyester blend. The fabric you choose is less important than its features.
As long as it looks smooth enough and has just enough sheen to it, it'll pass off as "formal". A rugged, wrinkly white linen shirt would not be OK.
Choosing a white dress shirt will make it clear that you've made an effort, while still being simple enough to not draw too much attention.
French cuffs aren't essential, but would also be completely appropriate. The shirt will look a little more formal due to the need for cufflinks, but not so dressy that it would look awkward at a funeral.
The aim is to dress well, but not to impress.
A funeral is not a day where you want to be a focus of attention.
2. Make Sure The White Shirt Actually Fits
Make sure that the white dress shirt you wear fits well.
Funerals usually happen with very short notice. If you don't regularly wear a white dress shirt for work, you may have to dig one out of your wardrobe that you haven't worn in years.
The risk is that it won't fit – people change over time.
Either it's too loose or it's too tight.
You want to make sure it fits as soon as possible so you can make arrangements or buy a new one if you need to.
What you don't want is the shirt becoming untucked every 10 minutes because it's too loose.
Alternatively, you don't want a shirt so tight that your top button is now at your Adam's Apple. You want to be as comfortable as possible so you can focus on the service.
3. Wear A Dark 2-Piece Suit
A 2-piece suit in a dark, neutral color would be the best way to compliment a white dress shirt.
The beauty of wearing a white shirt is that it gives you an infinite number of possibilities when it comes to the color of your suit.
But that's both a gift and a curse.
Don't be tempted by the wide variety of colors and tones available to you. Stick to dark and neutral whenever you're attending a funeral.
When attending a funeral, black, charcoal, and navy blue are your best suit color options.
Avoid lighter shades of grey, dark brown, or anything bolder/brighter. It would simply look out of place at a funeral.
As you're going as light as you can go with your shirt (i.e white), go dark with your suit to make your entire outfit as funeral appropriate as possible.
Opinions can differ regarding dress codes when it comes to funerals. Some even say you should wear whatever you feel comfortable in because your dress sense isn't what's important on the day.
But while I do agree that this is true to an extent, a dark 2-piece suit should be worn as a minimum when attending a funeral. It's traditionally considered the most respectful form of funeral attire and the safest way to dress.
The fabric you choose for your dark 2-piece suit isn't as important. You've got plenty of options ranging from woolen fabrics such as tweed, flannel, and even gabardine, to cotton suits as well.
Consider the weather when choosing your suit fabric, choosing heavier and more rugged fabrics when it's colder.
4. Go For A Solid-Colored Tie
Round things off with a solid-colored tie, also in a dark and neutral tone. It's a great way to compliment a white dress shirt.
Avoid patterns, however. Patterned ties come across more casual and also draw too much attention.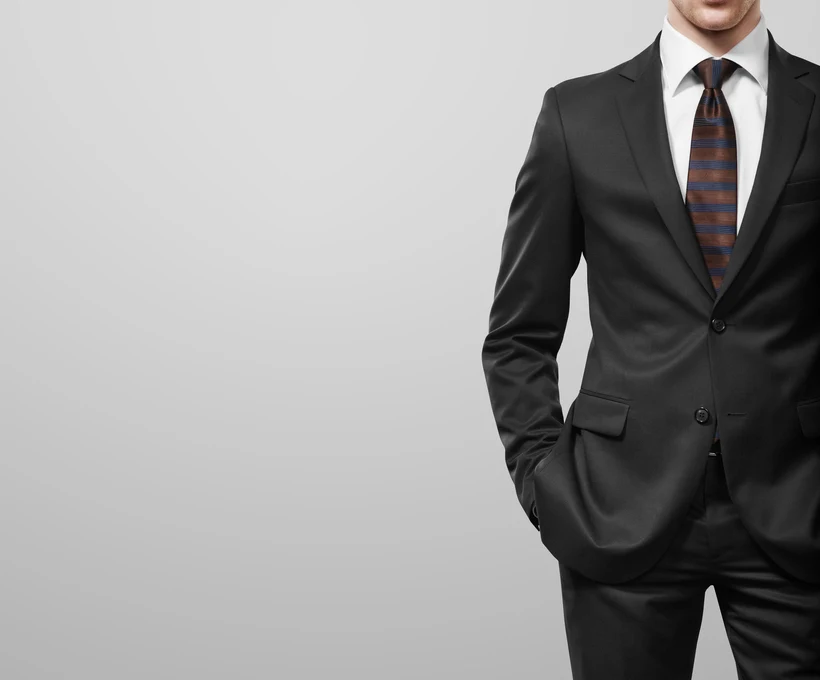 Remember, you want to keep your entire outfit as subtle and understated as possible.
Choosing a tie in a simple, dark, solid color is a great way to achieve this.
You've got options when it comes to color, but try to restrict them. Your necktie doesn't need to match anything in particular, but it's hard to go wrong with black, navy blue, grey, or dark burgundy.
5. Black Or Dark Brown Leather Dress Shoes
To ensure that the overall tone of the outfit remains consistent, go for black or dark brown leather dress shoes.
Both options would pair perfectly with the white shirt, as well as whatever dark 2-piece suit you've worn with it.
Avoid lighter shades of brown (eg. tan brown) if possible. While it wouldn't be completely inappropriate, it'll just stand out too much for the dark tone of the rest of your outfit.
The same would definitely go for even lighter, brighter, and bolder colors.
That's why sticking to black or dark brown just works so much better.
Compared with the color, you've got more choice when it comes to the style of your dress shoes.
Oxford shoes are considered the "standard" of formal dress, but they aren't essential for a funeral.
You could definitely wear a dark pair of leather Derby shoes or even monk straps (double or single).
While a polished pair of bit loafers would be reasonable, they aren't all that easy to wear with formal suits.
6. Don't Over Accessorize
When wearing a white shirt to a funeral, avoid over-accessorizing. While a white pocket square with a straight fold would be appropriate, a boutonniere would be a step too far.
It would simply come across too dressy and make it seem as though you were looking to impress.
It's just simply not the right occasion for it.
A dress watch and cufflinks would be fine, as long as they weren't too flashy. Keep things as subtle as possible.
The belt could be a separate tip in itself, but to keep things simple, stick to a leather belt in the same-ish color as your shoes.
7. Strongly Consider An Overcoat
Finally, consider an overcoat to go on top of your white shirt and dark suit jacket.
Funerals often take place outside, at least partly. Because of this, layering is always a good idea.
The reason for wearing an overcoat would definitely be for practical reasons more than anything else. If it's warm out there, ignore this tip completely.
But in cooler or rainy weather, it's definitely worth considering.
Grey or charcoal overcoats are great because they're so versatile and pair well with many different suit colors.
But shades of blues or black can also work well.
Frequently Asked Questions
Here are some frequently asked questions that are often asked but rarely answered properly. It's a nice way to round things off.
Is It Rude To Wear A White Shirt To A Funeral?
It is not rude to wear a white shirt to a funeral. While darker items are generally considered more appropriate when it comes to funeral attire, this usually refers to the suit, the shoes, and the necktie. A white shirt would be completely appropriate and is commonly worn.
In fact, white shirts are a good way of preventing the entire outfit from becoming too monochromatic.
Blue, Black, Or White Shirt To A Funeral?
While it would be appropriate to wear a navy blue or a black shirt to a funeral, white shirts are usually a better option. They're easier to combine with a variety of different suit colors and also prevent the entire, dark outfit from appearing too monochromatic.
These three colors would be the main options when it comes to your shirt. It's best not to stray too far from them.
But, in general, white shirts are much more versatile than both navy blue and black.
Lighter shades of blue should usually be avoided as they aren't as funeral-appropriate.
Should You Wear A White Shirt And A Black Tie To A Funeral?
A white shirt and a black tie can definitely be worn to a funeral and it is generally considered the most traditional form of funeral attire. However, it isn't essential these days. Other colors such as navy blue, charcoal, and dark burgundy would be equally appropriate for your necktie.
It's important to recognize that what is considered "appropriate" funeral attire has changed in recent years.
While some funerals do request all-black, most would not.
However, playing it safe by sticking to dark, neutral colors and dressing formally would still be the best option.
It isn't worth the risk of underdressing for the occasion.
Conclusion
Due to its versatility, wearing a white shirt to a funeral gives you options when it comes to your other items. Sticking to the tips above should ensure you wear it in the most respectful way possible.
Ready Sleek founder. Obsessed with casual style and the minimalist approach to building a highly functional wardrobe. Also a fan of classic, vintage hairstyles.