Oxford shoes and chinos are both titans of men's style. Anyone would be served well by having both of them in their wardrobe. But can you wear Oxford shoes with chinos?
Oxford shoes can be worn with chinos. The combination works best when a more "casual" pair of Oxford shoes is coupled with a more "formal" looking pair of chinos. This is to prevent the Oxford shoes from appearing too formal and out of sync with the chinos.
Here are some tips for ensuring you wear them together in the right way, each and every time.
Let's get to it.
1. Ensure It's Appropriate For The Dress Code
Oxfords and chinos can be a mighty combo, but it's important to recognize that it might not be appropriate for every dress code.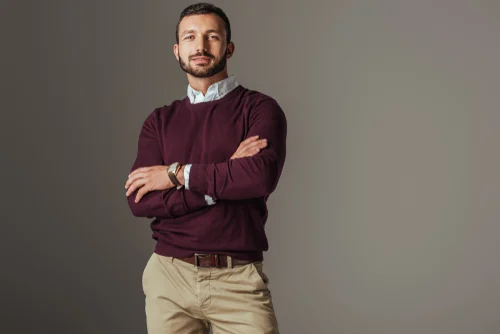 Oxford shoes have a naturally formal edge to them thanks to their closed lacing system.
Having the quarters sewn under the vamp creates the sleek, tight lacing system that makes them so appealing in formal and business-professional outfits.
But wearing Oxford shoes can sometimes trick you into thinking that your entire outfit looks "formal", no matter what else you happen to wear them with.
While chinos are on the dressier side of the pants spectrum, they should never be considered formal.
They're ideal for smart-casual and business-casual outfits, but should never be worn in business-professional or formal settings when a full suit would be necessary.
So, when wearing Oxfords with chinos, ensure the dress code or the setting you're attending will allow for it.
"Smart casual" outfits are those where smart jeans, chinos, polo shirts, and Henley shirts would work well.

"Business casual" outfits often include cardigans, Oxford shirts, blazers, and of course – chinos.
Stick to smart-casual and business-casual settings and you'll be absolutely fine. The combination will often work well.
2. Choose A More "Formal" Pair Of Chinos
Once you've broadly figured out whether the dress code will allow for Oxford shoes and chinos, it's time to pair the right pair of chinos with the right pair of Oxford shoes.
Let's talk about the chinos first.
One of the potential issues with wearing Oxford shoes with chinos is that the formality levels clash.
Oxford shoes are as formal as dress shoes get, while chinos are sort of – well, in the middle. That's what makes chinos so versatile – they strike a great balance between formal and casual.
But wearing a black patent leather pair of Oxford shoes with any kind of chinos is going to look strange. The Oxfords just look too formal for the chinos.
The key to pairing Oxfords with chinos is to try and make their formality levels align. In other words, make the chinos look a little more formal and the Oxford shoes a little more casual.
We'll talk more about choosing the right pair of Oxford shoes later on.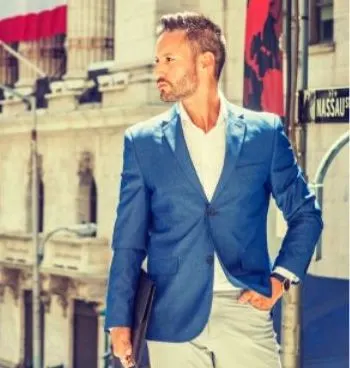 The following features will help you choose chinos that are more on the "formal" end of the spectrum:
Pleats will always look more formal but aren't as commonly found with chinos.
Center creases down each chino pant leg look more formal than flat-front.
Cuffed hems are a casual feature.
A slimmer fit will look more formal than a relaxed one.
Patch pockets look more casual, while welted and jetted pockets look more formal.
Darker, minimalist colors will look more formal than lighter colors. Think navy blue and charcoal grey.
3. Careful With Cuffing
Cuffed chinos can be a great look when you're going for a truly laid-back, summery aesthetic.
But it does look casual. When you're going for a casual or smart-casual aesthetic, that's absolutely fine.
However, given how Oxford shoes are usually a more formal type of dress shoe, cuffed chinos can often look a little awkward.
It definitely wouldn't be suitable for a business casual outfit.
If you do choose to cuff your chinos, make sure that the Oxford shoes you choose are well into the more casual end of the formality spectrum for Oxford shoes.
You're about to learn exactly how to know whether they are or not.
If you're interested in learning how to cuff chinos in the most effective ways possible, I've written an article on it.
4. Consider Suede Oxfords
Remember, when wearing Oxfords with chinos we're trying to make the formalities align by making the Oxfords look more casual and the chinos look more formal.
When choosing a more "casual" style of Oxford shoes, pay close attention to the material.
Suede will always look more casual than leather. While suede Oxford shoes aren't quite as easy to find as suede Derby shoes, they aren't difficult to come by.
Here's an example of brown suede Oxford shoes on Amazon as an example:
Suede has a rugged and napped texture to it, lacking the shine that leather has. This makes it look more casual and actually combines very well with chinos.
Chinos have a similar rugged texture to them and lack the shine that dress pants have.
So, if you had the choice between suede and leather Oxford shoes to go with those chinos, strongly consider suede.
That isn't to say that leather Oxford shoes won't work well with chinos – they definitely can. You just need to be a bit more careful with the color.
Dark leather Oxfords can often look too formal to be worn with chinos no matter how "formal" those chinos may look.
Let's dig deeper into your color choice right now.
5. Lighter And Brighter Oxfords Can Work Well
It's important not to take this to heart too much – bright green Oxfords may look "casual", but often comically so.
But my point here is to avoid dark brown and black Oxford shoes when wearing chinos, especially if you're wearing leather as opposed to suede.
Lighter shades of brown are very versatile colors and often pair well with chinos. But brighter and bolder colors of Oxford shoes do exist, often in suede.
Here are a couple of examples of browns that are light enough to pair with chinos quite comfortably.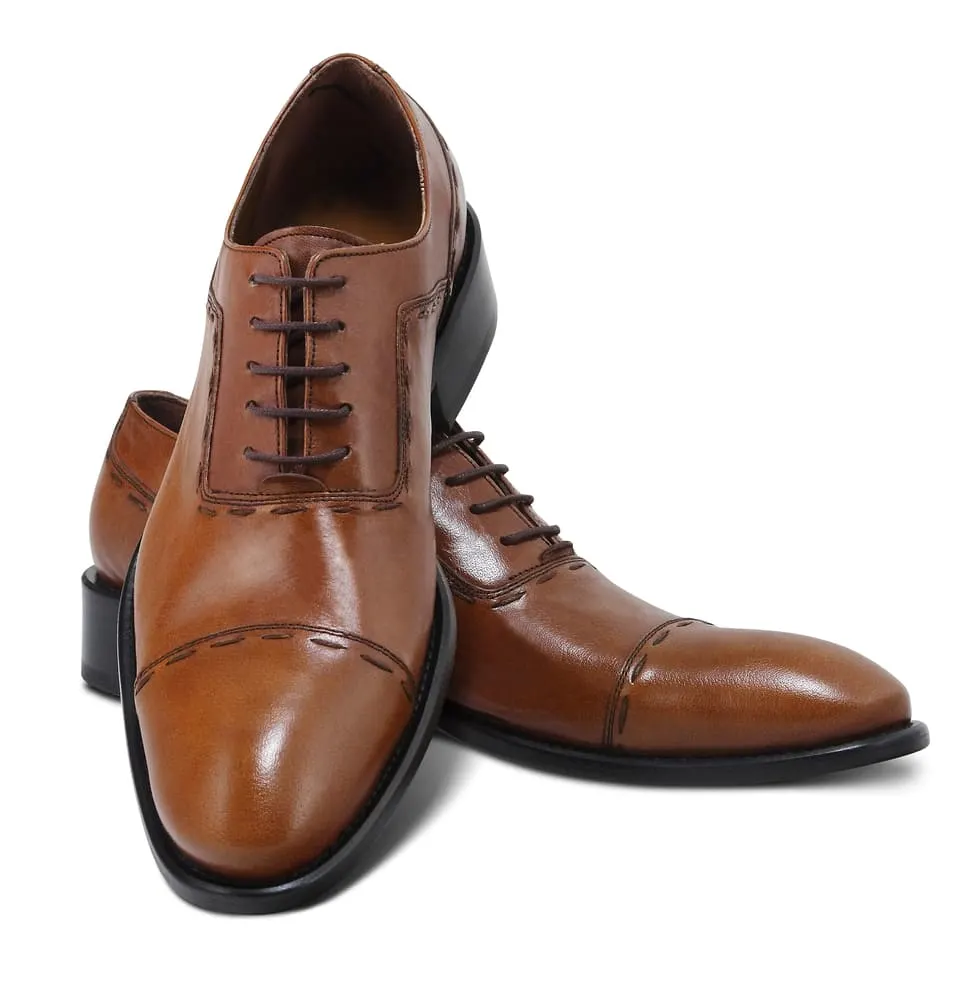 Don't be afraid to experiment, as long as the overall setting and dress code will allow for it. It's unlikely that red suede will look appropriate when dressing for a business-casual dress code.
The beauty of choosing a more neutral, dark, and minimalist color for your chinos (see tip #2) is that you've got more freedom when it comes to the color of your Oxford shoes.
In general, it's best to take risks with the color of the Oxford shoes and not with the color of the chinos.
6. Spectators Can Steal The Show
Spectator shoes are those where there are two contrasting colors. The heel cap and toe are usually a different color to the main body.
As you'd expect, this is a pretty eye-catching effect, especially when the two colors used are very different from each other.
But if you're looking for a casual pair of Oxford shoes to wear with your chinos that also make a pretty bold statement, spectator shoes would be a pretty good way to go.
Be warned, however, that spectator shoes often become the focus of the entire outfit itself. They really aren't subtle.
In addition, they wouldn't be suitable for business-casual settings, unlike some other Oxford shoe and chino pairings.
Smart-casual dress codes and settings would be ideal.
It's something to consider if you seem to find that your Oxford shoes just look too formal when worn with your chinos despite sticking to the other tips in this list.
7. Switch Up The Laces
Changing the laces of a more "formal" pair of Oxford shoes is a pretty cheap way to make them look more casual and potentially better suited to a pair of chinos.
Don't get me wrong – a pair of black leather Oxford shoes will usually look out of place when worn with a pair of chinos no matter what color the laces are.
But if your Oxford shoes aren't that formal-looking and you're simply looking for a way to make them look a notch more casual, the laces would be a good way to go.
It can be pretty easy to get carried away with this, so do be careful.
Try not to take an "anything goes" approach to switching up your laces.
It's best to create an eye-catching contrast between the color of the shoe and the color of the laces, but also to do so in a tasteful and intentional way.
One option would be to change the color of the laces to the color of your chinos. This often looks incredibly stylish, especially when the color of your chinos contrasts that of the body of your Oxford shoes.
It's something that not everyone will want to take the effort to do, but it's an underrated style option that many people don't know they can take advantage of.
8. Oxford Shirts And Sports Coats
When trying to match the perfect pair of Oxford shoes to the perfect pair of chinos, it can be easy to forget about the rest of the outfit.
But at the end of the day, choosing the wrong upper body clothing can ruin the entire aesthetic.
Once you've paired the right pair of Oxfords with the right pair of chinos, what you'll be left with is probably a pretty effective smart-casual or business casual outfit on the lower half of your body.
Business-casual items to combine with this include Oxford shirts, sports coats, and cardigans (depending on the setting and the weather). Navy blue blazers can work great too.
Smart-casual items you could combine with them include polo shirts, Henley shirts, and dark denim jackets.
Getting this part right is the perfect way to round off your outfit.
Enjoy.
Ready Sleek founder. Obsessed with casual style and the minimalist approach to building a highly functional wardrobe. Also a fan of classic, vintage hairstyles.