It's notoriously difficult to get the perfect loafer fit. They generally don't play by the same rules as other dress shoes and it's important to have a basic understanding of why this is. So, do loafers run big or run small?
Loafers generally run big, so it's usually wise to size down by ½ to 1 when buying a pair. They run big because they're narrower and are meant to fit closer than other styles of dress shoe. You don't have laces to adjust the tightness, so you'll need a close fit to prevent them from slipping off.
Although this principle will serve you well in most cases, it isn't a hard-and-fast rule. Loafers vary widely, as do men's feet.
This article will teach you how to get the perfect fit for your loafers without wasting time and money on a pair that was never meant to be.
3 Reasons Why Loafers Run Big
Let's dig a little deeper into exactly why they usually run big. Understanding this is crucial to sizing them correctly.
1. They Stretch
This isn't exactly special to loafers – it's just the way leather works. Leather is a skin that reshapes and stretches under pressure.
This concept is crucially important to loafers. It's the main reason why men choose loafers that fit great in-store but find that they feel way too loose just a few months later.
Loafers don't have much arch support and generally don't have cushioned footbeds. They can feel uncomfortable to walk in for prolonged periods of time which is why a snug fit is even more important.
It's important to realize that not all loafers stretch the same. Unlined loafers will stretch more than lined loafers as there's less resistance to the outward pressure from your foot.

Plus, full-grain calfskin leather will stretch less than suede and nubuck. Patent leather stretches the least because there's essentially an additional coating for reinforcement.
The main point here is that if you think a pair of loafers will stretch more over time, you'll want to aim for a more snug fit when you buy them.
You'd be even more inclined to size down than you otherwise would be.
2. They're Meant To Fit Close
Loafers were designed to fit closer to the foot. They're built on narrower lasts and it's quite integral to the overall aesthetic.
Because of this, you'll often want to go for a size smaller than you otherwise would.
Having said all of this, there are still options for men with wider feet.
Round-toed loafers have a wider toe box and are more comfortable for men with wide feet.
In general, a bit of tightness in width when you first buy a pair of loafers isn't the end of the world. They generally stretch quite well in width.
It's more important to ensure it feels comfortable in length, as they're much more resistant to stretch from toe to heel.
3. There Are No Laces
The gloriously casual slip-on design of the traditional loafer is a huge part of its appeal.
The laceless design is very practical, while the moccasin-style upper stitching makes it a lot more stylish and versatile than a slipper.
But not having laces does bring about some significant sizing troubles.
Loafers can slip off just as easily as they can slip on. This makes it even more important that you aim to get a closer fit when you first buy them.

In other words, strongly consider sizing down ½ to 1 size.
Your usual size may feel like a comfortable fit in the store. But as the leather stretches over the next few months, you may find that the sides start to gap and the heel starts to slip out.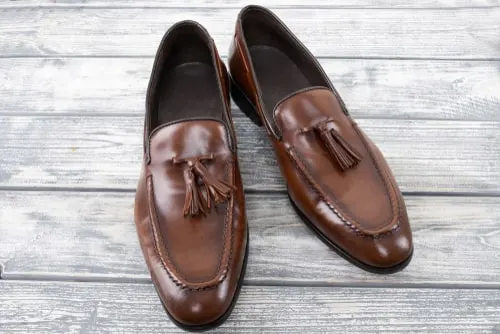 In these scenarios, it's also quite common for a loose heel to start knocking against the back edge of your shoe as you walk. This can be frustrating and even cause blisters.
The bottom line is, you won't have laces to tighten up the fit. Think ahead whenever you buy a pair of loafers.
Additional Tips To Get The Perfect Loafer Fit
Here are some other simple tips to help you choose the perfect pair of loafers to fit your feet.
1. Try Them On In The Afternoon
It's no secret that feet swell as the day goes on.
After several hours of being on your feet, you may actually start to find that your shoes feel a little tighter than they did when you first put them on.
This is due to fluid accumulation in your feet and is a good reason why you should try on a pair of loafers in the afternoon.
You'll get a better idea of how close they fit when your feet are at their largest.
2. Measure Your Feet Properly
Getting your foot measurements doesn't necessarily need to be a professional job, but this would guarantee the most precise results.
Measuring the width and length of your foot is fairly simple to do yourself.
Simply trace around your foot on a flat surface. Measure the longest part of your foot (toe to heel) and the widest part of your foot (usually the ball of the foot) using a ruler or tape measure.
Sizing can vary widely from one brand to another, but each of them will have their own sizing chart you can use for reference.
Knowing the exact width and length of your feet is vital, particularly when buying loafers online.
But the reason you may want to get your feet professionally measured is that shoe stores often use a Brannock device to get more precise measurements, as well as the arch length (distance between heel and ball) which is very important for comfort.
3. Know Your Lasts
A "last" is simply the mold or form on which a shoe is based. They can vary widely and is the reason why some loafer uppers are narrow and pointy, while others are rounder and wider.
If you know what style of last suits your feet best, you'll find shopping for loafers much easier and more efficient.
As you'd expect, men with wide feet should usually go for more spacious, round-toed loafers that don't feel as restrictive.
If you do have especially wide feet, you may want to size down by ½ as opposed to 1, or even just get your usual size.
You want the loafers to gently wrap around your feet and feel snug when you first buy them. Feeling too comfortable at first is usually a sign that they'll become too loose as they start to stretch.
But at the same time, you don't want them to feel tight when you wear them. No matter how much you break them in, they'll always feel too tight.
Knowing the difference between "snug" and "tight" isn't that easy, but it's important to get to grips with.
4. Give It Time
Breaking in a pair of loafers doesn't feel great as you're doing it.
During the first couple of months, wearing your sized down loafers may seem regrettable. You may wish you'd gone for that looser fit after all.
Dress shoes have a habit of playing games with your emotions. One minute they're your worst enemy and the next they're your best friend.
Give it time. This is completely normal when it comes to breaking in loafers.
The leather will stretch over time and your decision to size down will start to make a whole lot of sense.
A mistake that a lot of men make is giving up on dress shoes, including loafers, way too early. They toss them aside or return them after a week of discomfort.
It's important to give it enough time before making any decisions you'll regret.
Frequently Asked Questions
Here are the FAQs to finish this topic in style.
How Should Penny Loafers Fit?
Penny loafers, like other loafers, should fit snugly on the feet. Since loafers are worn without laces, achieving a close fit is important for preventing them from slipping off.
So, when buying penny loafers, size down by 1/2 to 1 from your regular shoe size.
They're meant to be narrower and will stretch over time, especially if they are made from leather.
Do Gucci Loafers Run Small?
Gucci loafers, much like other loafers, tend to run big. However, the fit can vary widely from one brand to another.
While Gucci loafers are known for their quality and design, their sizing isn't uniform and can vary, unfortunately.
So, it's usually best to try them on in-store if possible or consult the brand's specific sizing chart when buying them online.
Should Loafers Be Tight Or Loose?
Loafers should be neither too tight nor too loose. The ideal fit is somewhere in between – snug. They should gently wrap around your feet.
If they feel too comfortable or loose when you first buy them, they may become too loose as they stretch over time.
On the other hand, if they're too tight, they may remain uncomfortable despite being broken in.
Remember, loafers are expected to stretch, especially in width.
Conclusion
Use the knowledge you've gained from this article to think ahead when buying a pair of loafers.
No pair of loafers is the same, nor is any pair of feet the same.
But being able to predict how a pair of loafers might fit a few months down the line will lead to much better purchasing decisions going forward.
Shoes are tricky – the fit isn't as instantaneous as a shirt or a pair of chinos would be in the store.
What may fit today, might not fit tomorrow.
It might seem strange, but knowing this should allow you to properly size your loafers each and every time.
Ready Sleek founder. Obsessed with casual style and the minimalist approach to building a highly functional wardrobe. Also a fan of classic, vintage hairstyles.