Loafers can be worn in a very wide range of settings. They've earned a global reputation for being versatile and easy to coordinate. But can you wear loafers to work?
Loafers can be worn to work when this traditionally more casual dress shoe would be considered appropriate for the dress code. Certain types and styles of loafers are considered more formal than others, so you'll also need to factor this into your decision.
That's the answer in a nutshell, but as you'd expect, there's a lot more to it.
To figure out whether your specific loafers would be appropriate for your workplace, you'll need to understand what makes certain types of loafers more formal than others.
You'll also need to get to grips with how certain types of loafers are considered formal enough for some workplaces, but too casual for others.
There are mistakes that can be made and underdressing is a possibility.
But not after you read this! Let's get to it.
How To Know If You Can Wear Loafers To Work
I like stepwise approaches to style decisions. It's simple and minimizes headaches.
Ask yourself these two questions to figure this one out.
1. Does Your Workplace Have A Dress Code?
This question could make the decision mind-numbingly easy for you or actually quite difficult.
Let me explain.
If your workplace has a dress code that explicitly says you can only wear laced shoes, you've got your answer. Your wonderful slip-on loafers are unfortunately a no-go.
If your workplace explicitly says that they don't have a dress code (pretty rare) or they're well known to have a lax dress code, again, you've got your answer. Your loafers are almost definitely going to be fine.
The difficulty comes with those in-between workplaces. Those uber-cool, ultra-modern workplaces with "business-casual" dress codes that don't elaborate and just expect you to figure out what that means.
It could also refer to a relatively strict workplace with an established dress code that doesn't explicitly give you instructions on what shoes you can wear.
For example, a corporate workplace where you have to wear a suit but don't necessarily need to wear cap-toe Oxford shoes.
Would loafers be OK?
For these frustrating in-between work settings, ask yourself the second question.
2. What Type Of Loafers Are They?
Since their birth in Norway, the "weejun" (as the loafer was formerly known) has taken on many different forms and styles.
Having been inspired by the moccasin and the slipper, the loafer should always be considered a casual shoe.
But some loafers are considered more formal than others.
Because of this, some types may be appropriate for your workplace while others may not. It's a crucial aspect of the decision-making process.
Loafers can differ in two main ways; the style and the material.
They're usually either made from leather or suede. Although suede is technically a grade of leather, it's soft, napped finish makes it look very different.
It's safe to say that suede will always look more casual than the sheen of traditional leather.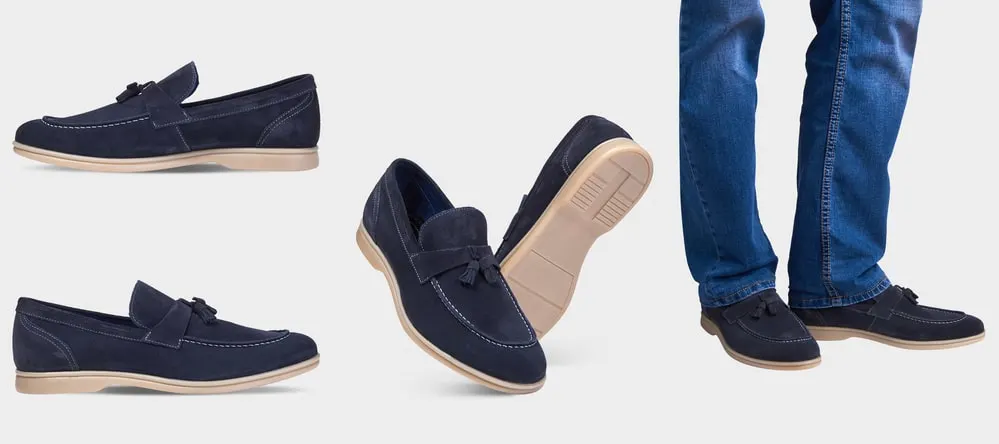 Because of this, you shouldn't really ever be wearing suede loafers with formal suits to professional workplaces. You'll just look awkward and way too underdressed.
If your workplace is more on the casual end of "business-casual", you could potentially wear suede loafers. For example, a blazer or sports coat, with an OCBD shirt, a pair of tan khakis, and a dark brown pair of suede loafers.
This could work as a business casual outfit, but stick to dark shades of suede to minimize the risk of it appearing too casual.
So, what about the different styles? Well, that deserves its own section.
Related Articles You May Also Like:
Which Types Of Loafers Can You Wear To Work
Although you'll hear many names for different types of loafers thrown around like nobody's business, there are three you should really know about.
Always remember, suede and lighter/brighter shades of loafers will always be considered more casual than leather and darker shades. This is true no matter what type of loafer we're talking about.
I'm about to list these three loafer styles in order going from most formal to least formal while telling you which workplaces each of them would be best suited to.
Although number 1 is universally considered the most formal, there may be some debate over whether number 2 or 3 is most formal. That's part of the fun.
1. Horsebit Loafers
Also known as "Gucci loafers", these shoes have all the typical features of loafers. The slip-on design, exposed ankle, and moccasin-like upper vamp – they're all there.
But in the 1950s, Gucci added his most famous contribution to footwear.
A metal buckle across the top of the loafer in the shape of a horse bit.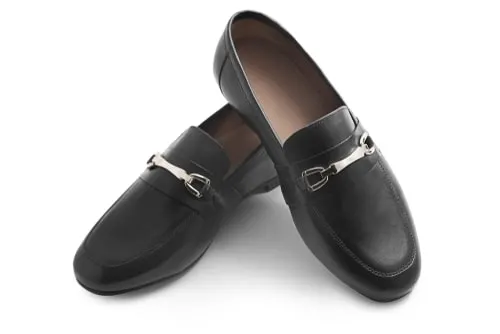 In doing so, he took the popular casual design of the loafer and transformed it into something a little more formal and sophisticated.
A pair of shoes that could even be worn with formal suits.
This brings me to the main point – if you wanted to wear a pair of loafers to a professional workplace, horsebit loafers would be your best bet.
They're considered just about formal enough to be worn with a two-piece suit, although a three-piece suit may be pushing it.
Just remember, it is still a traditionally casual, slip-on design that will never look as formal as a pair of Oxfords or Derby shoes.
But if the shade is dark enough – black or dark brown ideally – sure, you could pull it off with a two-piece suit. It could actually be a nice way to stand out from a stiff and serious crowd.
The beauty of it is that these shoes are still casual enough to be worn with your casual outfits. Apart from black ones, which may look too formal.
To finish off with an answer to the question on many people's minds – yes, you'll have to wear over-the-calf socks if you're wearing these loafers with a suit.
2. Penny Loafers
I'd class penny loafers as a slightly more formal than tassel loafers, simply because the tassel is best suited for social occasions than professional ones. It's a close contest, however.
They're characterized by a strap of leather across the top, often with a diamond-shaped cut out in the middle.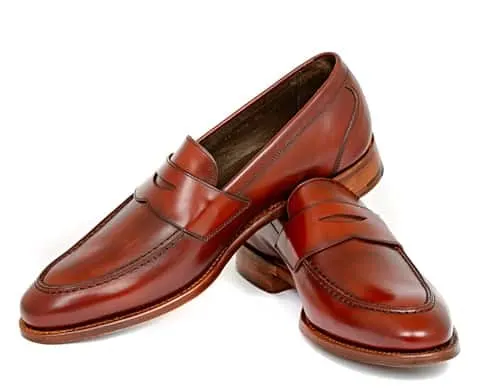 Penny loafers are arguably the most commonly-worn type you'll find. They're hugely popular and very versatile.
Having said that, if your workplace demands that you wear a suit, don't wear penny loafers. Go for horsebit loafers or something even more formal instead.
Penny loafers are best suited to business-casual (a.k.a smart-casual) work settings and not formal ones.
Put simply, business-casual outfits combine traditional "business" items of clothing like blazers, shirts, and ties, with more casual items like chinos and laid-back shoes.
Laid-back shoes such as penny loafers.
But remember, business-casual can mean many different things. Sometimes, it can mean that a sweater, OCBD shirt, and chinos would be perfectly fine.
Other times, you'd still be expected to wear a blazer.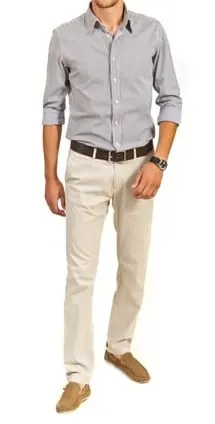 Bear this in mind and ask yourself just how casual your business-casual dress code really is. If it's a little stricter, go for a darker shade of leather.
If it's a little less strict, go for a lighter shade. Plus, if it's on the very casual end of business-casual, why not go for suede?
Penny loafers (and tassel loafers) are also perfectly fine to wear with casual suits, such as linen or seersucker ones. But the likelihood of this being your work attire is pretty slim.
3. Tassel Loafers
The tassel loafer is characterized by the ever-so-distinctive tassel on the top.
For work purposes, tassel loafers may be considered a little less formal than penny loafers.
Although that would be true for the younger generation, the tassel loafer is still quite commonly worn by men in their 50s and 60s in professional workplaces.
So, you'll still see them worn with business suits now and again and it probably won't look too out of place.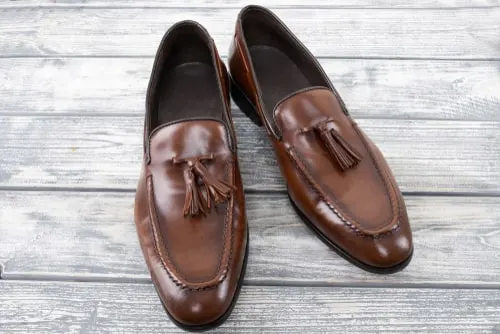 But, much like the penny loafer, the tassel loafer is much better suited to business-casual outfits and suits made from more casual materials such as linen or seersucker.
Wearing them with a traditional, worsted wool two-piece suit in a business or professional setting is just too much of a risk.
The tassel is a fun and playful addition to the loafer. It's an awesome pair of shoes to own and wear in casual settings and is a great way to stand out.
But when it comes to work, only wear it if you're sure it's appropriate.
That'll most likely only be if your work dress code is casual or business-casual. Keep it clear of business suits if you can.
With regards to the color and the finish, the same golden rule will apply. Darker leather is more formal, while lighter shades and suede finishes are more casual.
Should You Wear Loafers Without Socks To Work?
Loafers should always be worn with socks, but this is especially true when wearing them to work.
The reason they should be worn with socks is mainly for the sake of hygiene. Unlike with boat shoes, going sockless isn't usually a good idea.
Plus, loafers are actually quite uncomfortable to wear with no socks. Your feet will start to hurt after a period of prolonged walking at work.
If you did want the appearance of not wearing socks, which is quite popular when wearing loafers casually, go for invisible or "no-show" socks.
In fact, these are also known as "loafer socks", funnily enough.
This is a reference to the fact that they're usually worn with shoes that have low tops like boat shoes, sneakers, and yes, loafers.
But the question is whether these invisible socks would be appropriate for your workplace.
If you're wearing a suit, the answer is pretty straightforward. You'll definitely need to wear over-the-calf socks.
However, if you're able to wear khakis and suede penny loafers to your workplace, no-show socks will probably be fine too.
Again, it really depends on how formal or casual your workplace dress code is.
At the end of the day, loafers will expose some of the top of your foot. Your work setting would have to be pretty casual to allow it.
What To Wear With Loafers To Work
What you wear with loafers to work depends on the dress code.
Business Casual
Loafers can elevate a business-casual outfit, adding a touch of class and sophistication.
Combine a well-fitted pair of loafers with chinos and a button-down shirt for an elegant, yet dressed-down aesthetic.
Add a neutral-colored blazer (eg. navy, grey) with a slim fit for a classic business-casual ensemble.
Business-Professional
In more formal business environments, loafers can sometimes replace traditional dress shoes.
When doing so, stick to dark leather horsebit loafers (i.e. black or very dark brown) whenever possible. Penny loafers and tassel loafers are likely to be too casual.
Pair them with a 2-piece business suit for a modern twist on a classic look.
If your workplace is on the more traditional side of the spectrum, avoid loafers and go for Derby or Oxford shoes instead.
Casual Fridays
On casual Fridays, loafers can add a polished touch to a relaxed outfit. Consider wearing them with dark denim jeans and a casual button-down shirt
For colder weather, layer with a sweater or cardigan.
The relatively smart loafers add a nice touch of contrast to the more casual elements of your outfit.
Conclusion
Underdressing to work is a bit of a nightmare. It isn't exactly the end of the world, but it sure isn't ideal. This is especially the case if you're looking to make a good first impression.
Without sugarcoating it, yes, loafers may be a potential problem and it isn't a decision that should be taken lightly.
But at the end of the day, many pairs of loafers would fit seamlessly into most work settings.
It's all about taking each pair of shoes and each specific set of work circumstances into account when making your decision.
Ready Sleek founder. Obsessed with casual style and the minimalist approach to building a highly functional wardrobe. Also a fan of classic, vintage hairstyles.