Dressing for work can be a stressful experience when a strict dress code isn't outlined and some judgment is necessary. The beautiful versatility of chinos does lead many to wonder the following; are chinos work appropriate?
Chinos can definitely be considered work-appropriate, particularly in workplaces and industries where a business casual dress code is the norm. Important features of work-appropriate chinos to consider include the color, and the clothes you'll be combining them with.
The decision will be harder for some men than others, purely because of how ambiguous the dress code of their workplace really is.
In a way, there's a certain amount of comfort and relief that comes with a fixed dress code such as the "suit and tie only" that would be obvious in a lot of corporate offices.
"Analysis paralysis" refers to the stress that comes with having too much choice.
What this article aims to do is remove that stress by helping you decide whether chinos are acceptable for your specific workplace, and if so, what to wear them with.
Let's get to it.
Are Chinos Work Appropriate?
The versatility of chinos makes them work appropriate for a huge number of men. The factors to consider when coming to a decision include the industry you work in, the variability of the work you do, and what other clothes you're expecting to wear with them.
Let's talk through these factors one by one.
1. Certain Industries Are More Favorable
It may be clear by now that the main risk is that you underdress for work as opposed to overdressing.
You won't have much trouble if you were to overdress for an ultra-casual workplace. Chinos work fantastically well in casual ensembles in any case.
The main question at hand is whether chinos are acceptable for your work or whether a more formal pair of dress pants would be more appropriate.
The risk is that you wear and continue to wear chinos when it isn't appropriate to do so.
Your first step should be to zoom out and have a bird's-eye view of what you do.
What industry or field do you work in?
As a general principle (not a hard-and-fast rule), more "creative" professions tend to be more relaxed about their dress codes. Marketing, fashion, and graphic design come to mind. The tech industry is also stereotypically pretty relaxed about dress codes.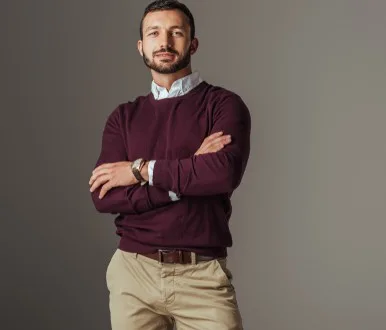 Business casual is the buzzword spreading through these thoroughly modern workplaces like wildfire. It's the ambiguity of this term that leads to dilemmas like the one we're discussing today.
Workplaces where more formal clothing is expected are more likely to explicitly say so in their dress code. Corporate law offices and investment banks come to mind.
Once you've taken a bird's-eye view of the work you do and the industry you work in, you may get a general feeling that the casual nature of chinos may be fine for you to wear.
Really paying attention to what your colleagues wear on a day-to-day basis should give you a good impression if you aren't sure. Even if they aren't wearing chinos, how formal the vibe of their outfits is should give you an indication of whether they'd be OK.
2. Appropriateness Can Vary
There are many professions where the work itself is incredibly variable. Because of this, the appropriateness of the clothes you wear can also vary.
In other words, even within the same job at the same workplace, chinos may be appropriate at times and inappropriate at others.
Business casual should be thought of as a spectrum. At the same workplace, there are times when it can be more formal, and other times when it's more casual.
I usually use the example of an office manager.
His day-to-day role is a pretty predictable desk job where "business casual" is pretty comfortably an Oxford Button Down Cloth (OCBD) shirt, a sweater, and a pair of slim-fit chinos.
But he does occasionally have these regional meetings where that just won't cut it. Sure, the dress code is still "business casual" but it means something else here.
Everyone else has got on dress pants and a blazer with the same OCBD shirt. It isn't formal enough to warrant a matching suit jacket, a dress shirt, and a tie, but it's still not casual enough for chinos to be acceptable for this type of work.
If this is an issue you may have to contend with, it's not something to worry too much about.
It's just a case of thinking about the nature of the work you'll be doing before you leave the house, and choosing between a pair of chinos or dress pants accordingly.
3. The Clothes You Combine Them With Are Crucial
Pants are important – there's no doubt about it. Wearing the wrong pair can ruin an otherwise perfectly presentable outfit for work.
But we're still just talking about your legs here. There's a whole lot else to think about when dressing for work.
The other clothes and accessories you wear will play a huge role in whether the chinos you're wearing look appropriate or inappropriate.
The versatility of chinos is both a gift and a curse.
They're able to fit so seamlessly into both casual, semi-casual, and business casual outfits.
By the way, "semi-casual" is more formal than "casual" but less formal than "business casual".
"Business casual" is just another term for "smart casual", for our purposes.
Depending on what you wear them with, the same pair of chinos can either look super casual, perfectly semi-casual, or effortlessly business casual.
With versatility comes choice, and having too much choice can lead to stress and mistakes.
Because of this, be very careful about what you wear those chinos with. It may well be appropriate for you to wear chinos as work pants, but only if the rest of your outfit is "formal" enough for it to make sense.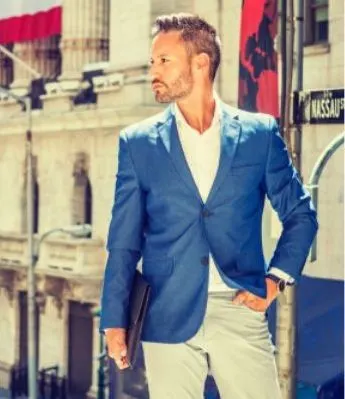 For example, chinos, an OCBD shirt, and a sports coat may be absolutely fine for your workplace. There's even a good chance the sports coat would be unnecessary.
But combining those chinos with boat shoes might be what ruins it for you and leads to those awkward stares from Sally on the opposite desk.
I'll be talking more about how to decide what to wear the chinos with later on, so I'll leave it at that.
Once you've considered these factors, it's time to get into the specifics.
What Are The Best Chinos To Wear For Work?
Once you've decided that chinos would be fine for you to wear, it's time to think about what type of chinos to wear.
This is where it gets simpler, because there isn't a huge amount of difference between one pair of chinos and another.
The choice between slim-fit and skinny-fit isn't that important – they can both be suitable as smart chino pants for work.
But there are features in some chinos which although are less common, can make them look more formal. This could be ideal if you wanted to play it safe. Choosing a more "formal" looking pair of chinos could minimize risk of inappropriateness.
Essentially, these are features that are more commonly found in dress pants.
Here are a few you could look out for:
Welted back pockets
A sharp center crease down each leg
Minimal seam details on the inner leg
If you find chinos with these features, they'll be a safer bet for the more formal requirements you may have at work.
Here's a pair of chinos from Indochino that would fit the profile. Plus they'd be custom made to your exact measurements which is ideal.
Having said this, even a regular pair of chinos without the crease would work for most business casual workplaces if it was worn with the right clothes.
So try not to overthink it.
What Color Chinos Should You Wear To Work?
When wearing chinos to work, choose neutral, basic colors that are versatile and don't draw too much attention to themselves.
Classic khaki, charcoal gray, navy blue, and even olive green would work well within a neutral color scheme.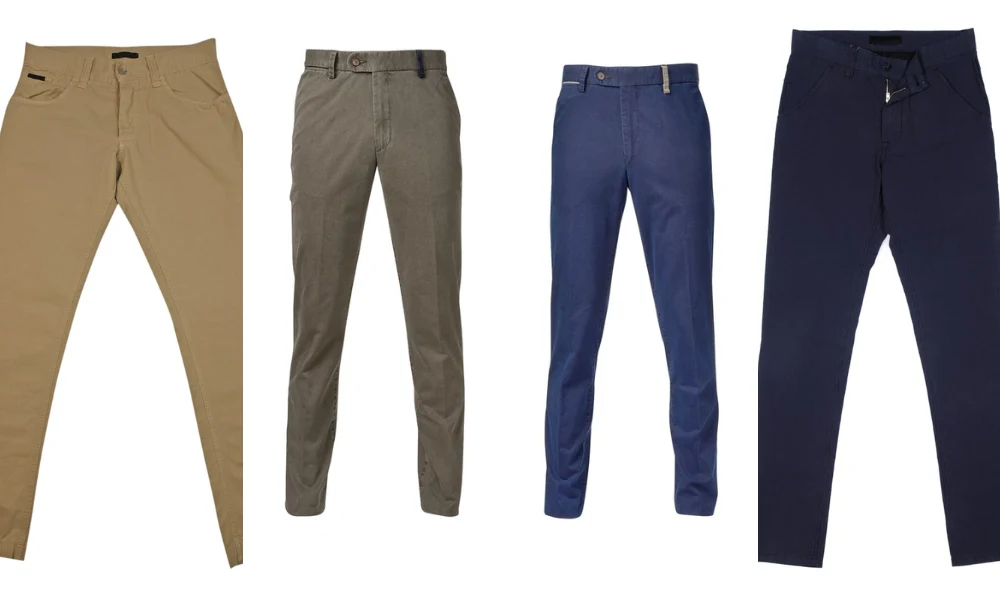 These muted colors should ensure that they pair well with a number of your other items.
Although black chinos can be very appropriate for work, sticking to the colors above will give you more versatility and freedom when matching them with your other clothes.
Chinos And Shirts For Work
When wearing chinos with a shirt to work, it's important to once again gauge how formal you need to dress.
An OCBD (Oxford Cloth Button Down) shirt would work perfectly fine with chinos in the vast majority of business casual settings.
Unsurprisingly, the casual nature of the buttoned-down collar works great with chinos.
Points to bear in mind:
Always keep it tucked in. An untucked shirt with chinos is unlikely to be considered formal enough for any business casual workplace.
White and baby blue are very safe and versatile colors that would work well at work. Buying OCBD shirts of each color would be a good idea and would both go well with the chino colors mentioned in the previous section.
Although chinos do work well with regular dress shirts, if you feel that you need to wear one chinos may not be formal enough in the first place.
Chinos And Blazers For Work
Chinos and blazers can be a fantastic combination for work, almost epitomizing the modern business casual aesthetic.
A good-quality navy blue blazer is ideal for the more formal end of the business-casual spectrum. Most fashion-conscious men who prioritize versatility should really have one in their wardrobe.
Pairing a navy blue blazer with a basic khaki-colored pair of chinos is a tried-and-tested formula that works exceptionally well in business casual work settings.
If you feel as though a blazer may be too formal for your workplace but would still want to wear a jacket with your chinos, a sports coat may be ideal.
A sports coat is a notch less formal than a blazer, with a more rugged texture and often features such as arm patches or pleats.
They can look fantastic when paired with chinos. A great way to up the formality for work without having to go all the way up to a blazer.
What Shoes Should You Wear With Chinos For Work?
When wearing chinos to work it would be a safer bet to opt for a more formal pair of shoes. Appropriate examples include Oxfords, loafers, and Derbys.
Once again, this does depend on your specific workplace.
You may well be able to get away with wearing a smart pair of white sneakers with your chinos at work. However, if your workplace was that casual you probably wouldn't be reading this article in the first place.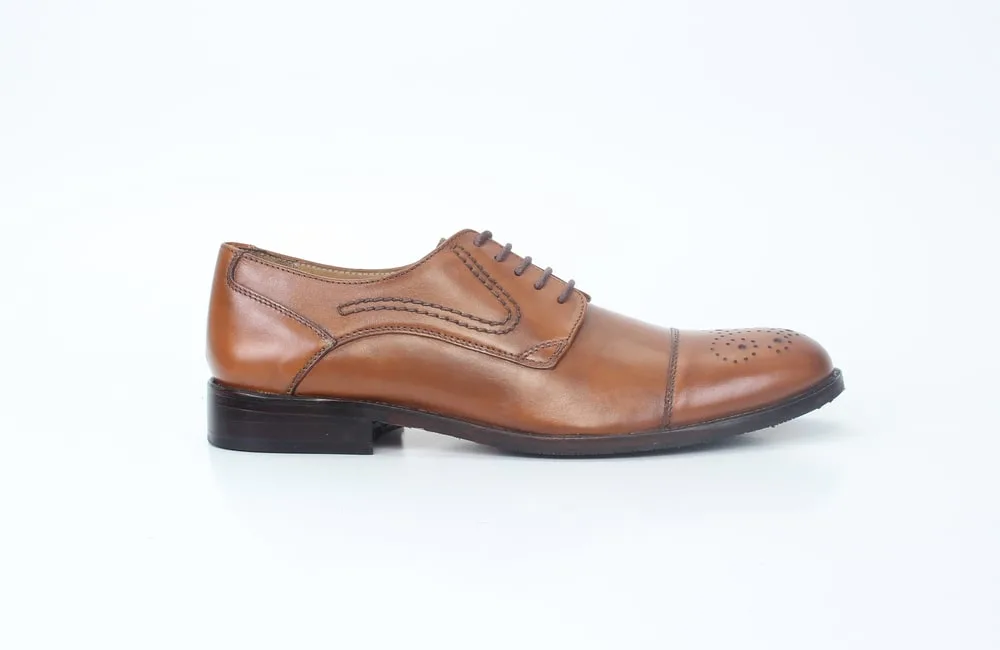 When dressing for work and aiming for that elusive business casual dress code, it's usually better to overdress than underdress whenever you aren't sure.
Shoes are a good example of this.
Try to lean toward the more formal shoes when dressing for work. The three I mentioned above work great with chinos.
Try to match the color of your shoes with the color of your belt. Brown leather looks fantastic when working within the neutral color scheme we've referred to in this article.
Chinos Vs Dress Pants (Trousers) For Work?
Dress pants would be more appropriate than chinos for work in industries where more formal attire is expected. Even in the most progressive and trendy workplaces with a clear business casual ethos, sometimes, chinos just won't cut it.
Dress pants are more formal due to features such as:
The smoother and shinier finish of the wool
The distinct center crease
The minimal seam details
Sometimes vertical or "on-seam" front pockets
Remember, the more "formal" pairs of chinos can have a couple of these features too, but they're just less common.
Even if chinos are acceptable workwear for you, it doesn't mean that you should never wear dress pants to work.
As I mentioned earlier, the same working man may well have days where dress pants are more appropriate, and other days where chinos are more appropriate.
Having good quality pairs of both will give you the freedom to choose each morning, taking the nature of the upcoming day into consideration.
Conclusion
Dressing for work doesn't need to be a stressful experience. Having a versatile, simple, multi-purpose wardrobe will be what eases it for you.
Chinos may well be an important component of it.
Hopefully, you've now got a better idea of whether chinos would be acceptable to wear at your specific workplace. They may well be.
You should also now have a better idea of specific features of chinos to look out for, as well as what to wear with the chinos to ensure you have a winning and appropriate combination.
Ready Sleek founder. Obsessed with casual style and the minimalist approach to building a highly functional wardrobe. Also a fan of classic, vintage hairstyles.