Certain color combinations seem like they'd be easy until you go ahead and try them. Unfortunately, the black shirt and blue pants combo often falls into this category.
Here's the bottom line:
A black shirt can be worn with blue pants in smart-casual and casual settings but shouldn't be worn to anything more formal than that. Black dress shirts and OCBDs worn with navy blue dress pants and chinos are good options when dressing "smart-casual".
But you'll need more than that. Dark shirts can look great in the right setting but are surprisingly difficult to coordinate.
After going through a few examples of outfits you can try out for yourself, we'll run through some essential tips for getting this combination right.
Let's get to it.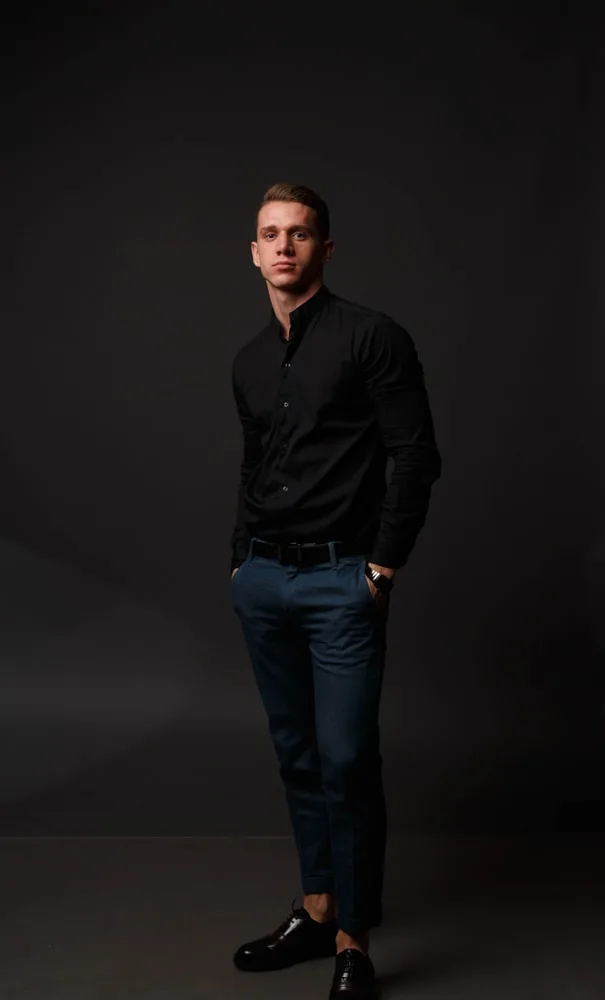 3 Black Shirt With Blue Pants Outfits To Try
We'll go from the dressiest option to the most casual option here.
It's a great way to show you the many different ways of wearing this combination, with some inevitably looking dressier and others looking more casual.
Dressy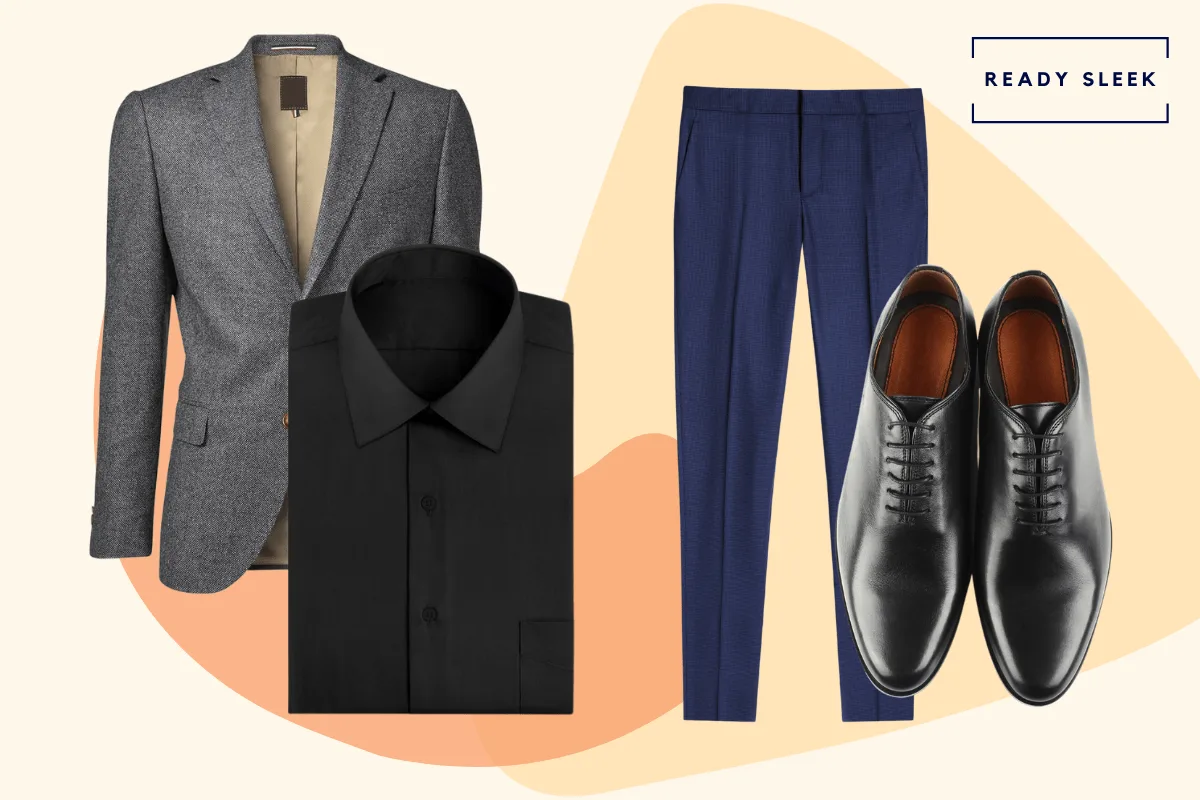 Items: Black Dress Shirt (Poplin/Broadcloth), Navy Blue Dress Pants, Charcoal Blazer/Sport Coat, Black Oxfords
While the black shirt and blue pants combination shouldn't ever be worn outside of smart-casual or casual settings, there are definitely dressier ways of wearing it.
This is one of them.
It would be suitable for a dressy smart-casual setting – for example, an evening social event, dinner, gala, etc.
So, what makes it look dressy?
Going for a black dress shirt instead of a more casual style definitely helps. The smooth, wrinkle-resistant texture of a dress shirt instantly makes the combo look dressier.
The same goes for the navy blue dress pants. It helps that it's a similarly dark and neutral color.
Popping a blazer over a shirt and pants combo is an easy way to up the sophistication level.
But going for a charcoal grey blazer is especially useful, simply because it's also a dressy-looking dark and neutral color.
The black Oxfords are a great way to finish off a dressy outfit. They won't look out of place when worn with a dress pants and dress shirt combination.
More Casual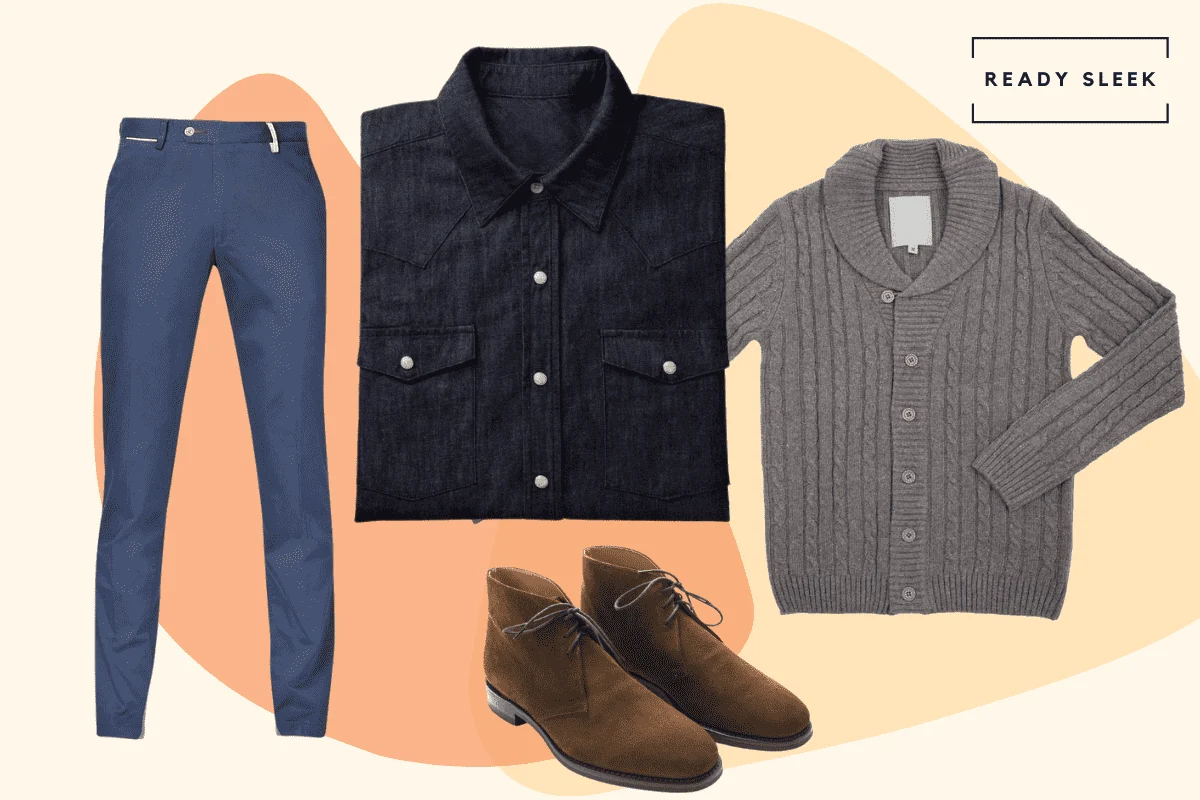 Items: Black Chambray/OCBD shirt, Navy Chinos, Grey Cardigan, Dark Brown Suede Chukka Boots
While we've still gone for a black button-up shirt here, we've chosen more casual styles and fabrics.
OCBDs, chambray, and linen are rougher and more rugged fabrics you could use to dress down a black shirt.
We've gone for a dark blue pair of pants once again. But going for chinos instead of dress pants is a quick and easy way to make things look a notch more casual.
While you could layer a casual, unstructured blazer over this combination, if you'd prefer to go a little more casual, consider a grey shawl collar cardigan like the one in the image above.
It looks sharp, but not excessive.
You've got plenty of choices when it comes to shoes, but we've gone for dark brown suede chukka boots here.
Brown and black do look good together – don't let anyone tell you otherwise.
Most Casual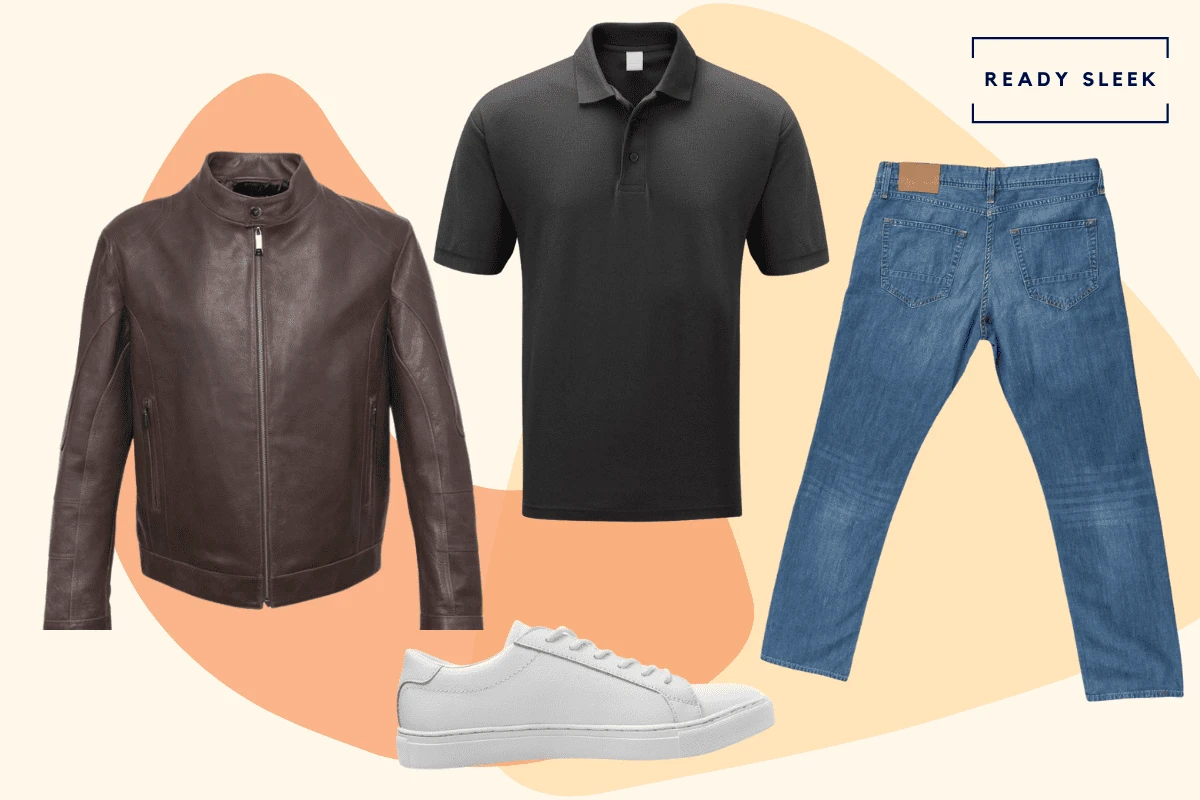 Items: Black Polo Shirt, Dark Brown Leather Jacket, Blue Jeans, White Sneakers
A black polo looks many times more casual than a button-up, but not quite as casual as a T-shirt.
We've gone for blue jeans here.
The main takeaway point here is that a "black shirt and blue pants" combination can be anything you want it to be.
It all depends on the styles, the fabrics, and the other items you choose to wear these two items with.
The dark brown leather jacket layered over it produces another example of just how good black and brown can look when combined.
Similarly casual alternative layering options you have include denim jackets, trucker jackets, and gilets.
Finally, while a pair of black sneakers may seem like the obvious choice here, I love the way a pair of all-white sneakers adds a sharp touch of contrast to the rest of the outfit.
5 Tips For Wearing A Black Shirt With Blue Pants
Stick to these tips and you're unlikely to end up with a combination that looks awkward or out of place.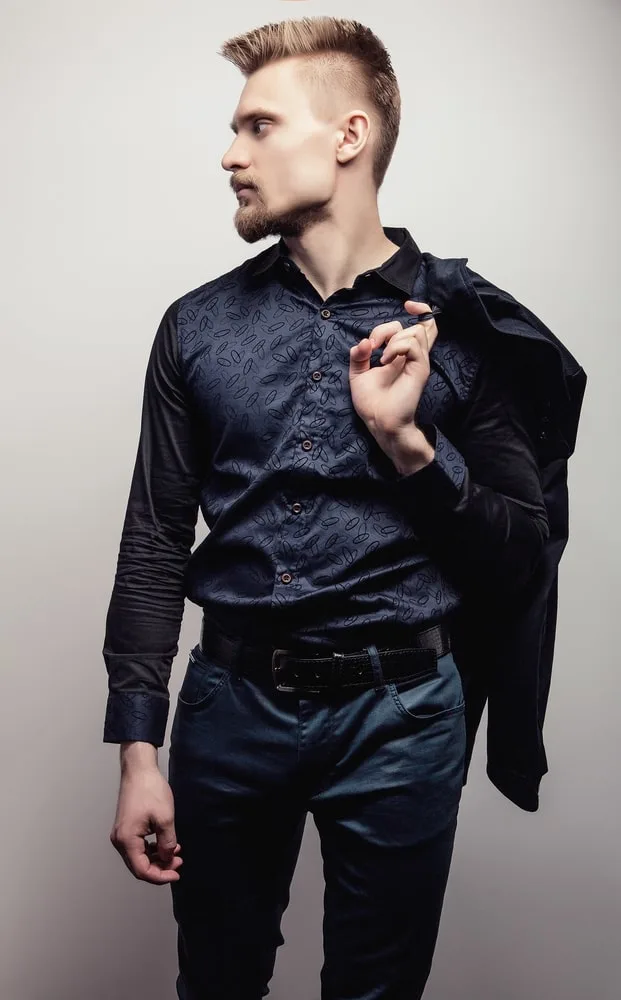 It's Never Formal
No matter how formal the black shirt or the blue pants may look in isolation, the combination would never be appropriate to wear to a truly formal setting.
The same goes for business-professional settings.
Black shirts just aren't appropriate to wear in corporate workplaces. This is the same reason why it wouldn't be a good idea in business-casual settings either.
Go for white shirts or shirts in soft pastels (eg. light blue or light pink) instead.
A black dress shirt has a more social and laid-back aesthetic to it. They have an effortlessly sleek and sophisticated look, but they need to be worn in the right settings.
That's why it's best to reserve any black shirt and blue pants combo for smart-casual and casual settings and avoid it in any dress codes more formal than that.
Consider The Shade Of The Blue Pants
Black shirts are dark. Obvious? Maybe.
But it's probably the most important factor to take into account when coordinating them with other items.
While black is a neutral color and will technically coordinate with any other color you can think of, you need to take contrast into account.
Black shirts will coordinate with pants in any shade of blue.
But a black shirt worn with light blue pants will look very different from a black shirt worn with dark blue pants.
Black shirt + light blue pants = A high contrast combination
Black shirt + dark blue pants = A low contrast combination
The high level of contrast between a black shirt and light blue pants (eg. cyan, aquamarine) will lead to an attention-grabbing and eye-catching contrast.
In very casual settings, this could look fine.
But in smart-casual settings where there's more of a risk of underdressing, stick to the more subtle and dressy appearance of a low-contrast combination.
In other words, wear the black shirt with dark blue pants (eg. midnight or navy) or medium shades (eg. steel blue, teal, royal) at the very least.
Here's a table summarizing all of this:
| | |
| --- | --- |
| Black Shirt With Navy Blue Pants | Smart-Casual Or Casual |
| Black Shirt + Sky Blue Pants | Casual |
| Black Shirt + Royal Blue Pants | Smart-Casual Or Casual |
| Black Shirt With Light Blue Pants | Casual |
The Specific Styles Are Crucial
A black dress shirt worn with navy dress pants is about as dressy as you can make this color combination. On the other end of the spectrum, you've got black T-shirts and polos worn with light blue jeans and chinos.
Whether you're dressing up or dressing down, it's important to consider the style of both your black shirt and your blue pants.
Going for a black dress shirt helps when dressing up for a smart-casual setting. While a "dress shirt" has come to take on different meanings, there are certain features they'll generally always have:
A smooth, wrinkle-resistant texture thanks to a tightly woven fabric
A stiff collar
A long, curved hem. Consider this a tell-tale sign that the shirt is meant for tucking in
High thread count cotton shirts in poplin/Oxford weaves are common examples.
More casual black button-up shirts you've got available to choose from include those made from Oxford cloth, chambray, and linen.
They're rougher, more rugged, and wrinklier.
They'll also generally have collars that are less stiff and shorter hems that aren't meant for tucking in.
Black polos, tees, and Henleys would be good options when you're really going casual.
Now, let's talk about the blue pants.
As mentioned earlier, the darker the shade of blue, the dressier the pants will look when worn with a black shirt.
But the style of pants you choose is just as important, as you saw in the outfit examples above.
At the dressiest end of the spectrum, you've got dress pants with their typically "smart" features – tapered fit, center creases, jetted pockets, and maybe even pleats.
Then, you've got chinos. Not quite as dressy but will definitely hold their own in smart-casual settings.
Finally, you've got blue jeans. They're ideal when you're really looking to dress down a black shirt.
Blazers And Sport Coats Look Great
Layers are awesome, but the specific layer you choose to wear over your black shirt should be guided by the dress code and the setting.
Blazers and sport coats are great for smart-casual settings and events and here's why I think grey is the best option (but not the only option).
The most obvious blazer colors are the most versatile ones; black, navy, charcoal grey, and light grey.
A navy blazer wouldn't be the best option here, especially when wearing navy blue pants. You risk coming across as though you're wearing a poorly-matched 2-piece suit.
Avoid it if possible.
A black blazer would be OK but not ideal. You'd ideally want a bit of contrast with the black shirt to avoid the two items blending into each other too much.
Grey is ideal because it's neutral enough to slot into the outfit seamlessly, while also being different enough from black and blue to add some visual interest and contrast.
The dressier the setting, the more likely it is that a charcoal grey (or a similarly dark shade) would be a better option than a light grey.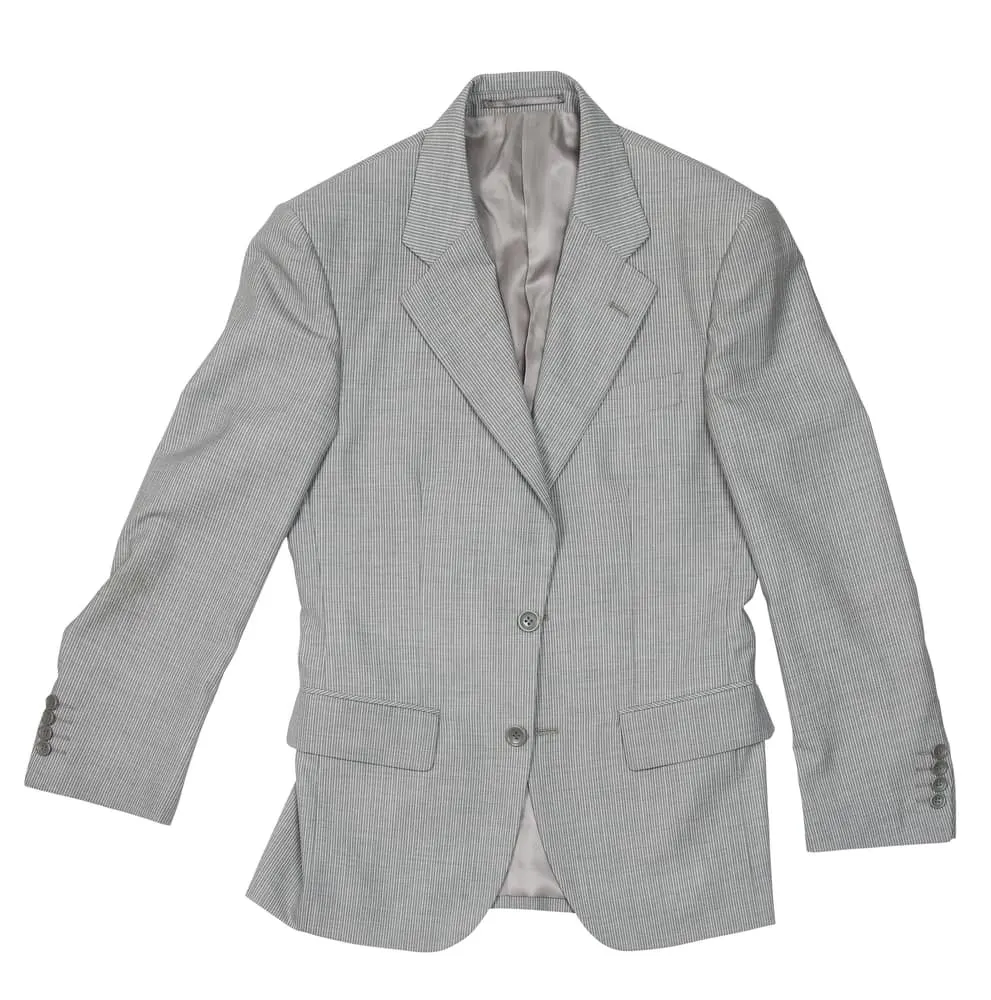 While you could go for a more vibrant blazer/sport coat color (eg. burgundy or olive), it's best to stick to neutrals when dealing with colors as bold as blue and black.
The Shoe Color Should Suit The Dress Code
When wearing a black shirt and blue pants, brown, black, and white shoes are great options.
Let the setting guide the choice of shoe color.
In dressier smart-casual settings, black and dark brown shoes would work best here. Going for black shoes would obviously make it clear you've coordinated with the shirt.
This is a nice touch, but wearing dark brown shoes here also has its benefits.
The warmth and contrast produced by the dark brown make the outfit a little more interesting while still ensuring that it looks dressy enough for the setting.
When dressing down a notch, you could consider a pair of leather dress shoes in a lighter shade of brown.
A notch more casual yet would be the same pair of shoes in suede as opposed to a shinier grain of leather.
A quick note on belts:
When wearing a black shirt and blue pants, make sure your belt matches your dress shoes. For example, wear a brown belt with brown shoes, a black belt with black shoes, and so on.
Finally, when you're really looking to dress down, consider wearing a pair of white sneakers. All-white leather low-tops are my favorite, simply because of how versatile they are.
They wouldn't look too out of place when worn with a black button-up and even a pair of navy dress pants.
That's the benefit of going for a minimalist pair of sneakers with minimal branding.
Ready Sleek founder. Obsessed with casual style and the minimalist approach to building a highly functional wardrobe. Also a fan of classic, vintage hairstyles.