Wearing a light blue shirt with navy pants has an appealing simplicity to it. There are definitely ways of taking this monochromatic combination and elevating it to new heights.
Here's the bottom line:
The combination works best in business-casual, smart-casual, and casual settings. Make sure that the fabric and weave of each item are suitable for the dress code. A grey blazer will usually work well no matter what style of light blue shirt and navy pants you go for.
But you'll need a whole lot more than that.
After going through a few outfit examples you can try out for yourself, we'll run through five essential tips for wearing this combination perfectly, each and every time.
Let's get to it.
3 Light Blue Shirt And Navy Pants Outfit Examples
First, it's important to recognize that a "light blue shirt and navy pants" combination can look very different depending on a few key factors:
The style of each item
The fabric/weave of each item
A light blue OCBD and navy chinos combo will look very different from a light blue dress shirt and a pleated navy dress pants combo, for example.
Some combinations will look dressier, while others will look more casual.
We'll start with a dressy example and finish up with a more casual one.
Dressy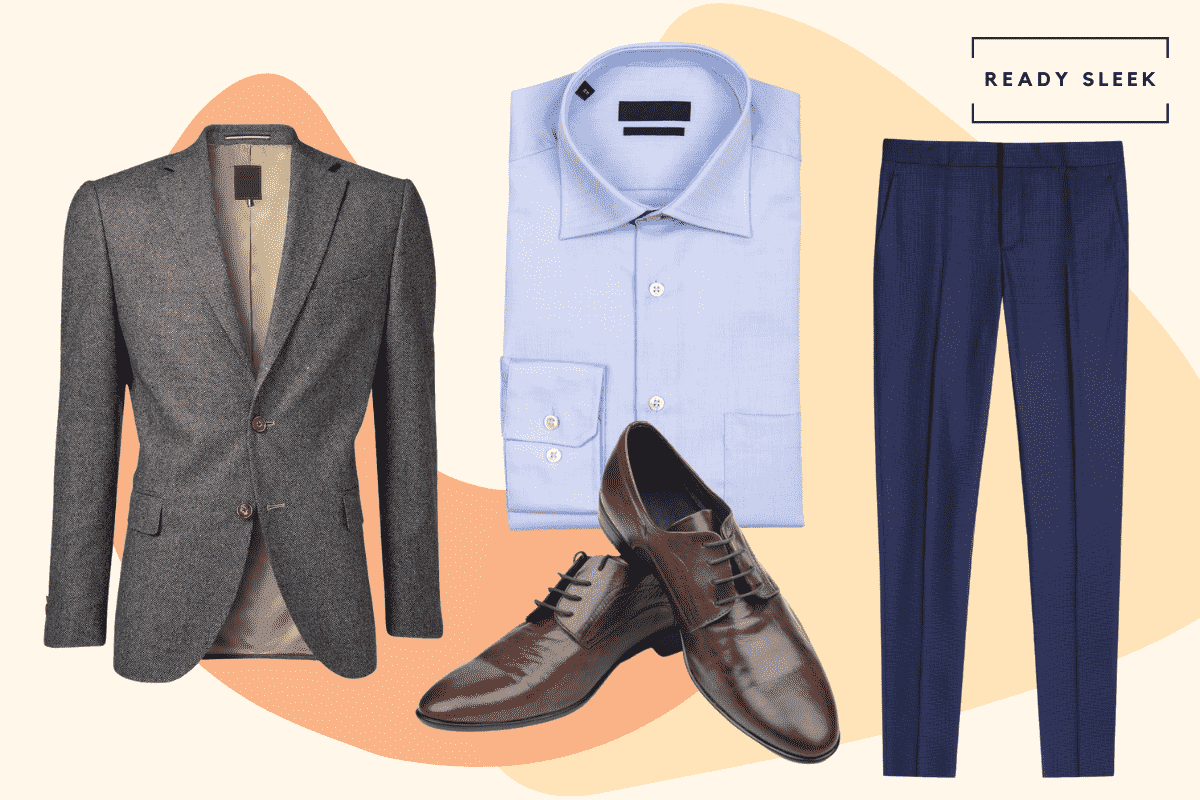 Items: Light Blue Poplin/Oxford Weave Dress Shirt, Navy Dress Pants, Charcoal Blazer, Dark Brown Derby Shoes
So, what makes this combination dressy?
Well, firstly, we've gone for a light blue dress shirt with a typically "professional" aesthetic.
A tight weave, smooth texture, and classic cut.
We've also gone for navy dress pants, as opposed to a more casual pant style such as jeans or chinos.
Dress pants generally have a tapered fit, and may have additional features such as center creases, jetted pockets, and even pleats.
The fabric/weave used can vary widely, but a common and versatile favorite is wool flannel. It's dressy, but not so dressy that it looks out of place worn outside of a suit.
We've rounded things off with a charcoal blazer. The darker the shade, the dressier it'll generally look. The darkness of the charcoal syncs well with that of the navy pants.
Finally, the dark brown Derby shoes add a touch of contrast and warmth to the outfit while still looking undoubtedly dressy.
More Casual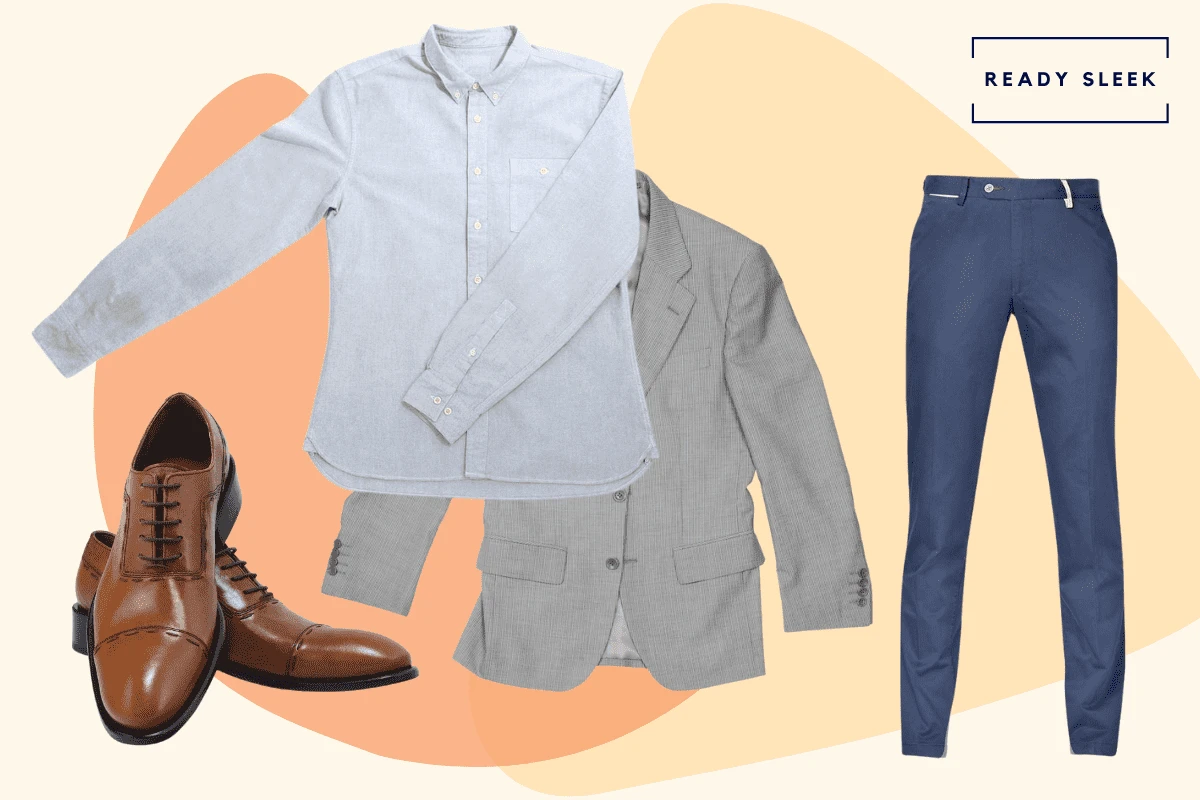 Items: Light Blue OCBD Shirt, Navy Chinos, Caramel Brown Dress Shoes, Light Grey Sport Coat
The light blue OCBD (Oxford Cloth Button Down) is somewhat of a staple in the world of Ivy/Prep.
I'd argue that every man should own one in their wardrobe due to their versatility.
You'll notice how the rugged and wrinkly texture of the Oxford cloth makes it look and feel more casual than the dress shirt in the previous example.
A simple way to dress an OCBD shirt up would be to pop a blazer over it. The light grey blazer we've gone for here looks a touch more casual than the dark grey blazer used in the previous example.
Chinos epitomize the "middle ground" of formality, lying somewhere in between a pair of dress pants and a pair of jeans.
They're ideal for business-casual settings but are a staple within the realm of smart-casual too.
Navy chinos can sometimes be a little frustrating. Chinos in dark colors such as these can fade over time leaving an unappealing patchy appearance.
But still, a good quality pair should last you a while.
The dress shoes look more casual in this example when compared to the previous one, simply because we've gone for a lighter shade of brown.
Most Casual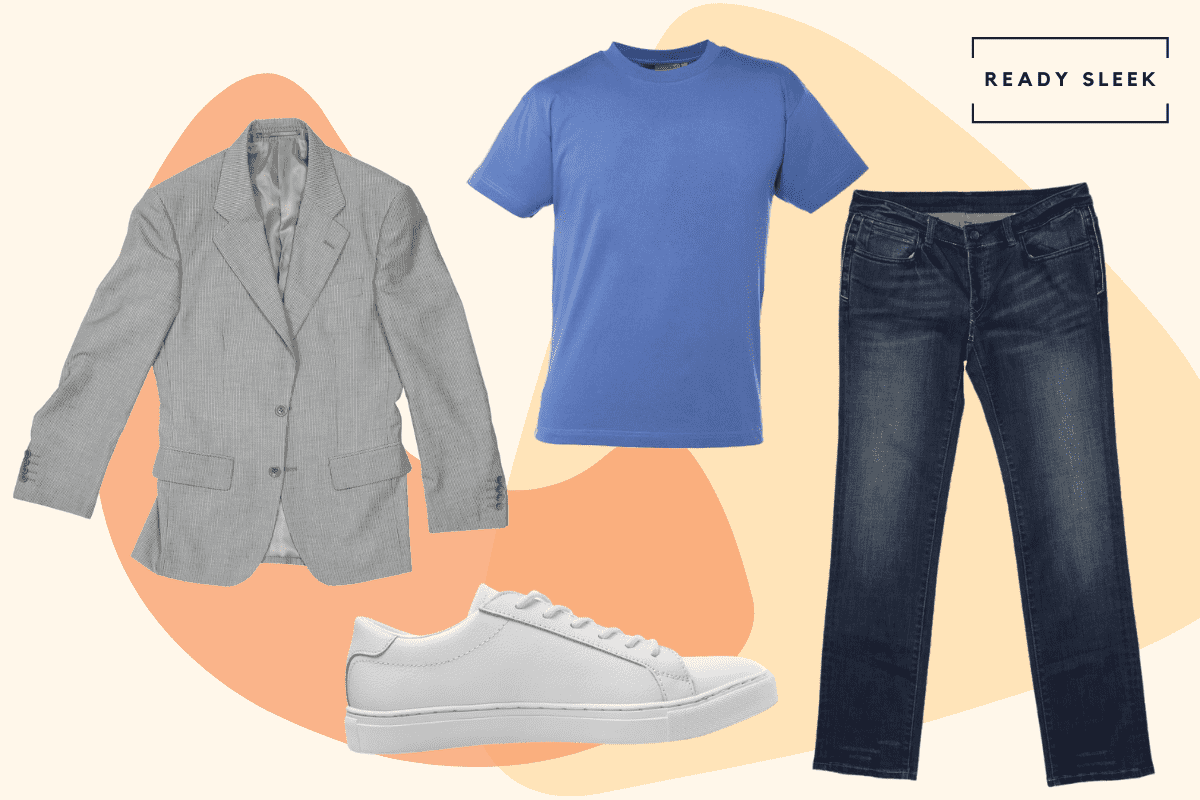 Items: Blue T-Shirt, Light Grey Blazer, Dark Blue Jeans/Chinos, White Sneakers
There's absolutely no reason why you can't wear the same unstructured light grey blazer over a light blue T-shirt when dressing down.
It's a simple way to make a casual outfit look a touch more sophisticated.
While we could go for the same navy chinos we went for in the previous example, dark blue/indigo jeans in a dark wash would work perfectly well in a casual setting.
At this point, take a moment to appreciate just how different this "light blue shirt and navy pants" combination looks when compared to the two dressier examples above.
To finish up, pop on a pair of all-white leather low-top sneakers. Casual, but not so casual that they look out of place when worn with a blazer.
5 Tips For Wearing A Light Blue Shirt With Navy Pants
Here are some tips for getting this combination right no matter what you may be dressing for.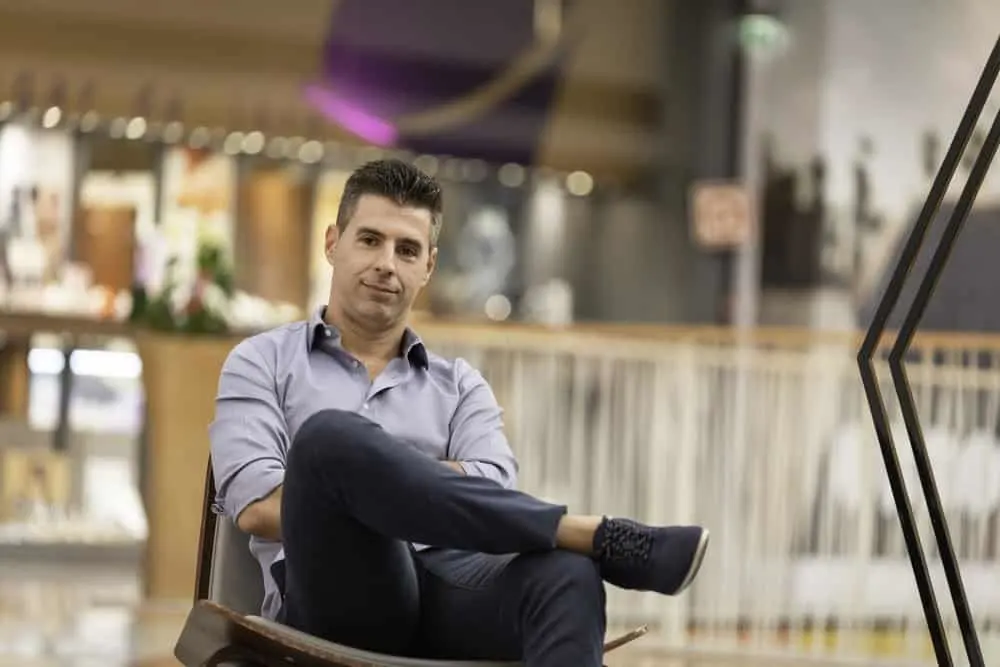 Make Sure It's Appropriate For The Setting
A light blue shirt and navy pants combination should really only be worn in settings where a complete 2-piece suit wouldn't be required.
So, this rules out truly formal settings, as well as business-professional ones.
Here, you'd need to go for a full 2-piece navy suit at the very least – a matching suit jacket and pair of pants made from the same roll of navy fabric.
Instead, consider a light blue shirt and navy pants combination in business-casual, smart-casual, and casual settings.
These are settings where a 2-piece suit wouldn't be required and navy pants of any variety would be suitable to wear without a matching jacket.
Taking the three outfit examples we listed earlier on, the "dressy" example would be most appropriate to wear in business-casual settings.
The "more casual" example would work well in smart-casual settings.
The "most casual" example would be ideal in even more casual settings where a T-shirt and sneakers combo wouldn't look out of place.
Consider The Fabric Of Each Item
The fabric/weave of the light blue shirt and the navy pants will play a huge role in how dressy or casual the combination will look overall.
Let's talk about the light blue shirt first.
Here are some "dressy" fabrics/weaves you could consider:
Broadcloth
Poplin
Oxford Weave (different from Oxford cloth)
Here are some more "casual" fabrics/weaves:
Oxford Cloth
Linen
Chambray
Herringbone
The main point here is that dressier shirt fabrics tend to have a smoother texture due to having a tighter weave and being less wrinkly in general.
More casual shirt fabrics will have a more rough, rugged, or wrinkly texture to them.
When it comes to navy pants, the same rule of thumb applies.
The smoother and less wrinkly the texture of the navy pants, the dressier they'll look.
While wool flannel navy pants will look dressy, the brushed and "fuzzy" texture will look a notch more casual than the smoother appearance of worsted wool.
Navy chinos will look and feel even more casual due to the more rugged appearance and texture of chino cloth.
The same goes for dark blue denim, and so on.
Try A Patterned Light Blue Shirt
While the monochromatic appearance of the light blue shirt/navy pants combination definitely has its appeal, going for a patterned shirt is a nice way to break things up.
It can give the outfit a layer of visual interest without having to add more colors.
While you could go for a louder and more vibrant pattern such as a floral or paisley example, a simple striped light blue shirt will be the best option for most situations.
Pinstripe, chalk, Bengal; there are many stripe patterns to choose from.
Grey Blazers Look Great
Most men would benefit from having a range of blazers colors to choose from.
However, there are three that are generally considered the most versatile:
Black, grey, and navy.
These are worth having access to, simply because they work well in a variety of different dress codes given how dressy they look.
They're also neutral enough to pair with any other color you can think of.
But there are reasons why grey blazers tend to look best when wearing a light blue shirt and navy pants.
Wearing a navy blazer with navy pants will make you come across as though you're wearing a poorly-matched suit.
A black blazer is a better option, but pairing navy and black isn't always easy, especially in dressier settings.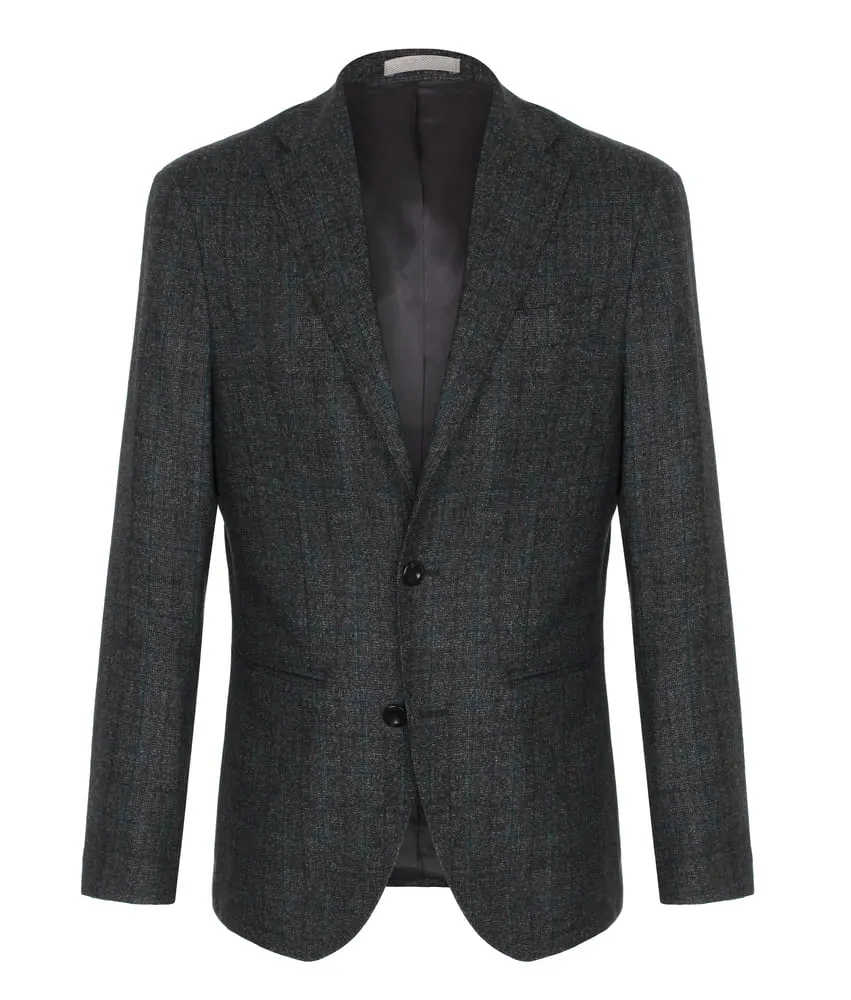 It has a more fashion-forward appearance to it and is better suited to casual settings.
A grey blazer, on the other hand, works very well with navy pants. This goes for both light grey and dark grey blazers, with dark grey being the better option in dressier business-casual settings.
Brown Shoes Work Exceptionally Well
Brown shoes look great when wearing a light blue shirt with navy pants. Dark brown dress shoes (eg. Derby shoes or monk straps) are ideal in business-casual settings, with those in lighter shades of brown being better suited to more casual environments.
In casual settings, consider more casual shoe styles such as loafers.
The laceless, slip-on construction will always look more casual than Derbys and monk straps, but they're still considered a "dressy" and relatively sophisticated style of casual footwear.
Black dress shoes can also work very well with a light blue shirt and navy pants. As always, it'll coordinate effortlessly.
But they will usually have a more "professional" look and feel to them, while brown shoes have a more laid-back dressiness to them.
Finally, when you're really dressing down, don't be afraid to pop on a pair of white sneakers. Of course, this works best when you've gone for a casual style of navy pants (eg. chinos or jeans).
All-white leather low-tops work best here. They're often called "dress sneakers" because they're easy to pair with dressy items such as blazers without looking awkward.
Ready Sleek founder. Obsessed with casual style and the minimalist approach to building a highly functional wardrobe. Also a fan of classic, vintage hairstyles.