While it may not be the most obvious pairing in your wardrobe, it never hurts to mix things up a little. So, can you really wear a cowboy hat with shorts?
Cowboy hats are such a versatile piece of headwear that they certainly can be worn with shorts. You can pair them with classic denim shorts and casual shoes or even dress down with some cargo shorts.
These options are generally suited better than the more casual options like athletic or gym shorts.
That's the simple answer, but there are a few more details that you'll be wanting to keep in mind.
So here are 7 tips to help you really own your look when opting to wear a pair of shorts with your cowboy hat.

Let's take a look.
The best thing about choosing to wear your cowboy hat with a pair of shorts is that there are only a handful of things you should be mindful of.
1. Choose The Right Color Pairing
When choosing out the right pair of shorts to wear with your cowboy hat, you'll want to pay close attention to your color pairing.
With the majority of cowboy hats featuring a brown, black, or dark finish, it's important that you avoid any loud colors that clash with these. You don't want to be pairing your hat with bright or overly loud colors.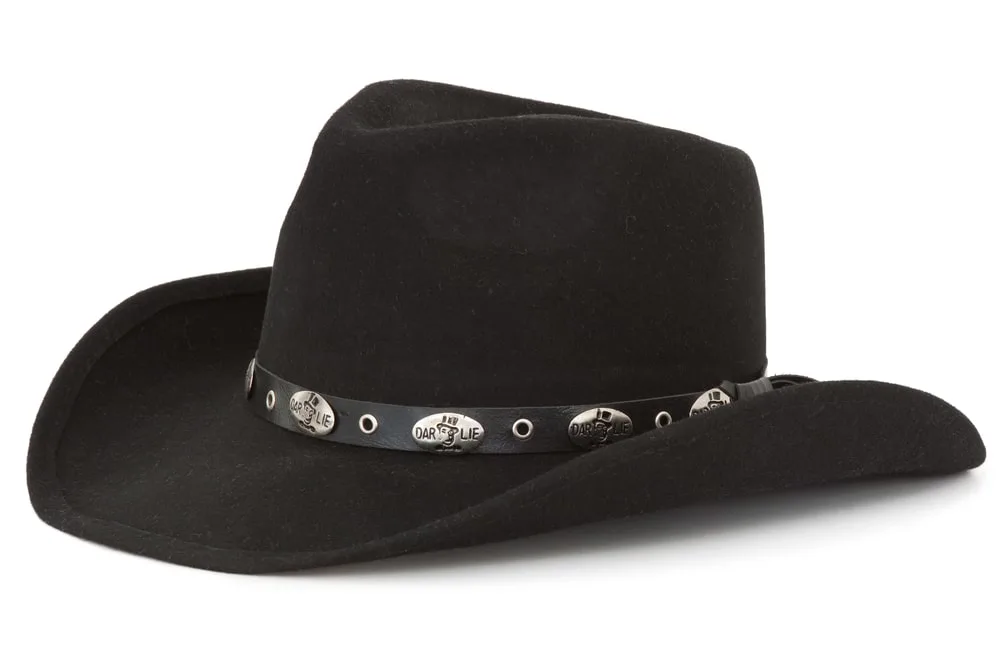 In most cases, it's usually safe to stick with brown, black, dark blue, faded denim blue, and some muted shades of green.
White shorts are also a viable option and make for an amazing pairing for that casual look with a straw cowboy hat.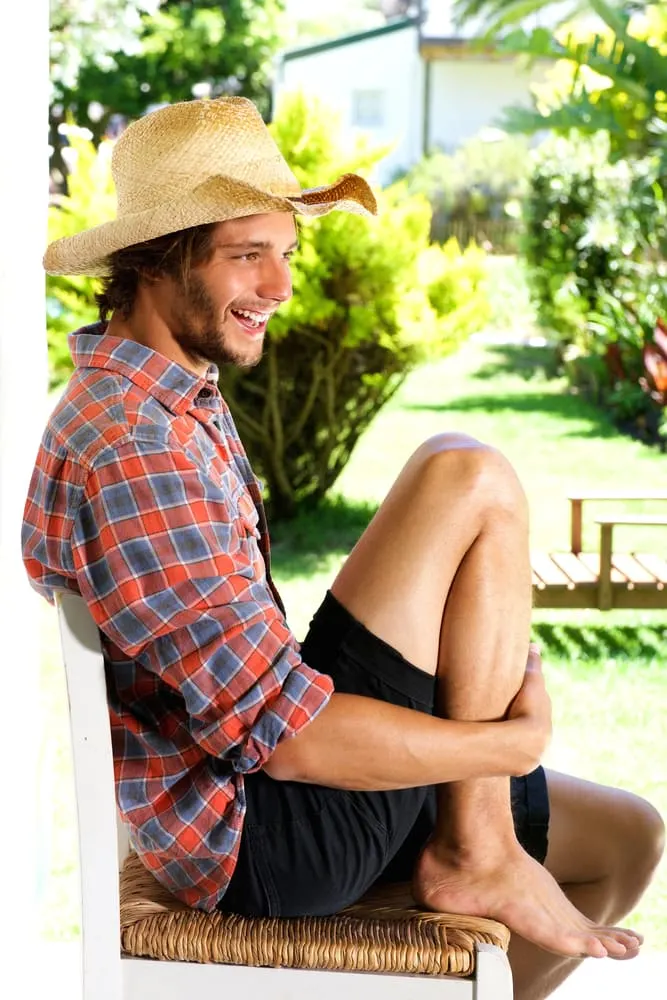 2. Some Materials Work Better Than Others
The style and material of the shorts are what will make or break your outfit.
While there are no firm rules regarding what style of shorts you should wear, there are some that do simply work better than others, and that do better complement cowboy hats.
Since cowboy hats have historically been worn and designed with denim jeans in mind, it makes sense that denim shorts are one of the most ideal choices.
Here's an example on Amazon:
Your denim shorts should be well fitted, but not too tight, and feature a rough cut about 1 inch above knee height. And, touching on our previous tip, these should be denim blue, dark blue, gray, or black.
Don't forget to pair your denim shorts with a good, high-quality belt.
Chino shorts, in brown, black, or gray, are another great option. These are far more breathable, lightweight, and generally, a bit slimmer compared to denim.

If you want something a little looser and more casual than the Chino, then a pair of Khaki shorts would be your next choice.
And although these two terms are often used interchangeably, they do have their differences.
Khaki's, made of 100% cotton, are usually thicker and heavier than chino shorts. This makes them a better option in cooler weather.
You could also choose to wear a pair of cargo shorts as well. While they are heavier than both chinos and khakis, they pair just as well with a cowboy hat.
It's also worth mentioning that cutoff shorts are another viable option and do fit well with a cowboy hat, particularly in the more casual settings
Beyond those options, you'll generally want to avoid board shorts and walk shorts if you have a traditional cowboy hat. These should be saved for when wearing a straw cowboy hat.
3. Avoid Loud Patterns
Cowboy hats should almost always be worn with shorts void of any patterns or designs.
The hat is already such a central piece of your outfit that you don't want to detract from it. It should be what draws attention, not the patterns on your shorts.

If you did want to go for something a little more interesting than a plain pair of shorts, consider looking into a pair of washed-out denim shorts featuring some subtle rips.
You could also get some distressed denim shorts that do have a natural denim pattern that can add that extra little bit of style to your outfit.
But, in most cases, look to stick with minimal patterns and avoid anything that draws too much attention away from the hat.
4. Straw Hats Give You More Freedom
If you prefer straw cowboy hats over the traditional felt hats, then you do have a little more freedom over the type of shorts you choose.

These can be worn in more of a casual setting and, as touched on above, can be paired with the more casual board shorts, swim shorts or walk shorts.
Although we've touched on multiple aspects such as the color and style of shorts, there is some leniency on these when you have a straw cowboy hat.
For one, you can get away with a slightly more featured pattern on your shorts if you've elected to wear board and walk shorts.
Additionally, if your straw cowboy hat is white, you could certainly be a little more adventurous and wear a pair of shorts with a bit more color to them.

In saying that, you'd still want to avoid anything too bright and stick with well-contrasting colors such as navy, pale blues, olive green, and white.
By the way, if you love the look of the photograph above, I've gone more in-depth on wearing a cowboy hat with long hair if you're interested. It's a great look.
5. Choose The Right Shoes
When you think of a cowboy hat, you think of cowboy boots. They would complement the hat and add another rugged and eye-catching touch to the outfit. They're ideal when you're attending an outdoor event (eg. a festival).
Cowboy boots are also surprisingly versatile (when worn in the right settings) and can be worn with shorts. Check out my articles on wearing cowboy boots with skinny jeans and with dress pants if you wanted to dig deeper into their versatility.

While boots are the obvious choice of footwear, they aren't the only option when wearing shorts. Particularly considering that some cowboy and western boots do have quite a premium price tag.
Your next best choice, at least for a traditional felt cowboy hat, would be to dress this down slightly and go with a regular dress boot. We'd recommend a straight leather design, though suede is also an acceptable option.

Additionally, you'll be wanting to stick with the standard brown, black or gray when choosing which color to wear.
Ultimately, dress boots are sleek, stylish, and easy to dress up. They'd definitely be a dressier alternative to cowboy boots.
On the other hand, you can opt for a far more casual pair of shoes if you've chosen a straw cowboy hat.
You can definitely wear a pair of boat shoes or loafers.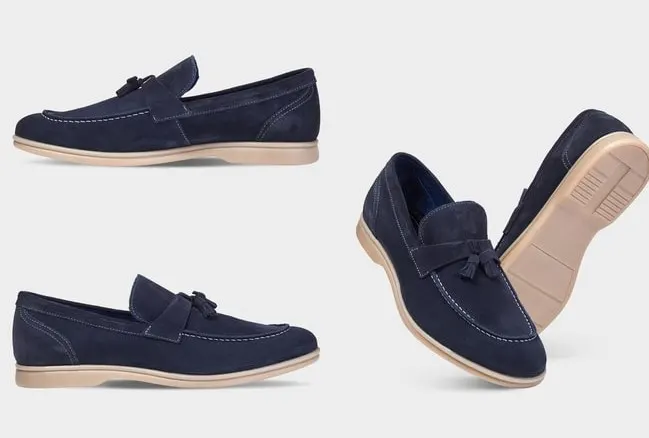 Consider sticking with the safe color choice of either brown, black, navy blue, or white. These all pair perfectly with the standard white or pale yellow straw cowboy hat.
Loafers are laid-back and summer-friendly given the laceless, slip-on construction.
Boat shoes may have a preppy, nautical vibe that won't appeal to everyone, but it's hard to deny how well they complement the relaxed and summery feel of shorts and a cowboy hat.
Finally, while bulky canvas running shoes can sometimes look awkward when wearing shorts in a non-athletic setting, a pair of minimalist leather sneakers would usually go down a treat.
6. Collared Shirt Or A T-Shirt?
Depending on the occasion, and style of shorts, you could wear either a collared shirt or casual t-shirt with your cowboy hat and shorts.
Keeping with tradition, a collared and button-up denim or cotton shirt work brilliantly with your shorts and cowboy hat. Yes, a denim shirt even if you've chosen denim shorts.
That would be your best option for less casual occasions or when working outdoors.
Alternatively, plain t-shirts can also be practical and look great with cowboy hats and shorts.

In terms of color, you'll want your hat to be the stand-out feature and go for a color that compliments it, not take away from it.

However, in almost any case, a simple white or black t-shirt will pair nicely with shorts and both a felt or straw cowboy hat of most colors.
Ultimately, a cowboy hat is surprisingly versatile – people even wear them with suits.
7. Be Confident
Choosing to wear shorts with a cowboy hat can feel like a foreign concept, especially if you've grown up in a western or country setting.
With that in mind, it's important to wear your cowboy hat and shorts with confidence. Own the look and enjoy the freedom of making a bold fashion statement.

All-in-all, cowboy hats can be quite versatile and can be worn with shorts. If you're looking to ditch the jeans and keep cool, consider a pair of shorts on your next outing.
8. Accessorize
You've got a bunch of options here, but the key is to make sure your accessories are in sync with the irresistible Western cowboy hat and shorts combination.
Here are some ideas:
Belts – It adds a sense of completion. A braided belt or a belt with a Western-inspired buckle can add some extra flair.
Sunglasses – It's hard to go wrong with Aviators or wayfarers. Cool, laid-back, and summer-friendly. I've written more about wearing cowboy hats with glasses/sunglasses if you're interested.
Bracelets – Leather bracelets or beaded bracelets work especially well with our combination. They can add a bohemian touch to the outfit and can easily be layered for a more attention-grabbing effect.
Necklaces – A simple leather cord necklace or a pendant necklace would work well here. They add to the relaxed and beachy aesthetic.
Ready Sleek founder. Obsessed with casual style and the minimalist approach to building a highly functional wardrobe. Also a fan of classic, vintage hairstyles.