Cowboy hats are a great way to add a touch of country to an outfit. But can you really wear a cowboy hat with glasses and sunglasses?
Yes. Cowboy hats can work well with glasses and sunglasses. It's best to avoid sports glasses and sunglasses and, instead, go for aviator sunglasses. This outfit looks great with cowboy boots and denim, and black or brown tinted sunglasses are optimal. Remember, this outfit is pretty casual.
Although that's the short answer, you'll need more.
Here are seven tips to help you pull off this outfit every time.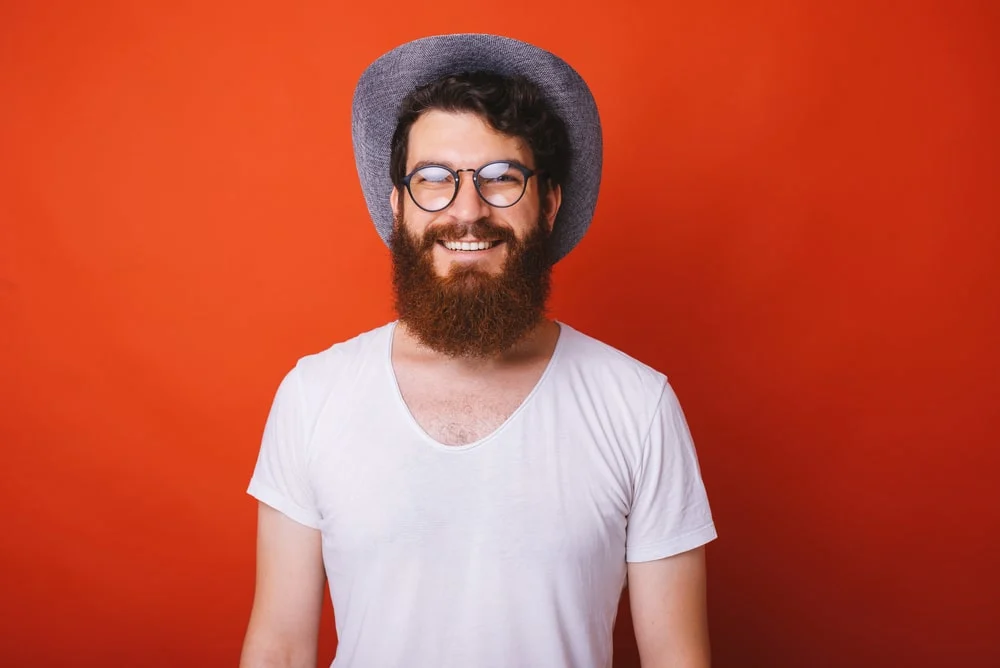 1. Consider Cowboy Hat Style
One of the most significant things to think about when wearing a cowboy hat with glasses or sunglasses is the style of cowboy hat you choose.
There are so many different cowboy hat styles that it can be difficult to know the best ones to choose to wear with sunglasses and glasses.
Generally speaking, there are four types of cowboy hats. These are the cattleman crease, telescope crease, pinch front crease, and Montana crease.
It may surprise you that the main factor differentiating the cowboy hat styles is the hat's crease.
However, the varying crease is a unique characteristic of each hat.
The cattleman crease is the most traditional and – by far – the most popular cowboy hat style.
It's characterized by one central crease running down the crown's center alongside two extra creases on either side.
Pinch-front crease hats have a distinctive V-shaped crown and are also pretty common.
Similar to the cattleman crease, the Montana crease cowboy hat has shallower side creases and a more prominent center crease. Also, its brim is slightly upturned.
Finally, the telescope crease cowboy hat has a completely flat brim (it isn't upturned) and near-enough no crease.
When wearing sunglasses or glasses with a cowboy hat, the cowboy hat style you go for is primarily down to personal preference.
However, if you're still unsure, choose a cattleman crease cowboy hat.
It's hard to go wrong with this cowboy hat style, as it's easily one of the most versatile.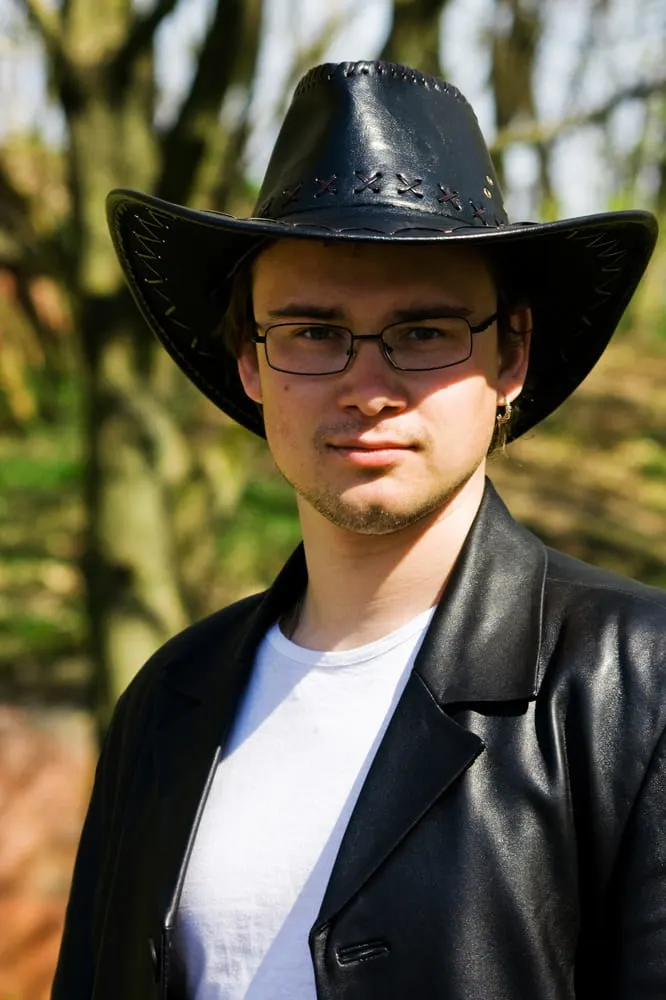 2. Avoid Sports Glasses And Sunglasses
Some accessories look good with cowboy hats, while others simply do not.
With this outfit, it's best to steer clear of any sports-oriented glasses or sunglasses.
Their sporty, often colorfully-tinted look doesn't suit the rugged, traditional look that a cowboy hat so gracefully achieves.
Not only that but there's a significant cultural mismatch, as well as a major formality mismatch.
While cowboy hats are typically pretty casual in nature, they can be dressed up for some occasions.
Moreover, they can be appropriate for more western-themed, formal events, such as weddings.
Sports glasses or sunglasses, on the other hand, should be kept solely for sporting endeavors.
They are designed for these purposes and, therefore, favor practicality and function over appearance.
Therefore, it's best to avoid them with a cowboy hat altogether.
3. Aviator Frames Work Well
Not only are there lots of styles of cowboy hats and boots, but there are also many different sunglasses types.
However, unlike the aforementioned garments, you can't just pick any sunglasses style to go with this look.
As mentioned, you should always avoid sports sunglasses or glasses with this outfit.
Instead, go for something cool, sophisticated, and stylish in nature: aviator frames.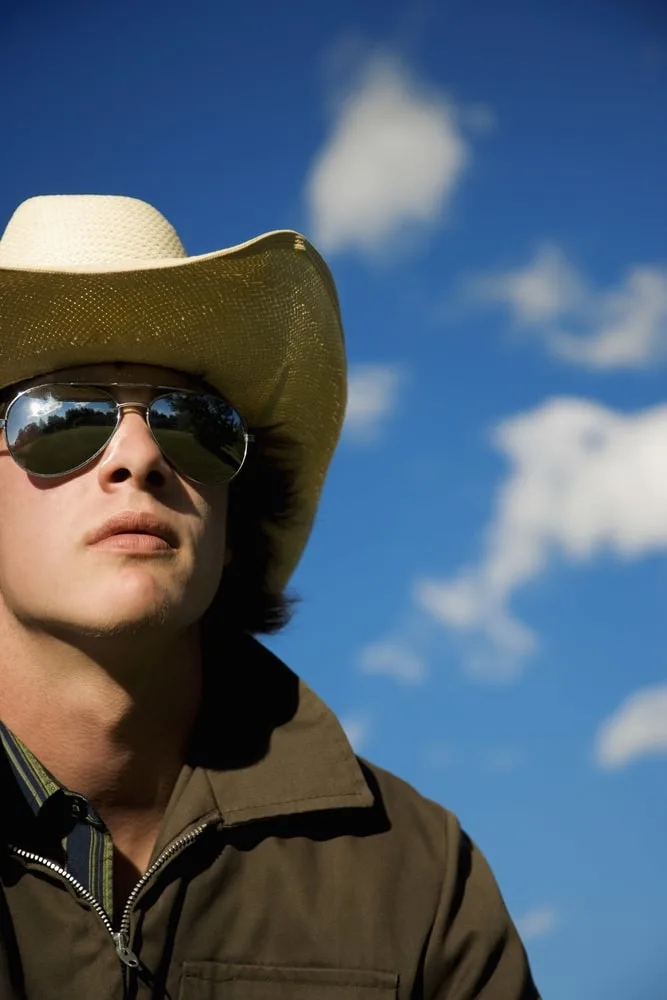 While they're more commonly found as sunglasses, you can also get standard aviator glasses.
They pair nicely with the masculine vibe of cowboy hats and cowboy boots – if you choose to wear them with this outfit.
Black or grey frames look best with this outfit, as anything else could come across as extravagant.
This is opposite to what you're aiming to achieve with this look.
4. Black Or Brown Tinted Aviators Look Best
The color of your sunglasses tint may seem an insignificant factor; however, getting the wrong tint color can destroy an outfit.
When wearing a cowboy hat with sunglasses, black or brown aviator tints would usually be best.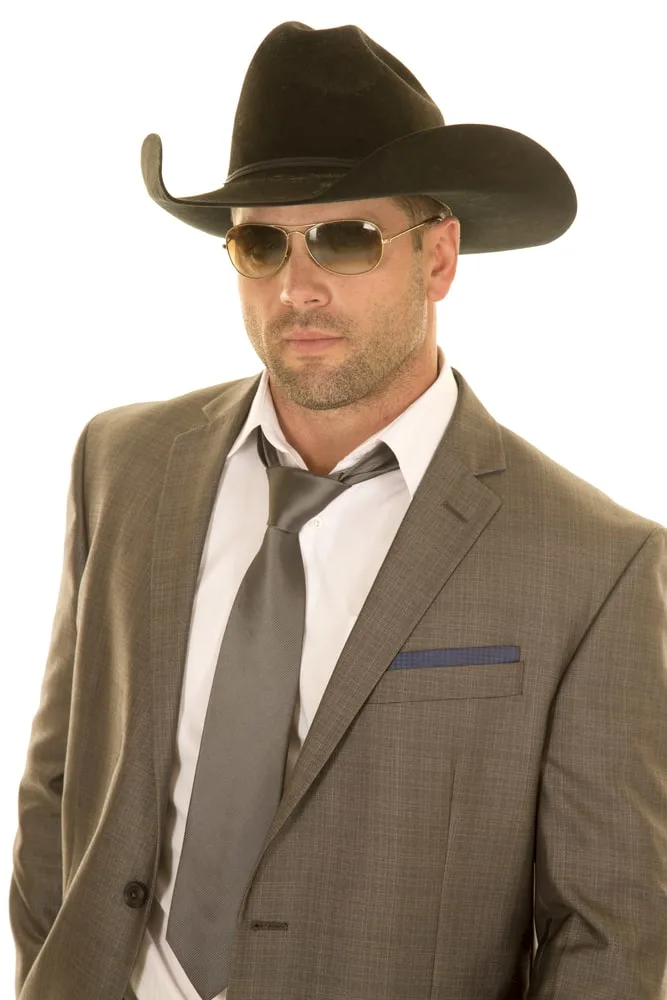 Black is the most popular tint color by a considerable amount and looks great with a cowboy hat.
Consider going for black tints and a black cowboy hat for a subtly monochromatic look.
On the other hand, if you wish to deviate from the norm but still look sleek, go for brown-tinted sunglasses.
They are much less common but match the casual cowboy aesthetic this outfit exudes.
Like black sunglasses and black cowboy hats, think about pairing your brown-tinted sunglasses with a brown cowboy hat.
To really add to the monochromatic look – if you're wearing cowboy boots – consider matching them to the color of your sunglasses and cowboy hat.
5. Ensure it's Appropriate For The Dress Code
It's important to remember that this outfit is, overall, a very casual one.
While cowboy hats can be worn semi-formally – in some cases, formally – on their own, when wearing them with sunglasses, in particular, it's best to keep it casual.
This is because sunglasses are generally considered formal accessories, and – even when the sun is glaring – it's usually not appropriate to wear them formally.
Glasses, on the other hand, are much more acceptable with a cowboy hat.
That being said, if you're going to wear it semi-formally, make sure you dress up the outfit correctly and only do it if you're certain it's appropriate.
One way you can dress it up to suit a western semi-formal situation is with black jeans, dress cowboy boots, and a button-up shirt.
Remember that this outfit isn't appropriate for strictly formal occasions (such as black or white tie events), even when completely dressed up.
6. It Looks Great With Cowboy Boots
Unsurprisingly, wearing cowboy boots alongside a cowboy hat and glasses or sunglasses is a fantastic idea.
Cowboy boots work together with cowboy hats, and they each enhance the look of the other.
Both cowboy-oriented garments exude a certain rugged masculinity – the type that's hard to attain with other garments.
By adding sunglasses or glasses into the mix, you're building up not only the robustness of the outfit but its sophistication too.
Furthermore, there is a historic consistency between cowboy boots and cowboy hats.
This is a subtle factor that's always appreciated in an outfit.
To further build upon this consistency, consider matching the color of your cowboy boots with that of your hat. While it's not a necessity, it can really add to the look.
Like cowboy hats, there's an array of different cowboy boot styles to choose from.
Despite this, there's no true merit to picking one over another. That is to say, you should leave choosing your cowboy boot style down to personal preference.
7. Pair It With Denim
Denim is a staple of casual wear, and its rugged, vintage look means that it goes fantastically with a cowboy hat and glasses or sunglasses.
If you go for jeans, it's important to ensure you do it the right way.
For a start, if you're wearing cowboy boots with this outfit – as is recommended – bootcut jeans are an absolute necessity.
Bootcut jeans are a style of jeans that flare out slightly at the bottom, allowing you to wear boots underneath them.
Otherwise, go for slim-fit jeans, as they are much more flattering to your stature.
As for jeans color, you can't go wrong with a pair of classic blue denim jeans.
Distressing adds to the robustness of the look; however, it's important not to go overboard with it.
Alternatively, you can wear a denim shirt. Denim shirts are incredibly versatile and can be worn buttoned or as an unbuttoned overlayer garment.
If you wear your denim shirt as an overlayer, remember that white T-shirts make brilliant base layers and work fantastically with blue denim.