Having medium-length hair does allow for a lot of versatility when it comes to styling. But whether we're talking slick backs or bangs, knowing what types of hats will suit you best is important.
Before we go through a selection of hats that seem to work great for men with medium hair, let's talk through what exactly you should be looking for.
Choosing A Hat For Medium Length Hair
The term "medium-length" can mean different things depending on who you ask. One man's "medium" is another man's "long" and vice versa.
But in general, medium-length hair is around 4 to 6 inches in length.
A good rule-of-thumb you could use is that if it's long enough to slick back, it's probably long enough to be called "medium-length".
But that is by no means set in stone.
When choosing a hat for medium-length hair, you'll want to consider the following factors.
1. Comfort
Trying to wear a tight-fitting knit cap with a top knot won't be for everyone.
When you've got medium-length hair, you'll want to make sure that the crown and interior lining of the hat style and fabric are breathable and roomy enough to accommodate the amount of hair you've got.
2. Hairstyle
What I mean by this is that the type of hat you wear should allow you to maintain the hairstyle you've gone for.
Knit caps and baseball caps are more likely to flatten a quiff than a fedora.
But if you're styling a slick back, a knit cap or a baseball cap would be great. The slick back would actually be likely to stay in place once the hat has been removed.
In fact, using accessories such as this is a great way to train the hair to slick back in the first place.
11 Hat Styles For Men With Medium Length Hair
The fun part here is the variety. They may n1ot all appeal to you, but there's a great chance that a couple will at least.
Enjoy.
1. Trilby
The trilby hat is a narrow-brimmed hat with distinctly angular features.
Here's a typical trilby hat you can check out on Amazon:
Although the angles of the brim can vary, the front is usually angled downward. The crown of the trilby is also slightly shorter than the closely related cousin it's often confused with – the fedora.
The famous indentations of the crown are very similar to that of the fedora, but the brim is what sets it apart. Trilbys are also known as "stingy brimmed" hats because of how narrow they are, while the brim of a fedora is often wider and more level.
That's all well and good, but why are trilbys great for men with medium-length hair?
It's because the crown is spacious enough to accommodate many different hairstyles, while also being more subtle and compact than a fedora.
It works well whether you're letting the hair escape from the front into a fringe, or tucking it right back or to the side underneath.
You have options – that's what makes the trilby so versatile.
2. Wide Brim Boonie
The boonie hat is sometimes seen as a "function over fashion" style of hat. But this couldn't be further from the truth.
Here's one on Amazon:
Modern boonies are a great fashion accessory during the warmer summer months. Sure – they provide good protection. They're also comfortable and usually lightweight.
But they also look great with many different ensembles of summer attire.
The relatively tall crown also allows you to maintain even the taller medium-length hairstyles you wouldn't want to flatten with a cap, for instance.
3. Bowler Hat
The bowler hat is rigid, with a round, bowl-shaped crown and a curved brim with a pencil roll at the edges. They're generally made from either polyester or felt.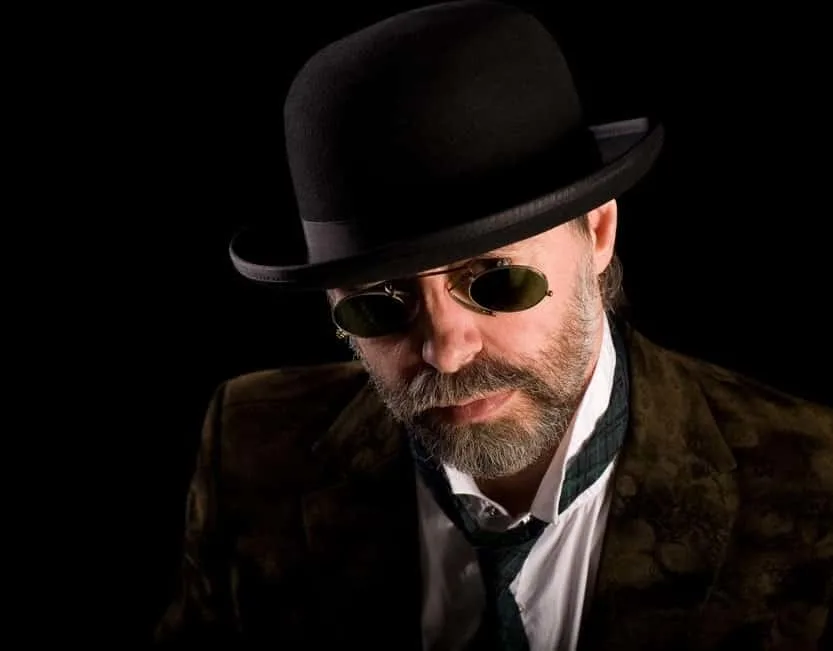 It has a distinctly classic aesthetic and is worn most commonly with formal and business attire.
Having said that, it's still worn with lounge and casual attire although the look is generally harder to pull off.
Men with medium-length hair that are looking for more of a traditional edge should strongly consider owning one.
They're more versatile than you might think at first.
The crown is also tall enough to accommodate the taller and more fragile medium-length hairstyles without flattening the hard work.
The low-lying brim will usually cover most of the fringe, but the appearance of a bowler hat with medium-length locks flowing down the back and side is definitely appealing.
4. Baseball Cap
An American classic that needs no introduction. The baseball cap has transcended from a protective piece of athleticwear to a global cultural phenomenon.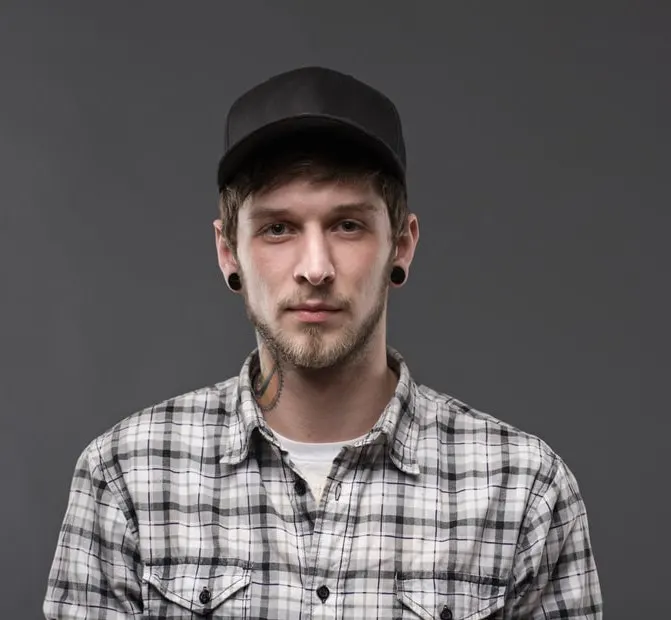 The main risk with wearing a baseball cap with medium-length hair is that the crown completely flattens the style you've got going.
When you're going for a simple slick back or comb over, this really isn't a problem. In fact, it'll probably help keep everything in place.
But when you're looking to retain volume or height with your style, a baseball cap could really flatten things out.
Because of this, it's important to consider the type of baseball cap you're going for when you've got medium-length hair.
As I mentioned, if all you're doing is styling a pretty flat style in the first place, it really doesn't matter.
You could comfortably go for a low profile (i.e short crown), structured, and fitted baseball cap without much trouble.
But if you need more space, a mid or high profile baseball cap (i.e with a taller crown) would be preferable. In addition, an adjustable back (either snapback or velcro closure) would be better to allow for a more flexible fit.
Regardless of what you choose, baseball caps aren't great for the more "upright" styles that are vulnerable to falling flat.
They're better when you've got a looser, flatter, and more relaxed medium-length style that you don't mind flattening out or getting messy.
5. Knit Cap
The benefits and downsides of the knit cap for medium-length hair are similar to those of the baseball cap.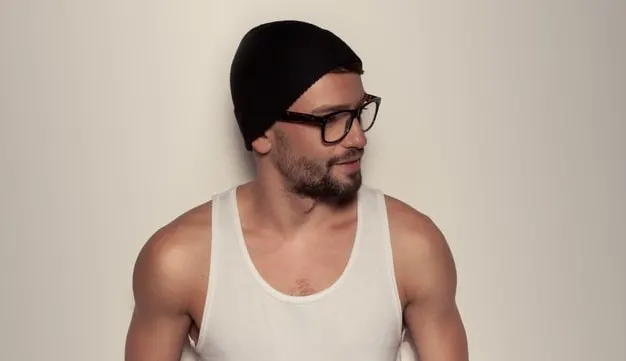 Knit caps can look exceptionally stylish when paired with relaxed medium-length hair that flows out from underneath it.
Alternatively, it can also look great when you tuck the medium-length hair underneath it – slicking it back or to the side.
They're usually designed to hug the head in a relatively tight fit, keeping it warm during the colder months.
This function is essential but isn't great for higher-maintenance styles at risk of flattening out.
There are knit caps that sit a little higher, have a looser fit, and aren't as "head-hugging" as their tighter counterparts.
But in general, knit caps aren't a great option if you've got a medium-length hairstyle you'd like to keep upright, such as a quiff or small pompadour.
Go for a taller-crowned hat instead.
Knit caps work best for men with relaxed or flat mid-length hairstyles that you don't have to worry about flattening out.
6. Newsboy Cap
Newsboy caps are rounded, with a small and stiff brim/visor.
Here's an example of one on Amazon:
Previously mainly associated with the older gentleman, the hat is now considered a classic headpiece worn by fashion-forward celebrities worldwide.
The reason the newsboy is more appropriate for medium-length hair than its closely related cousin the "flat cap", is that it's puffier and baggier.
It gives the hair a little more space and is slightly more accommodating of more structured and fragile hairstyles.
Having said that, as with most caps, the newsboy is best suited to relaxed, loose, and flat hairstyles that you don't mind flattening further or getting a little messy.
The tweed fabric they're usually made from works great with casual and smart-casual attire, especially during the autumn and winter months.
7. Cowboy Hat
It's hard to deny the recognition and appeal of the cowboy hat. Thanks to classic American movies, the cowboy hat has found global popularity in some of the unlikeliest of places.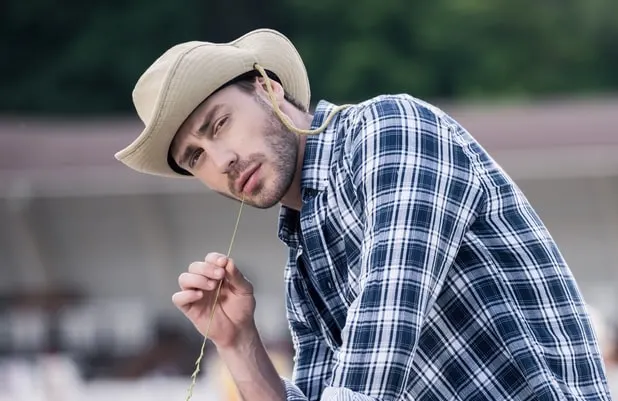 Cowboy hats have tall crowns and wide brims – these features are pretty much universal.
They are, however, often decorated with indented/creased crowns and rolled brims. There is often also a hat band wrapped around the outside of the crown.
They work very well for men with medium-length hair because of the versatility they allow for.
The tall crown allows you to maintain taller hairstyles with less risk of flattening them out. They're also generally comfortable to wear.
8. Fedora
The fedora has a famously indented crown, very similar to that of the trilby. But the brim is wider and generally more level than the trilby, while the crown is also taller.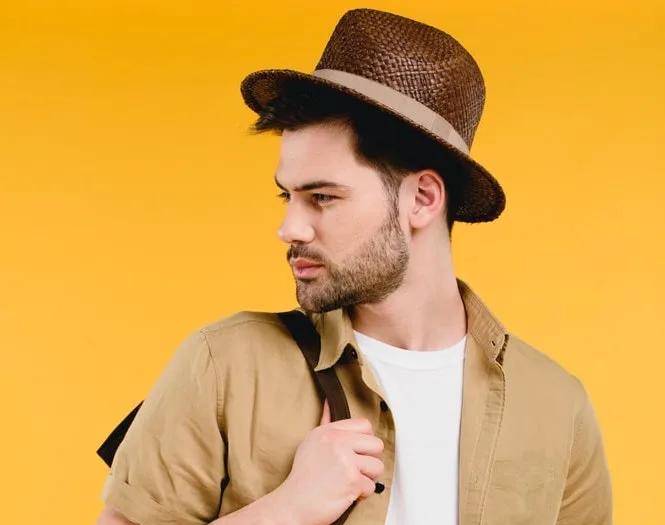 The classic pinched sides of the fedora aren't ideal for men with more voluminous hairstyles, but they still allow for more room than the trilby.
In addition, fedoras and trilbys are usually "soft", allowing for more flexibility and comfort than more rigid alternatives such as bowlers.
The main reason a man with medium-length hair may want to go for a fedora regardless of their hairstyle is just how universally popular they are.
They're incredibly versatile and work with such a wide variety of attire.
Although the indented crown isn't great for retaining volume or tall hairstyles, it's still spacious enough to allow most people to get away with it.
The looser, flatter and more relaxed hairstyles do work better with fedoras, however. The laid-back nature of the fedora compliments these styles well.
9. Bucket Hat
The bucket hat is a stylish choice for men with medium-length hair. It helps to frame the face without overwhelming the hairstyle.
The hat sits comfortably on the head, allowing the hair to flow naturally while still providing protection from the sun.
The relaxed and casual appearance of the bucket hat complements the medium-length hair by adding a touch of effortless cool to the overall look.
10. Trucker Hat
Trucker hats look great on men with medium-length hair.
They blend practicality and style.
With its mesh back panels and structured front, the trucker hat offers breathability while maintaining trendiness.
Medium-length hair usually has some movement to it.
The trucker hat complements this nicely and works well with hairstyles such as messy waves or casual quiffs.
The adjustable snapback closure ensures a comfortable fit, accommodating high-volume hairstyles.
11. Panama Hat
A sophisticated and timeless hat style.
With its wide brim and lightweight construction, this classic hat adds a touch of elegance to any outfit, making it perfect for both casual and formal summer occasions.
A Panama hat adds structure and height to the medium-length hairstyle.
The straw material also provides breathability, making it an ideal choice for warmer weather.
Conclusion
Men with mid-length hair do have the benefit of choice.
Although there are certain factors to take into account when choosing your hat, it's hard to go too far wrong.
Hopefully, this article has taken you a few steps closer to choosing the right one for you and your specific hair and style preferences.
Enjoy.
Ready Sleek founder. Obsessed with casual style and the minimalist approach to building a highly functional wardrobe. Also a fan of classic, vintage hairstyles.