Blazers are a classic alternative to the suit jacket. While they look great, they may not always be the best protection against the cold by themselves. So the question is, can you wear a jacket over a blazer?
You can wear a jacket over a blazer as long as it fits without being too restricting and achieving this will mean picking the right fabric and style of coat that's longer than the blazer underneath.
But that's just the short answer. So, keep reading to learn the essential tips that will help you wear a jacket over a blazer.
Let's explore these now.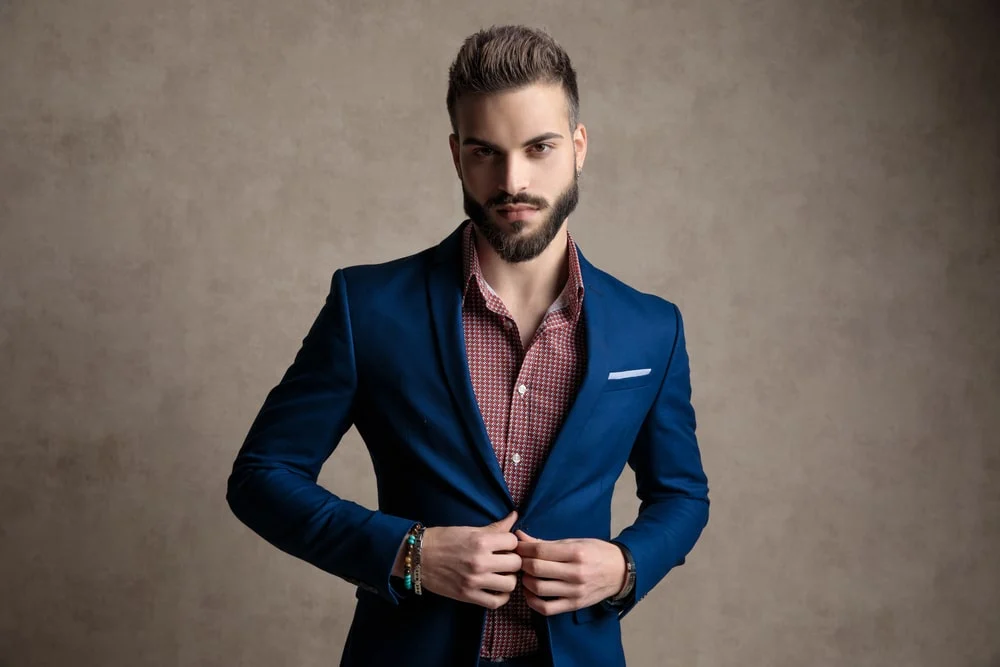 4 Tips For Wearing A Jacket Over A Blazer
Use these tips as a guide to make sure the combination looks effective and not awkward.
1. Get The Right Fit
For many, the problem lies in finding a jacket that fits your blazer underneath while still upholding both style and comfortability.
It's well worth finding both a blazer and a jacket that fits you well enough to wear both at the same time so that you can look stylish while battling the colder temperatures.
When you're planning on wearing a jacket over a blazer, it's best to make sure that either: the blazer is structured to fit close to your body or to buy a jacket large enough to be able to wear the blazer underneath.
There are several ways you can make sure that your blazer is the perfect fit for you.
The blazer should hug your midsection without being too tight or feeling constricting. If you see an 'X' across your chest, that means that it is too tight.
The blazer should touch your shirt color while leaving slight gaps. Too much of a gap or firmly pressing together indicates a wrong fit.
The shoulder area should have no wrinkles or divots, the blazer should end where your shoulder ends.
The blazer should not be cutting into your armpits. You should have a reasonable range of motion independent of the body of the blazer when your arms move.
The top button of your blazer should lie on top of your belly button rather than below it.
It can sometimes be expensive to tailor blazers, especially the shoulder area. That's why it's important to get a good fit when you're at the store.
However, if you're able to get it tailored, make sure to stick to these rules to make sure that the proportions are right for you.
Now in terms of finding the right jacket, here are some suitable ones you can wear over a blazer.
2. Pick The Right Fabric
Picking the right fabric for your coat is important when wearing your blazer underneath.
This is because you'll want to make sure it compliments your blazer in terms of style, durability, and warmth.
So, if your blazer is on the lighter side, pairing it with a heavier more durable fabric like wool might be a good idea. It'll also keep you dry with its moisture-wicking material.
Cashmere is a more expensive option that would pair nicely with a blazer, it's a lot warmer but has the drawback of not being as durable as the wool alternative.
You could opt for a wool-cashmere blend so that you don't have to choose between the two properties of durability and warmth.
It's still considered a high-quality and luxurious coat that is likely to last you years.
For waterproof quality, a wax-cotton blend can be used on trench coats for wetter weather conditions.
Even cotton by itself can provide a light resistance to the cold. But it's recommended to find it in a blend such as wool to increase its warmth.
In comparison to natural fibers, polyester is an affordable option. However, it won't have the same benefits; it doesn't allow for motion, it doesn't breathe or absorb sweat.
Unfortunately, using polyester can also leave a bigger footprint so it might be best to stick to natural fibers to reap the benefits when wearing your coat over a blazer.
3. Pick the Right Coat
Picking the right coat for you will be easier when we explore the features and benefits, such as the level of warmth it provides, the formality level, color, and style.
However, no matter which style of coat you choose from this list, it would be a good idea to wear your blazer when trying it out at the store to make sure the style and fit are to your taste when layered.
Here are some coats that match the level of formality of blazers.
Topcoats
Topcoats, which are sometimes known as overcoats, are a classic option to go over your blazer. These coats usually end at or just above the knee keeping you a little more warm.
Choosing the double-breasted topcoat will also provide you with slightly more warmth than the single-breasted coat.
The topcoat has a clean and classic silhouette. It's not distracting or overly intricate which ensures a look of sophistication and formality, looking great over your blazer.
Pea Coats
Pea coats are also a great choice when wearing a blazer underneath. Though they are considered to be less formal than other jackets, they have an instantly recognizable look.
The most popular color for this style of coat is navy blue. They are most commonly worn with the ulster collar flipped up and buttoned.
Pea coats were used initially in the navy, and so are durable, heavy, and warm making them a suitable choice for layering over the top of blazers in the winter.
These coats usually feature a double-breasted design but are not as long as others. Bear this in mind before going into work on colder days.
Trench Coats
Trench coats are another classic, statement jacket that can be worn over the top of your blazer.
They are easily recognizable and always feature a double-breasted design, with a fabric belt in tan or khaki.
Although, these cotton jackets are likely to keep you dry. They are not designed to keep you warm so they would pair best atop your blazer in the spring/ summer seasons.
4. Get The Length Right
While most jackets these days are long enough to cover the length of your blazer, there are some that aren't. It's important that you don't choose these jackets.
This is because stylistically, the proportions will look off so it's best to make sure that your jacket is long enough.
That includes cropped jackets such as pea coats and parker jackets.
Frequently Asked Questions
Now that we've gone over tips for wearing a jacket over a blazer, you'll now be in a better position to choose how to layer these to enhance style and fit.
Here I'll answer some questions you might still have.
Can You Wear A Leather Jacket Over A Blazer?
While you may assume that leather jackets are only to be worn during casual occasions, you can wear a leather jacket over a blazer as long as you keep the style and silhouette simple and the colors dark and neutral.
The fit is important to consider because as mentioned before, it's best to make sure that it covers the blazer length-wise.
Also, you should also ensure that it will fit the blazer underneath by possibly going one size up. It's best to try on the leather jacket with the blazer when shopping.
Choosing simple and minimalistic styles will enhance your look. It's best to stick to black and brown neutral colors that pair well with a formal blazer.
Can You Wear A Rain Jacket Over A Blazer?
You can wear a rain jacket over a blazer by checking that it fits without limiting your range of motion and by sticking to longer-style raincoats. The long rain jacket is versatile and will look great for both the office and a casual weekend.
The silhouette you should aim for should be long, slim, and straight to maintain the sleek and classic look of the blazer.
If you don't want to sacrifice warmth, fuller jackets will still pair well as long as they maintain the length.
You can choose from a variety of colors including navy, khaki, cameo, and beige.
Can You Wear A School Jacket Over A Blazer?
You can wear a school jacket over a blazer as long as it fits well by making sure it's not too tight or constricting. Don't be afraid to go up a size if necessary and check in-store that your range of motion isn't limited by the jacket.
For school, it would be best to stick to neutral colors like black and navy. You'll want to pick a durable coat so that you're not changing it every term.
A coat that is perfect for the rainy seasons with a hood would be preferable so that you're not caught out even in the surprise spring spells.
Conclusion
So, there you have it. You're now equipped with four top tips on how to wear a jacket over a formal blazer to keep yourself warm while looking trendy and stylish.
Hope this has helped.
Ready Sleek founder. Obsessed with casual style and the minimalist approach to building a highly functional wardrobe. Also a fan of classic, vintage hairstyles.