"Dress shoes" tend to roll into one. The term itself is pretty ambiguous and often used incorrectly. It's definitely a spectrum and you need to know when to wear what. So, what exactly are the differences between loafers and oxfords?
The main differences between loafers and Oxfords lie in both the design and the purpose. Oxford shoes are defined by a closed lacing system and are much better suited to formal settings. Loafers are laceless, slip-on shoes with a moccasin-style upper and are better suited to casual, semi-casual, and smart-casual settings.
That's the answer in a nutshell, but we're about to dive a whole lot deeper.
Footwear can be confusing. The wrong pair could ruin an outfit; too formal, too casual – it's a nightmare.
I want to talk through the differences between these two heavy-hitters of men's dress shoes in more detail.
Then, I'll detail exactly which dress codes to wear them for and how to do it.
Let's get to it.
Loafers Vs Oxfords: 2 Differences You Need To Know
Here are the two main ways in which their design differs.
1. The Lacing
Oxford shoes are famous for their closed lacing system. What this refers to is the fact that the shoelace eyelets (a fancy term for the holes) are stitched underneath the vamp (a fancy term for the front part of the shoe).
This is what makes them different from every other dress shoe. Derby shoes have an open lacing system, while Monkstraps are laceless and have a strap.
The closed lacing system gives Oxford shoes a very sophisticated, clean, and elegant look.
However, it does make them less comfortable than Derby shoes, because the closed lacing doesn't allow for as much space. Because of this, Derby shoes are considered better for men with wider feet.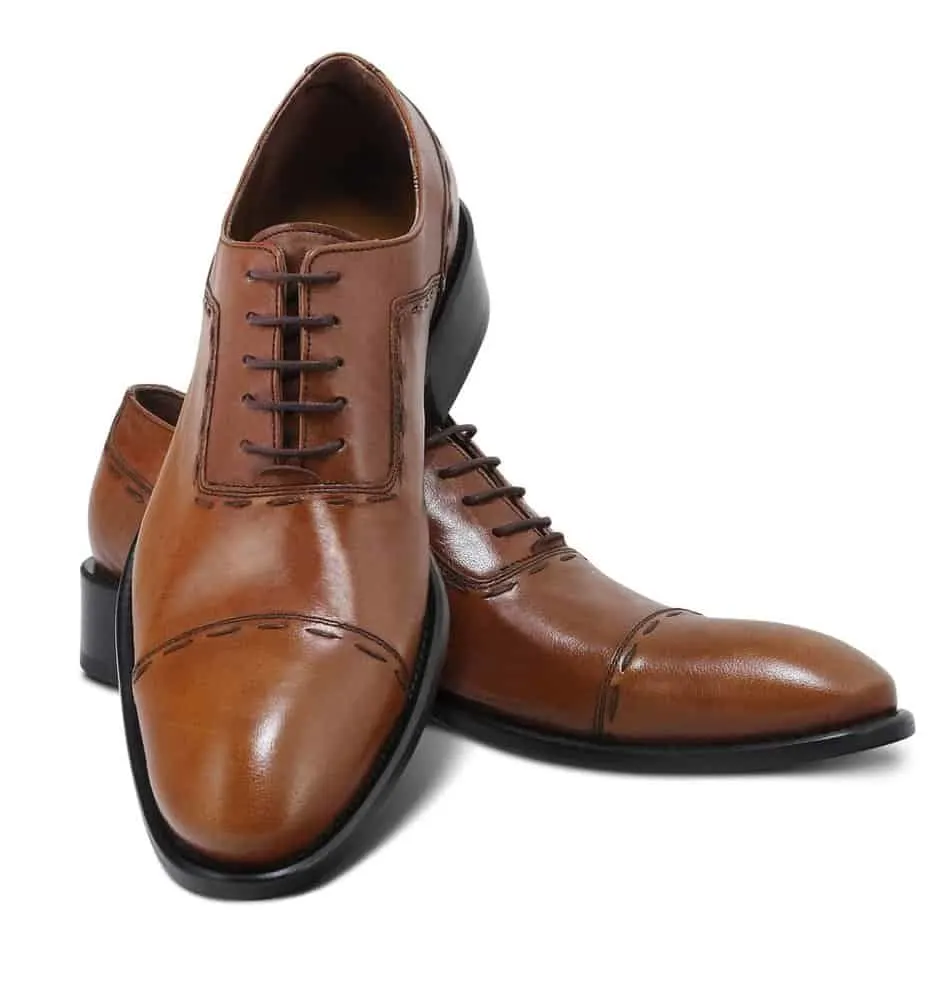 Loafers, on the other hand, will always be laceless. Its slip-on design is one of it's most famous and characteristic features.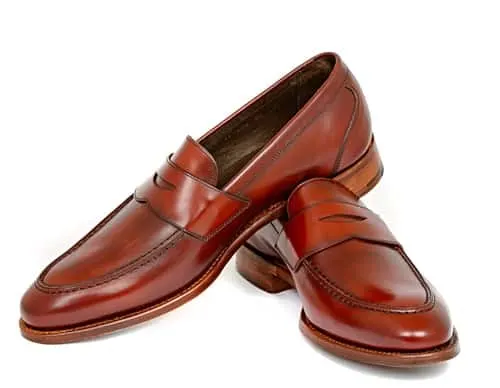 Although this does make it more comfortable, it's important to size them correctly and carefully before buying them. You won't have laces to tighten or loosen things up.
2. The Seams
The original loafer was inspired by the moccasin.
This inspiration is key to understanding why loafers come across as more casual than the average dress shoe.
The most striking similarity between moccasins and loafers is the stitched seam on the upper. As a result, loafers have a very moccasin-like construction.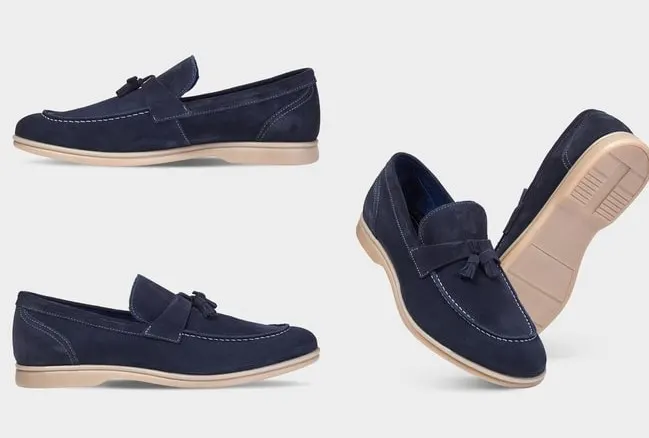 In addition, it's this stitched seam that differentiates the loafer from its ultra-casual cousin; the slipper.
Although there is a range of different styles of loafer in existence today, this stitched upper seam or "moc toe" will be present in the vast majority.
But unlike the moccasin, loafers have a separate outsole, as well as a heel. As a result, they will always look more formal than a moccasin.
Oxfords don't have anything close to a moccasin-style upper seam and actually have no relationship with moccasins whatsoever.
Oxfords can have a wide range of seams, ranging from goosenecks to toe caps, to no seams whatsoever (wholecuts or seamless Oxfords).
Loafers Or Oxfords: Which One Should You Wear?
When choosing between loafers and Oxfords, always bear in mind that loafers have a much more casual appearance thanks to it's slip-on, laceless design and moccasin-like construction.
Once you've got a good understanding of how they're different, it's important to know when to wear each one and how to do it.
It's easiest to explain this by running through the main dress codes and stating which shoes would be most appropriate for each of them.
Casual
No fancy stuff here.
We're talking dinner at home with your parents, the movie theater with your best friend, or just a simple grocery store visit.
Truly and strictly casual.
This one is pretty simple. Oxford shoes have no role here as they're way, way too formal.
Wearing Oxford shoes with a white tee and linen shorts is a quick and easy way to look awkward. It just won't work.
In contrast, loafers are great for casual wear. They're a good choice if you're looking for a slightly sharper and smarter alternative to sneakers or boat shoes.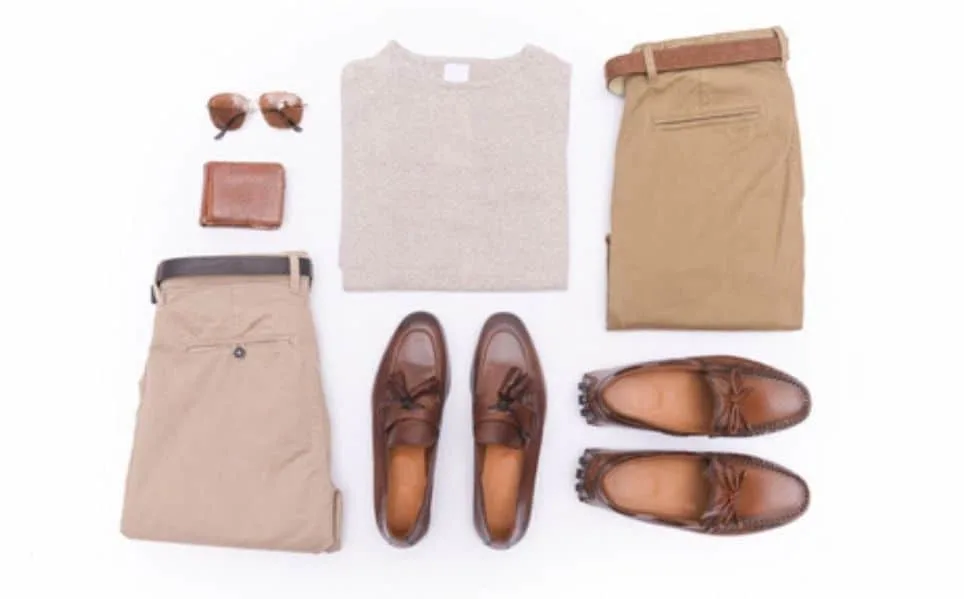 Some styles of loafers are more suited to casual settings than others. To be more specific, suede loafers are great for this purpose.
Plus, the color will also play a role in determining how casual it'll look.
Black and dark brown will always look more formal, while lighter shades of brown or more unusual colors such as gray or blue will look more casual.
Semi-Casual
This a notch up from truly casual.
You aren't exactly dressing up, but a white tee and shorts won't cut it. You'll need to sharpen up just a bit.
Think your cousin's birthday party, or a first date.
Jeans will probably still cut it, but chinos are a safer bet. You may want to go for a polo shirt or Henley instead of a normal t-shirt.
What about the shoes?
Oxford shoes will still almost certainly be too formal for the occasion or setting. No matter what style, color, or pattern, the clean-cut elegance of Oxford shoes would still most likely come across as overdressing.
Loafers are ideal for semi-casual settings. They're a step more formal than sandals, sneakers, boat shoes, and mocs.
They're ideal for showing people that you've made an effort and are style-conscious at the same time.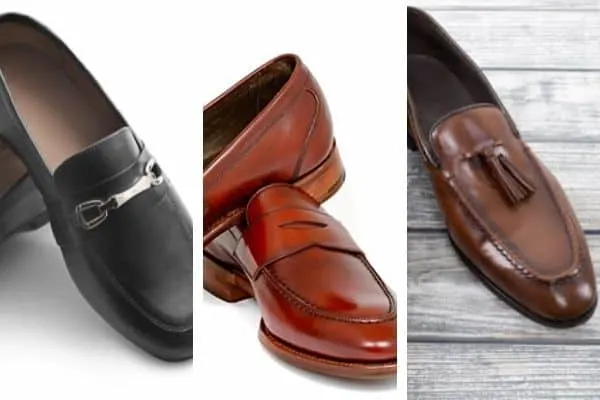 Once again, the color of the loafers will partly determine how formal they come across.
The style of loafers will also play a role here. Horsebit loafers (i.e Gucci Loafers) are a touch more formal than penny loafers and tassel loafers.
But at the end of the day, any of these loafer styles would work great for semi-casual occasions.
Just bear in mind that a suede finish and lighter shades are more casual than full-grain leather and darker colors. If you're looking to dress up just a little bit more – go for the latter.
Smart-Casual
It's important to note that "smart-casual" is exactly the same as "business-casual". You may hear different opinions when it comes to this, but thinking about it in this way is much less confusing.
Business-casual is just the term used when the occasion or setting is more business-oriented.
Smart-casual and business-casual attire is characterized by the combination of traditionally formal clothes with casual clothes.
For instance, we're mixing blazers, sports coats, dress shirts and neckties, with chinos and casual dress shoes.
Oxford shoes would work absolutely fine here. But the type of Oxford shoe you choose is important.
You'll want to choose a pair that doesn't look too formal. To do so would go against the essence of smart-casual. It just isn't casual enough.
Features of more "casual" Oxford shoes include the following:
Brogue patterns
Suede finishes
Lighter colors
Loafers are, once again, ideal for smart-casual and business-casual dress codes. They work great with blazer and sports coat combinations.
Here, you'll want to go for a relatively more formal pair of loafers. Think leather and in a darker shade of brown or even black.
Let's use an example to illustrate this. If choosing between a pair of penny loafers vs Oxfords for a smart-casual setting, for instance, go for a brown pair of leather penny loafers or a brogue pair of Oxfords.
Formal And Black-Tie
Now we're getting into the bread-and-butter of what Oxfords do best.
Oxford shoes are generally considered the most formal style of dress shoes you could own.
They're perfect for formal settings due to the sophistication of the closed lacing system, as well as the often elongated and narrow toe.
Much like with loafers, there are different styles of Oxford shoes including Plain Oxfords, Cap Toe Oxfords, and Wholecuts.
Ultimately, any of them can be worn with formal attire. By formal attire, I mean attire where a full suit is necessary or a tuxedo.
A black pair should be one of the first Oxfords you own, as they can be worn with a huge range of suits and also tuxedos when necessary.
When choosing a pair for formalwear, however, avoid brogue patterns, suede finishes, and lighter colors.
Loafers and formal attire have a pretty rocky relationship.
They aren't usually considered formal enough to wear with suits. But an exception to this would be a pair of black leather Horsebit "Gucci" loafers.
These higher-end loafers have established themselves as a more sophisticated and formal-looking variant of the traditional loafer design.
This is thanks to the metal buckle on the upper giving it a more elegant first impression.
But the vast majority of loafers, whether they were suede, leather, dark, or light, simply aren't suitable to wear with formal clothing.
You may see this principle being broken now and again. But Oxford shoes and Derby shoes are a much safer bet.
For black-tie, loafers are out of the question. Go for a black pair of Oxfords and nothing else.
Frequently Asked Questions (A Recap)
Here are the answers to a couple of frequently asked questions to really drive this topic home. Consider it more of a recap.
Should You Wear Loafers Or Oxfords With Jeans?
Loafers are much more appropriate to wear with jeans than Oxford shoes are. Jeans are a staple of casual attire and would be much more in sync with a pair of loafers than a pair of Oxfords.
Oxfords of any sort would be too formal to wear with jeans.
Loafers, on the other hand, actually work great with jeans. A cuffed pair of jeans with suede or even leather loafers is often a very effective casual look.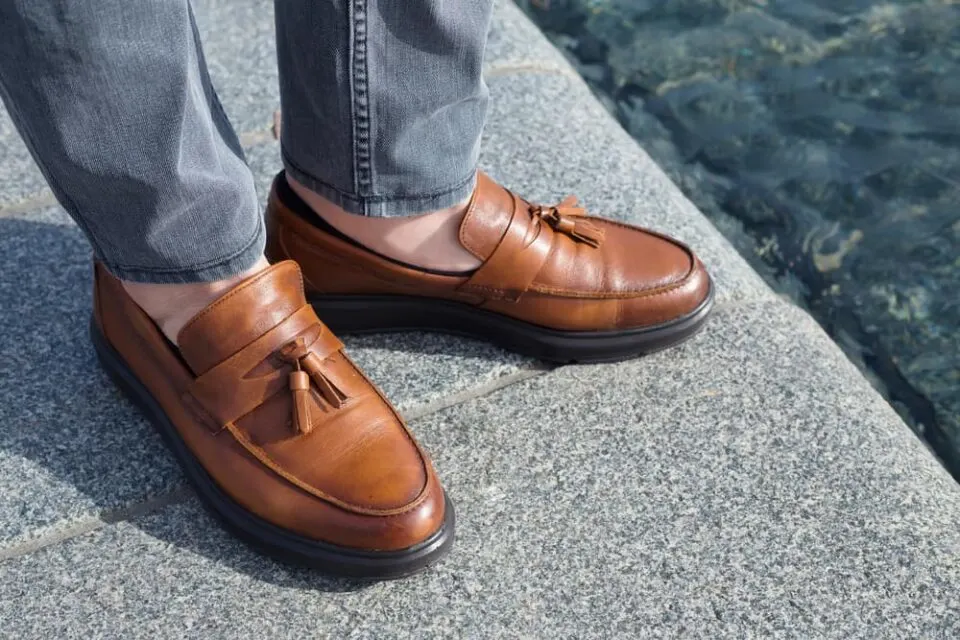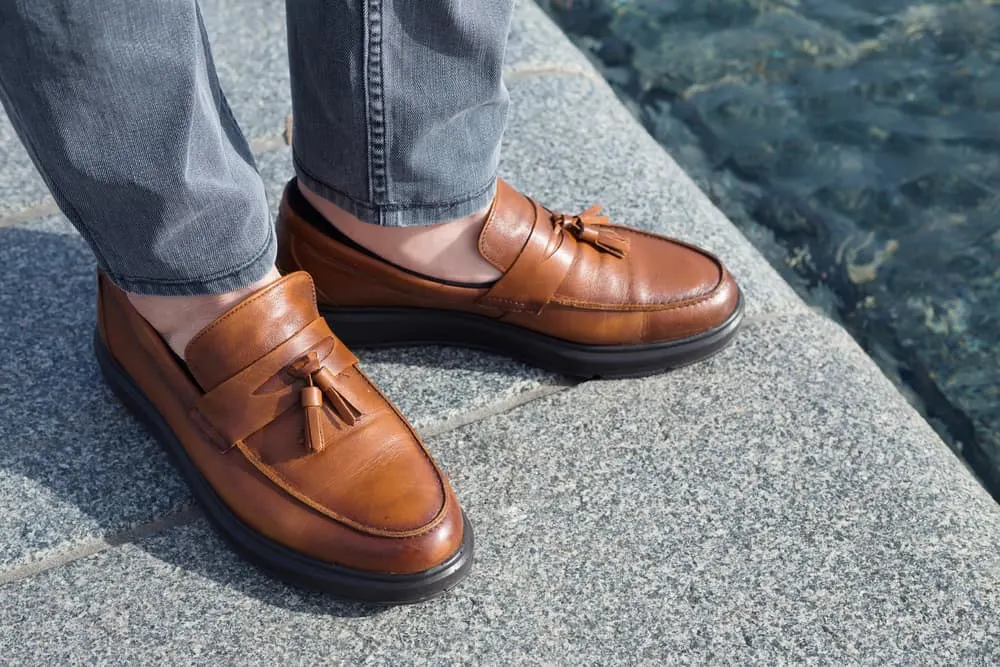 If you're used to wearing sneakers or boat shoes with jeans, getting yourself a pair of loafers would be an easy way to level up and set yourself apart just a bit.
Should You Wear Loafers Or Oxfords With Suits?
Oxford shoes are far more appropriate to wear with formal suits than loafers are. As explained, the vast majority of loafers don't look formal enough to be worn with a suit.
Conclusion
Although the two are usually classed as "dress shoes", as you can see, they often exist in different realms.
One is more at home sitting beneath chinos or jeans in laid-back settings. The other is more at home at martini-laden soirees surrounded by suits and ties.
But there are different styles of each, with a considerable amount of possible overlap in some circumstances and for some dress codes.
Hopefully, this article has given you the knowledge you need to style either of these shoes in the most effective ways possible.
Experiment and enjoy.
Ready Sleek founder. Obsessed with casual style and the minimalist approach to building a highly functional wardrobe. Also a fan of classic, vintage hairstyles.