Modern dress codes may be getting more relaxed, but the level of confusion around them is getting worse. You're about to learn exactly how to wear casual shoes with suits in the most effective ways possible.
Sticking to some general rules and principles should help you avoid a potentially serious faux pas.
Let's go through them, one by one.
7 Tips For Wearing Casual Shoes With Suits
There are many different types of suits – different colors, patterns, and fabrics.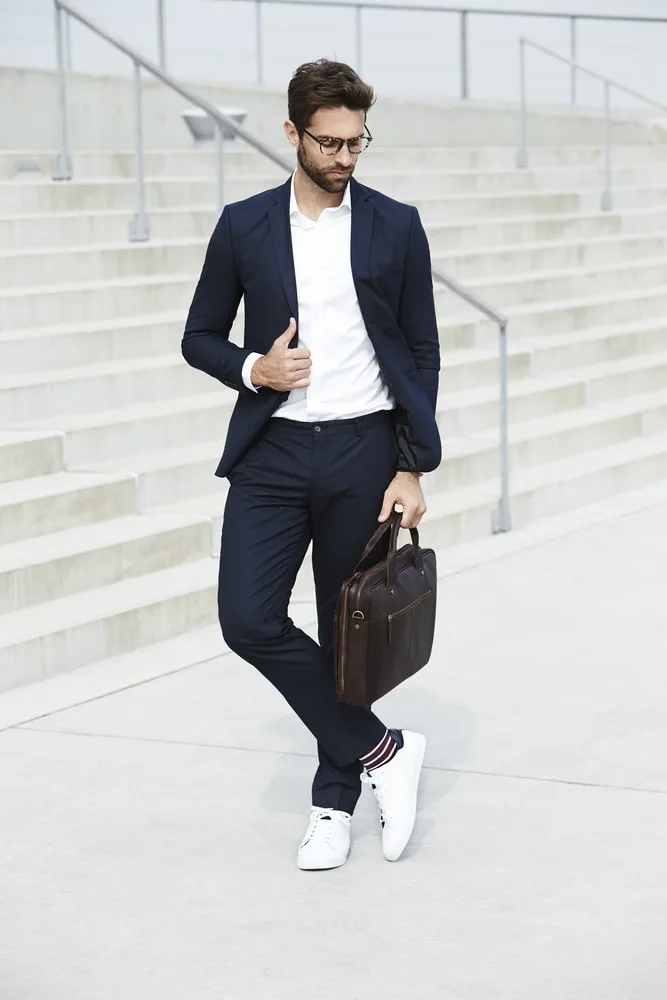 These tips should guide you no matter what you're thinking of wearing.
It may well be the case that what you're thinking of wearing should never be worn with casual shoes in the first place.
Read on to find out if that's the case.
1. Be Very Careful With The Dress Code
A formal dress code will require a formal outfit.
Usually, this means a formal suit. There are certain features of suits that make them more casual, while there are others that make them more formal.
When sticking to a formal dress code, look for suits with these features:
Dark and solid colors
Heavy lining and padded shoulders to give the jacket more structure
Generally made from a wool fabric – doesn't wrinkle easily and has a noticeable sheen. Worsted wool is a classic formal fabric.
Jetted or flapped pockets
The pant legs usually have a sharp center crease
Why is this important?
Because formal suits should not be worn with casual shoes. Therefore, casual shoes should not be worn for formal dress codes.
Whether this is for a formal event such as a dinner, conference, or simply going to work (if your workplace has a formal dress code), this principle will hold true.
Here's an example of a "formal" suit on Amazon. As you can see, he's wearing a formal pair of double monkstraps with it.
Formal suits should be worn with dress shoes. These should generally be in darker colors such as black, dark brown, or oxblood.
They should also have minimal, if any patterns such as brogue-ing.
While Oxfords are the classic choice, Derbys and monkstraps (single and double) are also reasonable options.
But the main point is that you won't be able to get away with wearing casual shoes such as sneakers, moccasins, or boat shoes with a formal suit.
It simply isn't worth the risk.
Wearing loafers with formal suits falls into a difficult grey area. I've written a whole article on wearing loafers with suits, but overall, they do work better with more casual suits than they do with formal suits.
Ultimately, if the dress code isn't casual enough to allow for casual shoes, avoid them.
2. Choose Less Traditional Suits
The more modern and relaxed the suit looks, the easier it'll be to get away with wearing casual shoes.
While "modern" doesn't always necessarily mean more "casual", it often does.
Common features of more modern and casual suits:
They're often patterned and have a lighter color.
The jacket is often less structured with a lighter lining.
The shoulders look more natural and are usually less padded.
The fabric is often less shiny and wrinkles a little easier. Examples include cotton, linen, and some wools (eg. tweed or flannel).
Suit pants may have center creases, but they may not.
The pants often have no break, reaching the ankles without wrinkling.
What you're left with is a fitting, stylish, and fun suit that doesn't look quite as traditional as a formal or business suit might.
Here's an example of a casual linen suit on Amazon.
Suits like these are easier to combine with casual shoes.
They look less awkward and when done correctly, can make for a pretty emphatic statement.
The main point here is that there are so many different types of suits. When it comes to wearing casual shoes, some types of suits are definitely more appropriate than others.
3. Never Go Too Casual With The Shoes
This is so important.
Just like there are many different types of suits, there are also many different types of casual shoes.
The term itself is so generic.
It could apply to anything from penny loafers down to flip flops.
Let's categorize them.
Shoes that are casual but not that casual include loafers, as well as boots such as Chelseas or chukkas.
It isn't tough to pair them with suits, although it won't be quite as easy as it would be with formal dress shoes.
Choosing the right type of suit will help, as will choosing loafers/boots with slightly more formal features such as darker colors and a leather upper.
Then there are shoes that are truly casual and you need to be a lot more careful with.
It isn't that you can't wear them with suits – you just need to be extra cautious when choosing your suit and with the specific features of the shoes themselves.
In the next tip, I'll go onto the design and aesthetic of the casual shoes you should stick to when trying to wear them with a suit.
But the main point here is never to go too casual. While suits can be casual, as I explained earlier, they'll never be very casual.
A matching jacket and pants (i.e a suit), will always have a vaguely formal edge to it. Because of this, you'll find it extremely hard, if not impossible, to pair them with some types of casual footwear.
Here are some "casual" shoes you should generally stay away from, no matter how casual your suit may be.
Flip flops and sandals
Shoes with bold colors and heavy patterns
I'd say that was it.
Surprisingly, that does leave you with a lot of options. The color and design of the casual shoes you choose are more important than the type of shoes you choose.
Some types of sneakers, boat shoes, and moccasins may look inappropriate to wear with any suit because they come in bold colors and heavy patterns.
Other types of sneakers, boat shoes, and moccasins may be ok to wear with particularly casual suits because they look more appropriate.
So, what makes casual shoes "appropriate" to wear with a casual suit.
Let's talk through that.
4. Choose Minimalist Shoes
Put it this way – a pair of bright red sneakers with heavy branding would probably be inappropriate to wear with any suit, no matter how casual it may look.
Don't get me wrong – I'm sure there are exceptions. But it won't be easy and it'll always be a risk. In my opinion, a risk not worth taking.
On the other hand, a sleek, white or grey pair of sneakers with minimal branding may actually go well with an especially casual suit.
The same goes for other types of casual shoes such as espadrilles, boat shoes, moccasins, and loafers.
The more minimalist and simple they look in terms of their design, color, and fit, the easier it'll be to combine them with casual suits like the ones described in tip no. 2.
There's no way that the shoes won't draw attention when you wear them with a suit – even a casual suit.
This is because casual shoes will always clash with a suit, even if it's just a little bit. In many ways, this is what you want.
You wouldn't usually be pairing a suit with casual shoes unless you wanted to make a statement and catch some eyes in any case.
This contrast is good when done properly.
You don't want the casual shoes to stand out so much from the suit that they become the sole focus of attention.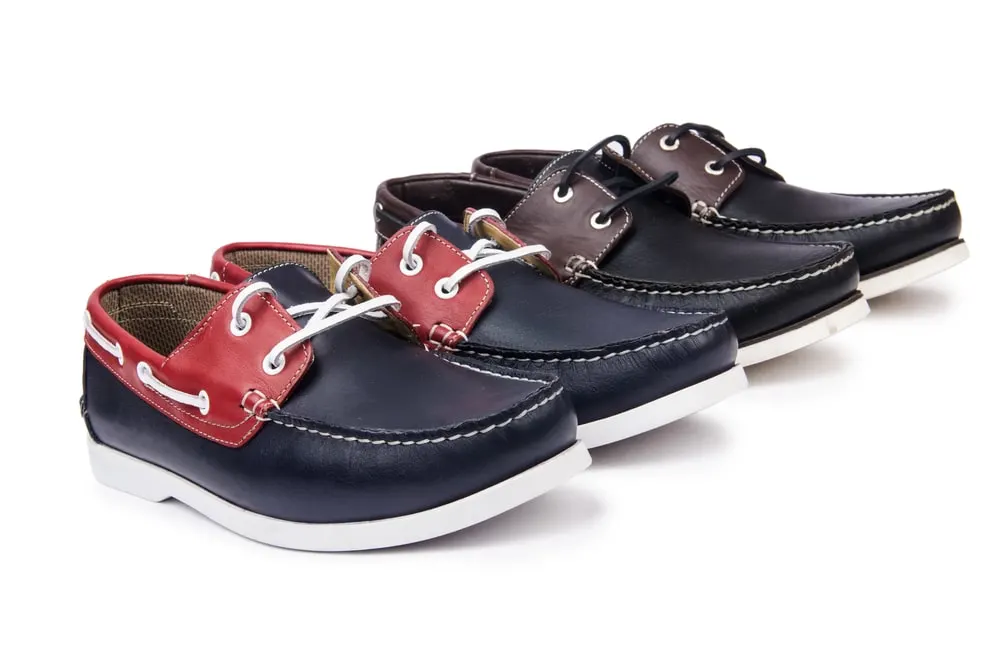 You want them to make sense. To blend into the rest of the outfit without drawing too much attention.
The easiest way to do this would be to choose casual shoes with a very minimalist aesthetic.
Light colors, not too bulky, and minimal patterns and branding.
5. Socks Vs No Socks
Wearing a suit with no socks may seem like an instant, one-way ticket to a fashion faux pas.
But when you've managed to successfully combine a pair of casual shoes with a suit, you've probably got some options when it comes to the socks.
For example, a casual royal blue linen suit with a pair of suede tassel loafers – this outfit would probably work pretty great with no socks.
In fact, wearing loafers with socks is often pretty difficult to do. You'd be better off going for no-show socks and it should work well with the casual overall aesthetic.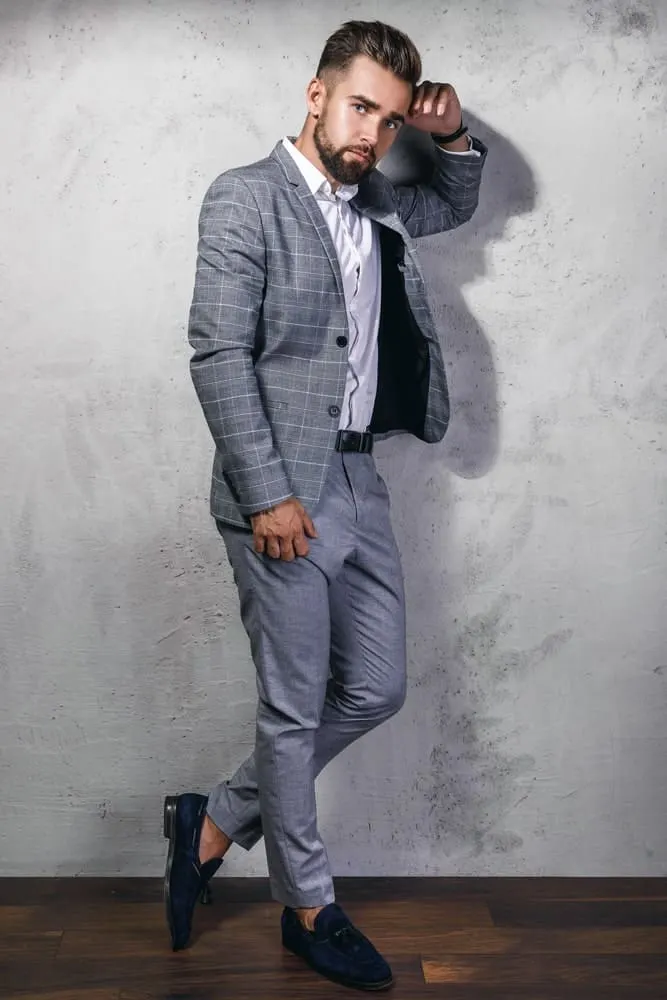 The same goes for boat shoes, moccasins, and espadrilles. Strongly consider going for the no-sock look.
All of this does depend on whether the suit itself is casual enough to do all of this. If it is, the results can often be great.
While boat shoes, moccasins, and loafers often work better without socks, a simple, minimalist pair of sneakers could potentially work well with either socks or no socks.
If you were going to wear socks with your suit and sneakers, try to use them to add some contrast.
Although you're wearing a suit, you are going for a casual overall appearance. Contrast is a great way to add to this.
Consider choosing socks with a color that contrasts both the shoes and the suit. Nothing too outrageous, but enough to draw attention and make it clear that you aren't trying to come across as formal.
The casual appearance is intentional and you know exactly what you're doing.
6. Consider Cuffing The Pants
There are suit pants that do come with inbuilt "cuffs", where the fabric at the bottom of the pant leg is folded up onto the outside of the pant leg instead of the inside.
Even formal suits can come with these, although they'll always come across as less formal than ones where the pants aren't cuffed.
What I'm talking about is actually going a step further and rolling that edge even more, exposing the ankle.
This shouldn't ever be done with a formal suit.
But we're talking about casual suits that work well with casual shoes.
Those suits made from wool fabrics like tweed/flannel, cotton, linen, and even chino cloth. Those suits that are of lighter and brighter colors, with patterns ranging from subtle to outlandish.
If a suit is clearly casual like this and you can quite comfortably pair it with more casual shoes as we've talked about earlier, cuffing the pants once or even twice may be worth considering.
It'll enhance the overall casual aesthetic and can really add a laid-back edge to it.
It works great in the summer when you're wearing a casual suit with, for example, boat shoes and no-show socks.
7. T-Shirts Can Work Great
When you feel like wearing a casual suit to a clearly casual event such as a garden party or drinks at a bar, consider ditching the dress shirt.
There's no reason why you can't combine the suit jacket and pants with a T-shirt.
Just like those casual shoes, however, the more minimalist and simple the T-shirt is, the easier it'll be to combine.
Stick to solid colors and a close fit.
However, do take the opportunity to use the T-shirt to add some contrast and break up the outfit.
Pick a color that contrasts, yet compliments the color of the suit.
If you're able to do it, matching the T-shirt color to the color of the casual shoes you're wearing also works a treat.
If you think a T-shirt may be too casual for the look you're going for, go for a dress shirt or an OCBD shirt – but consider ditching the tie.
It's all about loosening things up – enough for the pair of casual shoes to make sense with the suit. Ditching the tie should take you one step closer to achieving this.
Conclusion
There you have it.
7 tips to see you through.
Underdressing for the occasion is never fun. You could have the finest and most meticulously tailored suit in the world.
But pairing it with the wrong shoes may destroy the entire look.
Hopefully, this article should ensure you never fall victim to this faux pas.
Enjoy.
Ready Sleek founder. Obsessed with casual style and the minimalist approach to building a highly functional wardrobe. Also a fan of classic, vintage hairstyles.