The comfort and versatility of loafers will often make them a tempting choice for many outfits you put together. But it's important to realize that it won't always work. It begs the question, can you wear loafers with suits?
Loafers can be worn with some suits, but there are many where they wouldn't be considered formal enough. The color, style, and material of the loafers will need to be taken into account.
A dark pair of leather horsebit loafers would be the only style that may be considered formal enough to wear with a business suit. On the other hand, a suede pair of penny or tassel loafers may be appropriate to wear with casual suits as part of cocktail attire.
As is often the case with loafers, underdressing is the main concern and risk. At the end of the day, it's probably the most casual dress shoe you could wear.
This article will teach you exactly how to pair the right loafers with the right suits for the right dress code.
Let's get to it.
Types Of Loafers That Can Be Worn With Suits
These aren't the only types of loafers available, but they're the main ones you need to know about. They're the most popular and easy to find.
Horsebit "Gucci" Loafers
Horsebit loafers, a.k.a "Gucci" loafers, are often the most appropriate style of loafer to wear with formal suits. The refined aesthetic of the iconic metal buckle does give it a more sophisticated appearance than other loafer styles, allowing you to wear it with most suit styles.
This is the fanciest style of loafer you'll come across.
Before the birth of the horsebit, loafers were historically never worn by professionals in the city.
But legendary designer Gucci revolutionized the loafer by adding a metal buckle across the vamp (top).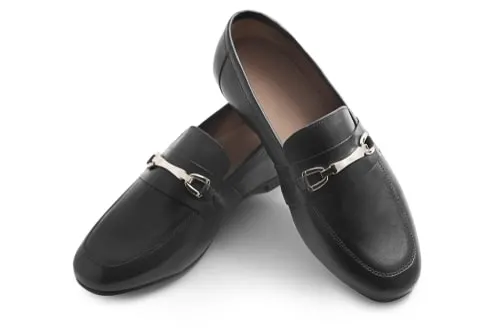 The metal buckle was in the shape of a horse's bit – hence the name. But the loafer is also commonly referred to as a "Gucci loafer" or a "bit loafer".
It has the typical features of a loafer; a moccasin-style stitched upper seam, a low heel, and a separate outsole.
But the metal buckle does add a touch of elegance and a sophisticated edge. It makes it look a little more formal than other styles of loafer, which is why it's often the most appropriate style to wear with business suits.
Having said that, more formal dress shoes such as Oxfords, Derbys, and Monkstraps will always be considered more appropriate than horsebit loafers for professional, business attire.
It's just that a dark leather pair of horsebit loafers will most likely work too.
By the way, if you wanted to learn more about pairing different shoe styles with suits, I've got more for you. Check out these articles on wearing Derby shoes, brogue shoes, and other casual shoes with suits.
Penny Loafers
Penny loafers can be worn with casual suits and business casual outfits, but are usually too informal to be worn with business suits.
They're arguably the most globally popular style of loafers out there.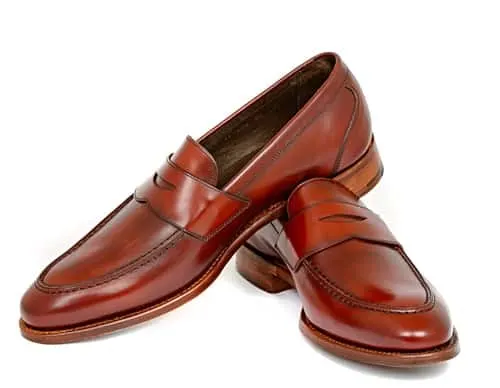 They've become something of a cultural phenomenon over the decades and show no signs of waning in popularity.
Penny loafers are characterized by a leather strap across the vamp, often with a diamond-shaped cut out in the middle.
For years they've been associated with the semi-casual, preppy aesthetic, although their popularity far exceeds this tiny demographic.
Penny loafers are often suitable to wear with casual suits; for example, a smart-casual dress code for a garden party or a particularly casual summer wedding.
But there's a fine line; penny loafers are usually too casual to be worn for cocktail attire or business attire.
Tassel Loafers
Tassel loafers have a casual, decorative appearance and are generally never appropriate to wear with formal business suits. They're often appropriate to wear with more casual suits, for example, those in bolder colors and made from fabrics such as linen or cotton.
They're characterized by a prominent tassel on the vamp. It's fun and decorative and the style is becoming increasingly popular.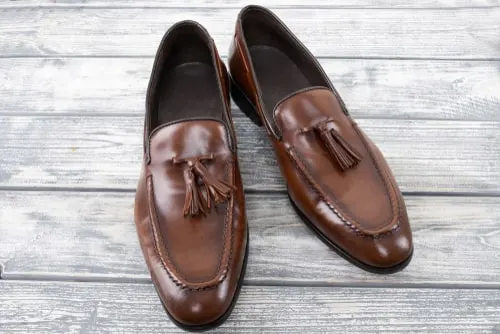 Much like penny loafers, tassel loafers are usually considered too casual to be worn with business suits.
Having said that, you may well find older gentlemen in the corporate world choosing to wear them with business suits. It generally looks quite awkward and mismatched.
Like penny loafers, tassel loafers are better paired with casual suits.
Venetian Loafers
The casual, slipper-like aesthetic of Venetian loafers makes them more appropriate to wear with casual suits than formal suits.
Unlike horsebit, penny, and tassel loafers, Venetian loafers don't have any decorative additions to the vamp. No buckles, straps, or tassels.
They do have the typical moccasin-toe construction and separate outsole that any loafer style would.
But the lack of ornamentation on the vamp makes them look more like refined slippers. Ultimately, they're a perfect addition to any man's casual summer wardrobe.
Much like penny and tassel loafers, however, they're much better suited to casual summer suits and should be avoided when wearing anything more formal than that.
Here's an example on Amazon:
The Differences Between Casual And Formal Suits
A suit is defined as a matching jacket and pair of pants made from the same roll of fabric. It's important to understand the differences between a "casual" suit and a "formal" suit.
Once you've got that down you'll be able to pair them with the right pair of loafers.
Let's discuss that.
Formal Suit Features:
Darker, solid colors
More structured jackets with heavy lining and padded shoulders
Generally made from a worsted wool fabric – doesn't wrinkle easily and has a noticeable sheen.
Jetted or flapped pockets as opposed to patch pockets
Peaked lapels and shawl lapels are more formal than notch lapels.
Sharp center creases down the pant legs
Here's an example. The shoes in the picture are monkstraps but a pair of leather bit loafers would work here too.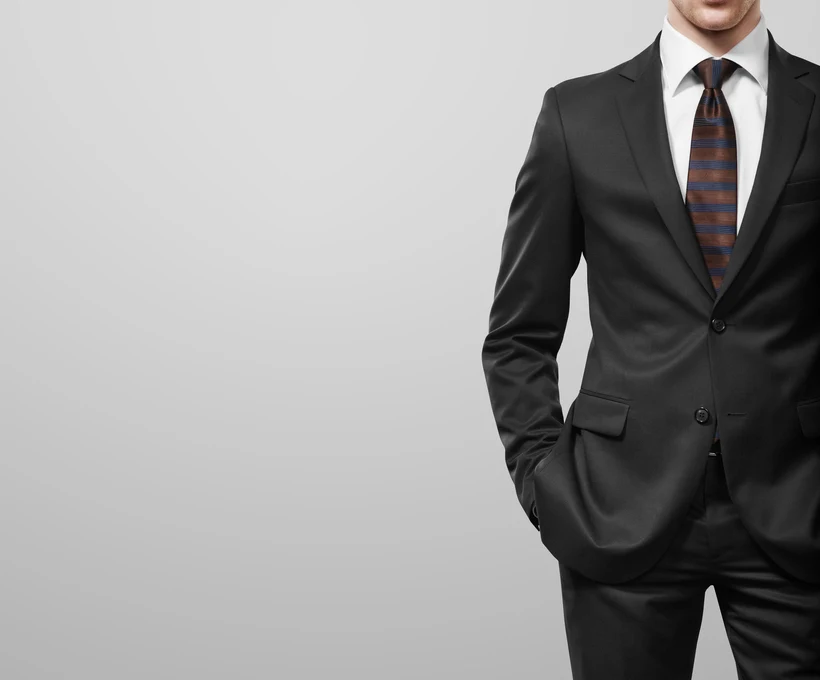 Casual Suit Features:
Lighter colors and patterns
The jacket lining is lighter and less structured.
The shoulders are more natural and less padded.
The fabric is usually of a less "shiny" texture and wrinkles more easily. Examples include linen, cotton, or wools such as tweed or flannel.
The jacket is more likely to have patch or flapped pockets.
The suit pants may or may not have center creases. Inner leg seam details may be more visible.
Here's an example. Notice the relaxed fit and light color of the linen suit. FYI – the picture is also an Amazon link.
You'll often find suits with both "formal" and "casual" features. But this list of features should help you differentiate between more formal-looking suits and more casual-looking suits.
Suede Vs Leather Loafers And Suits
Suede loafers are better suited to casual suits, while full-grain leather loafers can be worn with both casual or formal suits.
The finish of suede will always be considered more casual. It's more rugged, rough, and napped.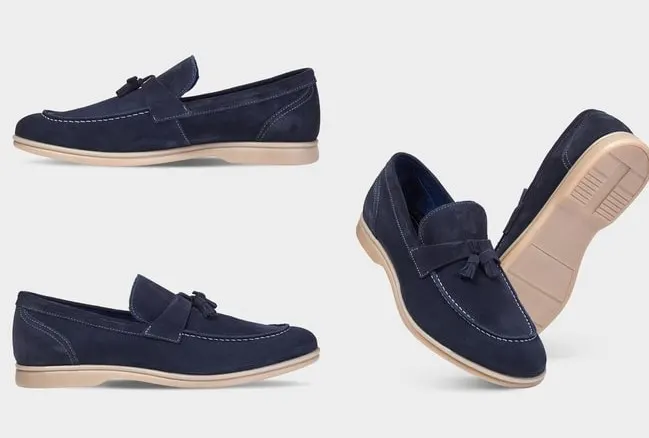 It doesn't have the sheen of other grades of leather and because of that, it works great in casual or smart-casual outfits.
When you feel as though you need to dress up a little, go for leather instead.
Never wear suede loafers with business attire. Remember, leather bit loafers are all you should go for here.
How To Wear Loafers With Suits The Right Way
To wear loafers with suits appropriately you'll need to take the formality of the occasion or setting into account.
Right off the bat, here are a few ground rules that'll serve you well:
Never wear loafers for Black-Tie. A black pair of Oxfords is what you need.
Try and avoid wearing loafers for Business Attire and Cocktail Attire if possible. If you were intent on it, however, a leather pair of horsebit loafers are your best bet.
Loafers are and will always be better matched with casual suits.
Although a casual suit with loafers would be fine for "business casual" dress codes, technically suits shouldn't be worn to business casual settings in any case. Go for blazer or sports coat combinations instead.
Read this article on wearing suede shoes with suits if you wanted to dig deeper.
Let's talk through the dress codes where loafers might be appropriate to wear with suits and how you might go about doing it.
Smart-Casual
Example Settings – Garden parties, office dinners, casual weddings.
These are the dress codes where a blazer or sports coat combination would work just as well as a suit.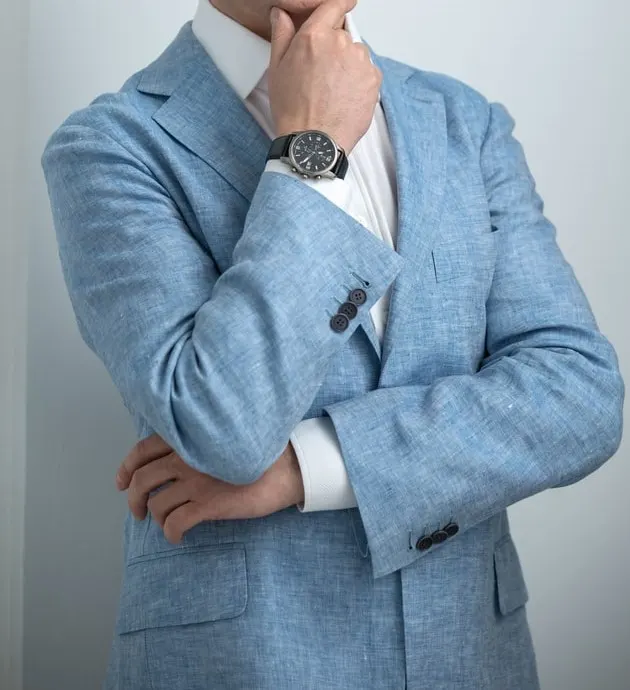 For example, a light blue blazer with a soft gray pair of chinos and loafers.
But you may have a casual suit in mind instead.
Example Outfit – A light gray linen, flannel, or tweed suit, a light blue button-down shirt, and a suede or leather pair of penny or tassel loafers.
Once again, go for leather if you feel you want to dress up a little more.
Business Attire
Example Settings – Offices, funerals
This is a little trickier. As I mentioned, be very careful here.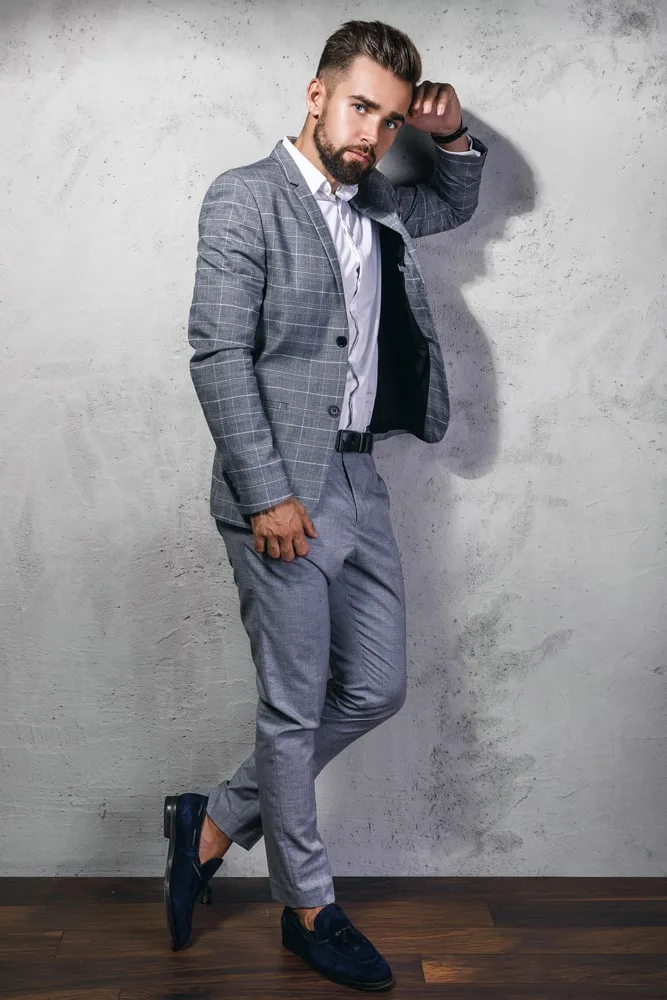 When wearing loafers with a business suit, go for a dark pair of leather horsebit loafers to be safe.
Although these loafers are fine to wear with a suit and tie, avoid wearing any style of loafers with 3-piece suits.
3-piece suits will generally just look too formal.
Example Outfit – A worsted wool suit in a solid, dark color, a white dress shirt, a necktie, over-the-calf socks, and a dark brown or black pair of leather horsebit loafers.
I've written a separate article on wearing loafers to work if you wanted to learn more.
Cocktail Attire
Example Settings – Weddings, Garden Parties
This dress code is most commonly found on wedding invitation cards. It can be frustrating to dress for as it's quite vague and often poorly understood.
In general, business attire suits can double up as cocktail attire suits; surprisingly convenient, I know.
Ultimately, you'll still need to wear a formal suit. The difference is you can be a little more creative with color and infuse a bit of personality and flair.
It's a celebration, after all.
When it comes to loafers, once again, go for a dark leather pair of horsebit loafers. Keep it formal.
As with business attire, a pair of Oxfords, Derbys, or Monkstraps would still be more appropriate. Just something to always bear in mind.
Example Outfits – A medium gray worsted wool suit, a grenadine necktie with a matching pocket square, a white dress shirt, and a dark leather pair of bit loafers.
You'll probably have noticed how "business casual" wasn't listed here. Ultimately, suits aren't generally advised in business-casual attire.
Blazer and dress pants/chinos combinations would be more appropriate. Wearing loafers with dress pants and not full, 2-piece suits is a pretty different ball game.
In addition, I've written a separate article on loafers and the business-casual dress code if you wanted to dive deeper into that topic.
Color Matching Loafers And Suits
Keeping it simple when it comes to color coordination will always serve you well.
Sticking to muted, neutral colors will save you time and headaches. That principle holds true here as well.
Formal Outfits
When choosing a formal suit, choose a dark color with no pattern. Solid will always look better when it comes to formal settings.
However, a light pattern such as a faint windowpane or even faint chalk stripes could also work well. Use your discretion and intuition when deciding.
Be careful with the color you choose. Navy blue and charcoal gray suits will be the most versatile choices and will always serve you well.
When wearing horsebit loafers as formal wear, stick to dark brown or black. Although black loafers would work well with a navy blue suit, dark brown would most likely work better.
Avoid black suits if possible as the color is distinctive and surprisingly hard to coordinate when compared to navy blue or charcoal gray.
Casual Outfits
You've got more freedom with color here.
Lighter, brighter, and pastel-colored suits will always look more casual than darker ones. For example, mid-blue or brighter shades of blue looks more casual than navy blue.
Brown is also less formal than charcoal gray or navy blue.
Although you should feel free to add splashes of personality wherever you can, try and keep it simple when it comes to the suit itself.
Go for a soft, muted color as opposed to a pastel one if you want to keep it versatile and easy to coordinate.
When you're choosing a pair of loafers here, once again you've got more freedom.
The same principles apply – lighter, brighter, and pastel-colored loafers will always look more casual.
Tan brown, for example, works very well while still remaining versatile and easy to match with your casual suit.
Frequently Asked Questions
Here are some FAQs I wanted to answer to really hone in on this topic.
Socks Or No Socks When Wearing Loafers With Suits?
When wearing loafers with formal suits, you should always try to wear over-the-calf socks. On the other hand, when wearing loafers with particularly casual suits, you may get away with wearing no-show or "invisible" socks.
An important point is that loafers shouldn't be worn without any socks at all, regardless of whether the suit is formal or casual.
Loafers weren't designed to be worn without socks. They generally aren't cushioned and can get uncomfortable to walk in for prolonged periods when compared to boat shoes.
It also isn't very hygienic as sweating and odor will become a problem.
Over-the-calf socks should always be worn with formal suits – that part is easy enough.
With casual suits, for example, linen or seersucker suits, you may want the "sockless" look which can work well. In that case, go for no-show socks as opposed to actually going sockless.
They're more hygienic and comfortable while still looking very subtle and stylish.
How Do You Wear Loafers With A Suit To Weddings?
The loafer and suit combination works best for very casual, summer weddings.
Pair a breathable, linen, or seersucker suit with a pair of suede penny or tassel loafers. The look oozes a casual, warm aesthetic.
It's a great alternative to a blazer and chinos combination, which would also be a very effective option.
When it comes to weddings, you need to be sure of the dress code. Any good wedding invitation should make this crystal clear.
If the dress code is anything more formal than casual (eg. Formal, Black-Tie optional, Cocktail Attire), it would be a safer bet to go for a more formal pair of dress shoes and a darker, worsted wool suit.
Wedding dress codes can be pretty tricky. If you were considering loafers, read this article on wearing loafers to weddings before you choose to wear them.
Loafers Or Oxfords With A Suit?
There are relatively few occasions where a pair of loafers would be more suitable to wear with a suit than a pair of Oxfords. The clean-cut elegance of the closed lacing system of Oxford shoes almost always looks more appropriate with formal wear such as suits.
This is often also true with "casual" suits such as cotton, linen, or seersucker suits in lighter colors and bolder patterns.
They would just work better with more "casual" pairs of Oxford shoes. For example, Oxfords with brogue patterns, suede finishes, or in lighter colors.
However, personal preference does also play a role here.
Some men do just prefer the laid-back design, feel, and structure of a pair of loafers. They may well feel that their vibe matches that of a casual suit better than a pair of Oxfords.
If you're unsure, try both of them out and see which one you prefer.
Can You Wear Velvet Loafers With A Suit?
It's entirely possible to wear velvet slippers with a suit. It's an attention-grabbing and eye-catching combination that's gained traction in recent years.
It's worth mentioning that "velvet loafer" is usually a misnomer. What people commonly refer to as "velvet loafers" should be more appropriately labeled "velvet slippers" instead.
They don't have the typical moccasin-toe construction that loafers, by definition, should have.
But that's beside the point.
Over the years, velvet slippers have become associated with royalty, often the preferred choice of Prince Albert. It's relatively easy to wear them with suits, but the napped texture of velvet does lend itself better to casual suits.
Can You Wear Driving Loafers With A Suit?
In general, it's best to avoid wearing driving loafers with suits. The small rubber pebbles on the soles do have a very casual appearance that would look awkward and jarring even when worn with a casual suit.
When wearing a suit, go for a more refined loafer style (eg. horsebit) and reserve your driving loafers for – well, driving.
Can You Wear Ferragamo Loafers With A Suit?
The high-end construction and sleek silhouette of Ferragamo loafers does lend itself well to both formal and casual suits. When wearing a pair with a more formal suit, consider a pair of their classic black horsebit loafers.
Ultimately, the same rules apply when wearing Ferragamo loafers with a suit.
Reserve Ferragamo penny, tassel, and Venetian loafers, as well as those in bolder colors/suede for more casual suits.
When you're looking for a more formal or professional aesthetic, black Ferragamo bit loafers would be your best option, but still would never be quite as appropriate as a more formal dress shoe style such as Oxford or Derby shoes.
Should You Wear Brown Or Black Loafers With A Blue Suit?
Brown loafers tend to work best with suits in light or medium shades of blue such as aquamarine, steel, or teal. When wearing a dark blue suit (eg. navy), black loafers would usually be the best option, although those in dark shades of brown would be a reasonable alternative.
Conclusion
It isn't rocket science, but style faux pas are a real risk when it comes to loafers.
Their versatility is great, but it's no secret that sometimes they just wouldn't be appropriate.
This article should have given you a structured approach to deciding whether a specific pair of loafers would be suitable to wear with a specific suit.
Bear the principles in mind, but be sure to have fun with it at the same time.
Ready Sleek founder. Obsessed with casual style and the minimalist approach to building a highly functional wardrobe. Also a fan of classic, vintage hairstyles.