There's just something about suede that's so appealing. Maybe it's that rugged, napped texture. Perhaps it's the versatility. But a question that's often asked is, can you wear suede shoes with a suit?
It's possible to wear suede shoes with a suit. Choose a dark pair of suede shoes with no brogue patterns, as well as a suit with more casual features. Doing so should ensure that the suede shoes look formal enough to pair well with the suit.
Although that's the gist, as you'd expect, there's more to it.
Getting this combination wrong can often look awkward and out of place. Here are some essential tips to ensure that this doesn't happen to you.
Let's get to it.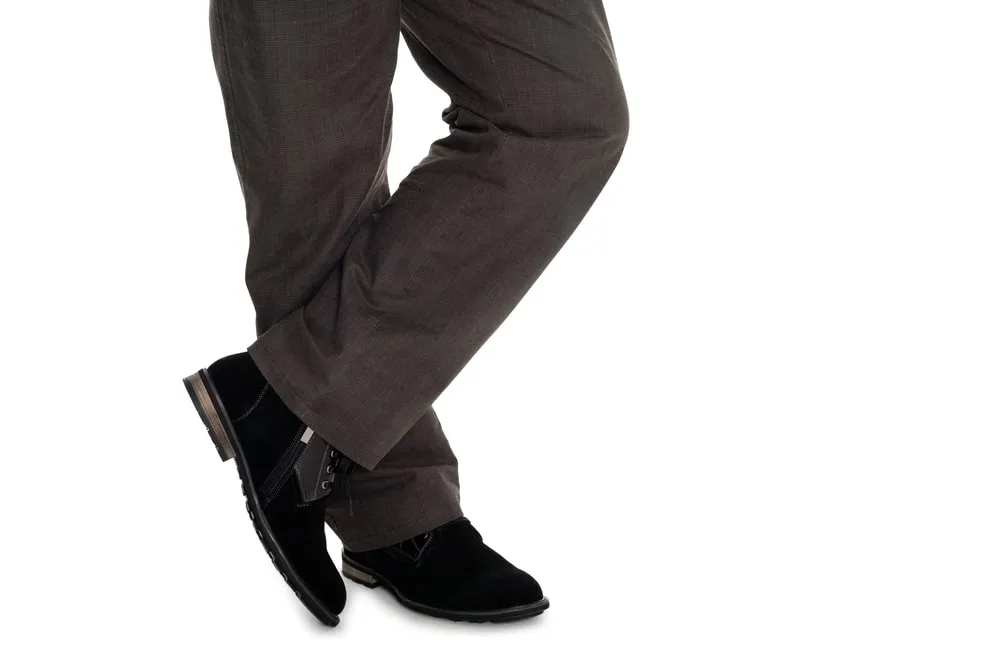 1. Make Sure It's Appropriate
Let's face it. There are certain situations where a pair of suede shoes just wouldn't be appropriate to wear with a suit, no matter how perfect the two individual items are in isolation.
To keep things simple, if you're wearing a suit in a business-professional or formal setting, do not wear suede shoes.
Suede shoes will always look more casual than shinier grains of leather such as cowhide or calfskin.
Even if you were to follow the tips in this article to the letter, the combination still wouldn't look formal enough for the setting.
That's why it's so important to get a feel for the dress code before you do it.
Wearing suede shoes with a suit would be more appropriate for smart-casual and potentially business-casual settings.
The business-casual events and occasions this combination would be better suited toward would probably lean toward the more casual end of the business-casual spectrum.
Once you've determined that it's actually appropriate for you to wear this combination, it's time to pick the right combination.
2. Darker Suede Is Better
Dark brown, navy blue, or black suede shoes are often the most appropriate options when wearing a suit. Dark and neutral colors such as these just look more in sync with the formal aesthetic of a suit.
Compare that with lighter and brighter colors of suede. It'll just look too casual to pair well with a suit.
In other words, there will be a formality mismatch.
Sure, it'll look fun and it'll definitely be eye-catching. But when wearing a suit, is that really what you want?
Suits aren't usually worn in places where you'll want a bright and bold pair of suede shoes to stand out in the outfit itself.
To sum that up, when wearing a suit, darker shades of suede just work better.
Here's a pair of dark navy suedes on Amazon as an example:
Here's another pair of dark brown suede shoes that also have a pretty formal edge to them. Something like this could work well too.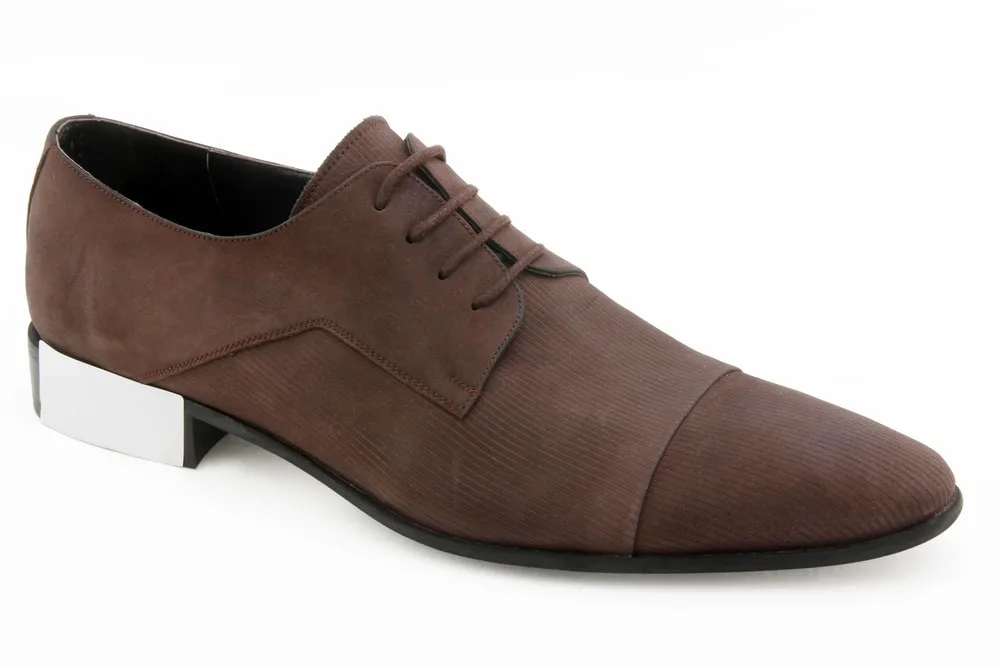 3. Choose A Casual Suit
When wearing suede shoes with a suit, it's best to choose a suit with casual features. These are often a lighter color and are made from more rugged fabrics such as cotton, linen, or tweed. Avoid darker-colored suits like navy or charcoal grey.
The ultimate objective here is to reduce the risk of a formality mismatch between the suit and the suede shoes.
To do this, you'll need to dress down the suit and dress up the shoes.
We've already talked about how choosing a dark and muted color of suede can make them look more formal.
But it's important to choose a suit with more casual features to really make it work.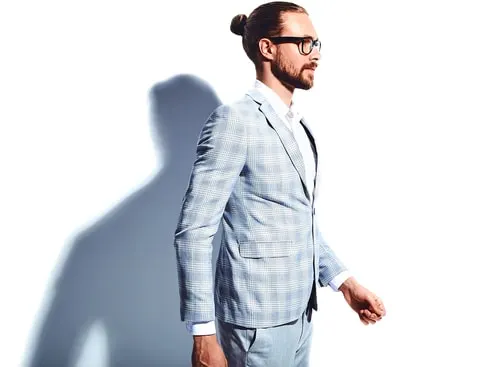 A charcoal grey, worsted wool 3-piece suit would look great with a pair of dark brown calfskin cap-toe Oxfords.
But wearing a pair of suede shoes with a suit as formal-looking as that can look pretty out of sync.
The suit you choose should have casual features that work well with a pair of suede shoes.
Here are some "casual" features of suits to look out for:
Lighter colors
Patterns
Flapped or patch pockets on the jacket
Less padding on the shoulders (more natural-looking)
Fabrics that aren't as shiny and wrinkle more easily (eg. cotton, flannel, linen, and tweed)
The suit doesn't need to have all of these features. Use the list as a guide to help you figure out whether a suit lies more toward the casual or the formal end of the spectrum.
After a while, it'll become pretty easy to spot the difference just on first glance.
4. Oxford Or Derby Suedes
Oxford or Derby suede shoes often work best.
Now we're getting back to choosing the right pair of suede shoes. We've talked about the color, but it's important not to ignore the style.
On the formality scale of mainstream dress shoes, Oxfords usually come out on top. It's just really hard to go wrong when wearing a pair of Oxford shoes with a suit.
The closed lacing system of Oxfords gives them an instantly elegant and formal appearance.
Derby shoes are a notch less formal, but still pretty easy to wear with a suit. They're ideal to wear in business-professional or business-casual outfits.
Ultimately, when you're looking to ensure that a pair of suede shoes looks formal enough to wear with a suit (no matter how "casual" that suit may be), going for Oxfords or Derbys would be a safe bet.
It's quite easy to find suede Oxford and Derby shoes – that's the good thing.
While there are plenty of suede monk straps and loafers out there, they aren't quite as appropriate as a pair of Oxfords or Derbys.
If they were calfskin or cowhide – sure, it would potentially work (depending on the context).
But suede monk straps and loafers would always be more of a risk when you're wearing a suit.
It just increases the likelihood of a formality mismatch.
5. Treat The Suede Well
Suede is notoriously difficult to look after and keep clean.
But when you're wearing a suit, it's all the more important to do so.
The trouble is, many people don't really know how to take care of suede shoes. It's either that or they don't have the time to do it.
But suede is just so susceptible to mud stains, rain damage, scuffs, scratches, and so on. It's not uncommon for suede shoes to look completely different after just six months of wearing them if they aren't looked after properly.
When wearing a suit, a pair of poorly-kept suede shoes is a nightmare. It just looks awful no matter how ideal the suit may be.
Because of this, it's important to keep on top of the suede maintenance from the moment you buy the shoes.
Here are some basic tips and tools to get you going:
Suede Brush – Ideal for gently brushing away dirt and dried mud.
Suede Cleaner – Think of it as a shampoo to remove any tough stains you can't get rid of with your brush
Suede Eraser – Great for tough watermarks and grease stains.
Avoid Rain – Probably the simplest tip. Rain is terrible for suede. If it's clearly pouring outside, keep the suede at home
Shoe Tree – Perfect for maintaining the shape of the suede shoes when you're not wearing them. It prevents wrinkles and should ensure they last the long haul
6. Avoid Suede Brogues
Suede brogues are a great option when wearing a pair of jeans or chinos, as they have an equally phenomenal smart-casual feel to them. However, they aren't as good when you're wearing a suit, no matter how casual that suit may be.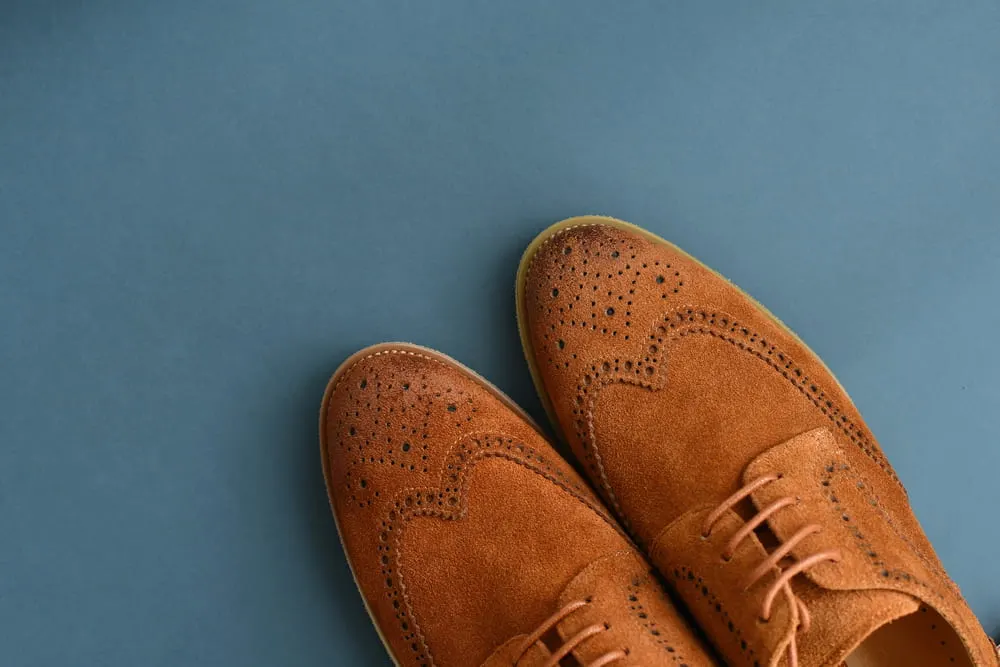 Decorative perforations on a pair of shoes (i.e brogue patterning) will always make them look more casual than they would otherwise.
So now you've got the suede aspect making them look casual as well as the brogue aspect making them look even more casual.
Ultimately, the result will usually be too casual to pair with a suit.
It comes down to the fact that no matter how "casual" a suit may look, it can never truly be called casual.
Suits have an immediately formal edge to them. It's a matching pair of pants and jacket, made from the same roll of fabric.
No matter how casual the features of the suit may be, it would never look quite as casual as a polo and chinos combo or jeans and Henley combo, for instance.
At the end of the day, suede brogues are often just too casual to be worn with a suit.
7. Avoid Suede Spectators
Finally, avoid suede spectator shoes when wearing a suit.
Much like suede brogues, suede spectators will look too casual to be worn with any type of suit.
A pair of "spectator" shoes will have the toe cap and heel cap a different color to the body of the shoe.
You'll be left with a pair of shoes consisting of two or three different colors.
This can look great when you're looking to make more of a statement. But there's a good chance that this isn't what you want when you're wearing a suit.
You don't want a pair of shoes this attention-grabbing or eye-catching.
Suede shoes are already pretty casual, to begin with. Suede shoes that consist of two or three different colors will take this casual aesthetic to the next level.
It may look great with a pair of jeans or chinos, but not with a suit.
So, it's usually best to avoid them.
Sticking to this tip, as well as the others in this list, should ensure that you don't set a foot wrong.
Choose the right suit, choose the right suede shoes, and ensure it's appropriate for the dress code. If you follow that basic equation, you should be fine.
Enjoy.
Ready Sleek founder. Obsessed with casual style and the minimalist approach to building a highly functional wardrobe. Also a fan of classic, vintage hairstyles.