When crafting a robust and versatile wardrobe for yourself it's kind of impossible to ignore chinos and brown shoes.
They really are the workhorses of your wardrobe. This is a term I use to describe those items you just keep going back to.
Of course, "brown shoes" can refer to a wide range of items ranging from formal dress shoes to casual summer wear.
Knowing how to pair the right pair of brown shoes with the right chinos is important, but not difficult. Take color matching, the formality of the occasion, and the weather into consideration and you'll be fine.
That's what I'm going to talk through today. This is a step-by-step walkthrough to help make your styling and purchasing decisions easy when it comes to this classic combo.
How To Wear Chinos With Brown Shoes
Ask yourself these two questions when choosing your outfit.
1. What's The Weather?
The climate and temperature will play a role in determining your choice.
For instance, warm summer weather is better suited to lightweight chinos and warmer, lighter tones such as stone, khaki, and light gray.
Milder and colder weather is usually better suited to heavyweight chinos of a darker tone such as navy blue or charcoal gray.
Certain brown shoes will be more summer-friendly, such as boat shoes and moccasins.
This may sound obvious, but making sure your outfit syncs with the climate in both style and color is a basic principle that shouldn't be forgotten.
2. How Formal Is The Setting?
The glorious versatility of chinos will allow you to wear them in settings ranging from casual, to semi casual, and to business casual.
It's important to note that "semi-casual" is more formal than "casual" but less formal than "smart-casual".
"Smart-casual" is the same as "business casual".
Essentially, you could reasonably pull off a pair of chinos in most settings other than truly formal ones.
However, certain pairs of chinos can be considered more "formal". They generally have features that resemble dress pants more than jeans, whereas casual chinos tend to resemble jeans more than dress pants.
Formal features include:
Welted pockets instead of patch pockets
Barely visible inner leg seam details
Center creases down each leg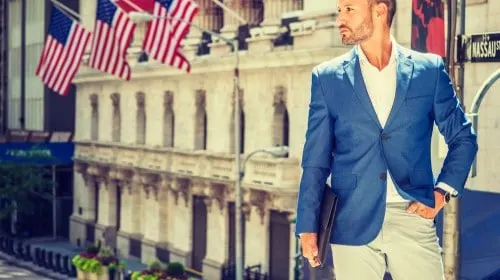 So if you wanted a pair of chinos to pass off as "dressy" enough for a particular business casual event, for instance, go for a more formal looking pair.
The brown shoes you choose will also be partly determined by the formality of the setting or occasion.
Casual and semi-casual options include sneakers, boat shoes, moccasins, and suede loafers.
Whereas formal options include leather loafers, Oxfords, Derbys, and Bluchers.
Then you've got those in-betweens such as Chelsea boots which are great for the colder months and are incredibly versatile.
Try to pair more "formal" looking chinos with a more formal pair of brown shoes, and more "casual" looking chinos with more casual brown shoes.
But it's definitely important to note that this isn't a hard-and-fast rule. Even regular pairs of chinos can look great with traditionally more formal shoes such as Oxfords.
But if you wanted an overall "dressier" aesthetic, stick to smarter, more formal looking chinos to really complete the look.
Color Matching Chinos With Brown Shoes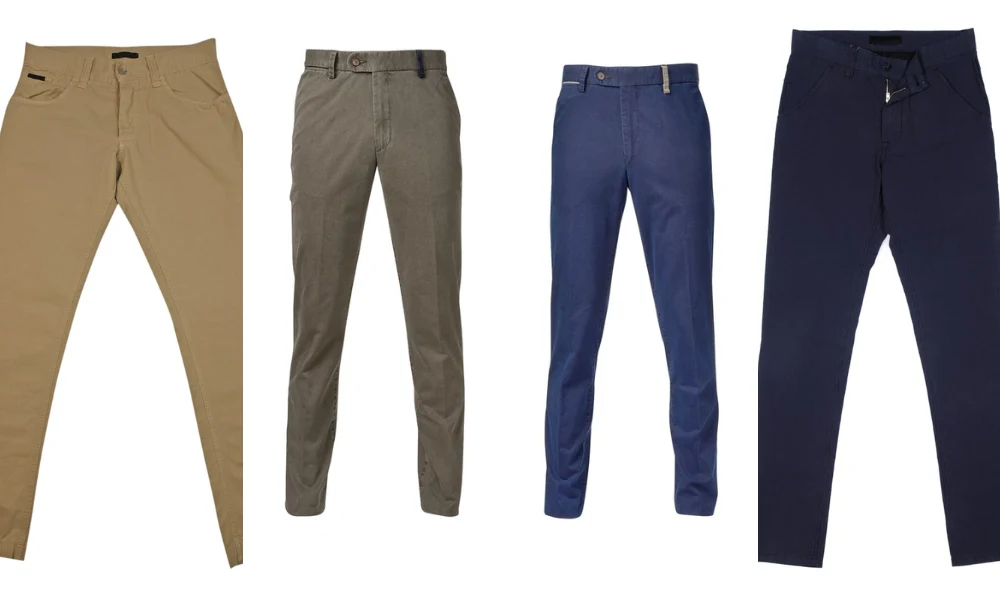 Color coordinating clothes isn't usually in a man's list of favorite activities. This is exactly why I recommend keeping things incredibly simple.
When designing a truly versatile wardrobe where each item can be worn with any other item, keeping color simple is absolutely crucial.
Stick to a neutral, basic color scheme that will allow you to mix and match easily and seamlessly without even having to think about it.
Brown shoes go so well in a neutral-colored wardrobe.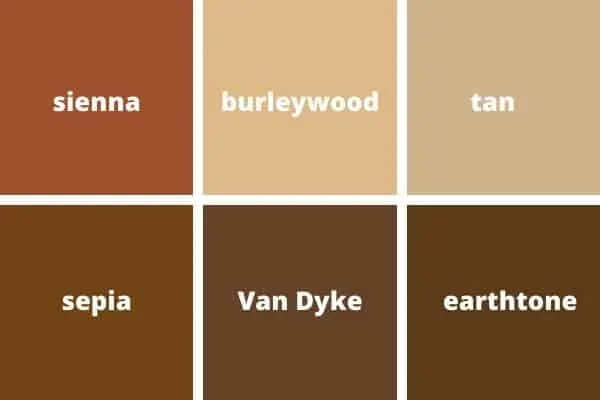 Use the weather to guide your choices, while sticking to a strictly neutral scheme. Sure, pastel colors are great but do make coordination a little trickier.
In the summer, consider lighter neutral tones. For example, stone, light gray, khaki, white, or olive green chinos with brown shoes.
In the winter, try darker tones. For example, navy blue, black, or charcoal gray chinos with brown shoes.
The beauty of sticking to neutral, muted colors is that you won't need to worry about color coordinating with those brown shoes. Whatever the shade of brown, they should work.
Focus more on ensuring the weather and the formality of both the chinos and the shoes are appropriate and sync well.
Which Brown Shoes To Wear With Chinos
Let's dive a little deeper into the range of shoes you could potentially wear with chinos. Although it's possible to differentiate further in terms of the weather, let's focus on the formality of the setting and how to use that information to decide on your shoes.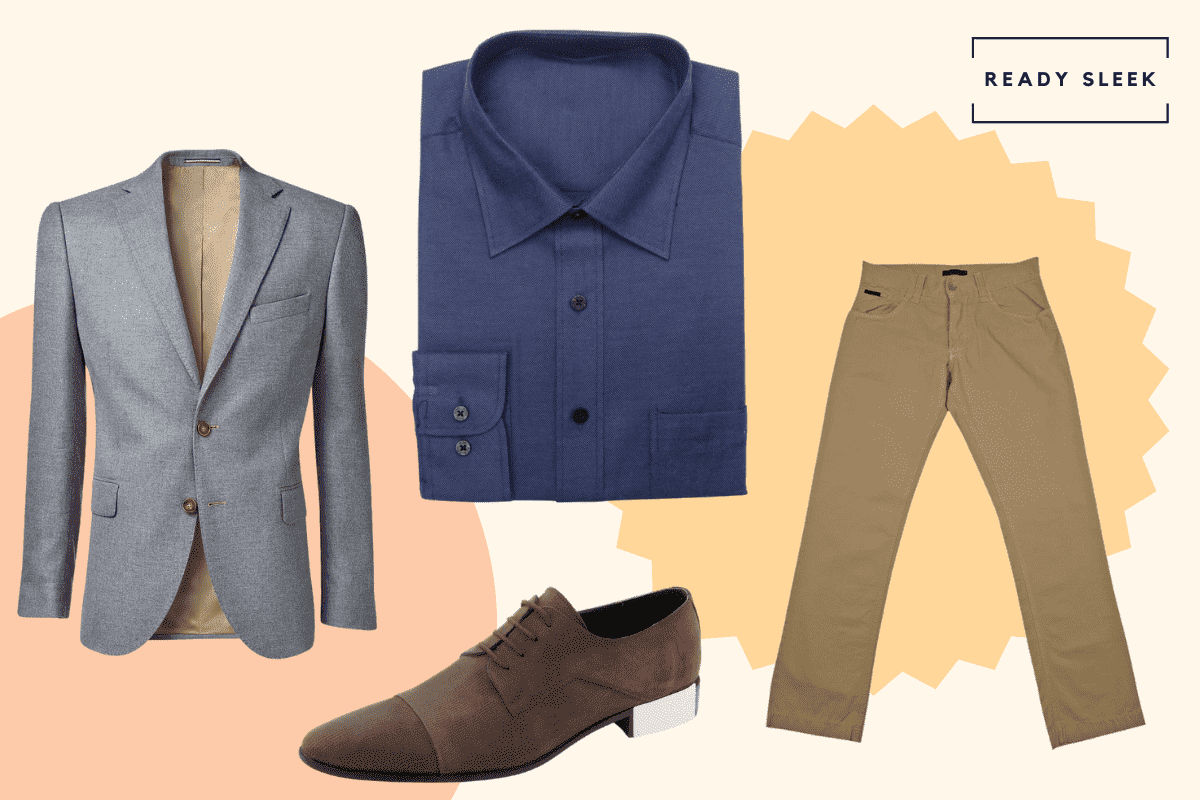 Here's another reminder of what a more "formal" pair of chinos looks like compared to a regular, more casual pair. Try to pair casual and regular chinos with casual shoes and more formal-looking chinos with smart-casual and formal shoes.
Casual And Semi-Casual Options
Everything from hittin' up the movies to dinner with your girlfriend and more.
Brown Leather Sneakers
Sure, a pair of white sneakers may be more crucial for your ultra-versatile wardrobe. However, don't underestimate the power of a pair of brown leather sneakers.
They can look fantastic with a pair of chinos and work well in both casual and semi casual settings.
Loafers
Loafers are fantastic because they perfectly embody the casual aesthetic. They're incredibly simple and comfortable to wear.
They're defined by a simple, slip-on design with no laces or fastening, an exposed ankle, and often a low heel. They have a moccasin-like seam on top that gives it a touch more elegance than a regular slipper.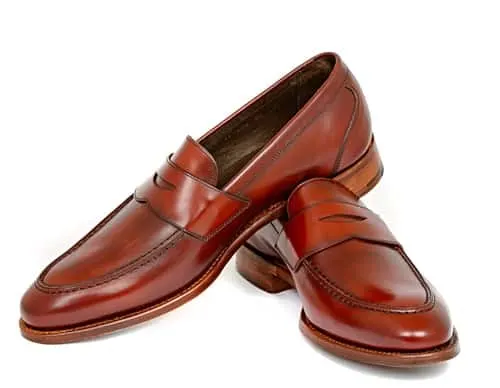 Try wearing a pair of brown penny loafers with cuffed or pinrolled chinos on those warm summer days.
Combine them with a V-neck or basic short sleeve white T-shirt with an open denim shirt layered on top.
Pop a fedora hat on to really pile on a heavy summer vibe.
That's just a simple, yet effective example. The options really are endless.
Chelsea Boots
Fast forward to fall and winter and you'll want something a little more sturdy and rugged.
Two ankle boots that'll come to mind are chukka boots and Chelsea boots. Boots aren't cheap, and you may be in a position where you can only really afford one right now.
A pair of Chelsea boots should usually be your first buy simply because of their versatility. A pair of dark brown Chelsea boots can combine very well with both casual and semi-casual wear.
Box calf leather is usually a better option than suede for this very reason, but suede is still very appropriate for settings on the more casual end of the spectrum. However, if you live in a particularly rainy climate, avoid suede if possible.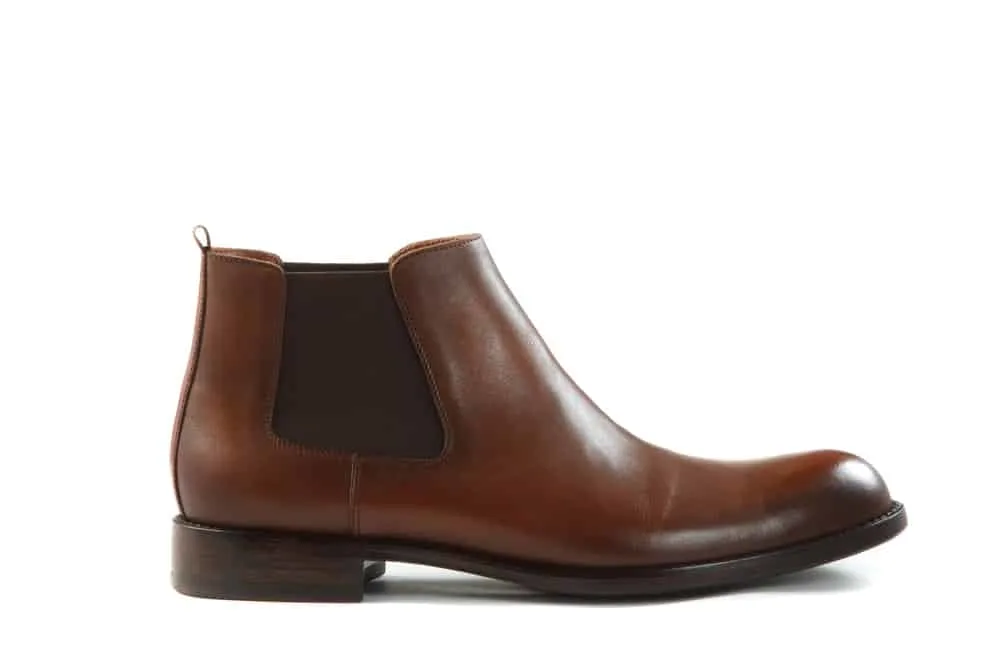 A pair of brown Chelsea boots work well with chinos because they share similar aesthetics. They're both incredibly versatile items that can be dressed up and dressed down with relative ease.
As they're better suited to mild or colder weather, Chelsea boots work better with heavyweight chinos of darker tones such as navy blue or charcoal gray.
Dark brown leather is particularly great because it can fit pretty seamlessly into both semi-casual and smart-casual (i.e business casual) outfits. The lighter the shade of brown, the more casual it'll look.
Compare this with black boots which should really only be worn with more formal wear.
Boat Shoes
Let's tone down the formality a notch further and talk about the gloriously casual boat shoes we all know and love.
They're similar to loafers but are even less formal and also come with laces that go around the shoe from the tongue to the heel for a nice, snug fit.
The outsoles are traditionally white but often come in a wide range of colors now.
Much like with the loafer, a brown boat shoe is arguably the most versatile color of them all, making color matching within your wardrobe a lot easier.
They're great for the summer and are usually worn without socks. This is in contrast to loafers which are usually worn with socks, even if they're just small, barely visible socks.
They work very well with chinos, including chino shorts. Typically worn in sunnier weather, boat shoes work well with lightweight chinos of warmer tones such as khaki, olive green, or beige.
Smart-Casual (Business Casual) Options
Let's run through some more formal and "dressier" shoes that still work well with chinos. As I mentioned earlier, if you do want an overall "dressier" aesthetic, pair them with chinos that lean toward the formal side with traditionally formal features.
But at the end of the day, there's no reason why a regular, more casual pair of chinos wouldn't work with these shoes either. Just don't go too casual with the chinos.
Oxford Shoes
Although they're usually more associated with formal outfits, they work perfectly fine for smart-casual settings as well. In fact, they're a lot more versatile than they're given credit for.
Sure, they're considered the most "formal" of the classic dress shoes, but that doesn't mean they're only good for royal garden parties and the like.
They're defined by their closed lacing, and they now come in a wide range of fabrics despite traditionally being made from leather.
Once again, brown leather is very easy to work with and coordinate your wardrobe with.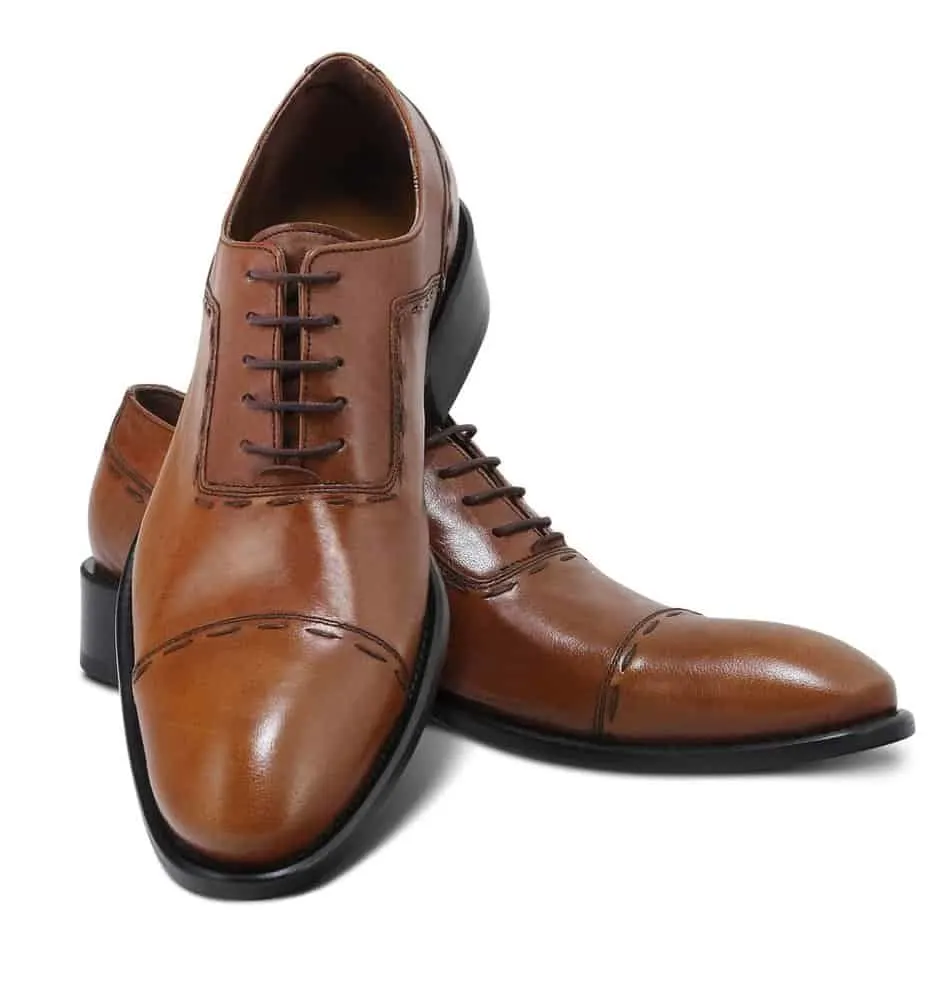 Tan colored Oxfords have become very popular recently and combine very well with chinos because they come off more casual than dark brown or black.
Here's an example of a nice smart-casual outfit combining brown Oxfords with chinos:
Tan Oxfords with olive green chinos (center creases if possible), a white OCBD shirt, and a light gray sports coat.
Simple, neutral, and subtle.
Derby Shoes
These are arguably an even more appropriate option for combining with chinos, simply because they're a little more casual than Oxfords.
The main thing that differentiates them from Oxfords is their open lacing system. This makes them more comfortable to wear, particularly for men with bigger feet.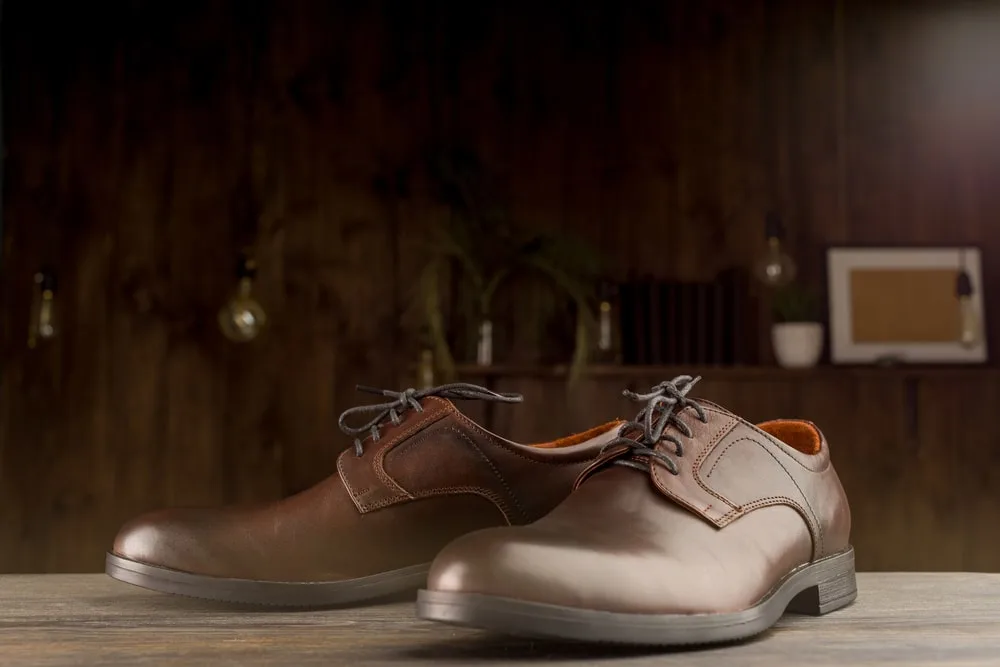 Brown Derbys and chinos is often a winning combination. If you're looking to make them more interesting, look for unique brogue patterns and switch up the color of the shoelaces now and again.
Leather Loafers
As you'd expect, leather loafers look dressier and more formal than their suede counterparts.
You'd still expect the same features as you would with a suede pair, such as an absence of laces, buckles, and straps.
But the sheen of the leather does give them a distinctly more formal edge. They also work fantastically well with chinos in smart-casual outfits.
Much like with suede, the Penny loafer style is probably the most popular. But there are others you could choose from, including Belgian, Tassel, and Gucci loafers.
If you had to choose between owning a suede pair and a leather pair, a leather pair would be more versatile.
It's suitable for such a wide range of occasions. Plus, it's generally more weather-resistant and resilient than suede as well.
Conclusion
There you have it. Yet another chino tutorial. It's pretty hard to run out of topics to talk about when you've got such a classic and popular item of clothing.
Hope you enjoyed that and found it useful.
Experiment with it and have fun.
Ready Sleek founder. Obsessed with casual style and the minimalist approach to building a highly functional wardrobe. Also a fan of classic, vintage hairstyles.