Chelsea boots are iconic in men's style for casual and smart-casual attire. Dress pants, on the other hand, are much less casual. It begs the question, can you really wear Chelsea boots with dress pants?
Wearing Chelsea boots with dress pants is entirely possible. Consider going for suede boots and think about black vs. brown boots. Make sure you don't tuck your dress pants into your boots and remember that dark, neutral-colored dress pants work best here.
Though that's just the start of it, there's much more to explore.
Let's get into it.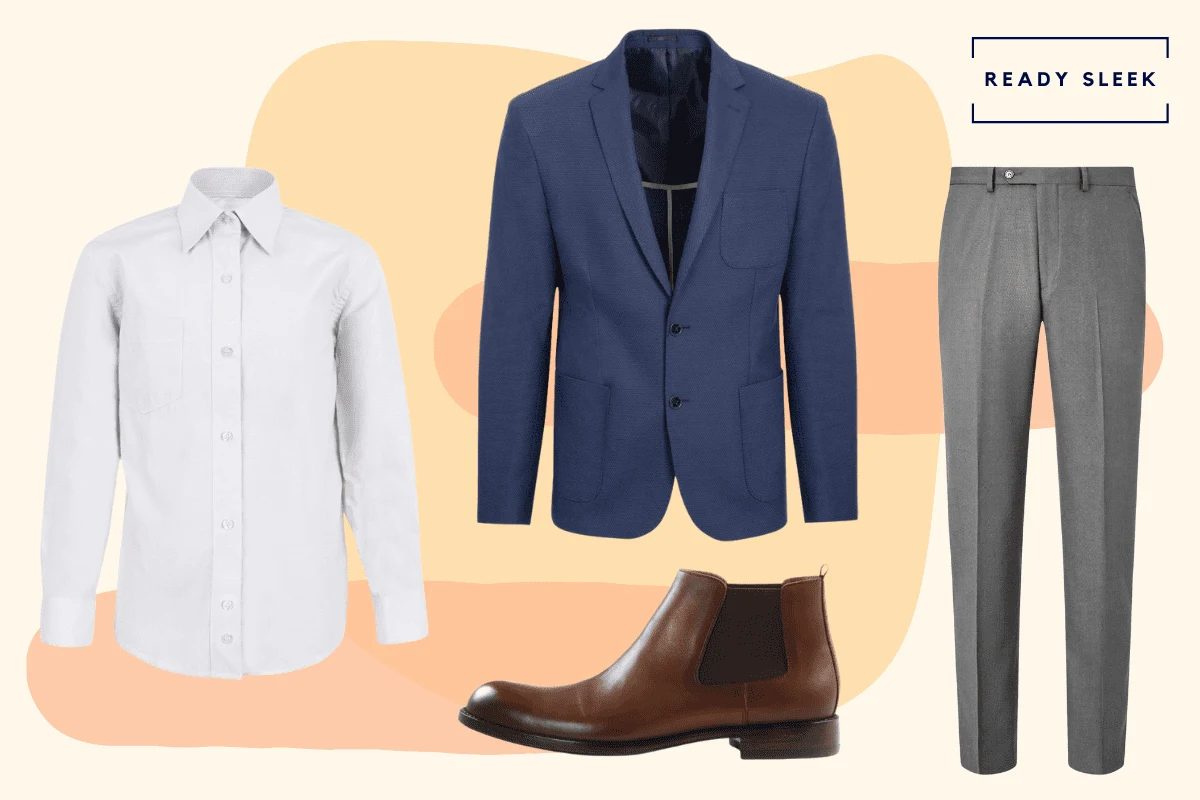 1. Consider Suede Chelsea Boots
Suede Chelsea boots often look great with dress pants and add a casual, laid-back edge to an otherwise formal outfit.
The main point here is this:
While it may be tempting to stick to boots in shinier, dressier grains of leather when wearing dress pants, don't shy away from suede alternatives.
They can definitely work.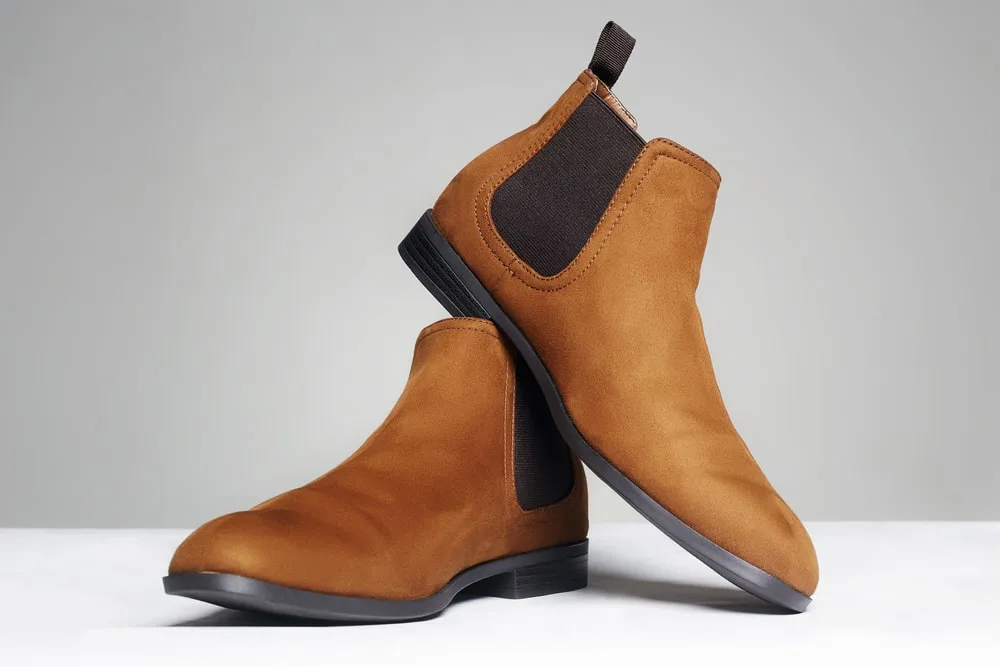 As a general rule of thumb, we refer to suede and leather as different things. However, technically speaking, suede is a type or "grain" of leather.
Suede comes from the underside of the hide, whereas what's usually referred to as "leather" comes from the tough, outer hide.
Due to suede's textured and napped appearance, suede garments are usually deemed more casual than leather ones.
This is particularly true for boots, and suede boots should never be worn in truly formal settings.
That being said, when wearing Chelsea boots with dress pants, your ensemble sits comfortably at smart-casual and sometimes business-casual.
Dress pants are usually formal garments, so it's important to consider suede Chelsea boots to dress down the outfit somewhat.
Remember that suede isn't an absolute necessity, and if the occasion leans more toward the formal end of the "smart-casual" spectrum, it may be better to go with Chelsea boots in a shinier grain of leather.
2. Black And Brown Boots Are The Most Versatile
There are two colors that are prevalent within the boot industry: black and brown.
The majority of boots are one of these colors, and it's important to know which one to pick.
Black Chelsea Boots
When thinking of Chelsea boots, black ones may not initially spring to your mind.
However, they can look just as good as brown ones; in fact, they can sometimes even look better.
The important thing to remember about black Chelsea boots is that they work best with dark dress pants.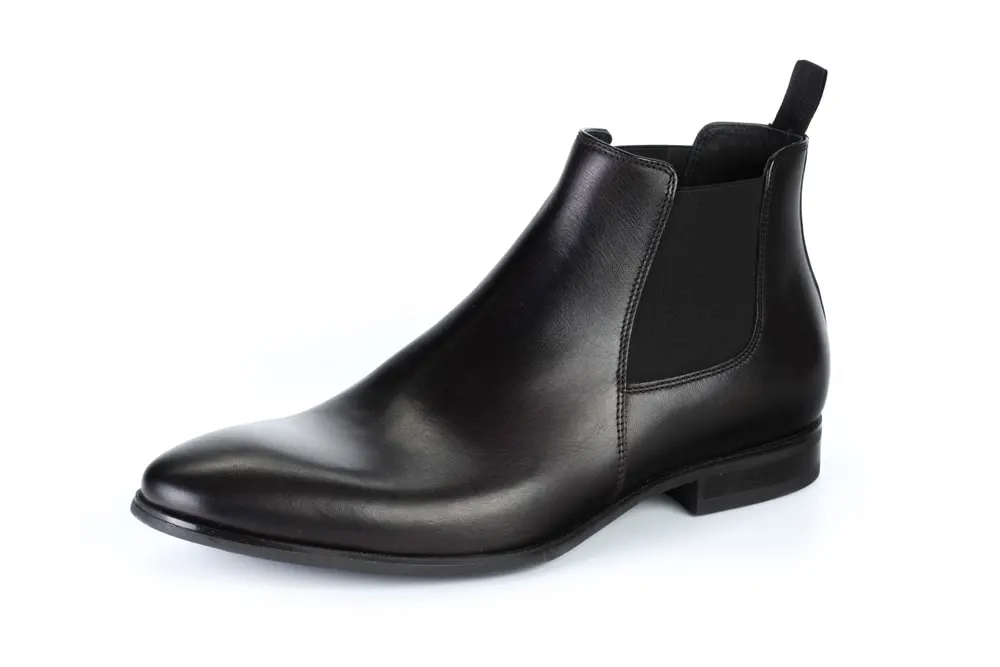 This means wearing colors such as black, navy, charcoal, and dark grey.
Although black Chelsea boots are typically more formal than brown ones, they can be matched in formality by darker shades of brown.
Brown Chelsea Boots
Brown is likely the most popular Chelsea boots color, and brown Chelsea boots look great with most colors of dress pants.
While they can work at more formal events, black Chelsea boots are generally the better option for such events.
Instead, brown ones are usually best kept for more casual "smart-casual" occasions as opposed to formal ones.
Therefore, brown Chelsea boots look best worn with khaki, lighter shades of grey, tan, and other similar colors.
However, they can just as easily be worn with darker colors, but usually in less formal circumstances.
Alternatives
While black and brown are the most popular Chelsea boots colors, there are still other colors worth considering.
Grey is a good example of an unusual boot color that can look great with dress pants.
Boots of this color are pretty much exclusively suede, which aligns perfectly with the smart casual aesthetic of this outfit.
Overall, grey Chelsea boots are as – if not more – versatile than their black and brown counterparts.
However, because they're quite unusual, it's best to wear them with caution, steering clear of formal situations.
3. Leave Your Dress Pants Untucked
A common problem among men is the confusion surrounding whether or not you should tuck your dress pants into your Chelsea boots.
Wearing your dress pants untucked is essential to pulling off this outfit.
While tucking them in may be acceptable for some situations, wearing smart casual clothing is not one of them.
There are two primary reasons for this. The first is that it looks awkward.
Moreover, standing out in such scenarios could be seen as disrespectful – particularly in situations like weddings.
The second reason it's best to avoid it is that it's uncomfortable. If you feel uncomfortable with what you're wearing, it shows in your body language and mannerisms.
Of course, there is a line to this rule. Baggy clothing, for example, should pretty much always be avoided in smart-casual situations, despite its comfort.
4. Think About Dress Pants Color
The color of your dress pants is an important thing to consider when wearing them with Chelsea boots.
And there are several elements to picking the right-colored dress pants for the occasion.
For a start, the color of your Chelsea boots is a large determinant as to what the best-colored dress pants to wear are.
Remember that these boots are very versatile, and black or brown Chelsea boots will work with most dress pants colors.
However, there are some that work particularly well. Black boots, for example, look great with black dress pants.
They create a sophisticated monochromatic effect. Accompany this outfit with black socks.
In fact, as a general rule, dark dress pants colors work best with black Chelsea boots, whereas lighter dress pants couple better with brown ones.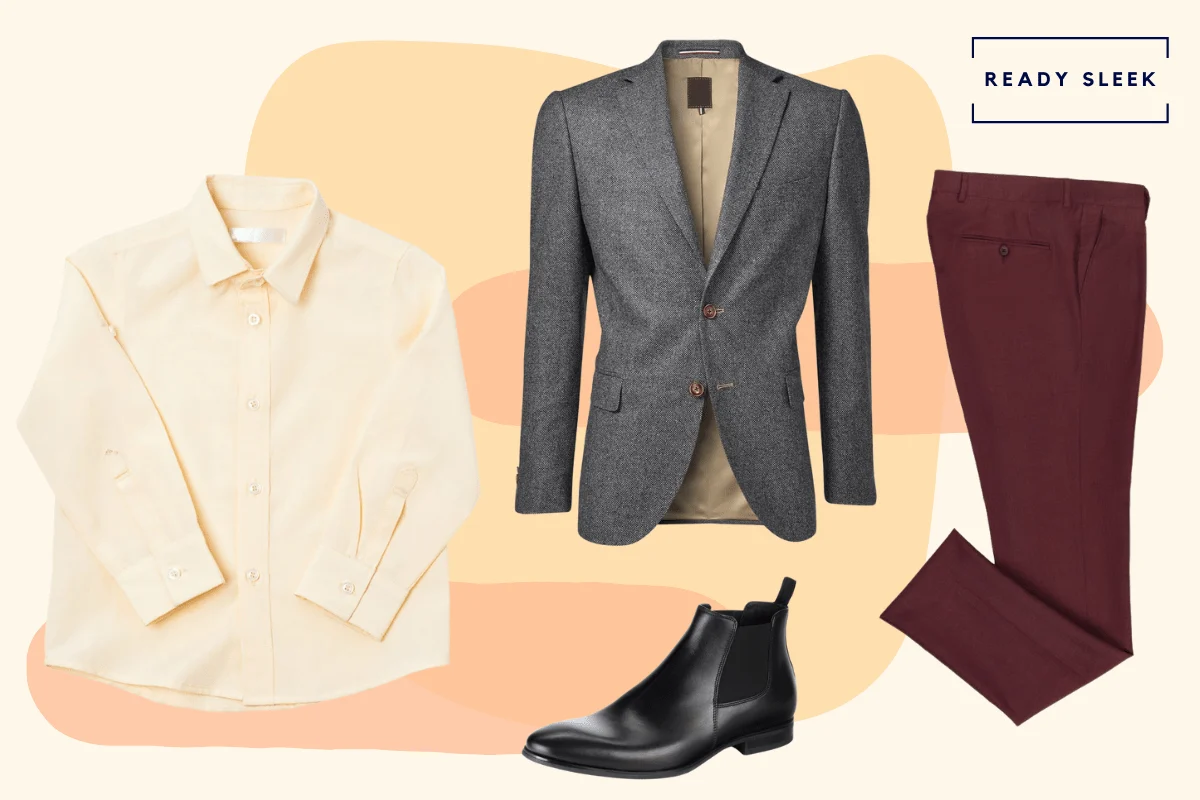 Keep in mind the formality of the situation when deciding what dress pants color you'll wear.
While this outfit is smart-casual, there are different formality levels within the smart-casual umbrella.
For occasions that are on the more formal end of the spectrum, go for darker dress pants, like black, charcoal, and dark grey.
Conversely, for those of a less formal nature, lighter, more casual dress pants work best.
5. Wear A Tucked-In Button-Up Shirt
Tucked-in button-up shirts are the way to go when wearing Chelsea boots with dress pants.
As mentioned, there are levels to the smart-casual dress code. Picking the right shirt for the occasion is important to fit in and not appear disrespectful.
For those more formal situations, dress shirts work best with dress pants and Chelsea boots.
They exude formality but are slightly dressed down by your Chelsea boots, so they align perfectly with the smart-casual look.
On the other hand, in smart-casual situations that lean more toward casual, casual button-up shirts are usually better.
White shirts are generally best, but sky blue and other similar light colors can work too.
Regardless of your chosen shirt style, remember that your button-up should always be tucked when worn alongside Chelsea boots and dress pants.
Moreover, when wearing a tucked-in shirt, you must also wear a belt. Slim belts work best with this outfit.
Try to match the color of your belt to that of your boots for a more put-together aesthetic.
Also, consider wearing a jacket, such as a blazer or sport coat, over the top of your shirt, for a formal layered effect.
6. Patterns May Be Appropriate
Last but not least, you should carefully consider whether or not patterns are appropriate for the setting.
Patterned garments can be a great way to add some personality and flair to your outfit; however, they aren't always appropriate.
Dress pants with patterns are becoming increasingly common and are a solid way to dress down your outfit further for more casual occasions.
Shirts with patterns may also be acceptable for the mentioned scenarios.
If you decide to go with patterned dress pants or a patterned shirt, remember that the patterns must be subtle.
Bold, bright patterns simply stand out too much and aren't appropriate for a smart-casual setting.
If the event in question is more on the formal end of smart-casual, however, it's best to avoid patterns altogether.
Similarly, if you're unsure whether or not it's appropriate, don't wear them at all; it's the safest way to go about it.