Blue shoes are a great way to make a statement and stand out from a crowd, but coordinating them with other items can sometimes be frustrating.
So, here are some great belt colors you could wear with a pair of blue shoes:
Dark Brown
Light Brown
Navy Blue
Burgundy
White
Ultimately, there are likely to be factors that would make one or two of those options better than the others for your specific blue shoes.
After going through those factors to help you choose the perfect belt color, we'll run through the color combinations in more detail (with pictures to boot).
Let's get to it.
How To Coordinate Belts With Blue Shoes
Consider all of these factors before choosing.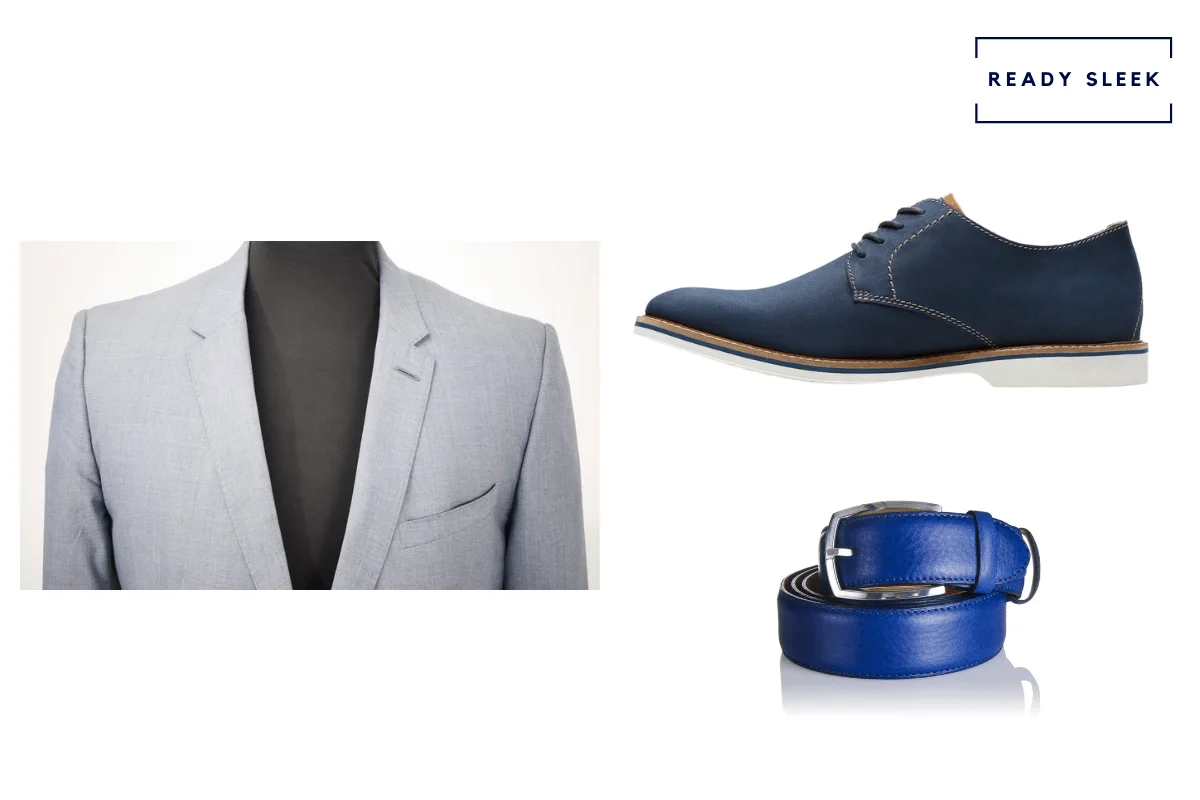 1. Consider The Dress Code First
The dressier the setting, the more likely it is that you should coordinate your belt and shoes.
In addition, the dressier the event or occasion, the more important it is to question wearing blue shoes in the first place.
Ultimately, blue shoes should really only be worn in smart-casual settings where there's not much risk of underdressing.
If you feel as though there is, strongly reconsider them and go for a pair of black, dark brown, or oxblood shoes instead.
Nice and traditional.
If you feel as though blue shoes would actually be appropriate for the setting you're attending, the next question is how much you're looking to dress up or dress down.
When dressing up, consider shoes in a dark and muted shade of blue. Navy is ideal and will always look more "formal" than lighter and brighter shades of blue.
In these dressy scenarios, it's usually best to choose a matching belt.
When dressing down, it's less important to choose a belt that matches the shoes.
You could go for any belt color you want, but it's generally best to keep things traditional and subtle by going for a typical black or brown.
2. Consider The Style Of Blue Shoes
In general, blue shoes made from a shiny grain of leather such as calfskin or cowhide usually look best with a leather belt in a similar color.
So, when wearing leather navy shoes, consider a navy leather belt.
Casual-looking blue shoes with a more rugged or napped texture such as those made from suede are usually more appropriate to wear with non-matching belts.
Ultimately, it comes down to how casual they look.
Suede will always look more casual than calfskin, for example. As a result, blue suede shoes can be dressed down more effectively and appropriately than blue calfskin shoes.
Here's an example of a pair of blue suede bit loafers that would work for this purpose: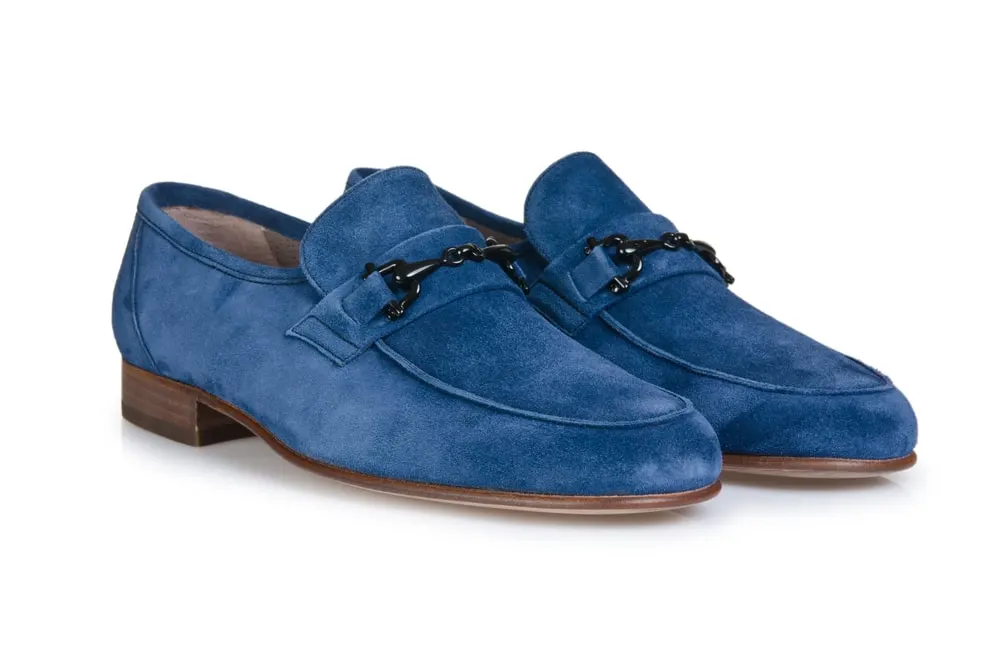 So, if you feel as though your blue shoes have a more casual look or feel to them, there's a greater chance you can go for a more "random" belt color.
Once again, however, sticking to neutral and traditional belt colors is usually the best way to go. Black and brown would be the simplest, with white being a reasonable option when you're really looking to dress down.
Ultimately, you want to keep things looking sophisticated and don't want to draw too much unwanted attention.
The blue shoes are already pretty outlandish. Avoid looking excessive by keeping your other items relatively subtle.
5 Belt Colors You Can Wear With Blue Shoes
Here are some great belt colors you can wear with blue shoes discussed in more detail.
Blue Shoes With A Navy Blue Belt
Blue shoes can be worn with a navy belt, with the combination looking especially effective when the blue shoes are of a similar shade. The darker the blue shoes are, the better.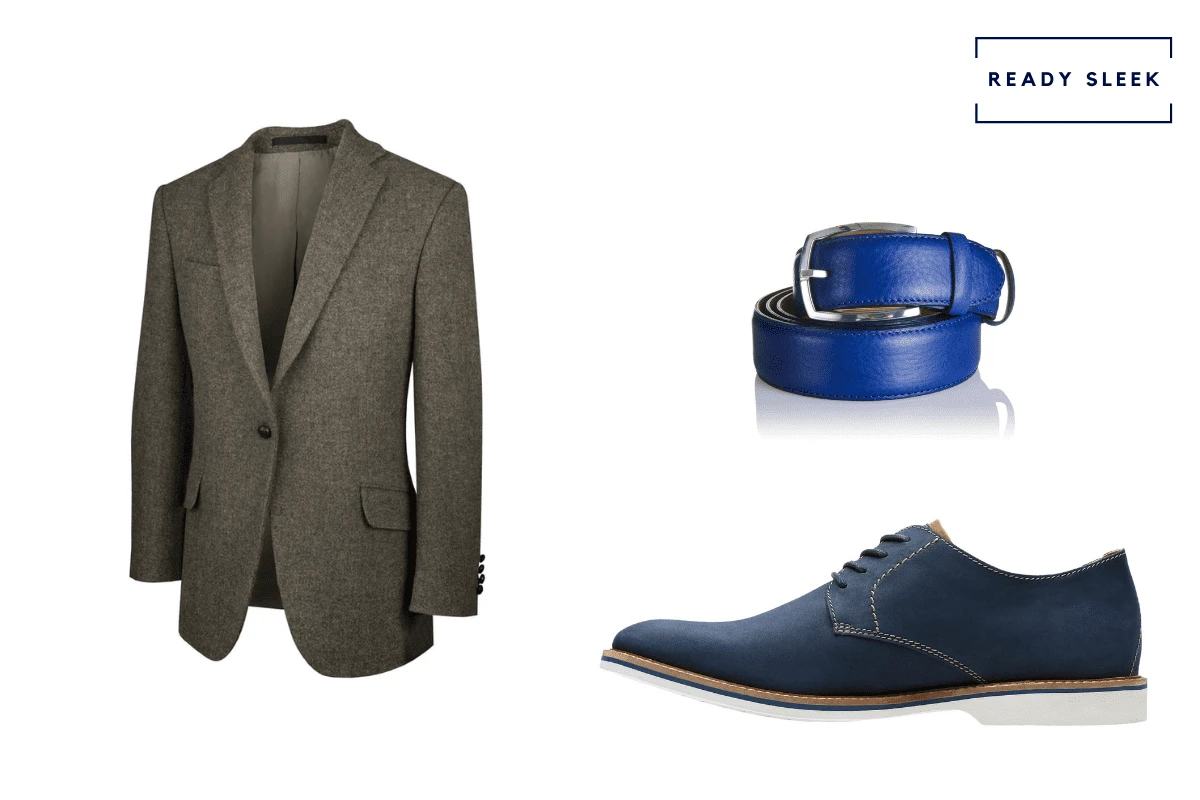 The navy shoes and navy belt combination would be ideal when dressing a little smarter. Coordinating the belt and shoes is an age-old principle of formal men's attire.
It isn't strictly necessary in casual wear but is still important when wearing leather dress shoes, regardless of their color.
Ultimately, this would be your only option when wearing shoes in a shiny grain of leather.
If you were wearing more casual-looking blue shoes, you've got other options. Read on to find out exactly what these are.
Blue Shoes With A Dark Brown Belt
Blue shoes can be worn with a dark brown belt, with dark blue shoes tending to look more effective.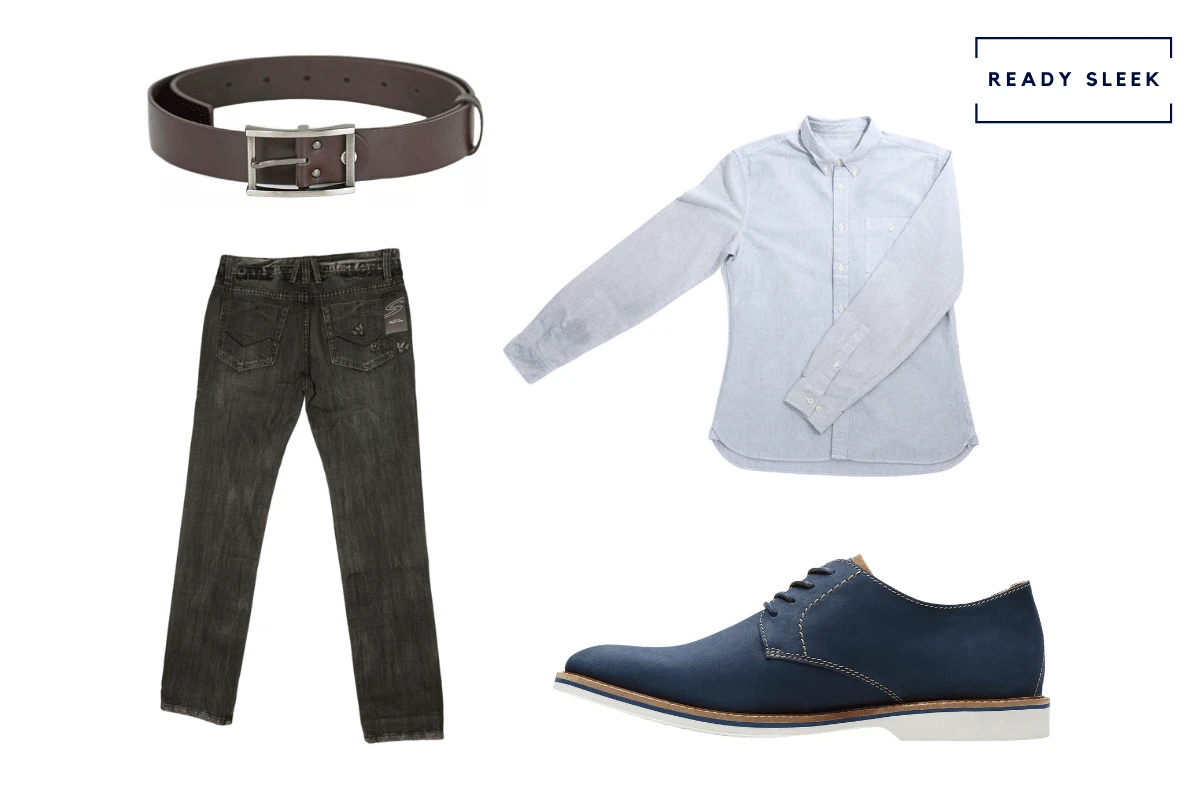 Consider combining the two items with a pair of dark chinos or jeans.
What we're doing here is keeping the lower half of the outfit dark. For example, a dark brown belt, navy blue shoes, and black jeans.
To add a nice sense of contrast, consider rounding things off with a shirt in a lighter color such as this light blue OCBD.
The contrast will be striking and bold, while the outfit still looks well coordinated and well thought out as a whole.
As explained earlier, this unmatched belt and shoe combination really works best when dressing down with a relatively casual-looking pair of blue shoes.
In this example, we've got a pair of blue suede Derby shoes.
Blue Shoes With A Light Brown Belt
A light brown belt can look great when wearing blue shoes, as long as the blue shoes are casual enough to make it work. Blue suede loafers are a great example of this.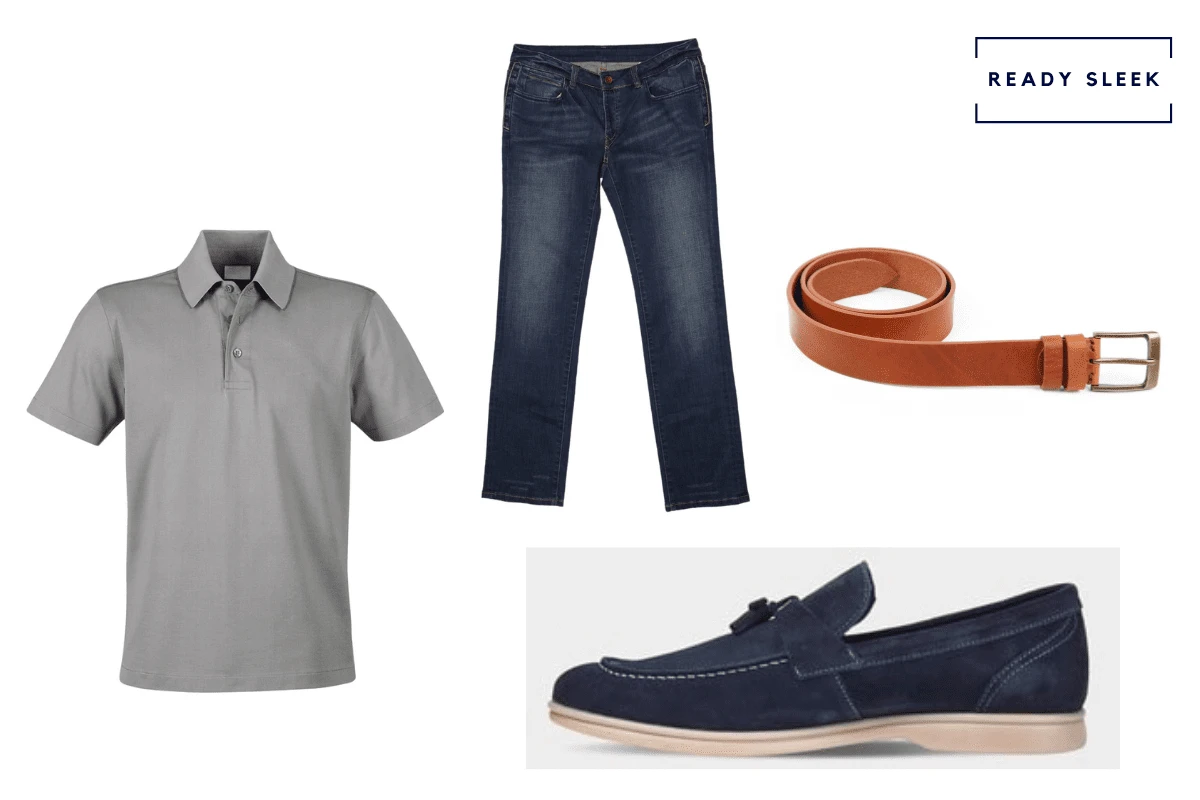 A light brown belt will generally look more eye-catching and in-your-face than a dark brown belt but is still considered quite traditional and unlikely to draw too much unwanted attention.
Ultimately, if you think your blue shoes are on the more casual end of the spectrum, a belt in a relatively light shade of brown (eg. tan or caramel) could look pretty great.
Here, you'll want to dress down a little further by choosing a casual pant style. Jeans would work well.
Going for casual pants with a casual pair of blue shoes will make it clear that your choice to wear a contrasting and non-matching belt color is an intentional component of a casual overall aesthetic.
Blue Shoes With A Burgundy Belt
A burgundy belt can look great with blue shoes, but it's important that the setting is casual enough for it to make sense.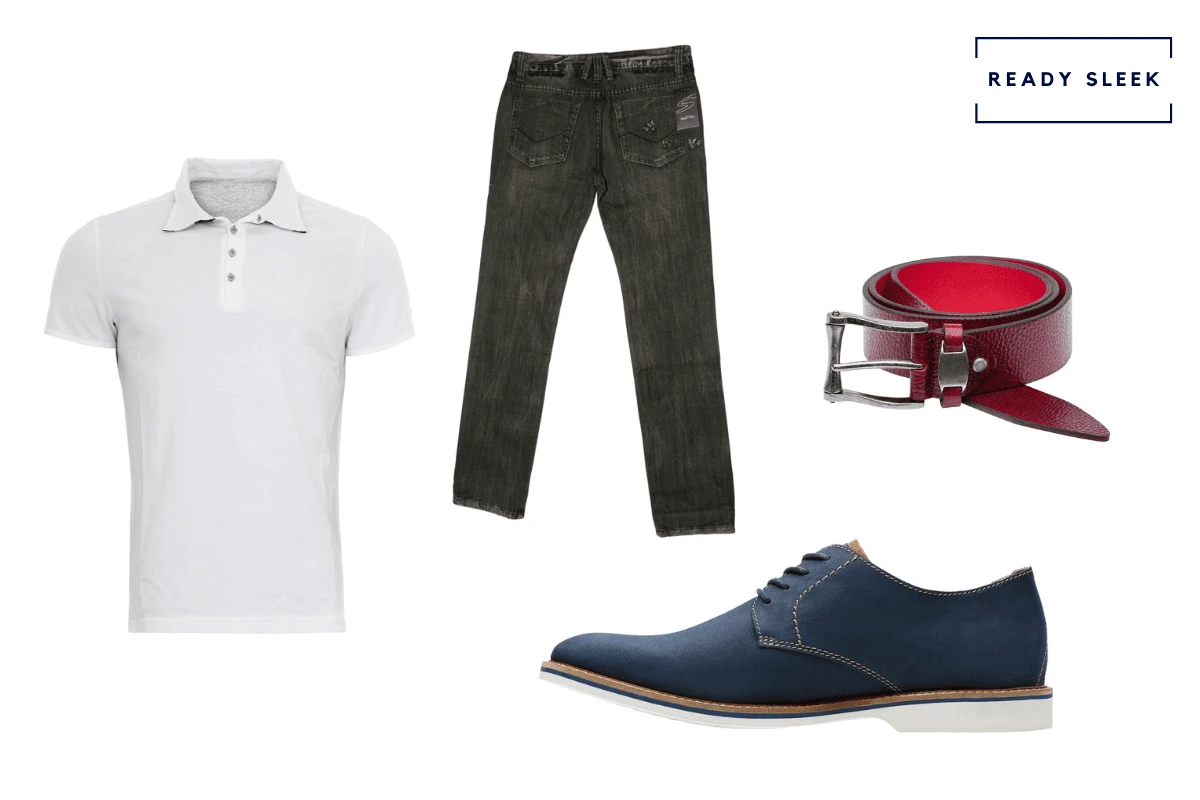 Burgundy is a deep and dark shade of red with a noticeable purple hue. It's a vivid color that'll catch the eye no matter what the color and style of your pants may be.
It'll pop out and it'll do so very effectively indeed.
The risk of wearing blue shoes with a burgundy belt is that you're now wearing two relatively eye-catching items.
However, going for a relatively dark and muted pair of blue shoes should reduce this risk significantly.
So, consider going for a pair of navy shoes when wearing a burgundy belt.
Both colors are dark and muted enough to work well together without conflicting or drawing too much attention away from the other items you're wearing.
Blue Shoes With A White Belt
A white belt can be worn with blue shoes to produce a high-contrast and eye-catching combination most suitable for casual settings where there's no risk of underdressing.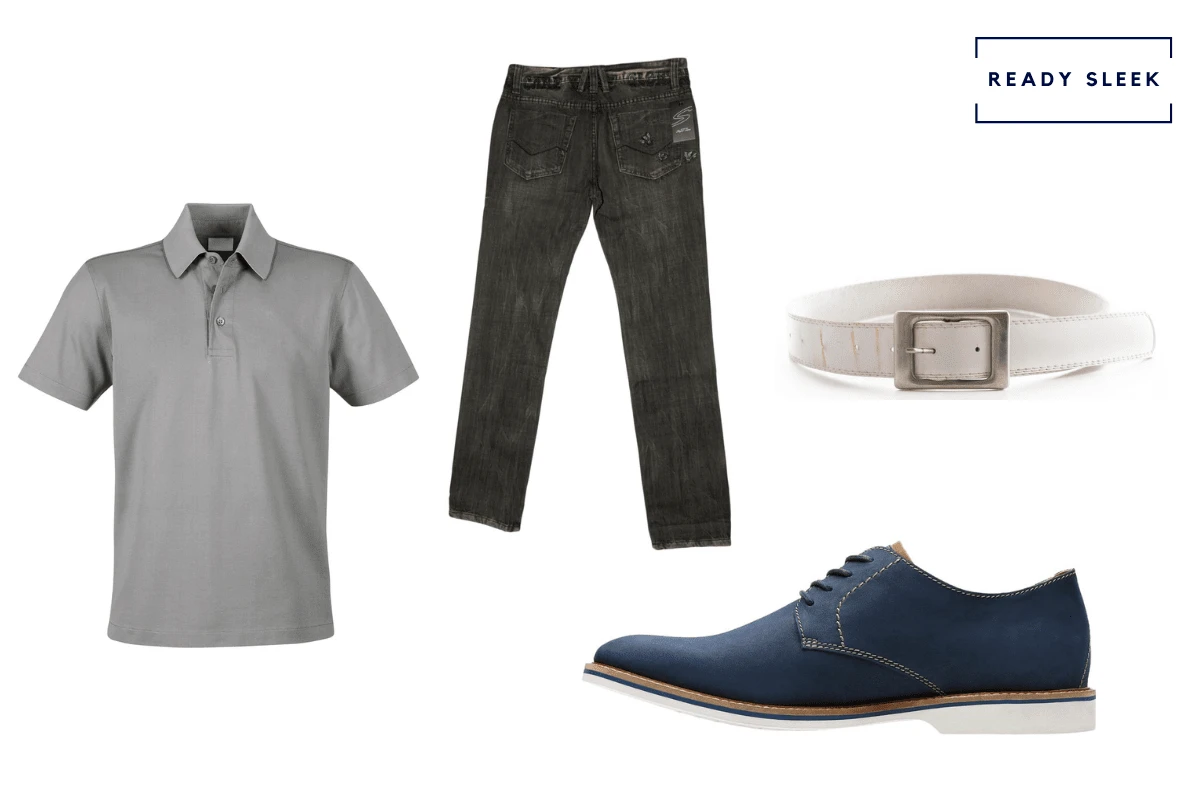 As you'd expect, a white belt will definitely draw some attention. It's easy to spot and will stand out against the backdrop of any pants color.
As the item is pretty eye-catching, once again, it's a good idea to go for a relatively dark and muted pair of blue shoes.
Navy is ideal.
What this will do is allow the white belt to take the focus, while the dark blue shoes simply sit in the background without drawing attention away from it.
Of course, you could go for shoes in a lighter and more vivid shade of blue if you wanted to. But just note that you'll most likely be left with two statement pieces.
If you're really looking to make a statement, this may be a good option.
Conclusion
As you can see, it isn't always easy. However, keeping things simple and subtle is usually the best way to go when coordinating blue shoes with belts.
Remember, when dressing up with a pair of blue dress shoes in a shiny grain of leather, it's quite likely that you should be wearing a leather belt in a similar shade of blue.
When wearing a more casual-looking pair of blue shoes, it's often appropriate to go for a non-matching belt color.
Just try to keep things looking sophisticated by going for a more traditional belt color such as black or brown. A white belt could be a reasonable option if you were looking to turn some heads, however.
Enjoy.
Ready Sleek founder. Obsessed with casual style and the minimalist approach to building a highly functional wardrobe. Also a fan of classic, vintage hairstyles.