It's a combination that has its fans and it has its opponents, with both groups as passionate as each other. The question is, can you really wear black socks with white shoes?
It's perfectly acceptable to wear black socks with white shoes. As the color contrast is quite intense, it works better in casual outfits. White low-top sneakers and black ankle socks is the most subtle and often the most effective example of this combination.
Although that's the short answer, as always, there's more to it.
Here are some essential tips to make sure you're pulling the combo off in the most effective way possible.
Let's get to it.
1. Stick To White Sneakers
When wearing this combination, try to stick to white sneakers.
The black socks and white shoes aesthetic works best in casual settings and environments. This is due to the eye-catching contrast between the two colors.
Here's a pair of white Adidas low tops as an example (Amazon Link).
You'll want to make sure that your outfit as a whole appears casual. It'll make it more likely that the stark contrast between the black socks and the white shoes appears intentional.
Most white shoes you'll find will be sneakers in any case. As a staple of casualwear and athleticwear, white sneakers are the ideal option if you're looking to pair them with black socks.
It doesn't really matter what type of sneakers you go for, but here's a quick rundown of the three main types you'll probably already be aware of.
Low-Tops: These don't cover the ankle. They're ideal when you're looking to wear black ankle socks.
High-Tops: These do cover the ankle. Because of this, they work better with half-crew socks or even crew socks.
Mid-Tops: These aren't quite as common and sit somewhere between a high top and a low top.
The main point here is to keep things casual when you've got this sort of color contrast between your socks and your shoes.
2. Streetwear Brands Are Ideal
A great way to ensure that the bold color contrast you've gone for with your shoes and socks comes across as intentional is to go for well-known streetwear brands.
Whether it's Nike, Adidas, Converse, Reebok, Vans, or the other huge brands you've got available to you, go for it.
The reason it's best to wear obvious brands when going for a white and black combination is that it makes it more clear that it's a style choice you've made on purpose.
Here's an example of a pair of low top Nike white sneakers on Amazon as an example. Notice the obvious branding – this makes it ideal.
Wearing a more random pair of socks and sneakers with minimal branding can sometimes appear as though it's been done by mistake, or you're simply not aware of the traditional rules of color coordination.
The white shoes and black socks look is trendy – make no doubt about it.
But this trendiness is sort of dependent on the streetwear aesthetic.
That streetwear aesthetic is pretty heavily dependent on obvious branding.
While some may disagree, it's the safest way to play this card.
A quick note on matching sock and sneaker brands:
I don't really think this is essential. Some people take it to heart, but it may be overthinking it.
Wearing a pair of white Nike sneakers with black Adidas ankle socks doesn't seem like that big of a deal to me, but it's something you may want to think about.
3. Black Ankle Socks Work Best
Black ankle socks often work best with white sneakers. The reason for this is that the combination looks subtle overall.
The higher up those black socks travel up your calf, the more obvious the start contrast in color will look.
If you're looking for a bold fashion statement and for your shoes and socks to be a focus of your outfit as a whole, then this may be what you want.
But if you're hoping for a more subtle and understated contrast, ankle socks are ideal as they don't reach any higher than your ankle.
Unlike no-show socks, ankle socks are high enough to be clearly visible, assuming you're wearing low tops (the most common type of sneaker you'll come across).
At the end of the day, you want your black socks to be visible.
But they won't be so high as to look awkward or distracting.
Here's an example of low-cut Adidas ankle socks on Amazon:
4. Wear Them With Shorts
In line with the casual aesthetic, shorts work great with the black socks and white shoes combination.
For one, it'll ensure that your black socks are clearly visible.
When it comes to wearing the combination with pants instead of shorts is that the black socks can seem unintentional when your pants ride up and make them visible from time to time.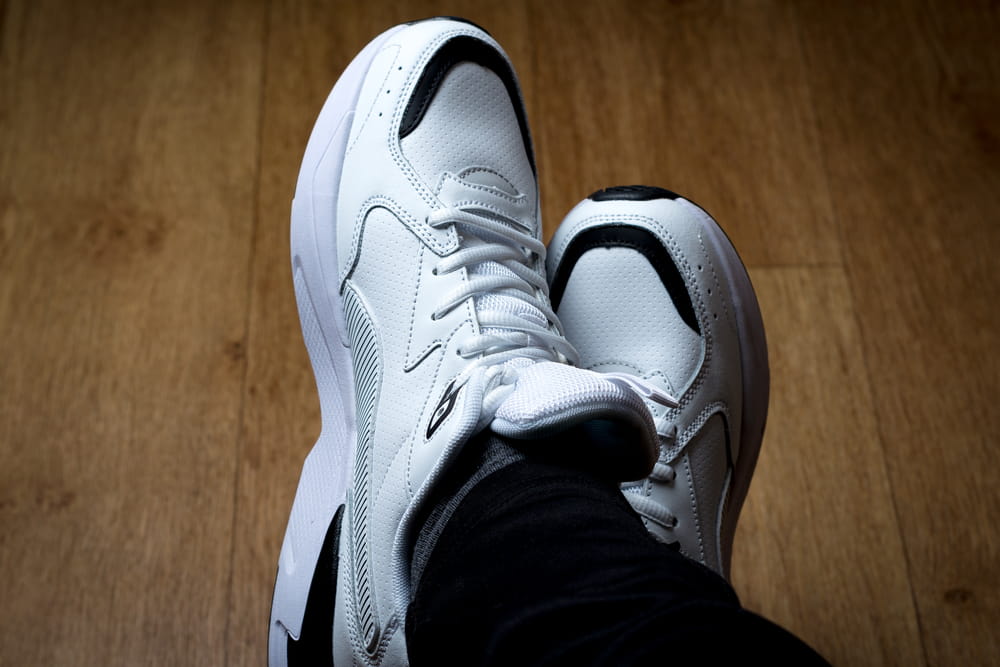 Instead, you'll want to make sure that your black socks are visible all the time. This should make it clear that it's an intentional style statement.
Contrast is what you were going for.
If you are going to wear full-length pants with this combination instead, try to make them as casual as possible.
Stonewashed denim jeans or even cargo pants would be reasonable options.
Ultimately, shorts would always work best.
5. Color Coordinate With Caution
You don't need your shirt, shorts, or pants to perfectly match either your white shoes or your black socks.
But sticking to muted colors for the rest of your outfit should make things a lot easier for you.
You've gone for some serious contrast with your shoes and socks – as long as you've stuck to the tips listed earlier in this list, it'll be fine.
However, as you've gone for such contrast here, you'll want to try and avoid colors that are too loud or bright with the rest of your outfit.
It'll simply look like a mish-mash of colors that you've flung on without giving them much thought.
Muted, neutral colors are ideal for your shirt, shorts, or pants. This is because they're easy to pair with practically anything.
They're ideal as background colors that don't draw too much attention.
The list is long, but they include beige, olive green, navy blue, khaki, and of course – black and white.
6. Black Crew Socks For A 90s Feel
Going for black crew socks with white sneakers is more of a risk because the color contrast will be more obvious.
Crew socks sit higher up the calf.
When you're wearing shorts, this is a pretty attention-grabbing aesthetic overall.
However, it's pretty commonly seen. In fact, it's a look that's seen a resurgence in recent years.
It may not be for everyone, but it could be a good option if you're going for a more retro, 90s feel.
It's one to consider if you really are looking to make more of a statement and you want your shoe/sock combination to be the focus of your entire outfit.
7. Consider The Fabric
You don't need to think too carefully about the fabric of your black socks. The good thing about wearing black socks is that pilling and staining is less of a problem.
It'll simply be less obvious than if you were to wear the more traditional option of white socks, for example.
In terms of the overall aesthetic, the fabric you choose for your black socks is less important than the other tips in this list.
However, consider the following features of the most common fabrics when making your decision:
Wool – It's stretchy, durable, absorbs moisture, and is wrinkle-resistant.
Cotton – It's durable, soft, stretchy, and retains heat pretty well.
Modal – It's strong, soft, and durable, but you'll generally pay a premium for it.
Polyester – It dries quickly and retains color, but it's not very breathable.
Overall, any of these would be perfectly suitable fabrics for your black socks, but certain features may pop out and make one of them more appealing to you.
This tip, as well as the others, should ensure that you wear this combination with confidence and in comfort, each and every time.
Enjoy.