Certain combinations are pretty easy to wrong with. They often seem like a faux pas waiting to happen. The question is, can you wear white socks with black shoes?
While white socks should never be worn with black dress shoes, they can be worn with black sneakers in casual and athletic settings. Stick to subtle ankle socks to prevent the contrast between the shoes and the socks from looking too obvious.
Ultimately, black socks would always look better than white socks when wearing black shoes of any sort.
That's the short answer, but there's a lot more to it.
After going through some essential tips for wearing white socks with black shoes in a way that actually works, I'll round things up with a couple of FAQs.
Let's get to it.
7 Tips For Wearing White Socks With Black Shoes
As always, consider all of these tips before putting your outfit together. The risks run pretty deep when it comes to this combination.
Only Wear Them In Casual Settings
White socks should only be worn with black shoes in truly casual settings. Avoid wearing them in anything more formal than that.
It's why black sneakers are really the only option here – we'll be going into more detail on that in the next tip.
But the combination shouldn't be worn in smart-casual, business-casual, formal, or black-tie settings.
A common mistake people make is wearing black dress shoes with white socks while wearing a suit in formal settings.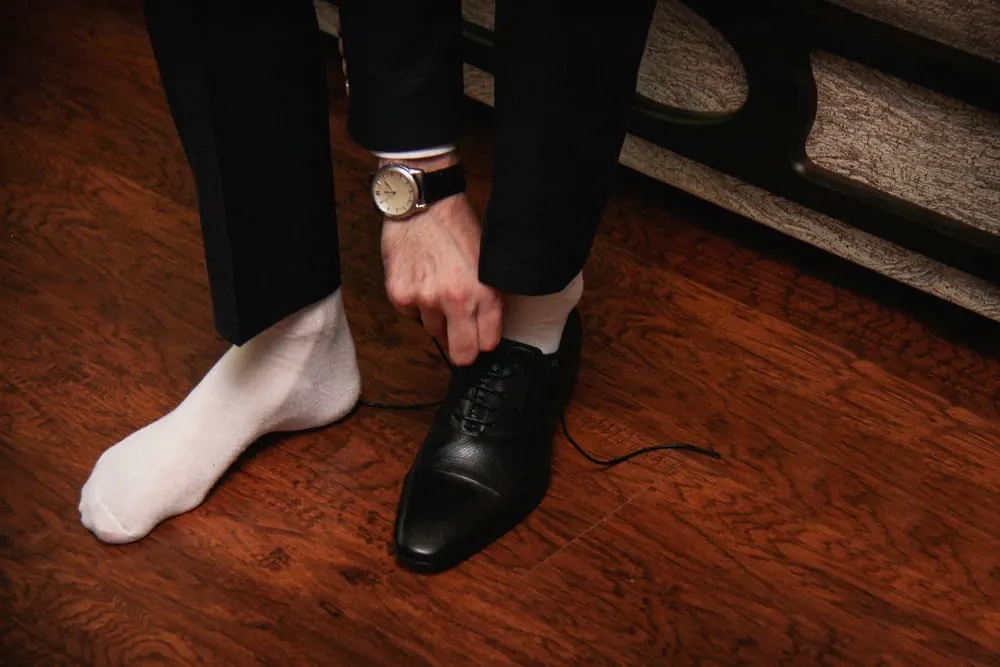 No matter what color the suit is, this generally looks terrible. While it may not be visible when walking, the suit pants ride up when you sit down, revealing the white socks underneath them.
The contrast between the white socks and the black shoes is just as attention-grabbing as the contrast between the white socks and the (likely dark-colored) suit.
In general, the flash from a pair of white socks can ruin an otherwise formal-looking suit.
In addition, white socks are traditionally worn in athletic settings. Trying to wear them with a pair of black dress shoes in formal settings will almost always lead to a formality mismatch.
Stick To Black Sneakers
If you're keen on wearing white socks with black shoes, stick to black sneakers. Most other black shoe styles generally don't pair well with white socks.
It's tough to know exactly what the reason behind this is. Decades ago, smart black shoes and white socks often formed part of a school uniform.
These days it's tough to get away with the color combination outside of casual and athletic settings.
It's important to note that even with black sneakers, white socks won't be the best option.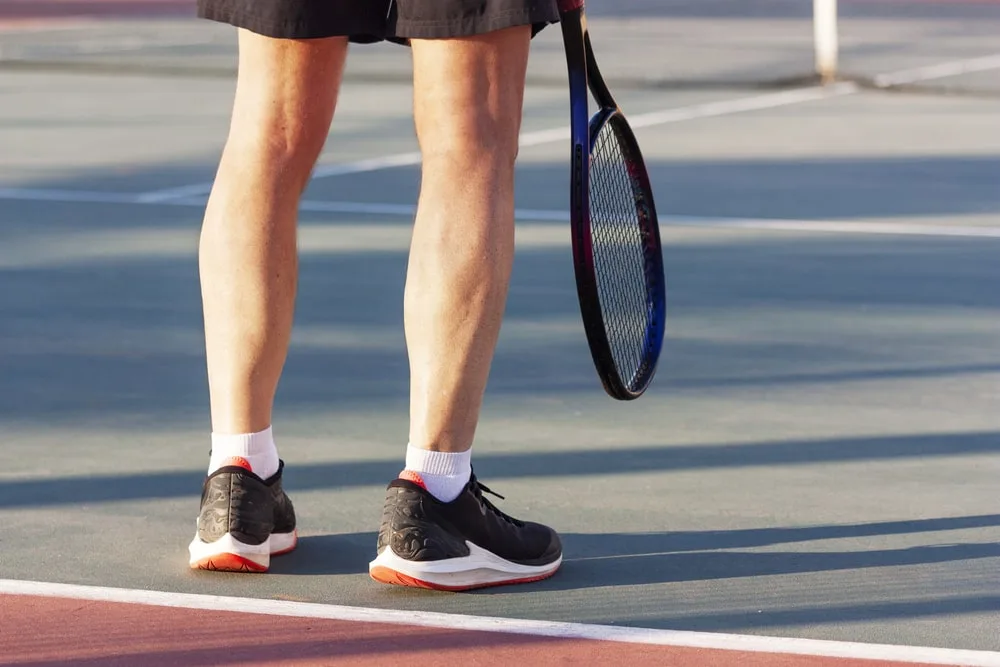 In much the same way as black dress shoes, the contrast between black sneakers and white socks can be jarring.
It just looks a whole lot better than more formal black shoe styles would.

But it's hard to deny that black sneakers would look a lot more stylish with black socks instead of white ones.
Stick To White Ankle Socks
White ankle socks look better with black sneakers than longer socks do.
Put simply, black sneakers don't look all that great with white socks. They don't look terrible, but they don't look great. There are better options.
But if you were going to wear the combination, try to make the socks as subtle as possible.
The main way of doing this would be to choose a short sock length.
Ankle socks are great because, as the name would suggest, they stop before the ankles.
Here's an example of ankle socks on Amazon:
They're clearly visible above the black shoe. However, they're short, subtle, and don't draw much attention.
The contrast between the black sneakers and the white ankle socks will be eye-catching, but won't look as distracting as longer socks such as mini-crew or crew socks.
The subtle contrast and the athletic look and feel of white ankle socks produce a much more stylish end result when wearing black sneakers.
You can't really get much shorter than ankle socks without going for no-shows. Overall, they're your best option.
Common Streetwear Brands Are Ideal
When it comes to both the socks and the shoes, going for well-known streetwear brands is a good option.
Go for white socks and black sneakers with visible and obvious branding.
The main reason for this is that high-contrast sock and shoe combinations tend to work better when it's clear to everyone that you're going for a streetwear aesthetic.
Whether it's Nike, Adidas, Vans, Reebok, Converse, or anything else.
It's often the best way to go.
To take things a step further, try to choose socks and shoes made from the same brand.
A matching sneaker and sock combination is a classic feature of a well-coordinated streetwear outfit.
Taking an extra step such as this makes it less likely that the white sock and black shoe combination looks awkward.
While it may seem like a hassle, all you really need to do is be sure to buy a couple of pairs of socks from the same brand when you buy new sneakers.
Try To Wear Shorts
The main reason wearing shorts works well with white socks and black sneakers is that it's in line with the athletic look and feel.
Once again, going for an obvious streetwear or athletic brand would make the whole outfit look more stylish.
But another benefit of wearing shorts here would be that it makes it even more clear that the white sock and black shoe combination was an intentional style decision and not a mistake.
When the socks and shoes are on full display, people around are less likely to think it was just a mistake.
That's one reason why wearing black shoes and white socks with a suit just never works well.
The flash of a white sock peeking out from under a pair of suit pants just looks so much like a rushed morning mistake than an intentional decision.
So, where possible, try to wear shorts when wearing white socks and black sneakers. You've made the decision to go for it – it's better to make it known.
The White Can Add A Pop Of Contrast
One way to use the white socks to your advantage is to make them the pop of contrast in an otherwise dark outfit.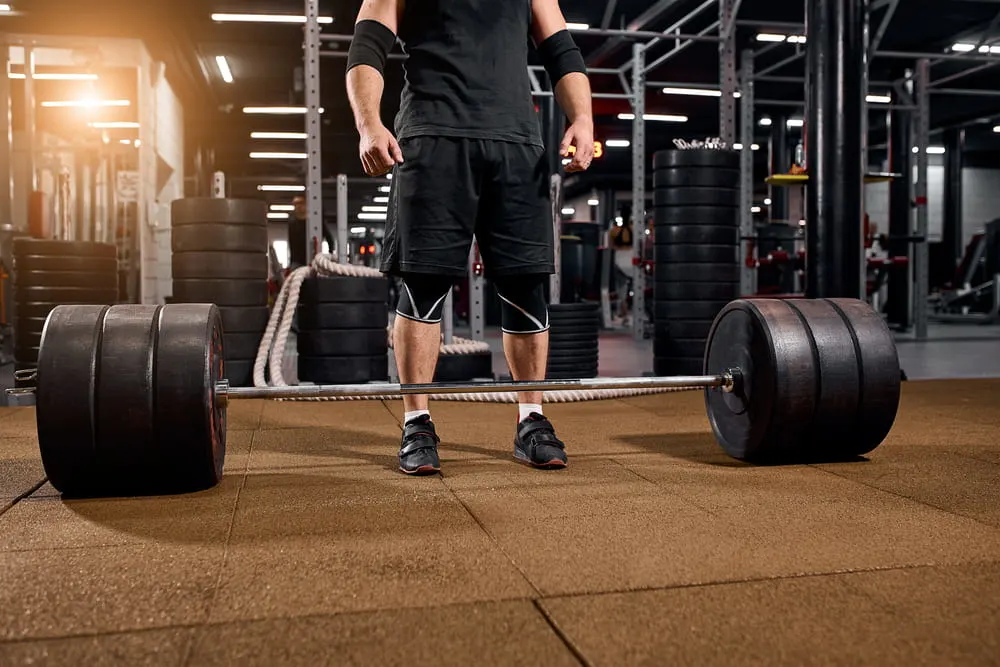 In other words, a dark top, a dark pair of pants or shorts, black shoes, and a pop of contrast with white socks.
Having a single pop of contrast in an outfit is a great stylistic device to use – but it's important to do it the right way.
A "pop" should be subtle, but eye-catching. It shouldn't take up much space in your outfit at all but should be large enough to actually draw a bit of attention.
A pair of white ankle socks is ideal for this.
Consider The Sock Fabric
This has more to do with comfort than it does with style. However, it's still important to consider what those white socks are going to be made of.
Consider the temperature, as well as what activity you're going to be doing when making your decision.
Here are the main sock fabrics you should know about:
Cotton – Stretchy, durable, and soft. Great for retaining heat.
Wool – Wrinkle-resistant, durable, and moisture-absorbing.
Polyester – Not very breathable, but dry quickly and retain color.
Modal – Expensive, but soft and strong.
Frequently Asked Questions
Here are the answers to a couple of FAQs on the topic to really finish up nicely.
Should You Wear White Socks With Black Shoes To The Gym?
White socks and black shoes can be worn to the gym, assuming you're wearing black sneakers. It's a casual setting where the contrast between the black and white won't come across as too awkward. White ankle socks will always look better than longer socks, however.
In addition, try to wear shorts to make it clear your black shoe and white sock combo was an intentional choice.
Overall, in the gym, most people aren't going to be paying attention to your footwear in any case. You've got the flexibility to choose from a variety of sock colors without fear.
It's hard to deny, however, that a pair of black sneakers would look better with black socks than they would with white socks. This would be the case whether you were in a gym or not.
Can You Wear White Socks With Black Dress Shoes?
White socks should never be worn with black dress shoes. The contrast between the socks and shoes would be too attention-grabbing to be worn in formal settings. White socks are generally worn in athletic settings and the combination would lead to a formality mismatch.
It's hard to emphasize this point enough. There are rarely any situations where the combo wouldn't be considered a faux pas.
Conclusion
While wearing white socks with black shoes is generally frowned upon, black sneakers can be worn with white ankle socks in casual and athletic settings without looking too awkward.
Sticking to the tips listed above should make sure you pull off the combination without any trouble.
Enjoy.
Ready Sleek founder. Obsessed with casual style and the minimalist approach to building a highly functional wardrobe. Also a fan of classic, vintage hairstyles.