Certain combinations can make for the perfect winter or fall smart-casual outfit, but they do need to be done the right way. So, can you really wear brown boots with black jeans?
Brown Chelsea boots and chukka boots can easily be worn with black jeans in smart-casual settings. More casual boot styles such as brown workwear boots or even cowboy boots work better with more casual pairs of black jeans that have baggy fits and distressing.
Although that's the short answer, there's a whole lot more to it.
What you need are some essential tips for making sure you pull this combination off, each and every time. That's exactly what you're about to get.
Let's get to it.
1. Make Sure It's Appropriate
While brown boots and black jeans are a pretty versatile combo, there are certain dress codes and situations where it would simply be too casual.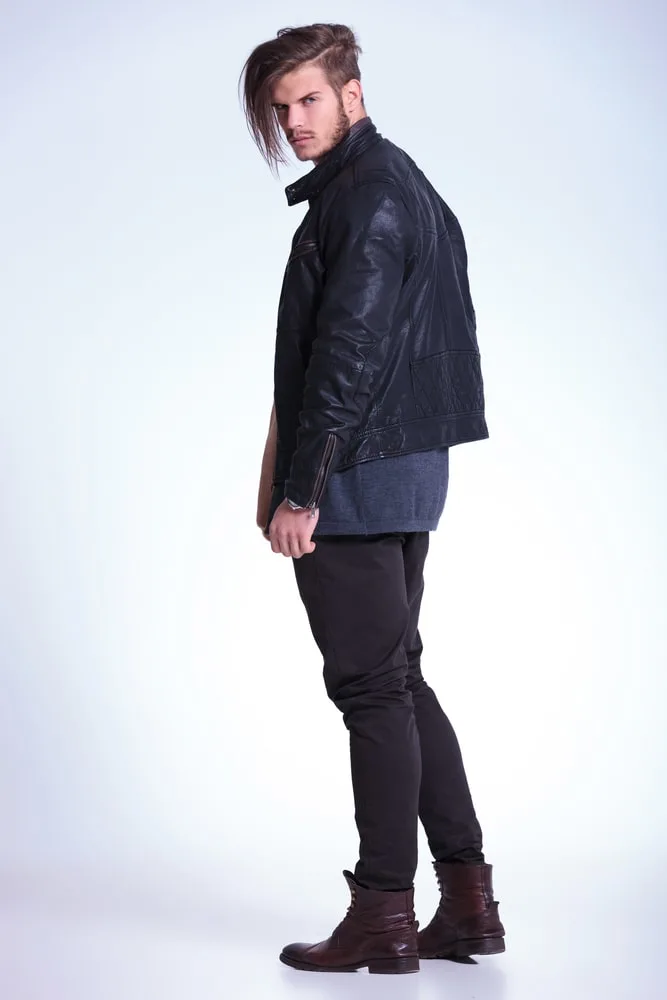 Here are a couple of dress codes where you shouldn't wear it:
Business-Casual – While some may disagree, jeans should never be worn. Stick to slacks or chinos.
Formal – Jeans would be out of the question and a 2-piece suit should be worn at a minimum.
Instead, the combination should really only be worn in casual and smart-casual settings.
"Casual" is pretty easy to figure out – you could really wear anything you wanted. Jeans are an iconic global staple of casual attire and are pretty tough to go wrong with.
Black jeans will generally look smarter than blue jeans and can make for an ideal smart-casual item as well.
This is especially true when they're worn with a more "formal" looking pair of brown boots such as Chelseas or chukkas.
Once you've determined that the combination would be appropriate for the setting you're dressing for, it's time to consider the style of brown boots and black jeans and how well they sync with each other.
2. Choose The Right Style Of Brown Boots
There are lots of "brown boots" out there and some of them will look a whole lot more casual than others.
For example, Chelsea boots would be perfect for a smart-casual jeans outfit because they're traditionally considered the most "formal" style of boot. This is thanks to a laceless aesthetic and those elasticated sides.
Any pair of brown Chelsea boots could dress up an otherwise casual-looking pair of black jeans. The same goes for Jodhpur boots.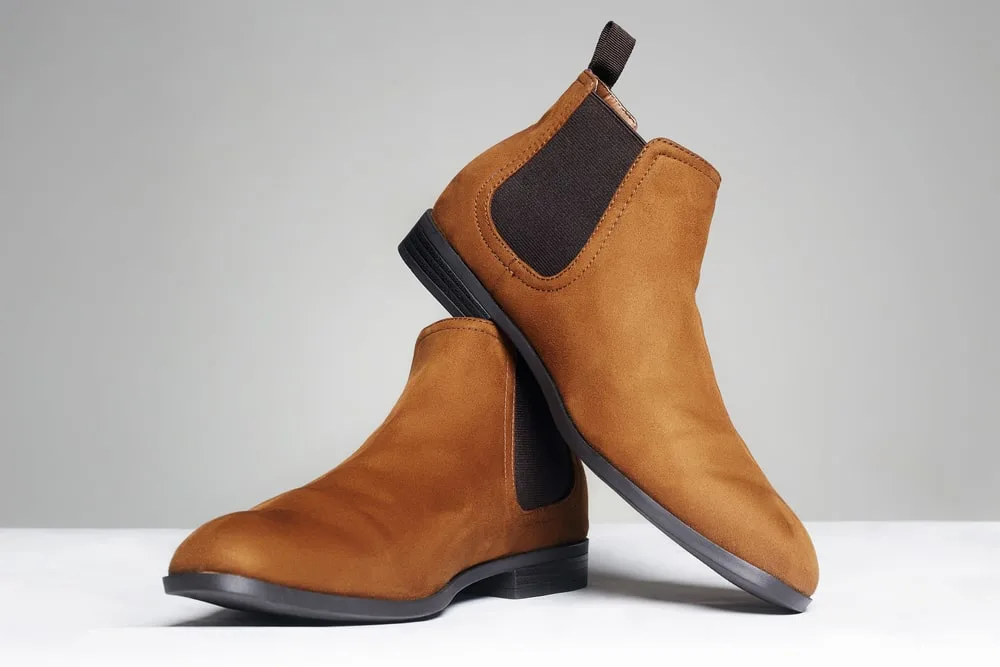 Desert boots would be a notch less formal but still a pretty great option for both casual and smart-casual black jeans outfits.
FYI desert boots are a form of chukka boots – they've just got thicker soles than the average pair of chukkas.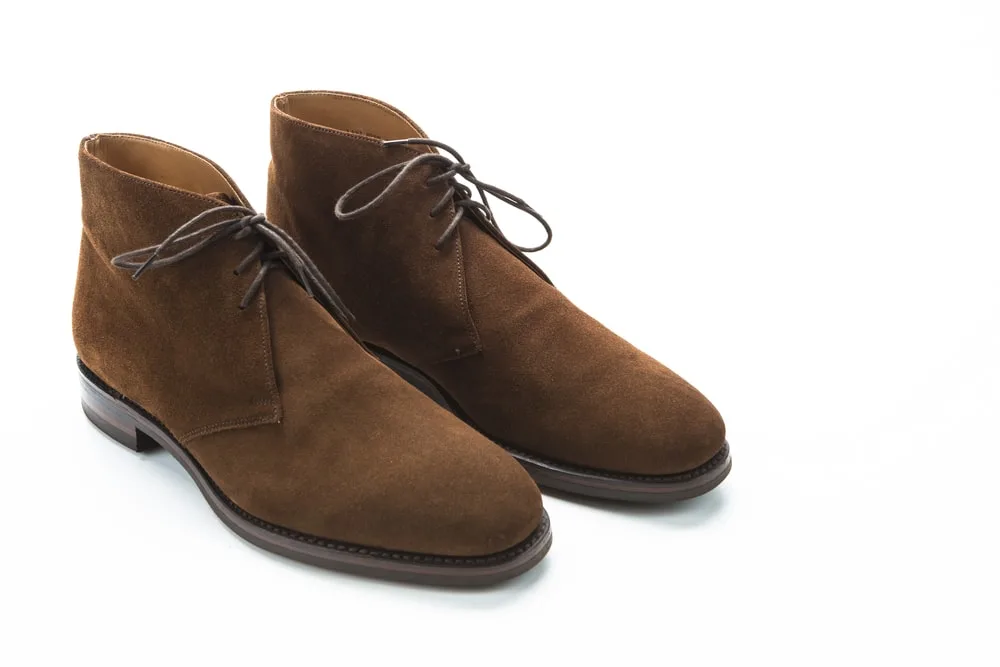 More casual styles of brown boots to choose from include cowboy boots and workwear boots.
Cowboy boots aren't always easy to pull off and they're definitely more common in certain parts of the world. However, they can add a sense of personality and flair to any black jeans outfit if you think you could pull them off.
Workwear boots are sturdy, chunky, and hugely functional, but would make even the most "formal" looking pair of black jeans look pretty casual.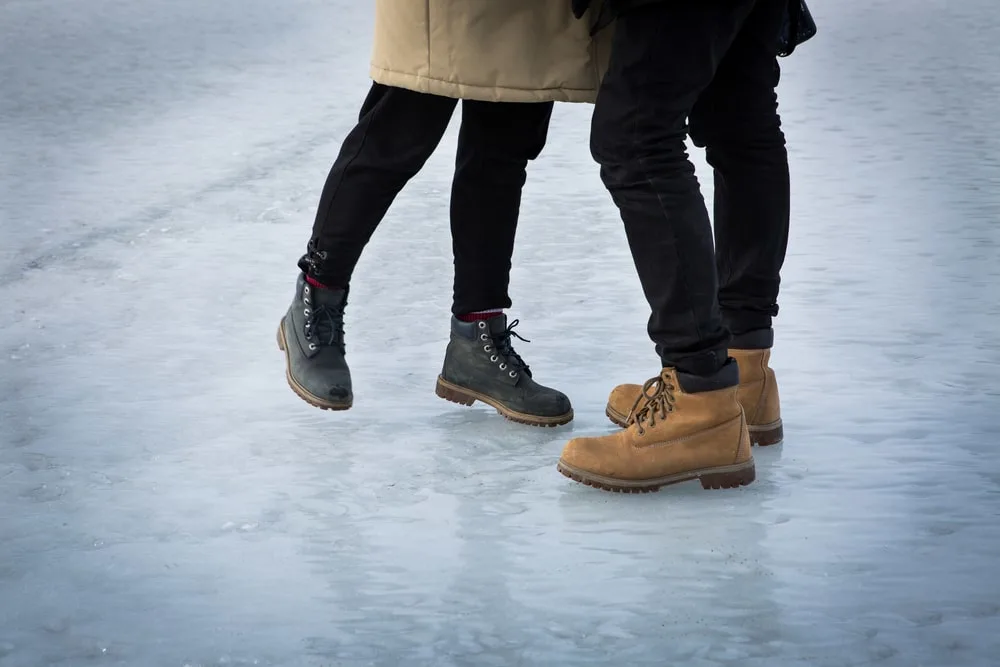 Ultimately, the style of brown boots should be determined by how casual or not-so-casual you really want those black jeans to look.
| | |
| --- | --- |
| Brown Chelsea Boots And Black Jeans | Perfect for smart-casual. Consider wearing with a black overcoat |
| Brown Cowboy Boots Black Jeans | Very casual. Will always add a sense of flair. |
| Brown Desert Boots And Black Jeans | Casual or smart-casual. Hard to go wrong with. |
| Brown Workwear Boots And Black Jeans | Very casual and highly functional. |
3. Consider The Shade Of Brown
The shade of the brown boots you wear with those black jeans will always impact how casual the outfit looks as a whole.
Wearing light brown boots with black jeans will always look more casual than dark brown boots would.
The reason for this is contrast.
The lighter the shade of brown, the more the contrast there will be between the black jeans and the brown boots.
In general, adding contrast will always make a combination appear more casual. In addition, dark footwear just tends to look less formal in general.
Wearing dark brown boots with black jeans will minimize the contrast between the two items and make the combination look more "formal" as a whole.
The bottom line here is that if you're looking for a more "smart-casual" appearance, consider going for dark brown boots instead of light brown.
| | |
| --- | --- |
| Dark Brown Boots And Black Jeans | Smart-casual |
| Light Brown Boots Black Jeans | Casual |
4. Go For Suede
Wherever possible, consider going for suede brown boots when wearing black jeans. The napped texture of suede just goes so well with the rugged texture of denim. It's very hard to go wrong with.
It isn't essential. At the end of the day, a shinier grain of leather such as calfskin or cowhide would probably work fine with black jeans.
This is definitely true when we're talking about more casual boot styles like workwear boots and cowboy boots. No matter how shiny that leather is, it'll still look casual.
But with more formal boot styles such as Chelsea boots and Jodhpur boots, shinier leather can make them look pretty formal. Sometimes even a little too formal to be worn with jeans.
Choosing brown suede really reduces the risk of a formality mismatch and makes it more likely that the two items pair well together.
5. Choose Black Jeans That Sync Well
Now that you've given your brown boots some thought, it's also worth considering the style of black jeans you're wearing.
While it's true that black jeans will generally look less casual than blue jeans, there are definitely some pairs of black jeans that look more casual than others.
Features that make can make a pair of black jeans more casual are:
Rips, frays, and other forms of distressing
Acid or stone washing
Baggy fit
In general, the less distressing the finish and the more tapered the silhouette, the less casual a pair of black jeans will look.
The reason this matters is that the type of black jeans you've got may influence the style of brown boots you choose to wear with them.
For example, a baggy and heavily distressed pair of black jeans would look better with a more casual boot style such as a pair of workwear boots, cowboy boots, or even desert/chukkas.
On the other hand, a tapered, dark wash pair of black jeans with minimal distressing would look perfect with a pair of brown Chelsea boots.
6. Consider Cuffing
How your black jeans meet your brown boots is also worth considering.
Will you be tucking the jeans into the boots or leaving them out?
Either option could potentially work, but consider the following if you were planning on leaving them out of the boots.
Cuffing can look great.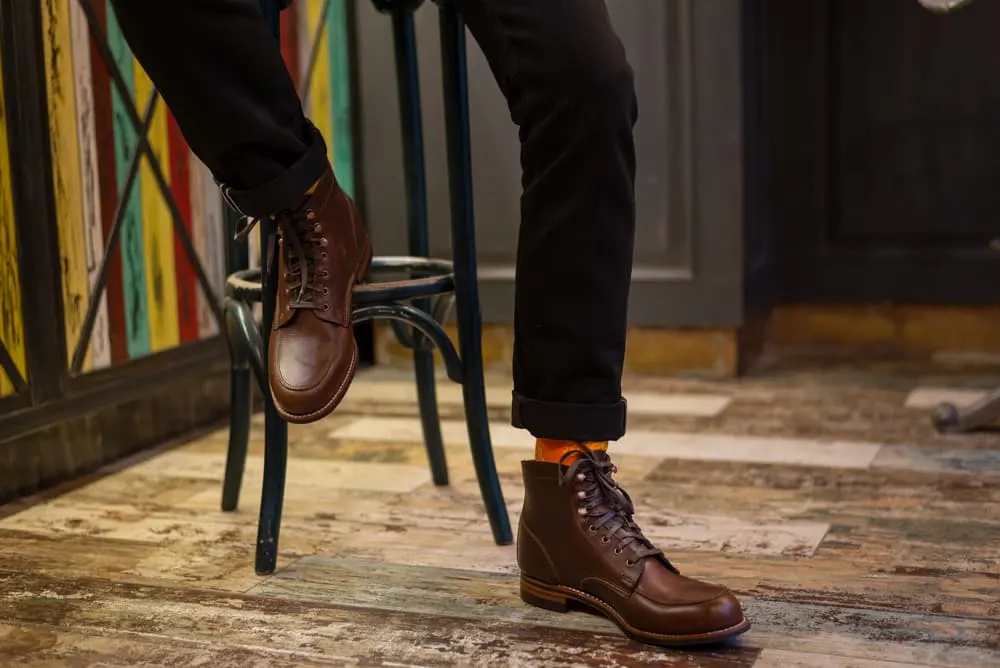 To "cuff" a pair of jeans is to roll the hem up once or twice. What this does is expose the entire boot, showing them off without leaving them partially covered.
In general, it'll look great.
If, however, you'd prefer to tuck the jeans into the boots, it's fine too.
What you should try and avoid is leaving a pair of baggy black jeans simply falling over half of the brown boot. Overall, it isn't the most stylish end result.
7. Black Or Dark Grey Socks
Go for black or dark grey socks when wearing black jeans and brown boots.
It's usually a good idea to match your socks to your pants and not your shoes or boots. This is a common mistake people make and definitely worth considering.
It's especially important if the boots are relatively low-cut (eg. chukkas) and even half-crew socks could potentially be on show when you're sitting down and your jeans ride up.
While it isn't as important as the other tips in this list, it's the nuances such as these that let people know that your outfit is well-coordinated as a whole.
Ready Sleek founder. Obsessed with casual style and the minimalist approach to building a highly functional wardrobe. Also a fan of classic, vintage hairstyles.