Casual clothing can be tricky sometimes. It can be tough to know what "casual" is and whether a certain combination would work for a specific setting. So, can you wear white sneakers with jeans?
White sneakers can easily be worn with jeans. High-tops with canvas uppers can be worn with jeans for a more athletic look, while low-top all-white leather sneakers can look quite dressy when worn with a pair of dark-wash, tapered jeans.
That's the short answer, but there's more to it.
After going through some essential tips for wearing white sneakers with jeans, I'll run through some FAQs on the topic to really finish off in style.
So, let's get to it.
7 Tips For Wearing White Sneakers With Jeans
Sticking to these tips should ensure you get great results, each and every time.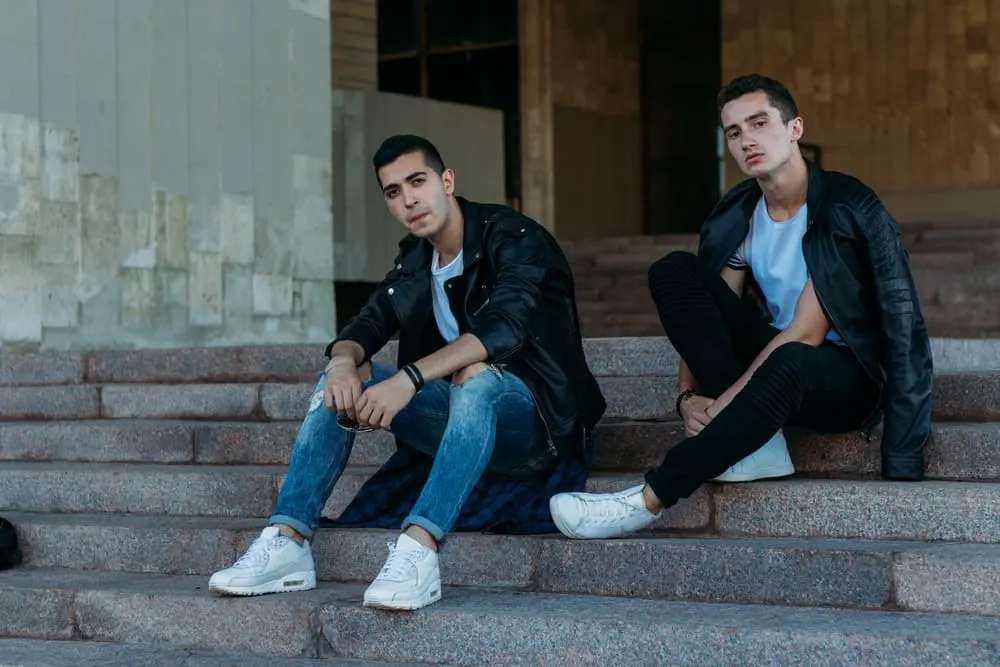 Consider Formality
Jeans and white sneakers should never be considered anything other than casual. They're both iconic staples of casual clothing.
It comes as no surprise that the combination would only be appropriate in casual settings.
However, there are certain jeans and white sneaker combos that look truly casual, while others could easily pass off as "smart-casual".
But what makes one combo look casual and another look smart-casual?
It comes down to the style of white sneakers and the style of jeans you wear.
I'll be going through all of this in more detail with the tips further down this list. But here's a summary.
"Casual" white sneakers:
Canvas uppers
Two-tone or three-tone (i.e other colors)
Hi-tops
Heavy branding
Worn out/dirty
"Smart-casual" white sneakers:
Leather or suede uppers
All-white
Low-tops
Minimal branding
Clean
"Casual" jeans:
Heavy distressing (i.e rips/frays)
Stonewashed or acid-washed
Light, bright, and bold colors
Loose fit, less tapered
"Smart-casual" jeans:
Minimal distressing
Dark wash or black
Tapered, slim-fit/skinny
The main point here is that the type of white sneakers and jeans you wear should be influenced by how much you want to dress up.
Consider The Color Of Jeans
When wearing white sneakers, jeans in grey, blue, or black would be the best options. They're neutral, subtle, and minimalist. That's why they work so well.
The beauty of wearing white sneakers is that you can go for any jeans color and it would work.
You don't have to worry about color-matching given how truly neutral white sneakers are.
But that doesn't mean you shouldn't think about it at all.
Put simply, you've got a few options.
You've got the option of going for a more subtle, minimalist look with neutral-colored jeans.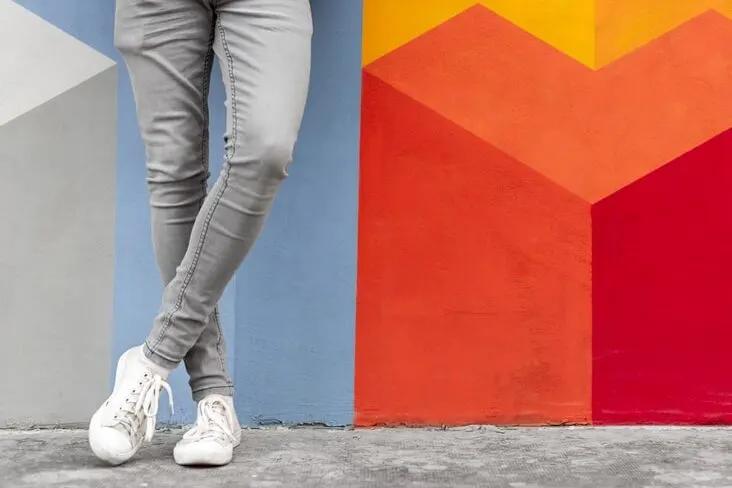 Think grey jeans (either light or dark) or black jeans. These will tend to look dressier when worn with white sneakers.
You've also got the option of a more classic and athletic look with a pair of blue jeans. Blue is the typical color of denim and it's tough to go wrong with.
Finally, you've got the option of a more "out-there" jeans color – bolder, brighter, and more attention-grabbing colors which will usually lead to a more casual look.
Reds, greens, yellows, etc.
To play it safe, stick to either the neutral/minimalist option or the classic option. Most people would agree that the best jeans colors to wear with white sneakers would be greys, blues, and blacks.
High-Tops For A More Athletic Look
White high-top sneakers are hugely popular and for good reason. They look great worn with jeans.
As the name would suggest, high tops extend above the ankle. From Converse All-Stars to Nike Air Yeezys, there are plenty of them out there to choose from.
One thing they tend to have in common is that they give off a pretty laid-back and athletic look.
Here's an example on Amazon.
They often go hand-in-hand with jeans, but it's important to remember that they'll usually look more casual than low-tops and mid-tops would.
If you're going for a more casual, streetwear aesthetic, this could be perfect.
But if you're going for a more smart-casual look, go for low-tops or mid-tops instead.
When wearing high-tops, it's important to consider the cut of the jeans you're wearing. Jeans that taper around the ankles could conflict with the top of the high-tops.
A good option would be to "cuff" the jeans – it's a great way to show off the whole of the high-tops without covering the top.
I'll be talking more about cuffing later on.
All-White Leather For Simplicity
If you want a simple, minimalist, and "dressy" pair of sneakers, it's tough to beat all-white leather.
In general, it would be a good idea for anyone to own a pair of all-white leather sneakers – ideally low-tops.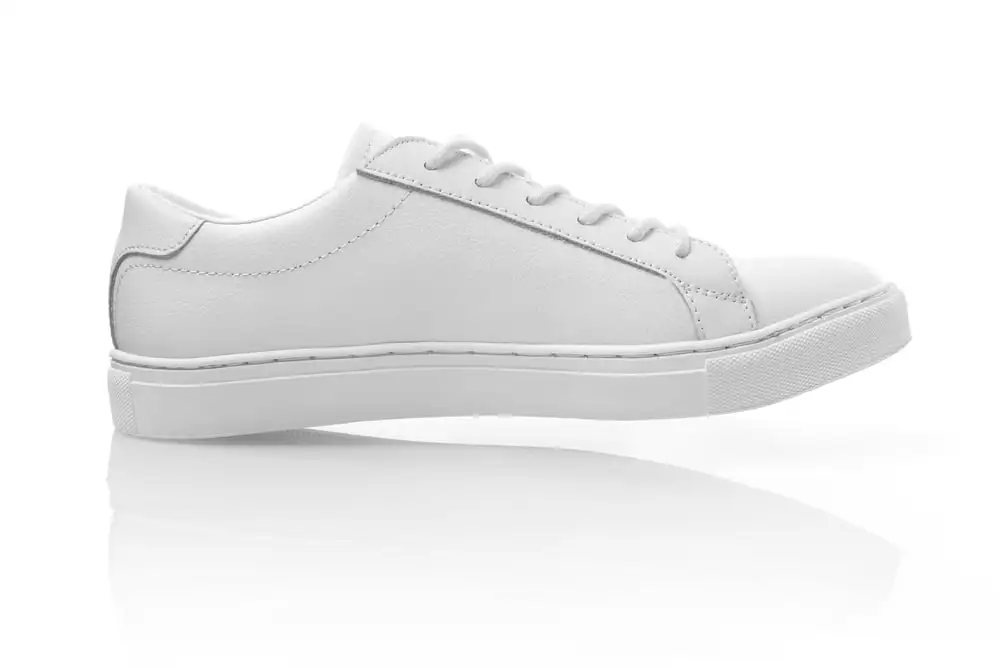 They're incredibly versatile and tough to beat in terms of dressiness, at least when it comes to sneakers.
You could wear a pair with any jeans you could think of ranging from wide-leg to skinny or from dark wash to stonewashed.
Maintenance is a little more important, however.
Leather sneakers tend to be on the more expensive side and white leather is easy to scuff and stain.
It would be better to reserve a fancy pair of sneakers such as this for those settings and events where you know you won't be getting them roughed up.
They aren't a pair you'll want to go running or trekking in.
Cuffing Works Great
Cuffing refers to the process of rolling the hem of the jeans up once or twice so the bottom hits just above the ankle.
It's a great way to show off a pair of sneakers. As I mentioned earlier, it's particularly effective when wearing high-tops as you get to show off the whole sneaker.
But it's perfectly fine to cuff the jeans when you're wearing white low-tops or mid-tops as well.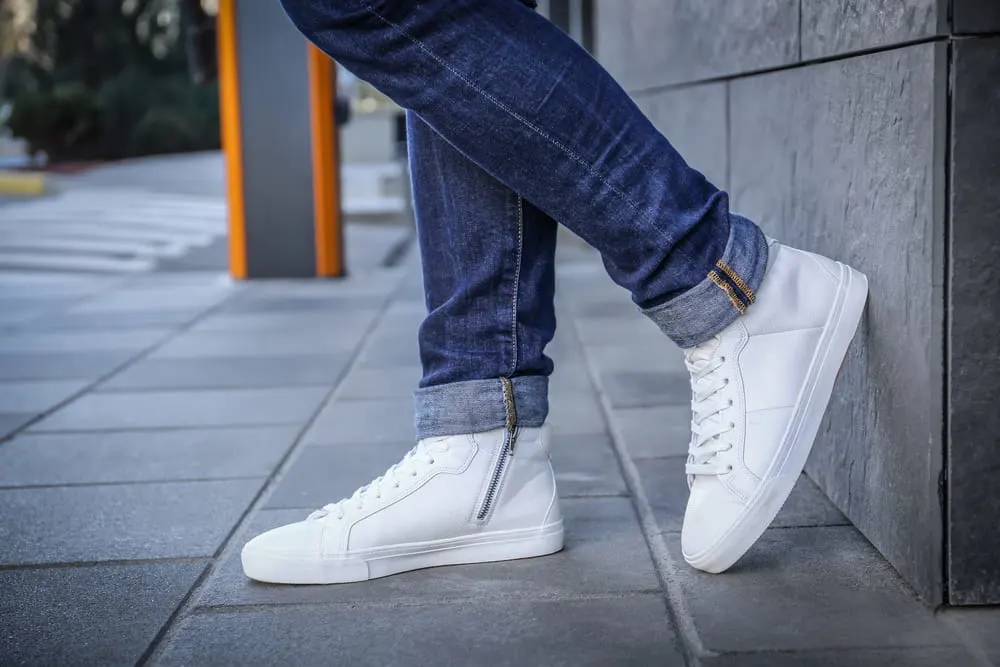 It leads to a laid-back streetwear aesthetic that's tough to beat, particularly in warmer weather where exposing the ankle won't come across as awkward.
When wearing low-tops and mid-tops, no-show socks work especially well when cuffing. Visible half-crew or crew socks don't look great once you've cuffed the jeans.
The more invisible your socks, the better.
You could simply not wear any socks at all, but for the sake of comfort and hygiene, no-show socks are a much better option.
Stick To Neutral-Colored Socks
When wearing white sneakers and jeans, pick a sock color that pairs well with the color of the jeans you're wearing. This could be anything from light grey to dark grey, to a variety of shades of blue.
It's generally considered "correct" to match your socks to your pants and not your shoes.
When dressing casually, this is less important.
However, it's still worth considering because it can really make an outfit look more refined, no matter how casual or not-so-casual it might be.
As I mentioned earlier, if you're cuffing the jeans, consider no-show socks or ankle socks at the most.
Socks any longer than that are likely to look awkward.
But if you weren't cuffing the jeans and your ankles are covered by the jeans, pick a pair of socks that work well with the color of jeans you're wearing.
If you've gone for black jeans, consider socks in a shade of grey.
If you've gone for blue jeans, consider socks in a lighter shade of blue.
Making the effort to coordinate your socks to your jeans may not be "essential", but it's the little touches like this that make all the difference.
Blazers Can Work Surprisingly Well
Blazers can work very well when wearing jeans and white sneakers, especially when worn over a T-shirt.
While it may not be the first thing that comes to mind when talking about classic casual items such as jeans and white sneakers, a blazer can be a great option when you're looking to dress things up.
You could choose practically any blazer color you can think of given how neutral the jeans/sneakers are likely to be.
However, sticking to classic black, grey, or navy blue blazers will always be the best option.
Frequently Asked Questions
Here are a couple of frequently asked questions to really round things up.
Should You Wear White Or Black Sneakers With Jeans?
Both white and black sneakers are neutral enough to wear with any pair of jeans. However, white sneakers tend to look dressier as they produce a subtle, minimalist aesthetic.
It's tough to make a pair of black sneakers look dressy. Even with leather uppers, they tend to look too athletic to wear with dressier items such as blazers.
White sneakers, on the other hand, would work well in casual and smart-casual settings. They're incredibly versatile and tough to go wrong with.
Can You Wear White Sneakers With Skinny Jeans?
White sneakers can easily be worn with skinny jeans. Given how much they taper at the ankles, skinny jeans tend to look better with white low-top or mid-top white sneakers than they do with high-tops.
Skinny jeans are difficult to cuff; you'll need to bear this in mind.
But if you were looking to wear them with low-tops and weren't looking to cuff them in the first place, skinny jeans would be a great option.
Conclusion
It's a timeless casual combination that's tough to go wrong with, but it's important to wear it in the right way.
When wearing white sneakers and jeans, take into account how casual or smart-casual you want to dress. This should influence the sneaker style and jeans style you choose.
Enjoy.
Ready Sleek founder. Obsessed with casual style and the minimalist approach to building a highly functional wardrobe. Also a fan of classic, vintage hairstyles.