While leather jackets aren't at the forefront of formal wear, they can add a stylish edge to the traditional suit. But can you wear a leather jacket over a suit?
You can wear a leather jacket over a suit by choosing a proper fitting jacket in a complementary color to your suit. It's essential to keep the jacket clean and to wear it once you've considered the occasion and season.
Although that's the short answer, there's way more to it.
Now you need to know how to wear it in the most effective way possible.
Let's get to it.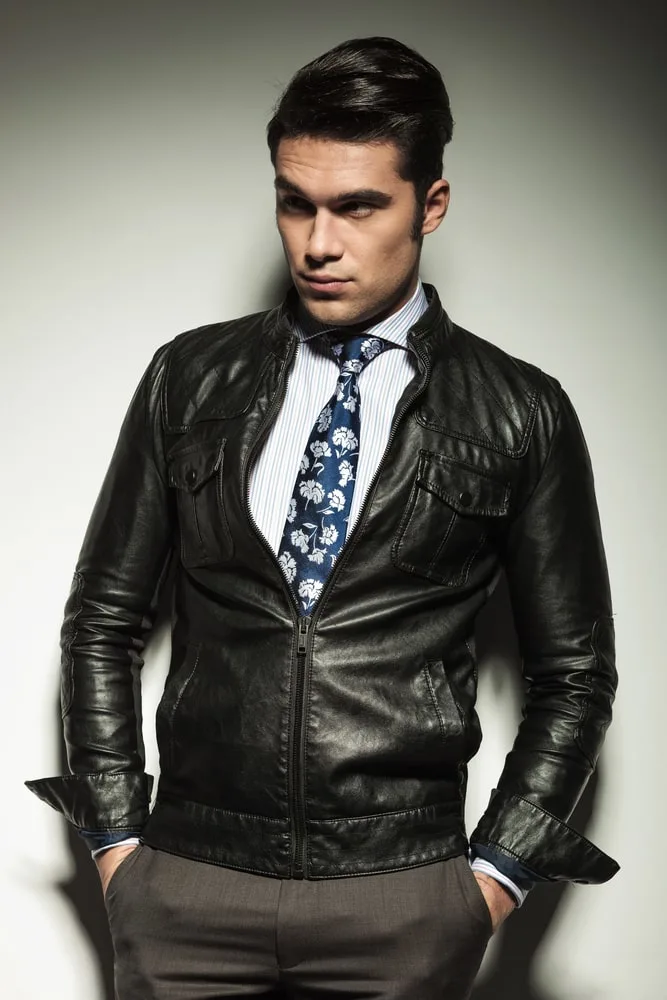 1. Choose The Right Jacket
Choosing the right style of jacket is essential to getting this untraditional pairing looking stylish and not awkward.
The best jacket to wear over a suit is one with simple tailoring and a refined lean so that it better complements the suit's sophisticated look.
Some of the jackets include:
Cafe Racer Jacket
The Cafe Racer is the most preferable jacket to wear alongside a formal suit and will elevate your business casual look with its refined simplicity.
They look best in minimal designs and are often lightweight rather than heavy weighted leather jackets.
Here's an example of one on Amazon:
The best color for these jackets is a simple black but, depending on the color of your suit, you can also look professional in a classic brown color.
These jackets are known for their ability to heighten any look, even when paired with jeans, so are the perfect match for your suit.
Because of this, it's also best to go light with any other accessories you may choose to wear – so stick with a simple, white button-down shirt, suit pants, and dress shoes.
Double/Single-Breasted
The type of jacket you reach for should be considered based on whether it's single or double-breasted. The two looks will give off different impressions.
Single-breasted jackets have one column of buttons on the front, whereas double-breasted jackets have two columns of buttons.
Double-breasted jackets will give a more formal look as this is the traditional choice for a jacket. You may want to choose a double-breasted for a more classic look.
While the single-breasted jacket is the more unconventional style of jacket paired with a suit, it can offer a more modern and alternative edge to the overall look.
Bomber Jacket
Bomber jackets are another great option to wear with suits. Again, keep it simple by avoiding any additional patch pockets or excess patches, they are a great addition to this look.
They add an undeniable, masculine toughness that contrasts well with the refined sophistication of a suit while still keeping the look composed and put together.
Here's an example of a faux leather bomber jacket on Amazon. Not sure how good this particular one is – it's just to show you what I mean.
Many bomber jackets include rib-knit cuffs, waistline, and collar, which look great paired with formal attire underneath.
It's a unique jacket in comparison to the traditional racer jacket because of these features and works best alongside a simple suit with complementary colors.
Generally, however, as long as you choose a jacket with a simple style that is not adorned with too many patterns or bold designs, you're sure to be in the right direction.
2. Color Is Important
We've discussed the importance of color when looking specifically at choosing the right jacket for the suit and color coordination will be discussed further below.
It's important that you color-coordinate your blazer with your dress pants to create a cohesive and aesthetically pleasing outfit, avoiding fashion faux-pas.
While leather jackets are available in many different colors, it's recommended you stick to the basics of black and brown when wearing them with a suit.
Restrict the bold colors and patterns for casual occasions where wearing a suit isn't appropriate. Black and brown jackets look best for work-wear and formal occasions.
When it comes to what color jacket to wear, you should choose the same as your pants – if your pants are black, you should wear a black leather jacket.
Similarly, when wearing brown pants, a brown leather jacket will work best.
Where possible, don't clash with these two colors to avoid an eclectic appearance.
3. Pick The Correct Shirt
Color is also an important factor when choosing the most suitable shirt to wear underneath your leather jacket.
While it may be possible to find a suit jacket and a leather jacket where the fit enables you to wear them together, it's likely the suit jacket will be unbuttoned.
Because of this, your shirt will be largely exposed.
The correct shirt to wear underneath your leather jacket whilst wearing a suit is a button-up dress shirt that contrasts the color of the jacket.
For example, if you're wearing a dark-colored leather jacket, such as black or brown, then the best shirt will be a traditional white button-up.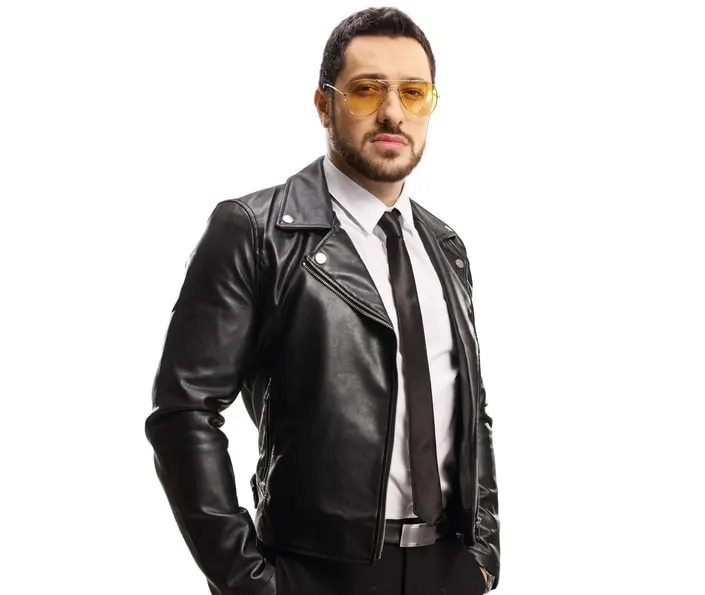 It's recommended that you avoid wearing a black shirt in this situation so that the look is cohesive and follows the correct standards of wearing a suit.
4. Ensure The Clothes Fit
The sleeve length of the leather jacket shouldn't be overlooked. This is important because it can throw off the balance of the entire look if it isn't considered.
While the sleeve length will vary in relation to your height, a good rule of thumb is to opt for a jacket that extends to your wrists.
This means that, if you have longer arms, you should go for jackets that are longer in terms of sleeve length and vice versa if your stature is on the smaller side.
You shouldn't wear a jacket where the sleeve lengths are over-extended either, as this will not be proportionate to your body and can make the entire look appear clumsy and oversized.
Another good rule of thumb to ensure that the fit is right is to make sure that it doesn't restrict your ability to move your arms.
5. Keep It Clean
When wearing a leather jacket with a suit, it's important that you keep it looking clean.
Suits are inherently formal-wear attire and the jacket you wear should complement this by being clear of wrinkles or dirt.
The upkeep of your jacket can go a long way to adhering to the formality of the look while maintaining the additional edgy vibe to the style.
Another way to keep the jacket clean is to avoid exposure to water. Excessive heat can also damage the material so keep it away from stoves and furnaces.
You can use a good quality conditioner on your jacket to keep the color and shine looking as new as possible.
Also, if possible, it's a good idea to get it cleaned and polished by a leather specialist.
6. Consider The Season
The season can certainly have an impact on how you wear a leather jacket over a suit.
For example, some seasons will necessitate you to wear a lightweight jacket instead of another alternative, so it's important to know which is appropriate.
It's worth considering a quilted jacket in winter and colder seasons as this will be most comfortable for the weather conditions.
This is because quilted leather jackets typically offer a patchwork design that acts as additional insulation and will protect you from the cold.
It's still important to ensure that, when possible, you're still sticking to other style trends such as ensuring the color of your jacket complements that of your suit pants.
7. Make Sure It's Appropriate
There are a number of different occasions that may require you to adorn a suit such as work, job interviews, formal dinner parties, and weddings.
If the dress standards aren't as strict and allow you to wear a leather jacket instead of a traditional dress jacket, it's still important to dress to the formal wear standards.
This means that the jacket should still be worn formally, and often this can mean different things for different occasions.
A lighter jacket will pair best with your suit for jobs, work events, and interviews, such as the cafe racer jacket.
Depending on the formality of the event, you can be slightly more expressive. However, as a general rule, the more formal the event, the simpler the jacket should be.
Ready Sleek founder. Obsessed with casual style and the minimalist approach to building a highly functional wardrobe. Also a fan of classic, vintage hairstyles.