It may seem simple in theory but there are definitely better ways of pulling it off, as well as worse ways. So, can you wear black socks with black shoes?
Black socks can easily be worn with black shoes. The combination works best with a pair of black or dark grey pants, as well as a black belt. Black over-the-calf (OTC) socks are the ideal length to wear with black dress shoes in formal settings.
That's the short answer, but there's a whole lot more to it.
Here are some essential tips for wearing black socks with black shoes in the best way possible, each and every time.
Let's get to it.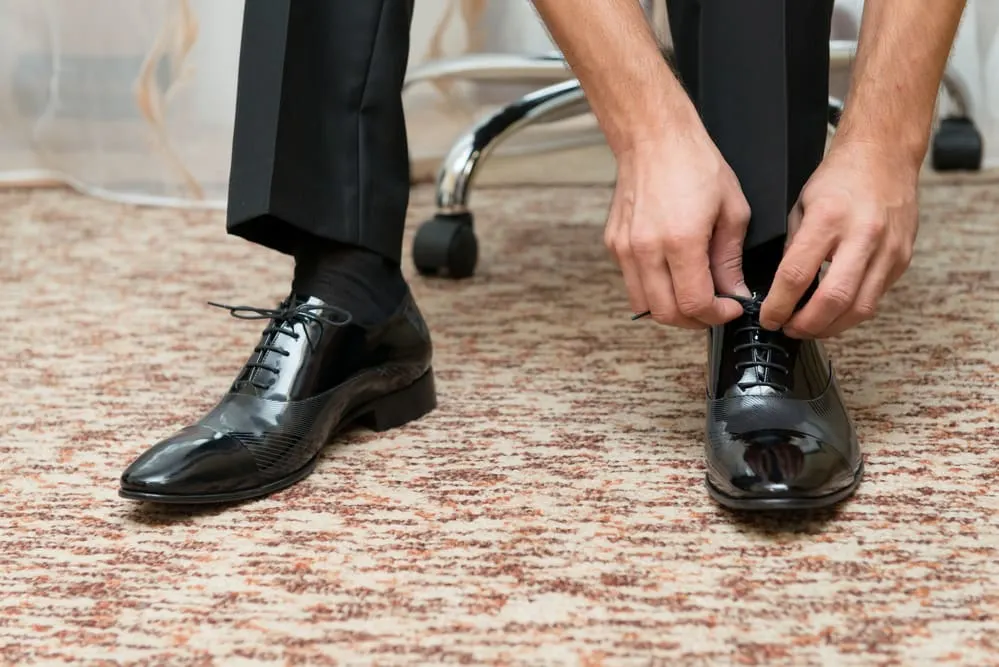 1. Consider The Dress Code
The dress code will let you know what style of shoes and socks would be most appropriate to wear.
Even if a setting doesn't have a specified dress code, you can still get a general feel for how formal or casual it may be.
The "black shoe and black sock" combination can look very different depending on the type of shoes and socks you've gone for.
It's worth listing the main dress codes out there, together with the types that might be appropriate for each of them:
Black-Tie – Black over-the-calf (OTC) socks + black patent leather Oxfords
Formal – Black OTC socks + black Oxford or Derby shoes
Business-Casual – Black crew socks + black Derby/monk strap shoes
Smart-Casual – Black ankle socks with black loafers. While no-show socks would probably be better, ankle socks can work too.
For the rest of this article, we'll assume that you're looking to wear a pair of black dress shoes with black socks in formal settings.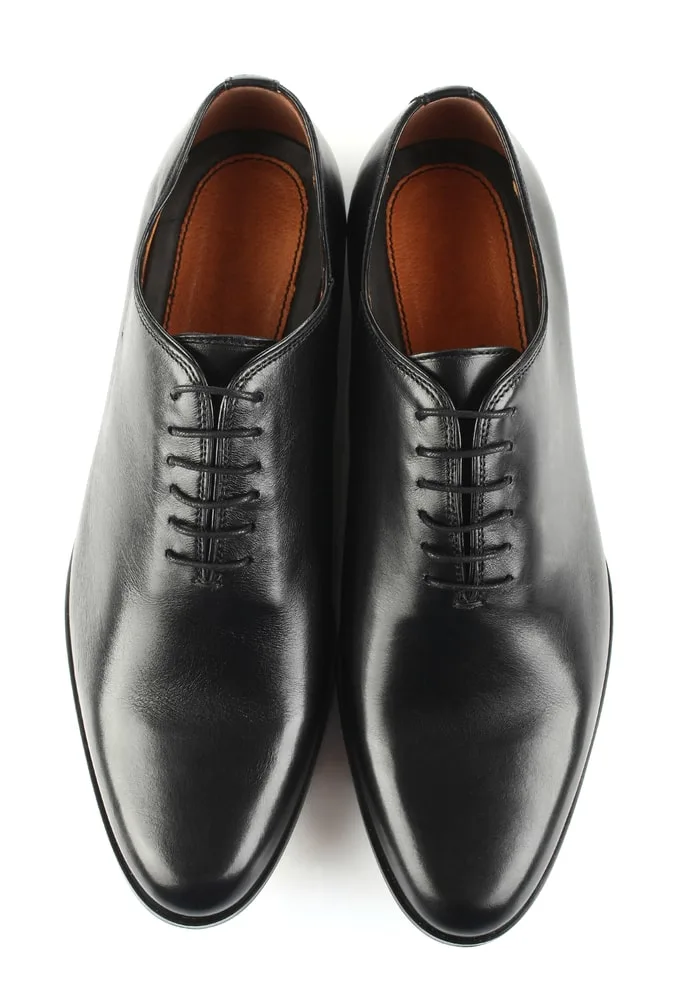 2. Black Or Dark Grey Pants Only
The socks you wear should match/coordinate with the pants you wear. When wearing black socks, this means wearing black pants.
This may or may not be as part of a black suit (i.e matching black pants and suit jacket).
All that matters is that the pants match the socks. This "rule" is even more important when dressing formally.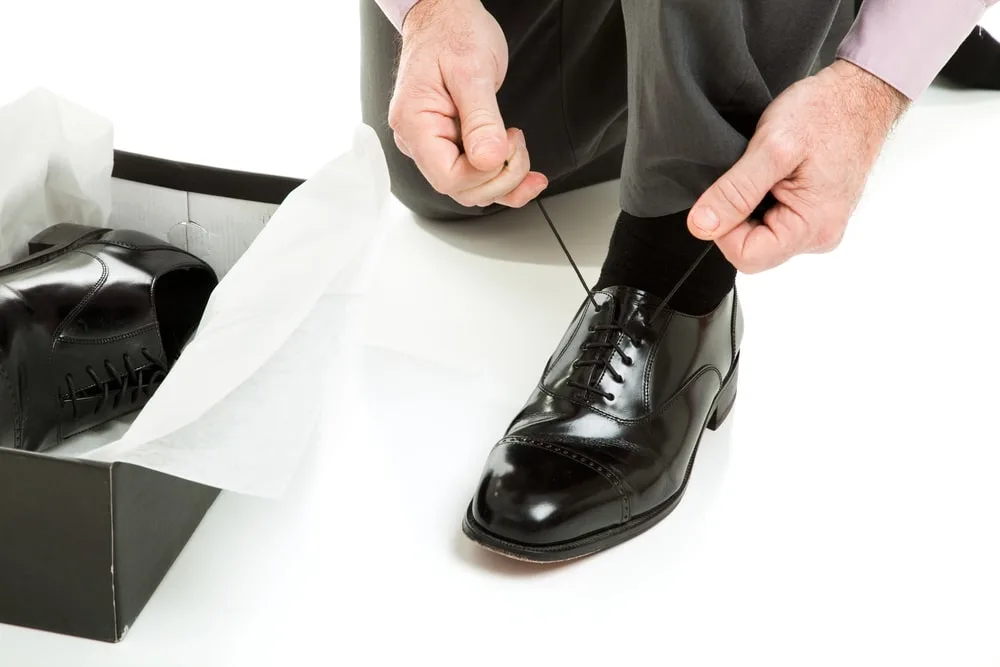 A common mistake people make is to match their socks to their shoes or anything else.
But this doesn't usually lead to the best results.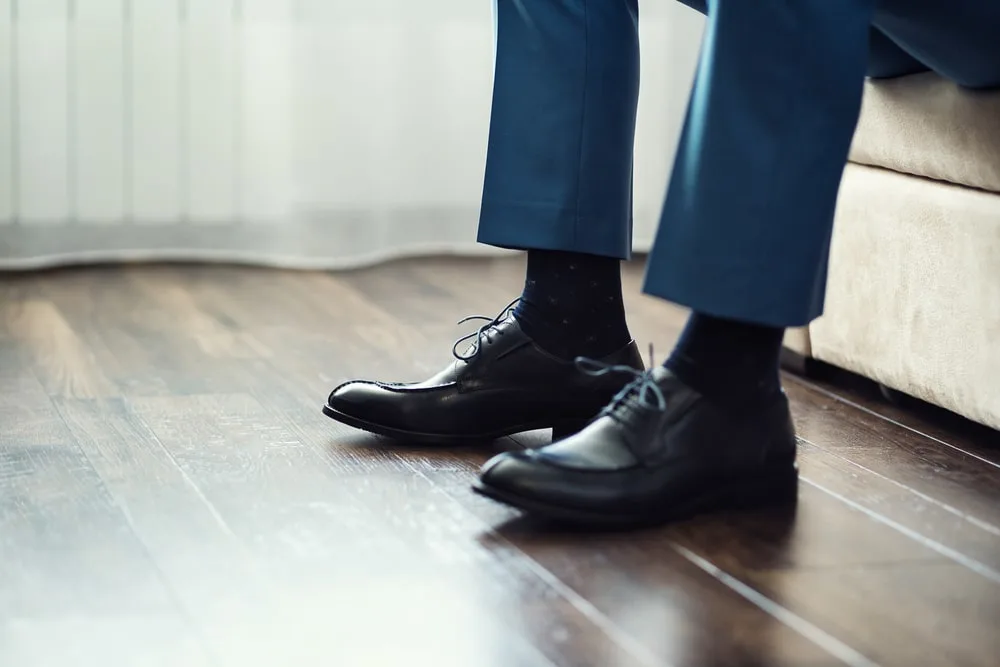 While black pants would be the best option here, you could get away with wearing grey pants if the shade of grey was dark enough to make it work.
Bear in mind, we're talking as dark as charcoal grey here. Pants in a lighter shade of grey would work much better with grey socks than black ones.
It doesn't really matter what color the rest of your outfit is – the black items are neutral enough to match with practically anything.
For example, you could go for an off-white/beige/light pink/blue OCBD shirt, black slacks, black crew socks, and black Derby shoes.
It would work – because the socks match the pants.
3. Sock Length Matters
The length of the black socks you wear with your black shoes is more important than you might think at first.
People often don't pay enough attention to the sock length they wear. Some will be more appropriate in certain settings than others.
Here are the main sock lengths you should know about:
No-show socks – Literally so low-profile that they're invisible under even low-cut shoes such as boat shoes and moccasins.
Ankle socks – End at the ankles.
Mini-crew socks – End above the ankles but below the mid-calf.
Crew socks – End at the mid-calf.
Over-the-calf (OTC) socks – Cover the whole calf and end just beneath the knee.
So which one should you wear?
When dressing formally – for example, with a black 2-piece suit and black dress shoes – go for OTC socks.
OTC socks are the most formal sock style you could wear and are ideal to wear under suits and tuxedos because they don't fall down and bunch up.
You don't want to expose any leg when you sit down and your suit pants ride up.
Here's an example of black OTC socks on Amazon:
Crew socks are incredibly versatile but aren't quite as good as OTC socks when dressing formally as they often drop and bunch up throughout the course of the day/evening.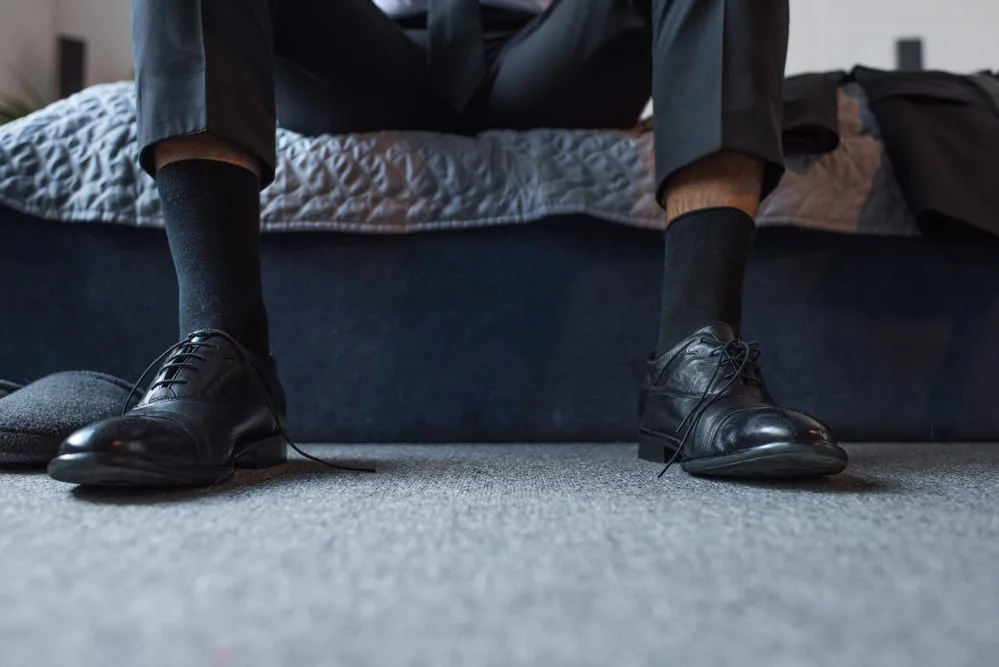 Mini-crew socks and ankle socks are more casual and are better suited to casual shoe styles such as sneakers.
4. Black Ribbed Socks Work Great
Black ribbed socks are ideal when wearing black dress shoes in formal settings.
Ribbed socks have vertical ridges of different widths. The lines give the socks an elegant yet subtle aesthetic while also giving them additional elasticity.
They're comfortable and have a traditionally formal look to them.
Black ribbed OTC socks are ideal to wear with suits.
It's important that you don't ignore what your socks actually look like because they will definitely become visible to others during certain parts of the day or evening.
Any time you're sitting down – whether it's at a desk or at a dinner table – it's highly likely those socks are going to be on full display.
Making sure they're in good shape is essential – that means clean with no rips and frays.
But choosing socks with a nice texture and some visual appeal is also something worth striving for.
The vertical ridges (a.k.a wales) of black ribbed socks would achieve this for you.
5. Go For A Matching Black Belt
Wear a black belt when wearing black socks and black dress shoes.
The belt should match the shoes, just like the socks should match the pants.
Tying it all together like this is a hallmark of a well-coordinated outfit.
However, a valid concern here is that it all just looks a little too monochromatic. Some may argue that there are just too many black items.
There are a couple of ways to tackle this.
Choose a black belt with a large-ish metal buckle with a reasonable amount of glare to it. This should add a bit of visual contrast to the bottom half.
The rest of your efforts should be targeted toward your top half.
Choose contrasting items up top to prevent your entire outfit from looking too black.
If you're wearing a suit, go for a white dress shirt, a burgundy necktie, and a pink pocket square, for example.
If you're wearing black chinos, go for a light blue OCBD shirt.
Choosing contrasting items up top should add balance to the outfit as a whole and prevent everything from looking too monochromatic.
It shouldn't prevent you from matching your belt to your shoes and your socks to your pants.
Your bottom half may look monochromatic, but your outfit as a whole won't if you focus on adding contrast with your top half.
6. Avoid Sock Patterns
This is more important when you're wearing black socks with black dress shoes in formal settings.
Sock patterns should be avoided at all costs.
By patterns, I mean stripes, polka dots, or anything else.
When dressing formally, make sure your black socks are solid black with no distracting patterns.
Note that "pattern" is different from "texture". The vertical ridges of ribbed socks would add to its texture and make it look more interesting without having to resort to a pattern.
Patterns will always make socks look more casual.
If you're dressing for a more casual or smart-casual setting, patterned black socks may be more appropriate. It might even be OK for a business-casual event.
But even in these cases, it's best to keep your sock patterns subtle without distracting from the shoes too much.
7. Fabric Makes A Difference
Just like color, patterns, and texture, the fabric your black socks are made of is also worth paying attention to.
Consider what you'll be doing, as well as the temperature when deciding whether or not a sock's fabric would be suitable for you.
While there are loads of them out there, here are the main ones you should know:
Polyester – Not very breathable but it dries quickly and retains its color.
Wool – It's stretchy, moisture-absorbing, and wrinkle-resistant.
Modal – Expensive, but strong and soft.
Cotton – It's durable and it retains heat. Plus it's soft and stretchy.
Black socks made from any of these fabrics could potentially be suitable to wear with the black shoes you'll be wearing.
It really depends on the weather, as well as what you'll be doing while wearing them.
Ready Sleek founder. Obsessed with casual style and the minimalist approach to building a highly functional wardrobe. Also a fan of classic, vintage hairstyles.