Loafers come in a variety of colors, materials, and styles. It's safe to say that some of them are much more formal than others. So, are loafers dress shoes?
Yes, loafers are dress shoes, but they're one of the most casual styles of dress shoes you could wear. Dark leather horsebit (Gucci) loafers are just about formal enough to wear with a woolen suit. Other styles of loafer, both leather and suede, should mainly be worn as dress shoes in smart-casual (i.e business casual) outfits.
That's the no-nonsense, to-the-point answer.
But if you're looking to dig deeper and also find out exactly how to wear loafers as dress shoes, read on.
Underdressing is no fun. Why take the risk?
You're about to learn everything you need to know.
Are All Loafers Considered Dress Shoes?
All loafers can technically be considered dress shoes because they're formal enough to be worn with smart-casual outfits (i.e business casual) and potentially even formal outfits.
Although the definition of "dress shoe" is pretty ambiguous, it's generally considered to be a shoe that you'd be able to don as evening wear to smart-casual or formal events.
Loafers do fit the profile.
As far as the hierarchy of formality goes, they'd definitely be considered one of the most casual dress shoes.
It goes:
Oxford Shoes
Derby Shoes
Monkstrap Shoes
Loafers
Sure, there are a few others, but those are the big-hitters that you need to know about.
It's just important to know that if you're dressing for a truly formal occasion, Oxfords or Derbys would be a safer bet.
Loafers have a laceless, slip-on design and were inspired by the truly casual moccasin as well as the slipper.
They may have more structure and an actual heel, but they'll still always be considered pretty casual at the end of the day.
But there are some features that make some pairs of loafers look more casual, while other pairs look more formal.
Leather loafers look more formal than suede loafers.
Black and dark brown loafers look more formal than lighter colors.
Leather lined loafers look more formal than unlined loafers.
Leather soles look more formal than rubber soles.
Horsebit (Gucci) loafers look more formal than penny and tassel loafers.
As you can see, not all loafers are made equal. They may all be dress shoes, but some definitely look more formal than others.
For example, yes, penny loafers are considered dress shoes. But black leather penny loafers definitely look more formal than gray suede penny loafers.
Bear these differentiating features in mind when you decide whether the particular pair of loafers you have in mind is formal enough for the setting you're dressing for.
How To Wear Loafers As Dress Shoes
To cut a long story short, you've got two options.
You can wear them as dress shoes in either smart-casual or formal settings. Let's talk through how you'd do both.
Smart-Casual
It's important to note that "smart-casual" is very much the same thing as "business-casual". Don't let anyone confuse you or convince you of otherwise.
This dress code is characterized by the combination of both traditionally formal attire and traditionally casual attire. For example, formal items such as blazers, sports coats, dress shirts, and neckties, with casual pants such as chinos.
Loafers are ideal for wearing as dress shoes for smart-casual occasions and settings. They're so perfect because they strike such a fine balance between casual and formal.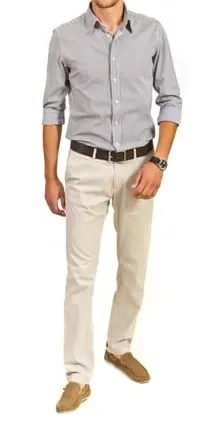 Dressed up, but not too dressed up. Laid-back, but not too laid-back.
The slip-on design is comfortable, as well as practical. It oozes a casual aesthetic.
But at the same time, it's structure and heel makes it look a little more formal than leisurewear or athletic shoes.
So, how do you do wear them as dress shoes?
When dressing for smart-casual settings, be sure to properly assess just how casual you can go.
Smart-casual is a spectrum, with some events and settings being more on the "smart" end, while others are way more on the "casual" end.
For example, if you're going for drinks at a relatively laid-back rooftop bar with a "smart-casual" dress code, a pair of unlined, tan suede loafers would probably be alright.
But if your workplace says they've got a "business-casual" (i.e smart-casual) dress code, you may want to go for a pair of dark brown leather loafers instead.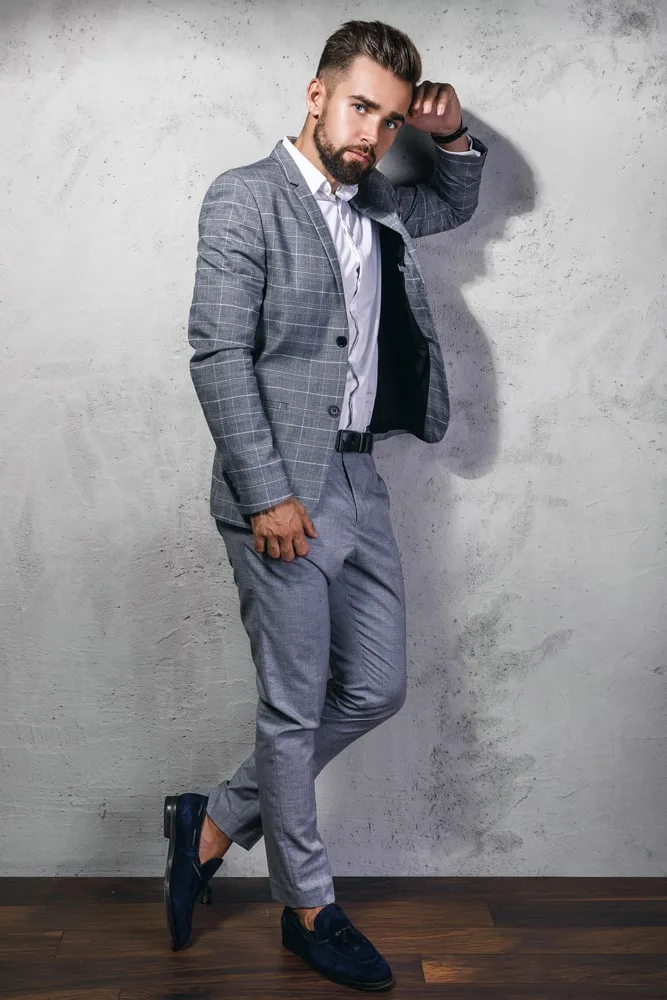 When dressing smart-casual, you could really wear any style of loafer.
But if you're looking to dress it up a little, go for horsebit loafers. Otherwise, penny loafers or tassel loafers would be fine.
Formal
You've got to be more careful here because most loafers weren't designed with truly formal events in mind. Having said that, it's definitely possible – you've just got to be more cautious.
The slip-on design immediately makes it look more casual. As a result, historically, loafers weren't initially worn by inner-city professionals or as evening wear.
But in the 1950s, Gucci revolutionized the design by adding the infamous metal buckle on top. Shaped like a horse's bit, it's widely known as the Horsebit loafer.
Understandably, however, it's also known as the Gucci loafer.
The metal buckle immediately gave it a more elegant and sophisticated edge. Suddenly, the loafer found its way into professional settings.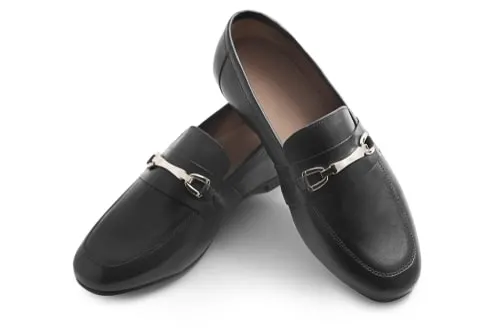 Bear this principle in mind and you won't go wrong:
When wearing a formal woolen suit, go for leather Horsebit loafers in a dark shade of brown or black. This is really the only variety of loafer that is considered just about formal enough to be worn with a woolen suit.
In fact, as it's a relatively uncommon dress shoe to wear with a suit, it's actually quite a nice and subtle way to stand out from a serious crowd.
But remember, as far as dress shoes go, Oxford, Derby, and Monkstraps will always look more appropriate than horsebit loafers when worn with a suit.
Try and avoid wearing penny loafers or tassel loafers with formal suits whenever possible. Keep them for smart-casual outfits, or casual suits such as those made from linen or seersucker.
When Should You Not Wear Loafers As Dress Shoes?
OK. So we've established that most loafers other than horsebits aren't really suitable to wear with formal woolen suits. Especially that nice and shiny worsted wool, which is the most formal.
But you should never wear a pair of loafers of any variety as dress shoes in a black-tie ensemble.
In other words, don't wear loafers with tuxedos.
Tuxedos are formal enough to deserve a fine pair of black Oxford shoes. Loafers, no matter how dark, shiny, and leathery they are, will always look inappropriate and awkward.
So, avoid this at all costs.
There are dress codes that are even more formal, such as white-tie. Yes, wearing loafers would be even more sinful.
Can The Same Pair Of Loafers Be Both Casual And A Dress Shoe?
Absolutely. But you'll have to be more tactical with your selection.
Certain types and styles of loafers are more versatile. They're simply suited to a wider variety of outfits.
For example, a black pair of leather horsebit loafers aren't all that versatile, because they're better suited to formal attire.
Wearing them with cuffed, soft gray chinos might look a little awkward. Not terrible. Just awkward.
What you want is a pair of loafers with a nice mix of both casual and formal features. For example, with a casual finish but a more formal color and structure.
A dark brown pair of lined suede loafers would be a good option.
These would fit seamlessly into a smart-casual outfit including a blazer, OCBD shirt, and chinos, for example.
But they would also go well with semi-casual outfits. For example, with a polo shirt and chino shorts.
So, if you're looking for versatility, use that information as a guide for your purchase.
Can You Wear Loafers As Dress Shoes Without Socks?
Try not to ever wear loafers without socks. They weren't designed for the sockless gentleman.
Some men find this hard to grasp because they look a little bit like boat shoes, which are often worn without socks.
However, loafers should always be worn with socks. Without socks, your feet will start to hurt after you've been walking for a while.
Plus, it isn't very hygienic.
When wearing loafers with dress shoes, the type of sock you wear will depend on the outfit you're wearing.
If you're wearing horsebit loafers with a suit, you'll need to wear over-the-calf socks.
However, if you're wearing loafers in a smart-casual outfit with chinos, for example, a pair of invisible or no-show socks might actually look great.
It'll give the illusion of being sockless while still giving you the comfort of being socked (if that's even a word).
Just remember, the sockless appearance is pretty casual, so be sure you can pull this off in whatever setting you're dressing for.
Conclusion
Loafers may well be the ideal dress shoe for the occasion.
But there are plenty of times when they wouldn't be. As arguably the most casual dress shoe you can find, you need to be sure you aren't underdressing.
Having said that, the guidance and principles laid out in this article should serve you very well indeed.
Stick to them and you shouldn't ever go wrong.
Ready Sleek founder. Obsessed with casual style and the minimalist approach to building a highly functional wardrobe. Also a fan of classic, vintage hairstyles.