If you're looking for a solid semi-formal or smart-casual outfit, dress pants and loafers may come to mind as individual components. However, this begs the question, can you wear loafers with dress pants?
Pairing loafers with dress pants makes for a great smart-casual outfit. Consider the different loafer styles, as well as the loafer color you go for. Try to avoid visible socks, either going sockless or, ideally, wearing no-show socks.
However, that's just the beginning – there's lots more to it.
So, let's dig deeper.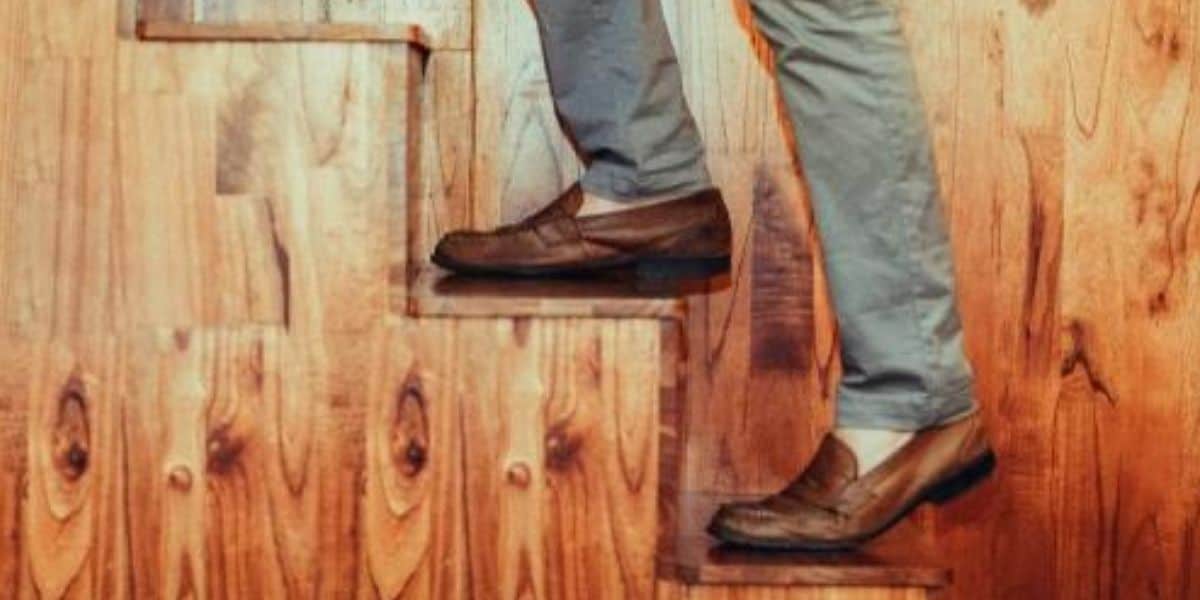 1. Consider Loafer Style
There are many different loafer styles available on the market, and it's essential to choose the right one to go with your dress pants.
This is because each loafer style varies in formality levels. Dress pants are inherently formal garments, so, as a general rule, more formal loafers work best.
That being said, the more 'casual' loafers are still pretty formal and can work with dress pants for a more relaxed look.
In this section, we'll cover the different styles of loafers, as well as the formality of each.
Gucci (i.e., Bit Or Horsebit) Loafers
Gucci loafers (otherwise known as bit or horsebit loafers) feature an American chassis and an Italian tread.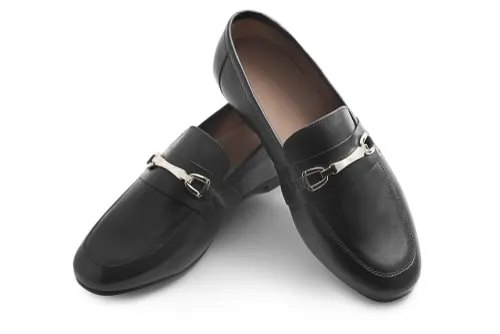 Their toe is not too boxed, nor is it too round or pointy – it sits somewhere among the three.
However, the primary factor distinguishing it from other loafer styles is the distinctive metal detailing.
This metal detail is found across the loafer's vamp. The vamp of a loafer – or most shoes, for that matter – is basically the upper front section of the shoe.
They originally became prevalent in the 1950s, thanks to Aldo Gucci, and have been a staple of loafer styles ever since.
Typically, Gucci loafers are considered to be the most formal style of loafer – to the extent that they can be worn with a tuxedo if necessary.
Penny Loafers
With an interesting design and an even more interesting history, penny loafers are arguably the most versatile loafer style in terms of formality due to their simplicity.
Penny loafers have no excessive detailing, no frills, and no tassels. This plainness has made them incredibly popular for smart-casual and formal outfits alike.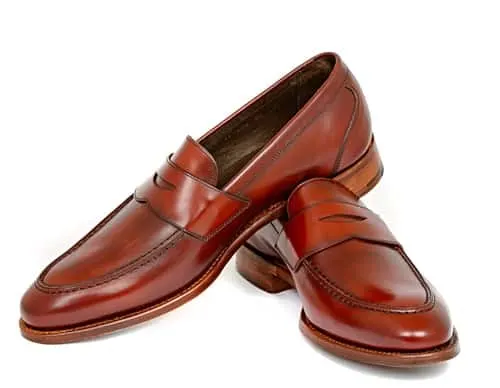 The name of these loafers is derived from Ivy League students in the 1940s and 1950s placing a penny in the cut-out found on the shoe's vamp.
This was purely decorative for some but was practical for others – the penny acted as change for phone calls.
Tassel Loafers
Tassel loafers are pretty self-explanatory. With a tassel or two on the shoes' vamps, these loafers are the most casual and have the most personality.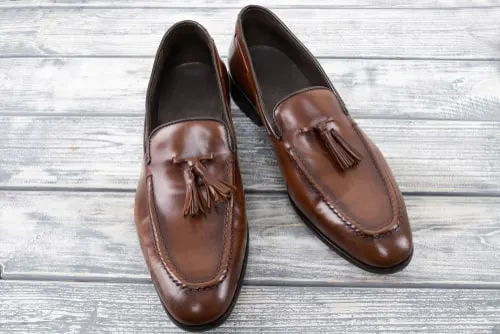 Their formality level tends to sit around smart-casual, but if you're confident they're appropriate for a formal occasion you'll be attending, consider wearing them then, too.
2. Think About Loafer Color
Now that we've covered loafer style, it's important to also think about the color of your loafers.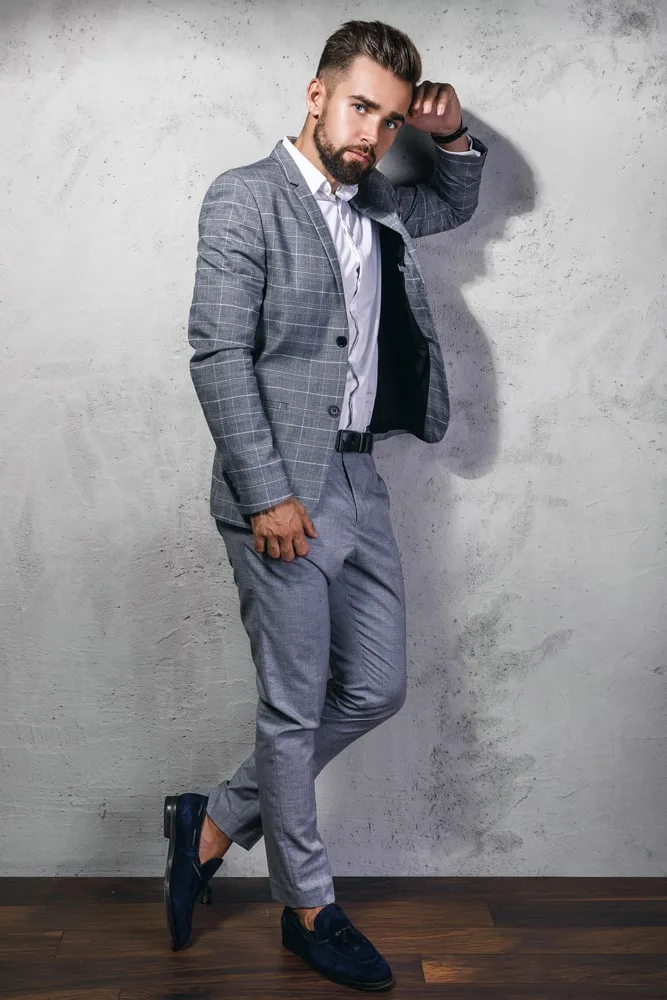 As mentioned, loafers typically sit in the range of smart-casual to formal attire and don't really venture outside these formality levels.
Because of this, there are two colors you should primarily stick to. That being said, there's one other color that can also work, but it's less conventional.
The two primary loafer colors to pick from are black and brown. Both are traditional formal wear shoe colors and for good reason. They're both incredibly versatile neutral colors.
Black loafers go with pretty much any suit or smart-casual outfit – including ones with dress pants.
Brown is a little more situational but is still flexible when it comes to the best ensemble to wear alongside it.
If you go for leather loafers, as is generally recommended, ensure you take good care of them.
Insert shoe trees into your shoes, and polish them from time to time to keep them looking crisp.
As for the less traditional loafer color option, navy blue loafers can look great with dress pants.
Though, when wearing navy blue loafers with dress pants, it's important to make sure it's appropriate for the situation.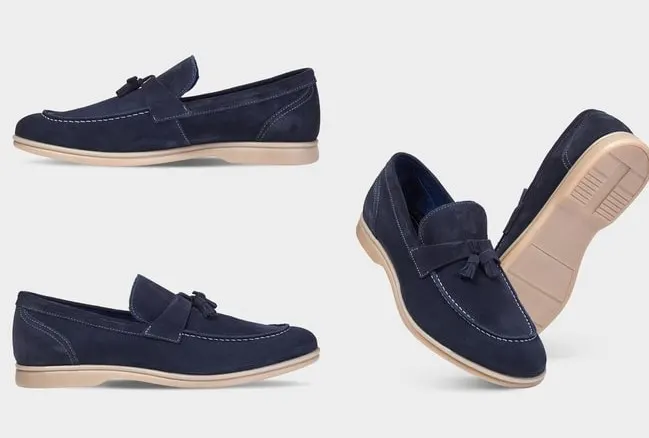 Because they're more unusual and somewhat deviate from the norm, navy blue loafers aren't typically acceptable footwear choices for more formal occasions.
3. Go Sockless
With an outfit like this, socks can really interrupt the flow and sophistication of the ensemble. Because loafers have a low collar, it displays more sock than looks good. Moreover, color-matching your socks with your formal outfit is an entirely different issue. Therefore, sticking to no-show socks is optimal.
Going sockless is one of the best things you can do when wearing loafers with dress pants.
The term "sockless" doesn't necessarily mean not wearing socks – rather, not having visible ones.
In fact, going sockless (in the true sense of the word) would be unwise as it's unhygienic and also uncomfortable. Instead, go for no-show socks.
No-show socks, as the name suggests, aren't visible when wearing shoes but still protect your feet from your shoes, and vice versa.
Some traditionalists may argue that you should always wear socks with formal or smart-casual outfits, but times are undeniably changing.
Due to the low collar of loafers, wearing socks with them can look awkward.
On top of this, it can be difficult to pick a sock color that suits formal situations. No-show socks eliminate this issue altogether.
4. Neutral-Colored Dress Pants Work Best
Choosing the best pants color is another element crucial to pulling off this outfit.
Dress pants come in a number of different colors and patterns. And, despite the name "dress pants," some are dressier than others.
For example, a pair of orange or checkered dress pants is considerably less formal than a pair of plain, charcoal dress pants.
If you're attending a smart-casual or formal situation, as you likely will be with this outfit, it's best to go for dress pants of a dark, neutral color.
Such colors include charcoal, navy blue, black, and dark grey.
They pair nicely with pretty much any formal or smart-casual garments – loafers included – and are some of the most formal pants around.
If, however, you're trying to make a statement, other colors may work, as long as the setting is casual enough to allow for it.
When going for more casual dress pants, consider tassel loafers, as these are the most informal loafers and will further add to your statement outfit.
5. Select The Right Loafer Material
While, at first, it may seem like there are only one or two material options for your loafers, there are actually quite a few.
Enough that it can be challenging to figure out the best loafers material for any given outfit.
Some examples of the different material options available are suede, nubuck, and shinier grains of leather such as calfskin.
Suede and nubuck are technically still types of leather, but they have different textures and overall properties to what people typically think leather has.
When wearing dress pants with loafers, it's important to keep your outfit looking as charming and formal as possible.
The dressier the setting, the more likely it is that a shinier grain of leather would be more appropriate to wear than more napped textures such as nubuck and suede.
The latter two would be ideal when wearing dress pants in a smart-casual setting, however.
As mentioned, taking care of your loafers is incredibly important as this will significantly contribute to your ensemble's aesthetic.
That is to say, poorly looked-after leather loafers can look tatty.
Suede, in particular, can be difficult to maintain and manage.
Well-taken-care-of leather loafers look crisp, sleek, and, most importantly, formal.
6. Ensure It's Appropriate
Making sure your outfit is appropriate is always vital to pulling off any outfit.
Turning up to an occasion underdressed or overdressed is embarrassing and can give the wrong impression in some situations.
Be particularly wary of this in formal situations, particularly weddings or funerals, as it could be seen as disrespectful.
Wearing loafers with dress pants is pretty much a guaranteed smart-casual success.
However, in formal situations, things become a little more complicated, and the styles of your garments become considerably more important.
For example, wearing navy blue, suede, tassel loafers may be appropriate for a relaxed Friday at the office, but it's completely unacceptable at a formal event.
In this case, the best option would be black Gucci loafers in a shiny grain of leather if you truly don't feel as though a more formal dress shoe would be necessary (eg. Oxfords or Derbys).