While your outfit is unlikely to be the first thing on your mind before you attend a funeral, it's not something to ignore completely. Dressing respectfully should be a priority. So, can you wear a blue suit to a funeral?
Blue suits can be worn to a funeral, with dark navy blue being the best option due to its neutral undertones. Combine it with a white dress shirt, black or dark brown dress shoes, and a dark, solid-colored necktie to ensure it looks formal enough for the occasion.
Although that's the short answer, there's more to it.
Here are some tips you should follow to make sure you wear it in the most respectful way possible.
Let's get to it.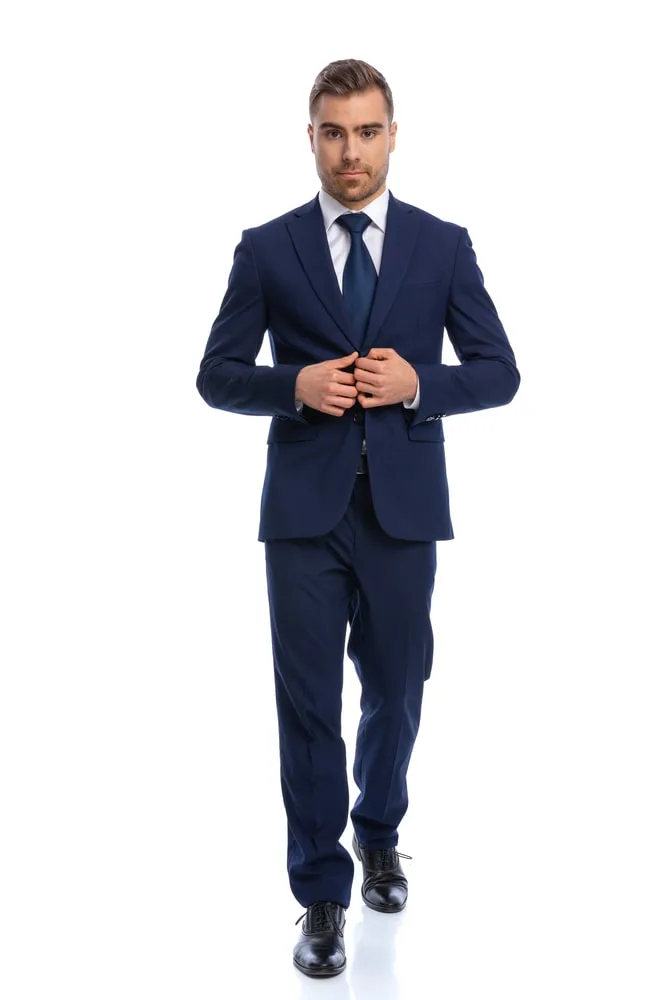 1. Make Sure It's Appropriate First
While a blue suit would be appropriate to wear to a funeral in the majority of cases, there will always be a few, rare exceptions.
One exception would be funerals where a specific color may be required for cultural reasons. For example, all-white is worn to funerals in certain cultures.
Another exception would simply be where the bereaved family has specifically requested a certain color or style of dress for the funeral, but not necessarily for cultural reasons.
It may just be that they want everyone to wear all-black, for example. It's unusual for funerals to require all-black outfits these days, but you just never know.
With both of these exceptions, it would be unusual for you not to be told when you were invited.
But after you express your condolences, it's always worth gently asking at the time of the invitation what you should be wearing as well.
If you forget at the time, it's completely fine. Consider asking a relative or friend of the bereaved family what you should be wearing, instead of having to bother the family itself.
2. Stick To Dark Navy Blue Suits
Navy blue suits are, by far, the best type of blue suit to wear to a funeral. The reason for this is that it's dark and neutral. It looks effortlessly formal and doesn't draw too much attention.
There are many different shades of navy blue, despite all of them leaning toward the "dark" end of the color spectrum.
In general, when dressing for a funeral, the darker the shade of navy, the better.
This is because darker shades of any color will look more formal. In addition, darker colors are generally considered more appropriate to wear to funerals.
While people don't generally expect you to wear a black suit and tie to a funeral these days, sticking to darker colors will always be a safer play.
Black, charcoal, dark grey, and navy blue are your best options.
The fabric you choose for your navy blue suit can vary. In fact, you've got quite a few options to choose from, because the material your dark navy blue suit is made from is less important than the color.
Consider the weather when choosing your fabric. Wool can yield rugged and warm fabrics such as tweed, flannel, and gabardine. These work well in colder weather, but also have the benefit of not having too much sheen.
Cotton suits would also be perfectly fine too.
Either way, try to make sure the fabric isn't too shiny.
While a super-shiny sharkskin blue suit would work well at a party, it wouldn't be appropriate for a funeral.
Less shiny suits are a better option because they're less likely to draw attention. When dressing for a funeral, the more subtle the better.
Finally, should you go for a 2-piece or a 3-piece blue suit when dressing for a funeral?
Either would be fine, although 2-piece suits are generally considered the better option because they aren't as "dressy".
3-piece suits do give you the benefit of layering which is particularly useful when you're going from indoors to outdoors – for example, from the burial to the home of the bereaved.
3. Go For A White Dress Shirt
If you're going for a blue suit, go for a white dress shirt. Considering you're not going for the ultra-safe black suit and tie, you'll want to play it a little safer with your other items.
Wearing a white dress shirt gives you versatility. It gives you more freedom when choosing the color of your necktie and shoes.
It's easier to pair with items in a way that doesn't come across as too striking or bold.
White dress shirts are also just incredibly subtle and difficult to go wrong with. Plus, most people will have one already sitting in their wardrobe.
Stick to a dress shirt as opposed to more casual shirts such as OCBDs or flannels.
While there aren't many hard rules in funeral attire most of the time, you'll want to make sure you come across as though you made an effort.
Going for a more "formal-looking" shirt instead of a casual one is a simple way to do this.
French cuffs aren't essential, but are a nice touch and completely appropriate to wear to a funeral.
4. Add A Dark, Solid-Colored Necktie
Black, dark blue, grey, and dark burgundy are all good options for the color of your necktie when wearing a blue suit to a funeral.
Much like with the suit itself, you'll want to make sure the color of your necktie is dark and solid.
Avoid patterns.
The key to appropriate funeral attire is drawing as little attention as possible with what you wear.
That means not overdressing and not underdressing.
Choosing the right color and avoiding patterns is more important than the style of tie you choose.
Both American regimental and knit ties would be completely fine. Skinny ties and even bow ties can also work if done the right way.
Grenadine ties often pair well with navy blue suits and are always a potential option.
The main point here is that as long as you choose the right color and avoid patterns, you've got options when it comes to your choice of tie.
5. Black Or Dark Brown Dress Shoes
Navy blue suits work well with black leather dress shoes when attending a funeral. It's a look that has just the right level of formality and subtlety. However, dark brown dress shoes would also be perfectly acceptable.
Once again, the color of the dress shoes ends up being more important than the style and material of the dress shoes you choose.
Going for black or dark brown is a safer option because they immediately come across as formal. They also both pair very well with dark navy blue suits.
Lighter shades of brown such as tan brown should generally be avoided. Although they combine very well with navy blue suits in most other circumstances, they will usually be too light in color to wear to a funeral.
Brighter and bolder colors should always be avoided.
Overall, going for a shinier grain of leather such as calfskin or cowhide would be a better option than the more napped texture of suede.
But dark suede isn't out of the question, by any means. It just may not be a great idea during a rainy outdoor service, however.
Cap-toe Oxfords are the standard when it comes to professional attire, but aren't necessary for a funeral.
More "casual" dress shoes such as Derby shoes and monk straps would be perfectly fine too.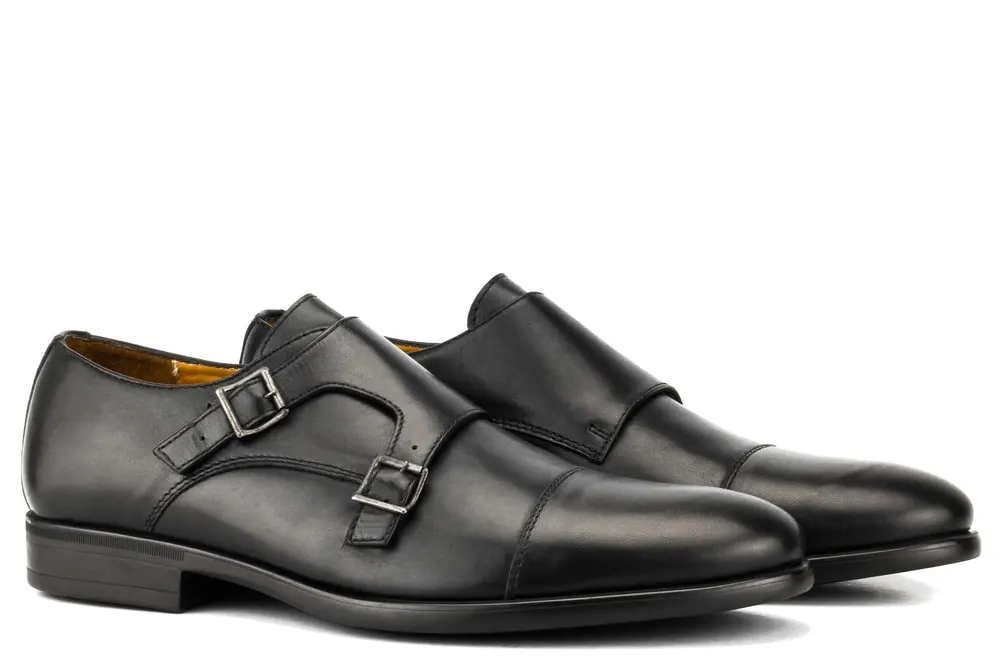 While loafers are a reasonable choice, they can sometimes come across as too casual when worn with a formal suit. In addition, their ankle-exposing uppers may not be a great option in cold or rainy weather.
6. Choose The Right Overcoat
Wearing an overcoat over the blue suit is a good option if it's appropriate for the weather. Funerals often have segments indoors as well as outdoors, making layering a wise decision.
While it isn't essential, an overcoat can definitely have its practical benefits in these circumstances.
Much like with your suit, try to stick to darker and more neutral tones.
An overcoat in grey or charcoal would be ideal – they compliment navy blue in a very understated way.
But overcoats with elements of blues and blacks would also be very reasonable as well.
7. Add A Pocket Square
While it's important to keep the accessories subtle when wearing a blue suit to a funeral, pocket squares are a nice way of showing you made an extra effort without trying too hard.
When wearing a pocket square, it's important to do so in a way that doesn't draw too much attention. You're not looking to impress anyone.
A simple, straight fold would be the best option.
Avoid puffed or peaked folds.
In addition, going for a white pocket square is a better option than going for bolder or brighter colors. Once again, avoid patterns.
As a side note, avoid boutonnieres. While you may have good intentions, it's difficult to wear one without becoming a focus of attention.
A funeral is not a good place for boutonnieres, so go without one.
Sticking to this tip, as well as the others in this list, are good ways of ensuring you wear your blue suit to the funeral in the best way possible.
You want to dress smartly while also keeping your entire outfit subtle.
Ready Sleek founder. Obsessed with casual style and the minimalist approach to building a highly functional wardrobe. Also a fan of classic, vintage hairstyles.