The combination is definitely one of the more versatile outfits a man could own. Chinos and polo shirts can fit seamlessly into almost any casual and semi-casual setting you can think of.
But is there a right way to do it?
Sure – there are rules and basic principles you should stick to in order to make sure it works each and every time.
You need to make sure the outfit is appropriate for the weather and the formality of the occasion, that it's color-coordinated to perfection, and that you know exactly what you should and shouldn't wear it with.
We're going to talk through all of that today and more. As always, I'm going to keep it as simple as possible. It's chinos – not rocket science.
Let's get to it.
How To Wear Chinos And Polo Shirts: 6 Simple Tips
Here are some basic principles to bear in mind when styling the combination.
1. Know When It's Appropriate
In terms of versatility, chinos do beat out polo shirts by some margin. Chino pants can be worn for just about any dress code other than strictly formal wear.
They can also be worn year-round without much trouble.
Although polo shirts are versatile, they do usually give off a summer casual vibe before anything else.
Because of this, it's important to note that the chinos and polo shirt combo may not be appropriate for the particular occasion or setting you're dressing for.
As a general rule, wear it for casual and semi-casual occasions only. It often works great here, as it oozes a relaxed, yet style-conscious vibe.
To clear things up, "semi-casual" is one step more formal than "casual", but less formal than "business casual".
For our purposes, "business casual" is exactly the same as "smart-casual".
We all know that dress codes can be ambiguous, as the people setting them often don't know what they mean and use them inappropriately.
Polo shirts wouldn't really be appropriate or smart enough for "smart-casual" (business casual) dress codes.
Here are some examples of settings where it could work:
Summer garden parties and barbeques
Birthday events
Casual and semi-casual sporting events
You may be spotting a pattern: casual or semi-casual with a distinct, warm and summery edge.
Having said that, if you love the polo collar aesthetic and want to take it forward into fall and winter, try the long sleeve polo. It's simple, stylish, and more weather-proof than the basic short sleeve.
2. Dress It Up Or Dress It Down
So we now have a better idea of when you can wear it. Let's talk about how.
You've got a pretty narrow range of dress codes to work with – casual to semi-casual. There are ways you can make it look more casual or more sharp.
Essentially, this is all about what you combine with the outfit.
The combination can be worn with a wide range of shoes ranging from formal to informal. I'll be talking about this in more detail later on, but note it here as well.
Cuffed chinos and boat shoes look more casual, whereas leather loafers give off a smarter and significantly more formal vibe.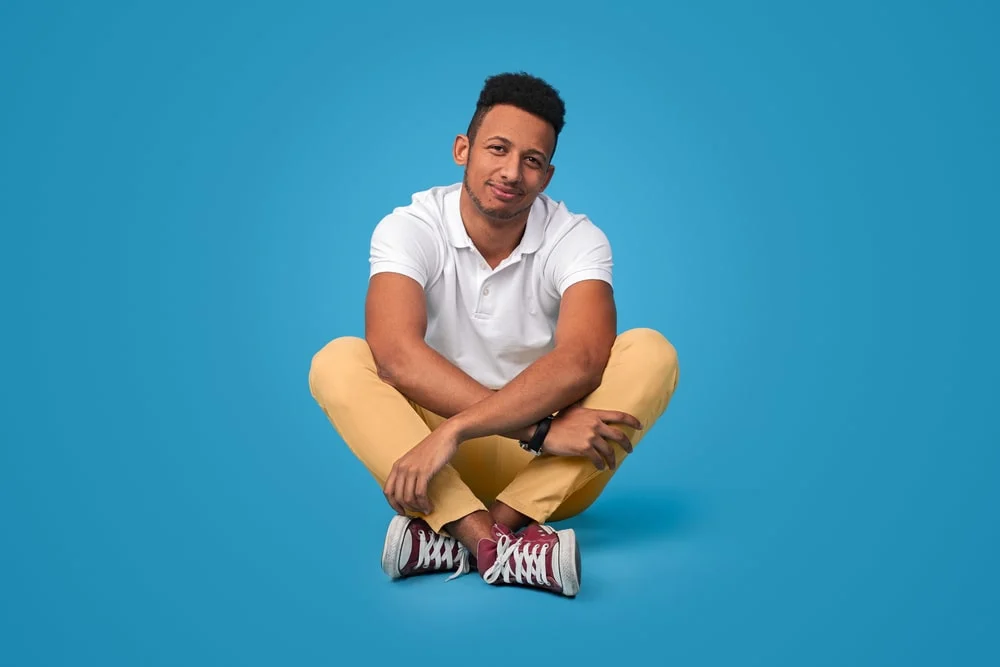 Rocking any sort of watch would make the combination look smarter as well. It doesn't necessarily need to be a dress watch, but boy does it add to the aesthetic.
The type of chinos you choose is also important to consider. Certain pairs just look more "formal" whereas others look more regular and casual.
Ultimately a pair of chinos could never be considered truly "formal", but here are some features that make them appear smarter:
A slimmer fit
Sharp center creases down each leg
No patch pockets – they're usually welted
The seam is barely visible at the inner leg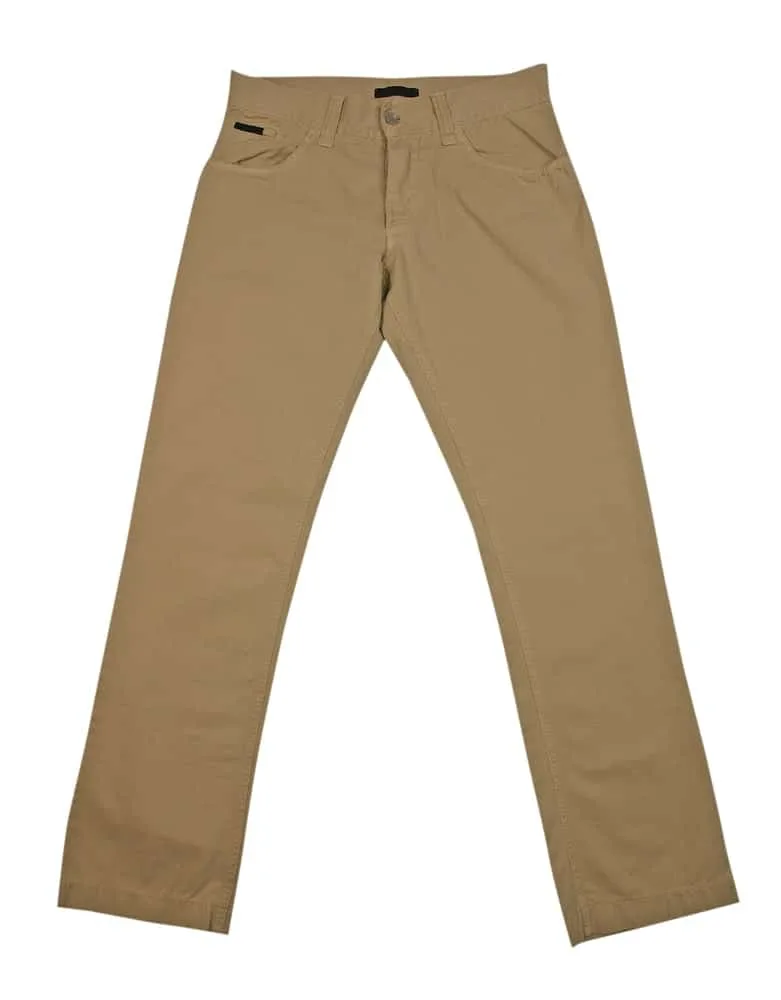 There's one other thing which can make the combination look more or less formal, but I figured it deserved a point of its own.
So, should you tuck a polo shirt into chinos?
3. Tucking It In Often Looks Better
Regardless of how casual or formal the setting is, tucking a polo shirt into chinos often just looks better.
Sure, leaving it untucked looks pretty good and does, of course, lead to a more casual appearance. This may be exactly what you want.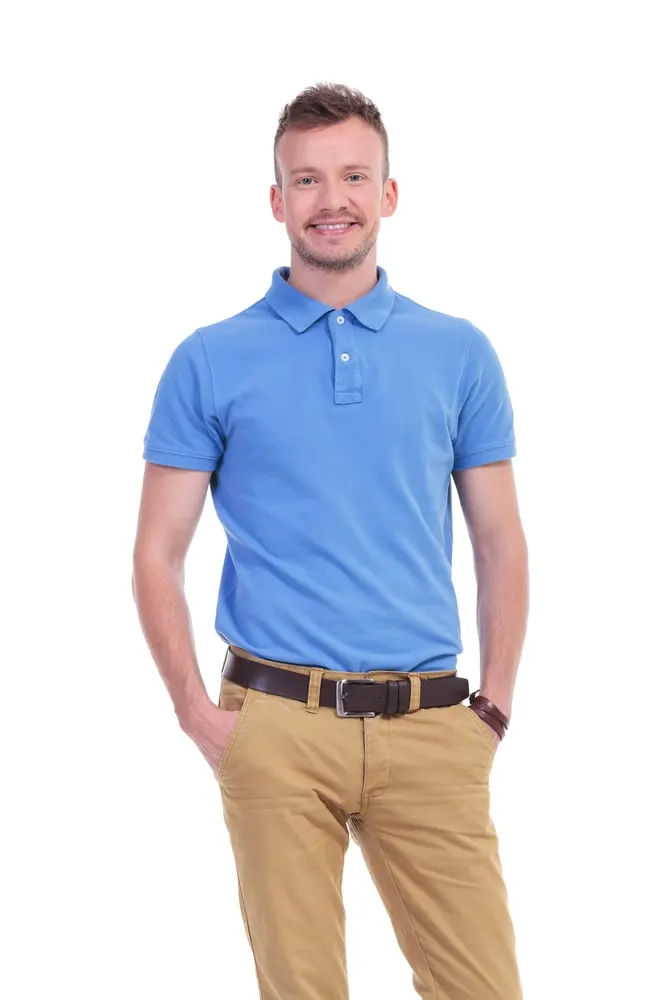 But the polo usually looks more stylish when tucked into chinos.
Of course, there are circumstances where you should really tuck it in. Here are a couple:
The more "formal" semi-casual events. Leaving it untucked may look a little too casual.
A longer back hem. In other words, if the back is longer than the front (a longer back hem), it's meant to be tucked in.
4. Make Sure The Polo Fits Properly
This is important no matter what pants you wear it with.
Here's how you do it in the simplest way possible.
There should be just enough slack. Polo shirts shouldn't be tight and they shouldn't be loose. You should be able to fit a finger comfortably under your sleeve. Any less and it's too tight. Much more and it's too loose.
If you plan to leave it untucked, avoid long back hems.
5. Avoid Jackets
We're talking blazers and sports coats here.
You may be looking for ways to up the formality of the chinos and polo combo. Perhaps you don't think it's quite enough for the occasion.
If this is the case, wearing a blazer or sports coat should never be the answer.
A jacket such as this layered over a polo collar often looks awkward and doesn't sit right. It doesn't look a whole lot more formal and often just looks inappropriate.
Besides, if you feel as though a blazer or sports coat is necessary, there's a good chance a polo shirt isn't formal enough for the setting in any case.
Go for a dress shirt or OCBD instead.
6. Go For Cotton If Possible
Don't worry too much about this one, because most of the polo shirts you find will come in a cotton or cotton-synthetic blend in any case.
Having said that you'll also find linen, silk, and polyester polos pretty frequently as well.
The reason cotton polos combine particularly well with chinos is that the fabrics sync well together.
Chino cloth in itself is made from cotton twill – usually either 100% cotton or again, a cotton-synthetic blend.
Pairing similar fabrics does give off a subtle sense of completeness and is easy on the eyes.
They'll have similar amounts of sheen and a similar texture.
Again, it isn't crucial or anything near a hard-and-fast rule. It's just something to bear in mind if you're looking to fine-tune your outfits.
Color Matching Chinos And Polo Shirts
Color coordination can be a bit of a headache no matter what you're looking to mix and match.
But it doesn't have to be.
As always, I recommend a "keep it simple" approach to color matching where neutral, muted colors are prioritized.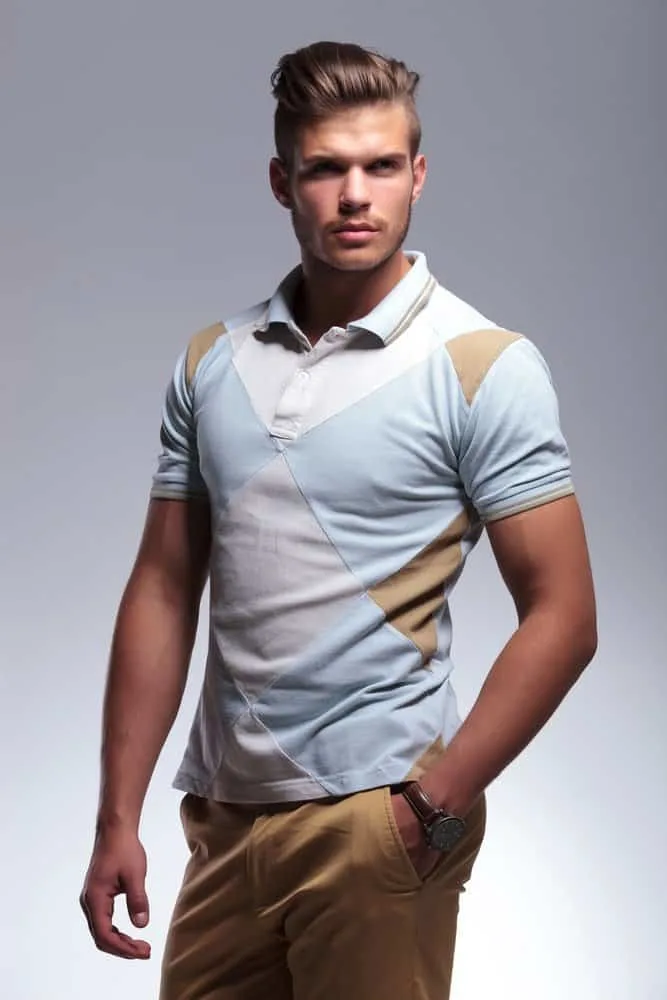 "Neutral" colors definitely doesn't mean "bland" ones.
They're simply colors without much color. In other words, colors with minimal intensity and saturation. The beauty of it is that neutral colors go well with any other color.
A wardrobe consisting of mainly neutral-colored items saves you a lot of grief and makes coordinating so much simpler.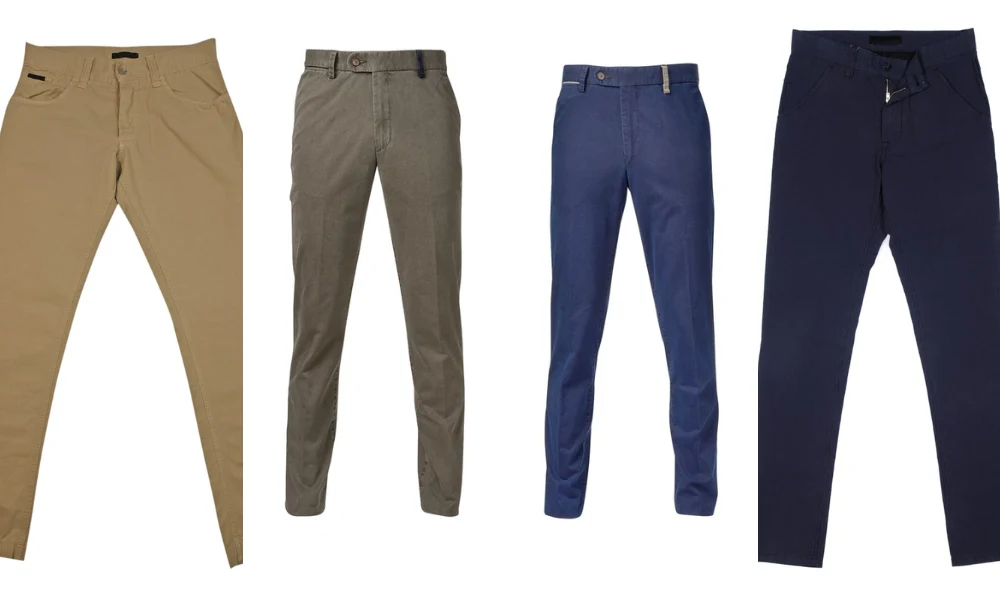 Stick to neutral colors for your chinos and polo shirts if possible.
White, black, beige, navy blue, olive green, khaki, and gray are some key examples.
You'll easily be able to match navy blue, gray, olive green chinos with white or gray polo shirts, for instance.
If you ever wanted to add a splash of color, spice the outfit up a little with a brightly-colored hat, sunglasses, socks, or shoelaces. Those are just a few options.
The point is that neutral colors offer such a restful and relaxed background that other colors combine perfectly well with them without conflicting.
Are Chinos And Polo Shirts Business Casual?
No, the chinos and polo shirt combination is too casual to ever be considered business-casual.
This is mainly due to the polo shirt being too casual, as chinos are very frequently worn for business casual dress codes and are completely appropriate.
Business casual outfits are usually characterized by the combination of traditionally semi-casual items of clothing with typical business attire.
Chinos are great because they're versatile enough to be dressed up to that extent. But you'll want to go for an OCBD shirt at the very least, ideally with a nice blazer or sports coat to boot.
A nice pair of brogue Derbys or Bluchers would work a treat too.
But polos simply won't cut it unfortunately. You don't want to risk underdressing in a work setting.
Leave this combination for those occasions where you're sure a casual or semi-casual outfit would be appropriate.
Dress it up a little more for those office parties.
What Shoes Should You Wear With Chinos And Polo Shirts?
Chinos and polo shirts can be worn with a very wide range of shoes ranging from pretty formal to very casual. Because of this, you should let the setting you're dressing for determine which pair you should choose.
But have fun with it.
The outfit is very versatile when it comes to shoes. It can be worn with almost anything other than the most formal pairs such as black Oxfords.
Let's split the options into casual and formal.
Formal Options
I use the term "formal" pretty loosely here because most dress shoes are traditionally considered "formal" but can often easily be worn in semi-casual settings.
Going from most formal to least formal, Oxfords, Derbys, Monkstraps, and Leather Loafers are all very appropriate options.
After carefully considering the vibe of the occasion or setting you're dressing for, choose a pair that you feel would suit the level of formality.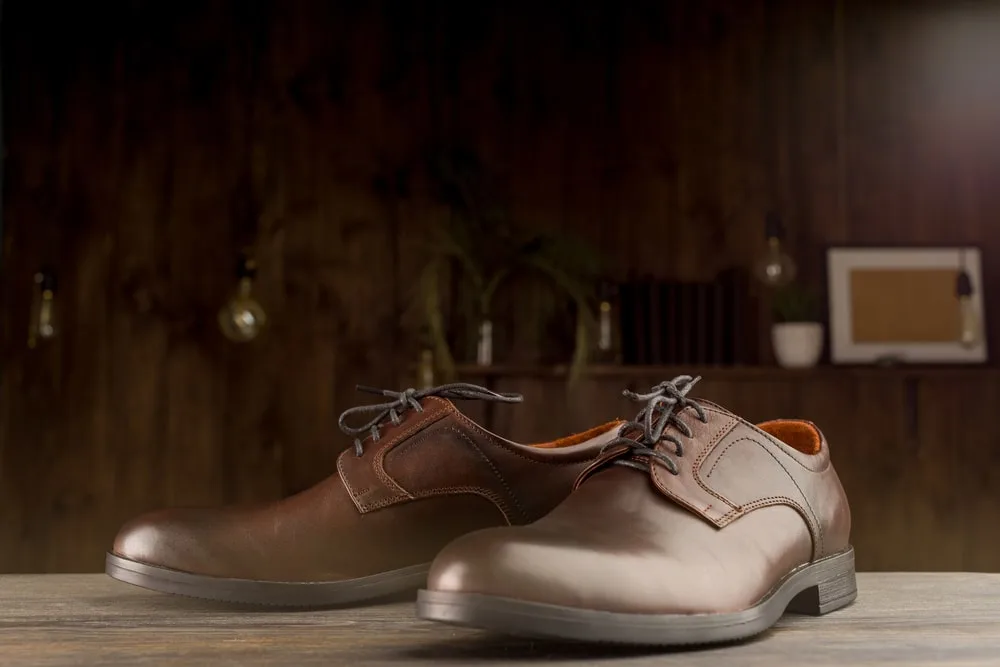 Even among the types of dress shoes themselves, you have pairs that are considered more formal and more casual. Here are some general tips:
Brogue patterns are considered more casual. The more patterned the shoes, the more casual they look.
Suede is more casual than leather.
Rubber outsoles are more casual than leather outsoles.
Laces will always look more formal than slip-on.
Open lacing systems (like Derby shoes) are more casual than closed lacing (like Oxfords).
Brown is more casual than black. The lighter the shade of brown, the more casual it looks.
To use a practical example, let's say you're dressing for a summer garden party where you need to make sure you're semi-casual and not too casual.
Go for a nice pair of tan brown brogue Derbys or even Oxfords to go with a well-fitted polo shirt and a smart pair of chinos.
Formal, but not too formal. The brogue pattern and lighter shade of brown work in your favor.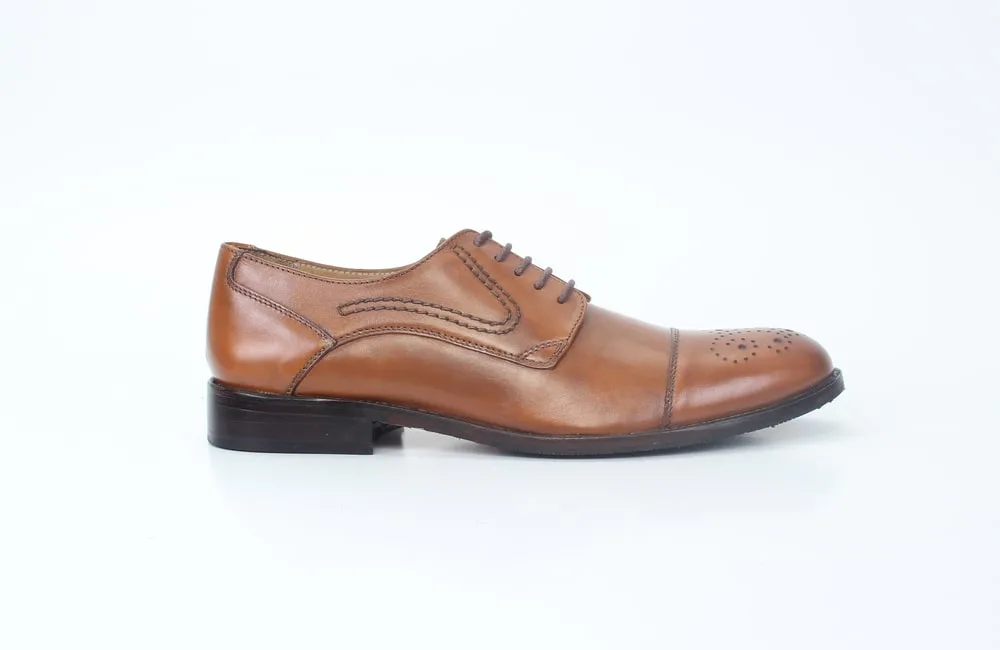 Now let's say you're dressing for a cousin's birthday party with a pretty casual vibe. You want to look stylish but dressing up isn't a priority.
Having said that, you want your shoes to make a statement and don't want to go too casual (like the options in the next section).
You could wear a cuffed, slim-fit, casual-looking pair of chinos, a well-fitted polo shirt, and a nice pair of leather penny loafers.
Casual Options
If you wanted to go more casual, you've got plenty of options to go with the combo of the day.
Polos and chinos work phenomenally well with typical summer casual shoes such as boat shoes, moccasins, suede loafers, and even white sneakers.
How casual you go really just depends on what you're dressing for. In general, if you aren't sure, it's usually best to overdress than to underdress.
If you wanted to really rock a casual aesthetic you could cuff or pinroll the chinos and not wear socks (or no-show socks).
To sum this all up, the range of shoes you have to choose from here is very wide. As always, stick to basic principles when guiding your decisions.
Take the weather, as well as how formal the occasion is into consideration.
Conclusion
It's important to understand that although the combination is versatile, there are some pretty well-established do's and don'ts when it comes to wearing it.
Hopefully, this article has given you a solid foundation for your own experimentation.
Use this as a guide and not as a collection of hard-and-fast rules. Remember to have fun with it.
Enjoy!
Ready Sleek founder. Obsessed with casual style and the minimalist approach to building a highly functional wardrobe. Also a fan of classic, vintage hairstyles.