Boat shoes are a staple of casual summer footwear. You're about to learn exactly when and where you can wear them in the most effective way possible.
It's not always easy to know when or where it is appropriate to wear this shoe.
Lucky for you, we'll be answering some of the most common questions people have when it comes to this topic.
When Can You Wear Boat Shoes?
Boat shoes are traditionally summer shoes and are ideally suited for casual spring or summer events such as garden parties. While they make for a stylish addition to many casual outfits, the siped sole adds the practical benefit of good grip in wet weather as well.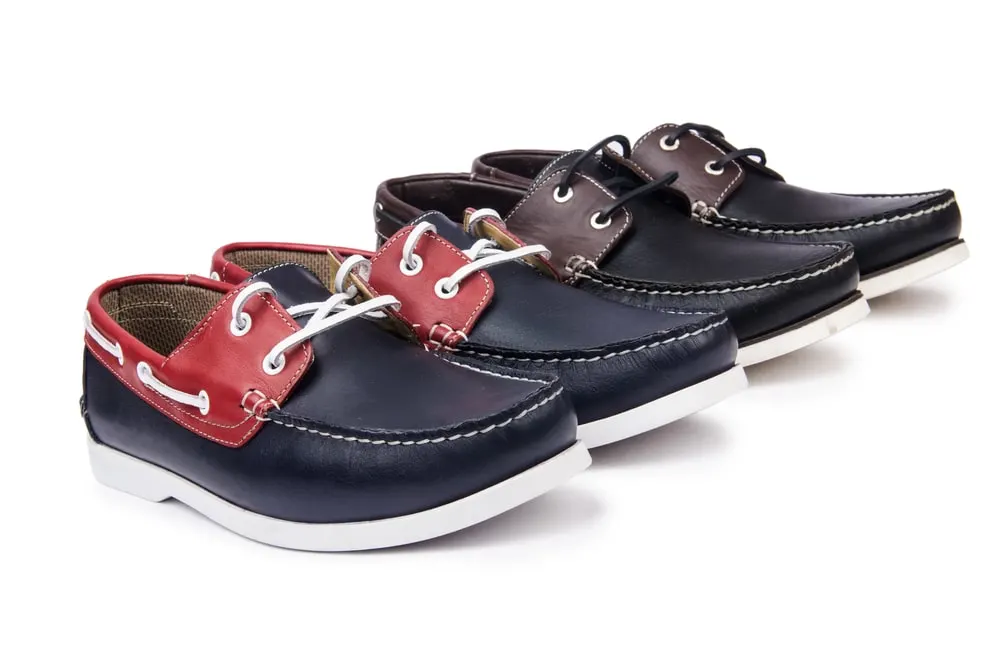 With that in mind, let's go through some of the places that are best suited for wearing boat shoes in a little more detail.
1. Casual Outdoor Affairs
Warm weather, grass, outdoor cooking – boat shoes are perfect for this kind of event.
You will look the part wearing your boat shoes to a garden party, and most likely you won't be the only one.
Nowadays it is easy to get boat shoes in a variety of bright colors, not just the traditional brown, which is great for achieving a summer vibe perfect for garden parties.
Boat shoes are usually made with a water repellent finish, which means you don't need to worry about water damage at outdoor events.
As well as garden parties, boat shoes are perfect for the casual beach or lakeside events.
While boat shoes do ooze a great casual aesthetic, they're also fine for "smart-casual" dress codes. This is a notch more formal than "casual", and a notch less formal than "business casual".
Example Outfit: Navy blazer, white Henley T-shirt, cuffed khakis, and brown boat shoes.
2. Wet Surfaces
Perhaps an obvious one – but boat shoes were traditionally designed to be worn on boats.
As well as having a water repellent finish (and hence being perfect for wearing on the wet deck of a boat) they have been designed with a herringbone pattern etched into the sole which gives extra good grip.
The sole of the traditional boat shoe is white, which also means no scuff marks on the boat deck.
So if you have any yacht parties coming up – the boat shoe is your ideal choice.
But this practical benefit of boat shoes isn't just useful in a maritime setting.
Walking in wet and rainy weather can be difficult when it's also warm. A pair of boots would be inappropriate but casual summer shoes such as moccasins or espadrilles would be a slipping hazard.
Boat shoes have the benefit of being breathable in the summer but also give you enough grip to walk comfortably in wet weather.
3. Travel
This one isn't so obvious.
Boat shoes are not ideal for hiking on uneven terrain- they don't have the necessary traction and lack the ankle support needed for this type of activity.
However, if you are going to be traveling by plane or public transport, and walking mostly on man-made terrain – boat shoes are not a bad choice.
This is because once you have broken in your boat shoes, the leather molds to your foot and becomes very comfortable over time.
They can also be slipped on and off easily on the plane without hassle.
So for most types of travel, boat shoes can be very convenient and an easy way to add style to your travel outfit.
Essentially, boat shoes are multi-purpose. They're stylish and practical – this makes them an invaluable pair to own, especially when you're frequently on the go.
Can You Wear Boat Shoes In The Winter?
Boat shoes were specifically designed to be worn in warmer weather and are generally not suitable for winter wear. They leave a lot of the foot exposed and vulnerable to the cold.
As boat shoes are designed to be worn without socks, this means that they are just not practical in the colder months.
They are also low cut at the ankle, so will offer less protection against the snow and wind.
However, if you really aren't ready to let your boat shoes go, the general advice is to go for thicker socks and longer trousers to minimize the impact of the cold weather on your feet and ankles.
The long trousers should also hide the longer socks being worn with the boat shoes – a combination generally frowned upon.
You may also be able to find some boat shoes that have thicker soles for added insulation and grip in cold weather.
One of the few benefits of boat shoes in the winter would be the siped sole giving you plenty of grip in wet weather. In addition, the oil-infused leather is water-repellant and should prevent water from seeping through.
Overall, however, the exposure of the foot will make boat shoes an awkward and impractical choice in the winter.
More appropriate casual winter shoes include sneakers or a pair of casual boots such as chukkas or Chelseas.
Can You Wear Boat Shoes In The Fall?
Although less traditional, boat shoes can be worn in the fall as long as the weather permits it. While they should provide a good grip in wetter weather, they may leave too much of the foot exposed during the colder days of fall.
This is contentious, as traditionalists will tell you boat shoes shouldn't be worn outside of the summer months.
However, the weather in the fall is less harsh than in the winter months, so you can still keep your feet comfortable in boat shoes in the fall if the weather remains mild.
This is ultimately a personal style choice.
Boat shoes in the fall don't look as awkward as they do in the winter. It's just important to take each day as it comes and figure out if it's just about warm enough to pull off boat shoes.
In terms of color, fall is the time of year for muted solids. Browns, olive green, navy, burgundy – they could all work well for your boat shoes.
But are boat shoes the best option in the fall? Probably not.
In general, boots would be more suitable. They're more practical, sturdy, and weatherproof during cooler months like these. They give you the option of wearing higher socks – again, a better option in the fall.
If the weather does allow you to wear boat shoes in the fall, ensure that the rest of your outfit doesn't look too wintery.
An extra warm pea coat can look quite strange when combined with boat shoes – a clash between classic summer wear and classic fall/winter wear.
Instead, go for a light overcoat and other items that can be easily layered. Polos, Henleys, and cardigans are reasonable options for the upper body.
Can You Wear Boat Shoes When Golfing?
Boat shoes can sometimes be worn for playing casual golf, but they lack the necessary grip on the golf course that proper golf shoes have. Therefore, most people who regularly play golf will invest in a pair of golf shoes instead.
Before you go golfing, remember to check the rules at the specific golf club you are attending.
Some golf clubs are stricter and won't allow you to wear non-golf shoes on the course at all.
At these clubs, wearing boat shoes to play golf would be out of the question.
But don't be too disappointed- boat shoes are still perfectly suitable to wear in the golf clubhouse or on the patio.
They're a stylish addition to the smart-casual outfits often worn in "golf settings" off of the golf course.
They are a popular style choice in the summer months at golf clubs. Paired with chinos and a Polo shirt, boat shoes could make for the ideal addition to the casual or smart-casual event at a golf club.
But when it comes to actually playing golf, boat shoes probably wouldn't give you the grip you need for optimal performance.
Even if you're allowed to wear them in the first place, a pair of golf shoes would be a lot more appropriate. The wide track rubber soles have sharp tongs to prevent slippage on the grass.
For example, here's a pair of golf shoes on Amazon.
Golf shoes also often have extra padding to support the midfoot and absorb shock. The midfoot support is especially important as golfers often end their stroke on the balls of their feet.
This midfoot support is something boat shoes really couldn't provide.
Spiked golf shoes also exist to provide an even better grip on the green.
To sum that up, although boat shoes may be a reasonable option for golfing, they won't provide the support or functionality for optimal performance on the golf course.
Can You Wear Boat Shoes To A Wedding?
Boat shoes are a casual shoe style or smart-casual at best, so are not generally appropriate for formal events such as weddings. Even for the more casual summer weddings, a slip-on dress shoe such as a penny loafer would be a better option than boat shoes.
Boat shoes add a laid-back, casual vibe to most outfits, therefore they aren't suitable for cocktail or formal attire.
As mentioned above, if you are looking for a similarly easy-to-slip-on comfortable shoe for a smart-casual wedding, you'd be better off opting for a penny loafer shoe.
Penny loafers are still on the more casual end of the spectrum of dress shoes. However, a well-maintained pair of brown leather penny loafers would still be a lot more appropriate to wear to a wedding than boat shoes.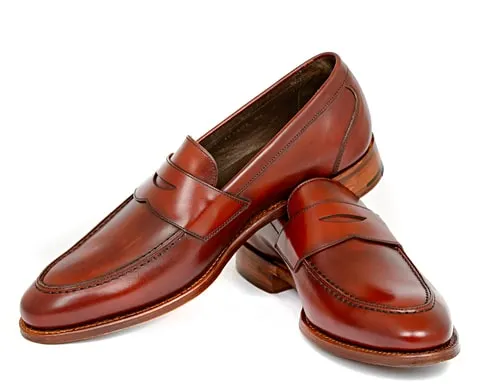 A summer wedding that takes place predominantly outdoors may make penny loafers acceptable. Examples include lakeside or beach weddings.
An example outfit would be a navy blazer with an off-white pocket square, a white dress shirt, a smart pair of stone chinos, and brown leather penny or maybe tassel loafers.
But unless the bride and groom are planning an exceptionally casual affair, boat shoes are best avoided at weddings.
If you have any doubt whatsoever, it's worth finding out well in advance. Underdressing for a wedding is never a good feeling.
Can You Wear Boat Shoes To A Club?
As boat shoes are casual shoes, they can be suitable for certain clubs that accept a less formal dress code. It's also important to consider if the weather would permit boat shoes, as the exposed foot may be impractical during the cooler night hours.
It is important to ask yourself – what kind of club am I attending?
More formal clubs may actually stipulate a dress code and not allow for more casual shoes such as boat shoes, sneakers, and espadrilles.
This being said, many clubs will accept less formal attire and boat shoes can be entirely appropriate in these venues.
Boat shoes will also keep your feet feeling comfortable despite all the dancing you may be planning on doing.
The grip of the siped sole should also prevent slippage on the dancefloor.
Overall, boat shoes are a practical option for a club if they're permitted.
If you're in doubt, find out the dress code in advance. Even if they're permitted, it's often best to lean toward the smart-casual end of the spectrum.
For example, go for a polo shirt instead of a normal T-shirt. Go for chinos instead of jeans.
And so on..
The boat shoes should also be appropriate for the weather. While boat shoes may look like a reasonable option in the summer months or in countries with a warmer climate, they'll look awkward in colder weather.
This is especially true at night time once the club closes.
But yes – for the more "casual" club, a pair of boat shoes in the summer could be a good choice.
Can You Wear Boat Shoes With A Blazer?
Boat shoes can be worn with a blazer. The pairing works well in smart-casual summer and spring outfits, often combined with other items such as Henley shirts and chinos. Examples of events where a blazer and boat shoes could be appropriate include garden parties and dinners at mid-range restaurants.
It is easy to get this combination wrong if you opt for a blazer that is too formal.
Opting for a lighter colored blazer in a pastel shade can tone down the blazer's 'formal effect', and can look great with boat shoes.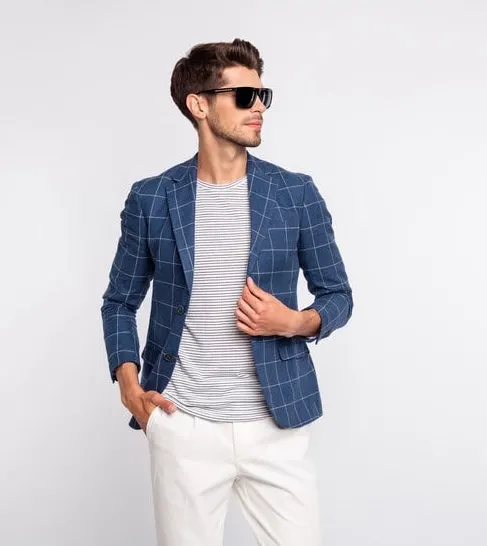 Beige-toned blazers together with boat shoes can also work very well, as again they are generally more relaxed-looking.
A blazer made of lightweight material, such as cotton or linen, will also pair well.
Choosing a blazer with a more unstructured and less fitted design will help to project a casual aesthetic that works so well with boat shoes.
It's important to recognize, however, that boat shoes should not be worn in "business-casual" outfits.
These are outfits that would be appropriate for office and work settings. They will always lead more toward the "business" end of the spectrum than the "casual" end.
While a blazer is perfectly appropriate for business casual outfits, boat shoes would simply look too casual.
A pair of Derbys, monkstraps, or loafers worn with khakis would be a lot more appropriate than boat shoes would be in a business-casual setting.
Dress codes can be tricky to get right. If the event doesn't specify what it is, consider what the event actually is.
If it's an office or work setting (whether inside or outside of the workplace itself), there's a good chance it may be a business-casual setting.
If it's clearly a casual event where you know a polo shirt or Henley shirt with jeans would be fine, adding a blazer and boat shoes to the ensemble would most likely be completely reasonable.
Can You Wear Boat Shoes With A Suit?
Boat shoes are not a good shoe to be worn with a business suit, as they clash with the formal aesthetic that a suit exudes. Oxford or Derby shoes would be more appropriate. Boat shoes should only be worn with very casual suits such as lightly-colored linen suits.
Formal suits are usually worn to formal events, such as weddings or business affairs. Some people will have to wear one to their work setting.
As you may have gathered from this article, boat shoes promote a laid-back, casual aesthetic that would clash with a formal suit.
The safest advice is to avoid this combination if you want to avoid a fashion faux-pas.
Boat shoes are best worn with slim jeans, khakis, chinos, or slacks. They also look great with shorts and Nantucket reds.
Shirt-wise, opt for a polo shirt, or an oxford button-down shirt. Even a t-shirt in a complementary color can look great with boat shoes.
The main take-home point is; don't wear boat shoes with your formal suit. They should be restricted to casual or smart-casual dress codes.
Casual suits do exist and are often worn to smart-casual events. They're often made from more "casual" fabrics such as linen and often have bolder patterns or brighter/lighter colors.
Boat shoes may be a reasonable option with these casual suits as the formality levels won't conflict.
However, there's a good chance that a slightly more "formal" casual shoe such as suede loafers would look better.
Conclusion
Well, there you have it; hopefully, you are feeling a bit more confident about when and where you can wear your boat shoes.
There are so many more options now when it comes to the style and color of your boat shoes that you can really make them your own.
Above all; have fun with your styling and be comfortable.
The more comfortable you are, the more relaxed your aesthetic will be – and that is what boat shoes are known for.
Ready Sleek founder. Obsessed with casual style and the minimalist approach to building a highly functional wardrobe. Also a fan of classic, vintage hairstyles.