Dressing for a wedding doesn't have to be painful. It often is, but doesn't have to be. Dress code confusion is a key culprit and footwear should take some of the blame. That begs the question; can you wear loafers to a wedding?
Loafers can be worn to both casual and formal weddings when paired with an appropriate outfit. Certain types, colors, and styles of loafers are more formal than others and this needs to be factored into the decision. Some can be worn with suits, while others can't. Ultimately, black-tie is the only wedding dress code where you should really avoid loafers if possible.
That's the gist. But as you'd expect, there's more to it.
Underdressing for a wedding is a possibility when it comes to loafers. Traditionally, it has always been considered one of the more casual dress shoes you could wear.
This article will teach you how to figure out whether you can wear a specific pair of loafers to the specific wedding in question.
Saving yourself the faux pas alone would make it worth reading until the end, right?
I'll also be talking about colors, going sockless, and whether a groom should ever dare to wear loafers to his own wedding.
Let's get to it.
Can You Really Wear Loafers To A Wedding?
The glorious versatility of loafers does allow you to wear them to most weddings, but certainly not all of them.
To understand what's appropriate and what isn't, it's worth first running through the main dress codes you're likely to come across on a wedding invitation.
Black-Tie – Usually an evening event and a tuxedo is required. Go for black or midnight blue.
Formal/ Black-Tie Optional – A notch less formal but a tuxedo would still be appropriate. A dark worsted wool suit is usually best.
Cocktail Attire – A very common wedding dress code. A suit is still most appropriate but lighter shades and splashes of flair and color would be fine. A suit separate (spezzato style) would also most likely be OK.
Casual – Go wild but not too wild. Essentially, smart-casual (a.k.a business casual) is about as casual as you should really go. Think sports coats and chinos.
The question is, can loafers be worn for these dress codes?
Black-tie is really the only dress code where you should stay clear of loafers completely. There may be a few fashion-forward outsiders who might disagree, but at the end of the day, it really isn't worth the risk.
Even the blackest, shiniest pair of leather horsebit loafers would pale in comparison to cap-toe Oxfords when worn with a tuxedo.
For the other dress codes, you should be able to wear a pair of loafers of some variety.
What I mean by that is, yes – but it depends on what type of loafers.
As I mentioned earlier, the main risk is underdressing when it comes to loafers. There will definitely be some loafers that definitely aren't formal enough for a formal/black-tie optional wedding dress code.
That brings us to the simple 2-step process you should use to decide which pair of loafers you should wear for the specific wedding you're attending.
How To Wear Loafers To A Wedding: The 2-Step Process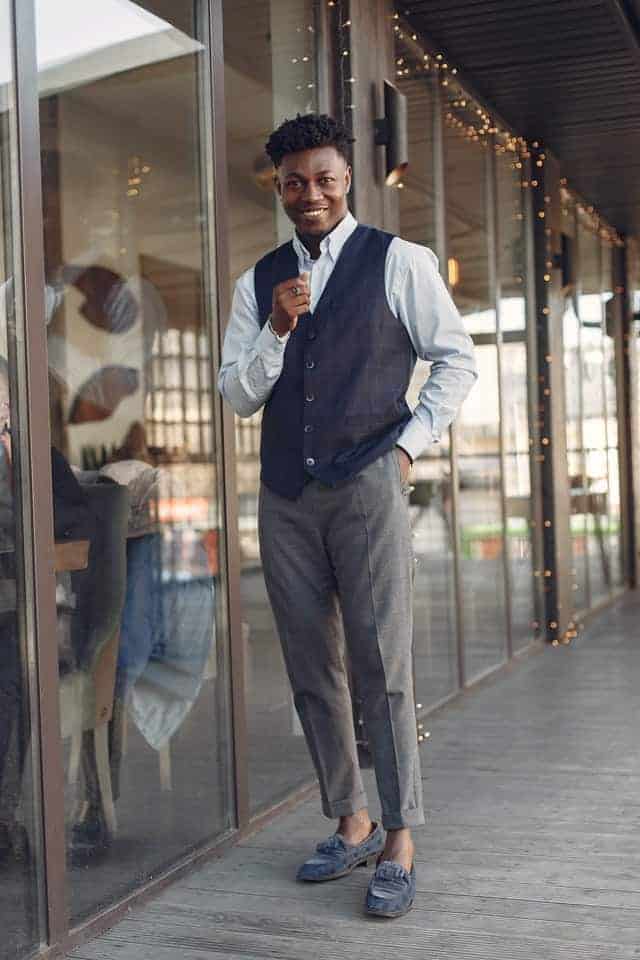 So you've merrily opened the wedding invitation and it's still hot in your hands. Here is the two-step process you need to follow.
Spoiler alert – it isn't rocket science.
1. Find Out The Dress Code
Almost all wedding invitations will let you know what the dress code is. It will most likely be one of the dress codes I listed above.
That's the easy part.
The hard part is interpreting it and making sure you don't mess up.
If it says "black-tie", your decision has been made so much simpler. Loafers are out of the question.
But if it's "formal/ black-tie optional", "cocktail attire", or "casual", move on to step two.
2. Pick The Right Pair Of Loafers
Loafers differ from each other in three main ways:
The material
The color
The style
Each of these differences can make a pair of loafers look more or less casual. Let's talk about each of them in turn.
The Material
Loafers are most commonly made in either leather or suede. Technically suede is a specific grade and finish of leather that simply looks softer and more napped.
But the difference is immediately obvious and suede will always look more casual than leather.
Wear suede loafers to casual weddings. As I mentioned earlier, when it comes to "casual" weddings, don't go any more casual than smart-casual.
Wear leather loafers for cocktail attire and formal weddings.
The Color
Black loafers will always look more formal than brown, and darker shades of brown will always look more formal than lighter shades of brown.
For formal/black-tie optional dress codes, go for black or dark brown without question.
For cocktail attire and casual dress codes you've got a little more choice, but sticking to brown would definitely be a good idea.
Go for a lighter shade of brown (like tan) for cocktail attire. Avoid anything too intense, bright, or obvious. One of the dangers is upstaging the groom.
Next up is the style of loafer and why it's so important. This is so important that it really does deserve its own section.
Choosing The Right Style Of Loafer For A Wedding
Loafers have transformed in so many different ways since their birth in Norway. They've become a serious cultural phenomenon over the years.
There are several different types of loafers but I wanted to go through the three main ones and when you could wear them to weddings.
Horsebit Loafers
Also known as Gucci Loafers, these are widely considered to be the most formal type of loafer you could wear.
Created by Gucci in the 1950s, he revolutionized the traditional slip-on design with his most famous addition; the metal buckle on top.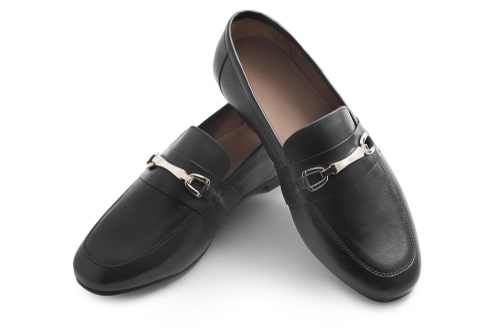 Shaped like a horse bit, the metal buckle can come in a variety of different metals; from silver to brass.
The horsebit loafer is really the only style of loafer that can be considered formal enough to wear with a suit.
Stick to leather and darker colors and a pair of horsebit loafers will most likely pair well with a formal suit.
Do bear in mind that it still won't look as formal as a dark pair of Derbys or cap-toe Oxfords, for instance.
But it should still work. In fact, it can be a nice way to subtly stand out from the crowd without looking like you're trying to upstage the groom.
Plus, a nice touch would be to match the color of the metal horsebit to your cufflinks or studs.
Penny Loafers
These will look less formal than horsebit loafers. They're characterized by a leather strap across the vamp, usually with a diamond-shaped cutout.
As a general principle, avoid wearing penny loafers with suits no matter how dark or leathery the finish is.
Penny loafers are hugely popular worldwide and have many use cases.
But they should always be considered a casual shoe and wearing them with a suit will usually look awkward.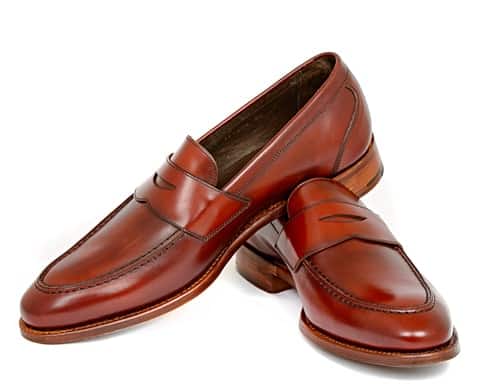 So, this generally means you should avoid wearing them for formal and even cocktail dress codes.
But they may work perfectly well for casual weddings.
For a casual wedding, you'll still most likely want to be wearing a blazer or sports coat. Chinos are often a good option for your pants.
You want a laid-back pair of shoes that still makes it clear that you're stylish and have made an effort for the occasion.
Penny loafers are often a great option.
They're especially ideal for casual, summer, beach weddings.
Tassel Loafers
Tassel loafers are about as formal as penny loafers, but you could argue that they were actually a notch less formal.
They're defined by the prominent tassel on the vamp; a fun and decorative addition to the classic loafer design.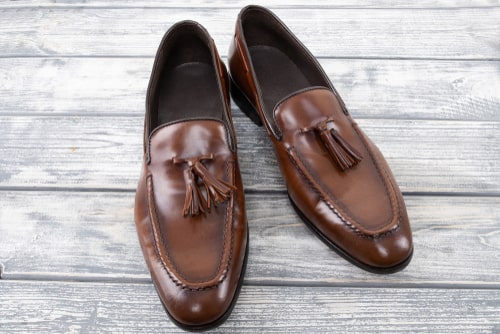 The tassel does add a distinctive, casual vibe.
They're generally more popular with older gentlemen, but the more vibrant colors and suede finishes are popular with a younger crowd as well.
At the end of the day, the same rules that applied to penny loafers apply to tassel loafers.
Sure, dark brown or black leather will look more formal than suede.
But it's still best to avoid wearing tassel loafers with a suit if possible. In other words, you can wear them as part of a smart-casual wedding outfit, but avoid wearing them to formal or cocktail attire events.
Wearing a suede pair with a smart-casual suit like the one below would work well.
How To Wear Loafers To Beach Weddings
When wearing loafers to a beach wedding you'll need to prioritize comfort. Sitting through a ceremony in the sun might sound like fun, but it can be pretty unpleasant if you aren't prepared.
If the dress code is casual, loafers are an excellent option.
Having the top of the foot exposed will allow it to breathe and keep your feet a little cooler in the heat.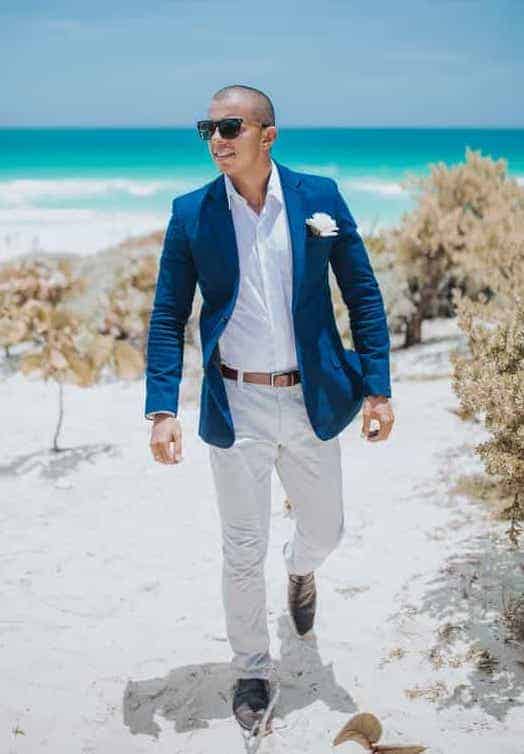 Suede penny loafers and tassel loafers are great options for beach weddings in the summer.
For the rest of your outfit, you'll want to stick to breathable fabrics such as cotton, linen, or seersucker. Chinos work great for smart-casual events on the beach.
Can You Wear Loafers With No Socks To A Wedding?
As a general rule, loafers should never be worn without socks regardless of whether it's to a wedding or not.
Unlike boat shoes, they weren't designed to be worn without socks.
Because of this, walking around in loafers without socks can be pretty uncomfortable and quite painful after a while.
Plus, wearing loafers without socks can cause some hygiene issues as well.
So, no matter what the dress code is and no matter what you're wearing those loafers with, you'll need to wear socks.
If you're wearing a suit and horsebit loafers to the wedding, you'll need to wear over-the-calf socks.
But if you're wearing loafers (either horsebit, tassel, or penny) to a casual wedding, you could potentially get away with wearing invisible (no-show) socks.
Bear in mind that the sockless appearance is very casual, so you'll need to gauge whether the wedding you're attending is casual enough to allow it.
Can A Groom Wear Loafers To His Wedding?
If his guests can wear loafers to his wedding, the groom can too. There's no reason why not and it can definitely work if styled effectively.
But the main point to consider here is that the groom is traditionally meant to dress in a way that helps him stand out from the crowd.
This might mean dressing in white-tie to a black-tie event, or just using brighter colors and wearing less common items of clothing.
A pair of loafers may be absolutely fine. But a groom should ensure that his loafers stand out a little.
Choosing loafers in a more unusual color such as navy blue or gray suede might be one way to achieve this.
Of course, this wouldn't be appropriate with all dress codes. After all, those colors would look quite awkward with a black suit.
But try to look for loafers with a distinctive feature that will make them stand out from the crowd while still sticking to the formality of the event overall.
Black Loafers Vs Brown Loafers To Weddings
Sometimes, it really isn't easy to decide between wearing a pair of black loafers or brown loafers to a wedding.
As I mentioned earlier, black will always be considered more formal than brown – even dark brown.
So if you're looking to wear a pair for a formal/black-tie optional wedding, strongly consider black loafers. Dark brown at the very least.
But if you're looking to dress for a smart-casual wedding, brown will be a better choice.
This isn't simply because it'll look more casual and laid-back, while black may immediately come across as overdressed.
It's also because brown is a much more versatile color.
You'd be able to comfortably pull out a brown pair of loafers for a very wide range of occasions and settings in the future. A black pair will usually only make sense for more formal outfits.
Just remember, the darker the shade of brown, the more formal it will look. In addition, brown leather is more formal than brown suede.
Conclusion
A pair of loafers may eventually become one of the most worn dress shoes in your collection.
The versatility can't be denied, but it's clear that a lot of men wear them when they may not be entirely appropriate.
Underdressing to a wedding is an experience you'd rather avoid if possible.
Hopefully, this article has given you enough information to significantly reduce the risk of that happening.