Most people will have heard of the idea that wearing white to a wedding as a female guest is frowned upon, in case focus is stolen away from the bride.
Although perhaps an old-fashioned notion, does this apply to male guests as well?
Let's get to it.
Can Men Wear White To A Wedding?
Yes, men can wear white to a wedding, although the dress code should always be confirmed and the bride and groom consulted with first if necessary. White suits are particularly suitable for spring or summer weddings.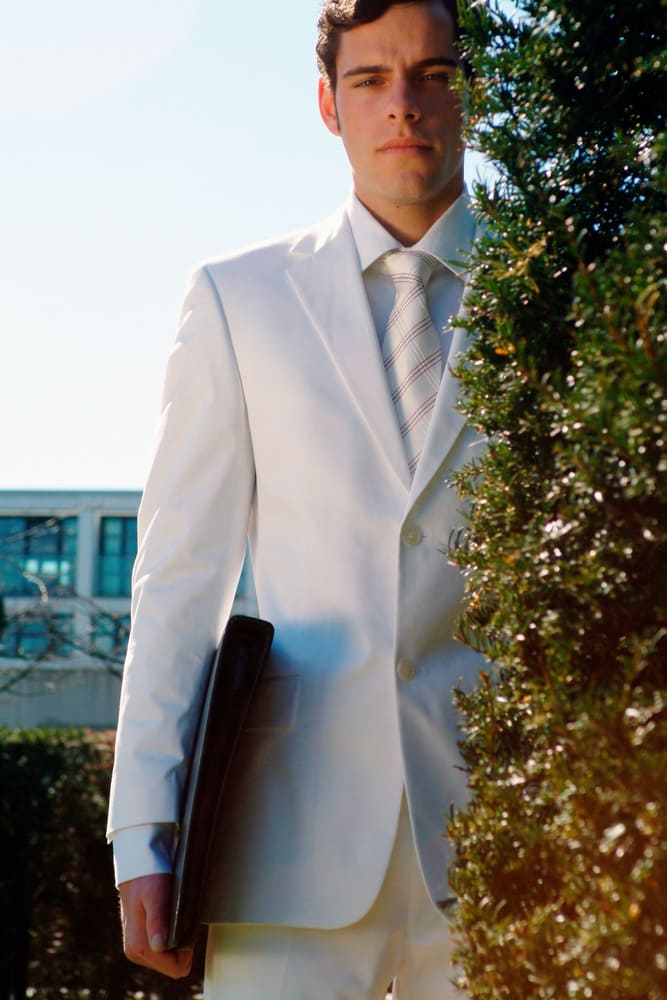 Unlike wearing white as a female guest to a wedding, there is no specific rule for men wearing white, particularly as it pertains to the bride. However, this doesn't mean that it is always appropriate to wear a white suit to a wedding as a male guest.
When answering the question as to whether you can wear white to a wedding as a male guest, a lot of the answer depends on several factors related to the wedding itself.
For instance, is there a specific dress code?
Wearing white to a wedding that is black-tie formal is generally a no-no, as you can bet that pretty much all other male guests will be in black tuxedos.
Similarly, if you know that most of the other male guests will be wearing dark suits, in greys, navy, or black, then wearing a white suit will make you stick out like a sore thumb.
On the other hand, if you are attending a summer wedding, where many of the other male guests are wearing light-colored suits, then a white suit may be entirely appropriate.
Some weddings might even ask guests to follow a black and white dress code, in which case you're in luck.
The important thing here is to read the room and ask around what other guests are wearing, then follow that general trend.
Another thing to consider is whether any of the wedding party will be wearing white suits.
If the dress code for the groomsmen, or even the groom, is an all-white suit, then it is probably best to avoid wearing an all-white suit too, unless you want to be accidentally confused for one of the wedding parties.
The overall message here that I want to emphasize is that you can wear a white suit as a male guest to a wedding in certain situations.
You just need to remember to check your invitation for a dress code, ask other guests what they will be wearing, and double-check if the groom and bride are happy with you wearing white to the wedding if you are still unsure.
If you've double-checked all of these things and you have the green light to go ahead, then you're ready to get started with styling your white outfit.
5 Tips On How To Wear White To A Wedding
Now that you've established that wearing a predominantly white outfit as a wedding guest is not going to lead to any major fashion faux-pas, you can relax and get started with assembling your outfit.
Even though you've had the go-ahead, there are still a few things to keep in mind when wearing a white suit to a wedding as a guest.
Let's go through some tips you should know before you finalise your outfit.
1. Choose An Off-White Suit
Even though you have checked that wearing a white suit to the wedding is ok with the main couple of the day, wearing a pure white suit can still be a little too eye-catching as a wedding guest.
Unless the dress code has specified a pure white theme for guests, consider opting for a suit that is in an off-white shade instead.
Think cream, vanilla, ivory, eggshell, or champagne shades, instead of plain white.
This will avoid you looking too bright but also fulfill the aim of wearing an overall white outfit.
The added bonus of reflecting sunlight and therefore not being as heat-absorbing as a dark suit would be in the warmer months is yet another reason why wearing a suit in an off-white shade is perfect for a summer wedding.
By choosing a suit in an off-white shade, you can stay cool whilst looking fashionable.
2. Choose Non-White Shoes
If you're wearing a white, or off-white suit, wearing matching all-white shoes causes your outfit items to blend into each other, but not in a good way.
If all of your outfit is white, from the jacket down to your shoes, there is no distinction between your shoes and your suit and you will likely look washed out.
A way to avoid this is by choosing shoes that have some color so that there is a nice contrast between your suit and shoes.
The good news is that with white or off-white suits, you can play around with several different shoe colors as most things will complement white or off-white.
Brown shoes pair well with warm cream colors, and you might want to choose a light grey or navy shoe for a cooler toned off-white suit such as eggshell or pale grey.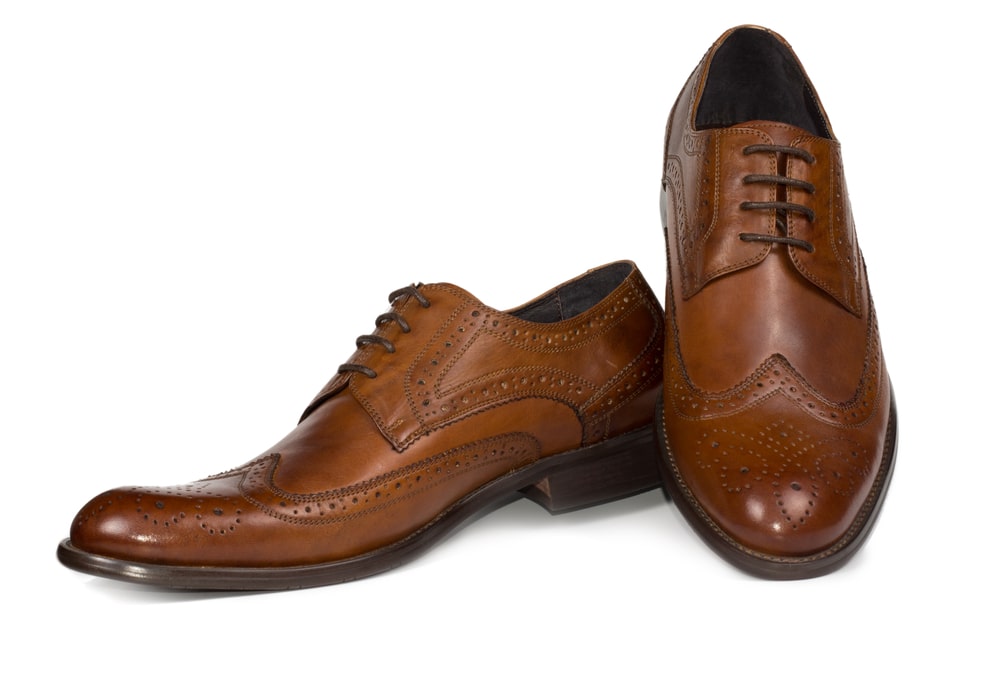 Black oxfords or loafers can also look good with white suits, but consider adding a splash of black in your outfit to balance this out, for instance, black suit buttons or a black belt.
Avoid very bright colors such as red, orange, and pinks in your shoes when attending a wedding for obvious reasons; you still want to show that you've dressed appropriately for what is seen as an important life event.
3. Consider A Patterned Suit
As well as choosing an off-white color, by opting for a lightly patterned suit you can also reduce the starkness of wearing an all-white suit.
Now, this tip isn't a must, and you may prefer to wear a plain off-white suit to a wedding, which is absolutely fine.
However, if you are concerned that a completely plain white suit would stand out a little too much for the wedding you will be attending, then wearing a white suit that has a pattern reduces the effect of the eye-catching white.
I'm not talking about bold, heavily colored patterns, as this would definitely draw the eye; think of a thin windowpane check suit pattern or a subtle pinstripe pattern.
These both look smart, don't stand out in a gaudy way, but also cut through the tendency of white suits to reflect the light and catch everyone's eye.
Having a subtle pattern overlaying a white suit also adds a bit of individuality, can make the whole outfit look more interesting and be a way for you to express your personal style.
You're sure to get more comments and compliments if you wear a patterned suit, so it's worth considering.
4. Consider A Colored Shirt
The big question when you wear a white suit is, what color shirt should you wear? Is a white shirt ok, or is this too much?
The answer to this question depends on what type of suit you have decided to wear.
If you have decided to wear an off-white suit with a pattern, then wearing a white shirt is acceptable as the pattern creates some distinction between your shirt and your suit.
However, if you are wearing a plain white suit, it is best to steer clear of a matching white shirt.
Here's an example on Amazon:
This is for similar reasons as to why you shouldn't wear an all-white suit with all-white shoes; your whole outfit will simply blend into one big white canvas, which generally isn't a good look.
When it comes to choosing your shirt color, it is best to opt for a color that contrasts nicely with your suit.
For warmer toned off-white suits, think about pastel colors for daytime or more casual events, and darker colors such as forest greens or navy or even black for evening or more formal events.
For cooler-toned off-white suits, light blues work well, as does navy, dark green, and black too.
When choosing the color of your shirt, just be careful that it doesn't clash offensively with your shoes and other points of color in your outfit – the key is to aim for complementary colors that harmonize well.
5. Choose Colored Accessories
The main accessories you will be sporting with a suit are a tie, pocket square, and perhaps some cufflinks and a belt.
When wearing a white suit to a wedding, it is better to consider colored accessories if you can.
This is for two main reasons; first, this means that your accessories won't simply blend into the background of your white suit and fade away. Secondly, adding a pop of color will again soften the starkness of an all-white suit.
However, it's important to choose the color of your accessories carefully so that they do not clash, as having several differently colored accessories that do not complement each other can look haphazard and messy.
I recommend sticking to 2 main different colors at most – for example, brown shoes, brown belt, a blue shirt, a tie in a darker shade of blue, and a matching blue pocket square.
By simplifying the outfit down to two main color themes (in addition to the white color of the suit) the outfit will appear much more cohesive and you will find it much easier to choose the individual outfit items.
When it comes to your cufflinks, if they aren't plain silver or gold, make sure that the color fits in with one of the two main colors you have chosen for the theme of your outfit.
For instance, for the example outfit above, you could choose a pair of silver and blue cufflinks that match the shade of blue of the tie.
By following this general rule, you can move your outfit away from being a blank white canvas and add pops of color in an aesthetically pleasing way.
Conclusion
There is so much you can do with a white suit and it really can be a great fashion choice. I hope that these tips have given you some inspiration on how you can style yours.
So, go and experiment and have fun with creating your unique outfit.