Wearing a grey suit to a wedding can be a great option if done properly. But how exactly should you wear a grey suit to a wedding?
Grey suits can easily be worn to formal, semi-formal, and smart-casual weddings. Dark grey suits are better suited to formal weddings, especially those that take place during the winter and fall. Mid-grey and light grey suits look more casual and can be worn to weddings in a variety of different dress codes.
That's the answer in brief.
Let's go through some tips on how to wear a grey suit to a wedding in more detail, so you can be sure to look your best.
9 Rules For Wearing A Grey Suit To A Wedding
A grey suit is a great base for any outfit given its neutral palette.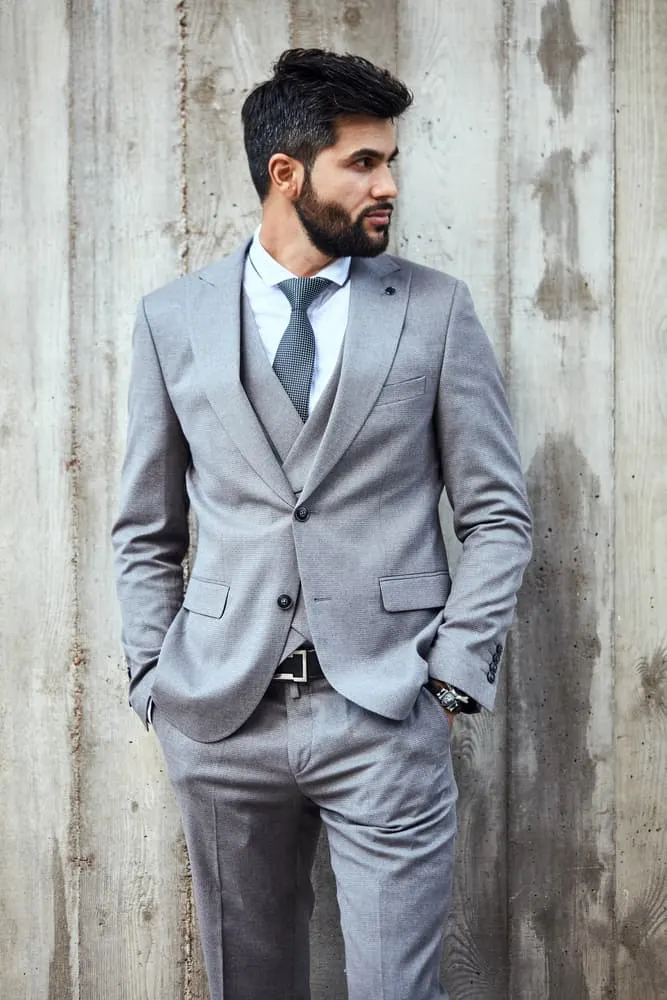 Let's go through the most important tips on how to make the most of your grey suit when attending a wedding.
1. Check The Dress Code
This part is crucial.
Weddings can have dress codes that range from casual all the way up to black tie – you need to know what's expected of you before you assemble your outfit. What weddings all have in common is that the dress code can be tricky to decipher.
For black-tie weddings, black tuxedos will be expected.
For semi-formal or smart-casual weddings, where a full suit is expected but darker colors aren't, wearing a mid-grey or light-grey suit would be appropriate.
Think daytime, summer weddings that may be held in an outdoor venue such as a garden or beach, but not quite as casual as a wedding where sports coats and chinos are acceptable.
At formal weddings such as this, most men will be in dark-colored suits; black, navy, and dark grey suits would usually be the most appropriate options.
Related Reading:
Can You Wear A Grey Suit To A Black-Tie Event?
How To Wear A Grey Suit To An Interview
How To Wear A Grey Suit To A Funeral
2. Consider The Shade Of The Grey Suit
The grey suit is a classic choice for weddings, but the shade of the grey suit makes a huge amount of difference to the overall aesthetic, as well as the suitability.
Dark Grey Suit
When attending a wedding, the dark grey or charcoal suit is a versatile option. It works especially well for more formal or traditional weddings. For formal weddings, pair the grey suit with a crisp white dress shirt and a dark, muted tie color such as navy or burgundy.
A dark grey suit is also a great option for fall and winter weddings, as it pairs well with darker, richer colors.
Light Grey Suit
A light grey suit would work well for the more relaxed, smart-casual, or semi-formal weddings. This is especially true for those that take place during the summer months.
It will inevitably look more casual than a dark grey suit – this is worth bearing in mind.
For more casual weddings, consider swapping your white dress shirt for one in a light shade of blue. Round off the outfit with a pastel tie color (eg. dusty pink) and you're left with a great spring/summer smart-casual suit combination.
If you did want to dress the light grey suit up a notch, consider a dark, muted tie color such as navy, forest green, or crimson.
Mid-Grey Suit
Mid-grey suits generally work well for formal, semi-formal, and smart-casual weddings. They're very versatile.
Similar to the light grey suit, consider wearing a mid-grey suit with a light blue or even a baby pink dress shirt if you feel as though a white dress shirt isn't necessary.
3. Consider The Season
The season should also play a role in determining what type of grey suit would be most appropriate.
Winter
When attending a winter wedding, dark grey suits made from heavier fabrics such as wool or flannel often work well. They're warm, stylish, and effortlessly dressy.
Fall
A mid-grey suit made from a lighter wool or wool blend fabric would work well for a fall wedding. Consider pairing it with ties in fall-friendly colors such as burgundy or forest green.
Summer
When attending a summer wedding, light and mid-grey suits made from lightweight fabrics such as cotton or linen work especially well. While white shirts would be more appropriate for more traditional weddings, shirts in pastel colors do look great at relaxed, smart-casual summer weddings.
Spring
For a spring wedding, consider a mid-grey suit made from a lightweight wool or wool blend fabric. White, light blue, and light pink shirts work well, as do airy tie colors such as lilac and chartreuse.
4. Wear A Light Colored Shirt
When wearing a grey suit to a wedding, light-colored shirts are more appropriate.
The reason for this is that light-colored shirt, for example in white, light pink, grey, or blue, do not contrast too harshly with the softness of the light grey suit, and also pair well with a darker grey suit.
Dark shirts are generally considered inappropriate to wear to weddings. They're too attention-grabbing and out of keeping with the occasion.
In addition, dark shirts such as those in black or navy would often contrast a light grey suit too much.
Overall, it's safest to choose a light-colored or white dress shirt to wear with your grey suit.
This gives the added benefit of providing a light unobtrusive base upon which you can style a tie and other accessories.
5. Choose A Slim-Fitting Suit
Grey suits, particularly light grey suits, look better if they are structured and fit snugly.
It is less obvious with darker-colored suits if the tailoring isn't quite to your size specifications or if the suit is slightly baggy in certain places.
Unfortunately, light-colored suits are less forgiving.
For this reason, it is better to choose a slim-fitting suit if you decide to go grey, and if you can, get a suit that has been tailor-made to your measurements.
Although the expense may be slightly more upfront, you will feel much more confident in yourself and therefore comfortable wearing a suit that fits correctly.
6. Choose The Right Tie Color
Here are some great tie colors you could go for when wearing a grey suit to a wedding:
Navy
Burgundy
Forest Green
Mustard
Light Pink
Lilac
Light Blue
As mentioned earlier, wearing a grey suit is a great opportunity to play around with the colors of your accessories, as it acts as the perfect neutral base.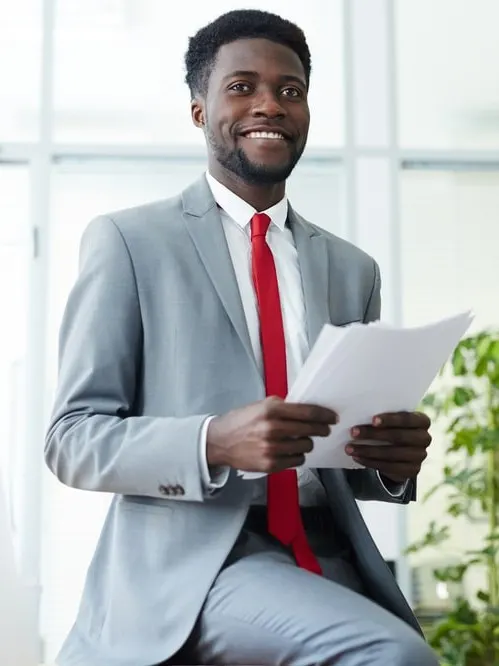 Don't be afraid to wear a colorful tie with your grey suit, as this can finish off your outfit nicely.
Which color you choose depends on what shade of grey your suit is in and also what time of year it is.
Light grey suits tend to be more summery, so you can pair a light grey suit with a light blue or pink tie, or even a butter yellow for spring/summer weddings.
Medium grey suits look good with ties in coral and yellow-orange tones, particularly if worn in the late summer or fall.
Dark grey suits look better with ties in darker hues, which will be more appropriate if worn to a formal wedding. Opt for jewel tones such as forest/hunter green, navy, burgundy, and crimson.
If you end up wearing a darker grey charcoal suit for a summer wedding that is less formal, you can choose a pastel-colored tie to dress things down a notch.
Avoid black ties with a grey suit – as well as making your overall outfit very monochromatic, it can risk looking a little too much like office wear instead of wedding guest attire.
Ultimately, the neutrality of grey gives you plenty of options when it comes to choosing a tie color.
I've written more extensively about tie colors that work well with grey suits if you were interested in digging deeper.
7. Choose Silver Colored Metal Accessories
When wearing a suit, adding a few metal accessories in the form of cufflinks, tie clips, and even lapel pins can add a bit of character and style to your outfit.
With a grey suit, cooler-toned metal accessories in a silver color tend to work better than warmer gold-plated accessories.
Silver blends in well with the neutral base of a grey suit which allows your accessories to be the main pop of color in your outfit.
If you really want to wear gold, opt for white gold accessories, which although slightly warmer toned than silver are still neutral enough to co-exist nicely with a grey suit.
The secondary benefit of silver accessories is that they also tend to be much more affordable than gold.
8. Choose Your Shoe Color Carefully
Choosing the right shoe color is pretty important when it comes to wearing a grey suit.
You have more options when it comes to which shoe color to choose than you would if you were simply wearing a black suit, however you still need to consider the overall color palette of your outfit.
For darker grey suits, you can't go too wrong if you opt for black shoes. This is because the more formal appearance of a dark grey suit goes well with a darker shoe color.
Opting for black shoes means you also don't need to worry so much about any potential clash between your shoe color and the color of your shirt and tie, as black is also a very neutral color that can pair well with many different hues.
For lighter grey suits, you need to be a bit more careful about your shoe choice and make sure you consider whether the color of your shoe goes well with the color of your accessories and shirt and tie.
Tan shoes can look great with light grey suits and will pair well with ties in most colors, such as blues, pastel pinks, darker reds and purples, and greens.
Black shoes can sometimes look a little too harsh if worn with a very light grey suit, so it's best to avoid these if you are wearing a grey suit towards the lighter end of the spectrum.
If you want something a little more eye-catching, you could choose a shoe in a burgundy color. Burgundy shoes are a little more tricky to style due to their bold color.
They look best when paired with darker-hued accessories, such as burgundy, dark blue, and dark green. Avoid light pastel-colored ties with burgundy shoes, as these tend to clash.
As well as looking good when worn with a light grey suit, burgundy shoes can also look great paired with medium-to-dark grey suits.
Related Reading: Shoe Colors For A Grey Suit
9. Avoid Loud And Bold Tie Patterns
Wearing a diagonally striped tie together with a grey suit and white or light blue dress shirt is very reminiscent of office attire.
Although this can be a smart look for work, it doesn't scream wedding.
When choosing a tie to wear with your grey suit then, it's best to avoid a striped tie. If you do wish to wear something patterned, choose a subtle pattern, but it's recommended to choose a monochromatic tie when wearing a grey suit.
Wearing a colored tie and a grey suit is enough of a style statement itself that doesn't require more bells and whistles.
Dark navy or black suits often require a patterned tie to add some interest to the outfit, however, this isn't really necessary when wearing a grey suit.
Frequently Asked Questions
Here are a couple of FAQs on the topic to finish up.
Should You Wear A Grey Suit Or A Blue Suit To A Wedding?
Both blue and grey suits would work well when attending a wedding, with dark shades (eg. navy and charcoal) being more appropriate for formal weddings. Grey suits work especially for winter and fall weddings, while the bright undertones of blue suits tend to look better for spring and summer weddings.
So, consider the season, as well as the dress code when making your decision.
Can You Wear A Grey Suit With A Black Shirt To A Wedding?
In general, it's best to avoid wearing a grey suit with a black shirt to a wedding. While the grey suit would be appropriate, black shirts should never be worn to weddings. Stick to white dress shirts instead, with light blue shirts being a reasonable option for more casual weddings.
Related Reading: How To Wear A Grey Suit With A Black Shirt
Conclusion
Grey suits are a great option for wearing to a wedding and can look really dapper if styled well and worn with the right accessories.
I hope I've given you some insight on how to make your grey suit ensemble stand out so that you can be sure to look your best at that wedding.
Ready Sleek founder. Obsessed with casual style and the minimalist approach to building a highly functional wardrobe. Also a fan of classic, vintage hairstyles.