Color-matching suits and shoes is often made more complicated than it needs to be. However, there are definitely better ways and worse ways of doing it.
So, what color shoes go with a grey suit?
Dark grey suits (eg. charcoal) work well with black and dark brown shoes. Suits in light shades of grey work better with light brown shoes (eg. tan). Medium grey suits can be worn with black, dark brown, light brown, and even oxblood or burgundy shoes.
That's the short answer. But as always, there's more to it.
After going through the main guidelines and principles you should stick to whenever you color match grey suits with shoes, I'll go through some great examples (with pics) you can try out yourself.
Let's get to it.
Color Matching Grey Suits With Shoes: Guidelines
These aren't "rules" by any means. But you should definitely consider all of them before making your decision. More often than not, they'll lead to a combination that works great.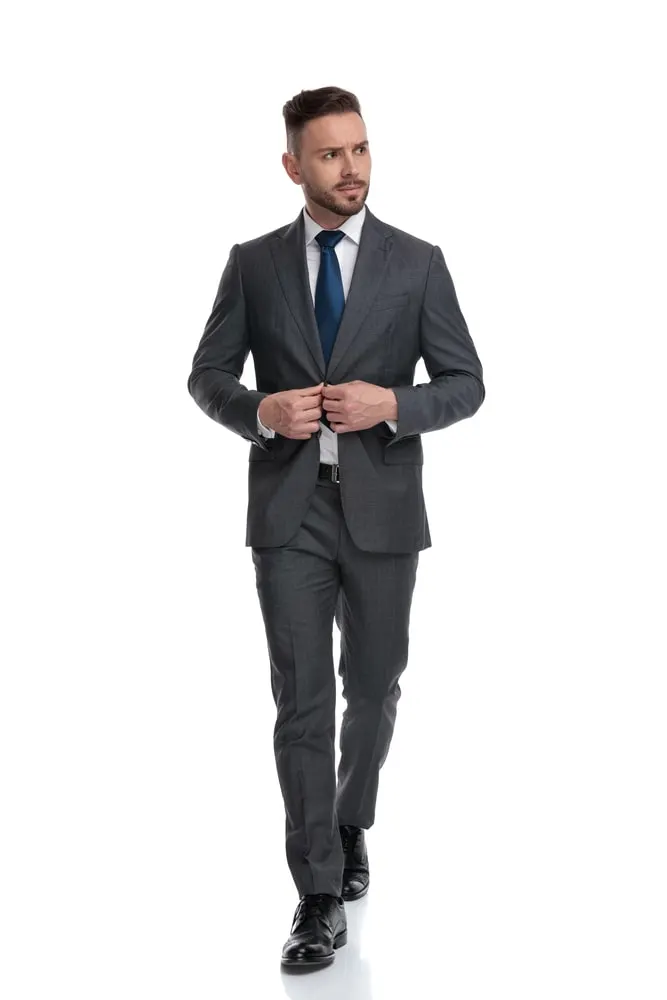 1. Consider The Shade Of Grey
The shade of your grey suit is incredibly important when deciding what shoe color to wear.
"Grey" is a spectrum containing a wide number of shades ranging from very light to very dark.
Because of this, the first step to consider is just how dark the shade of your grey suit really is.
Put simply, dark grey suits generally work better with black and dark brown dress shoes. This is because it leads to less contrast between the suit and the shoes.
Overall, it'll blend so much better.
Light grey suits generally work better with shoes in light shades of brown such as tan brown, although dark brown shoes would be a reasonable (although less preferable) alternative.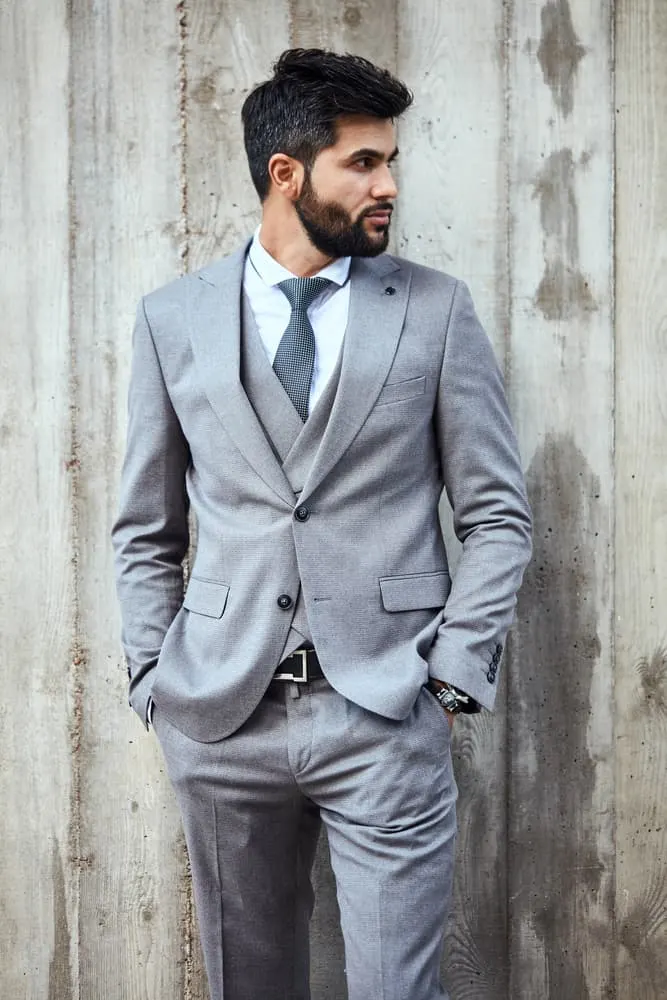 Medium grey suits such as those in steel grey and pewter grey are more versatile. You could quite easily wear them with dark dress shoes (eg. black or dark brown) or shoes in lighter shades of brown.
In addition, you could also wear shoes in oxblood and burgundy and it would still look great.
2. Consider The Formality
Another thing to consider is how formal the setting you're attending is.
When attending a formal setting, darker shades of grey (eg. charcoal) would work better and should be paired with formal and dark dress shoes (black or dark brown).
When attending a more smart-casual or semi-formal setting, suits in lighter shades of grey would generally work better.
It's another reason why you'd be better off wearing shoes in lighter shades of brown – they're just better suited to more casual settings.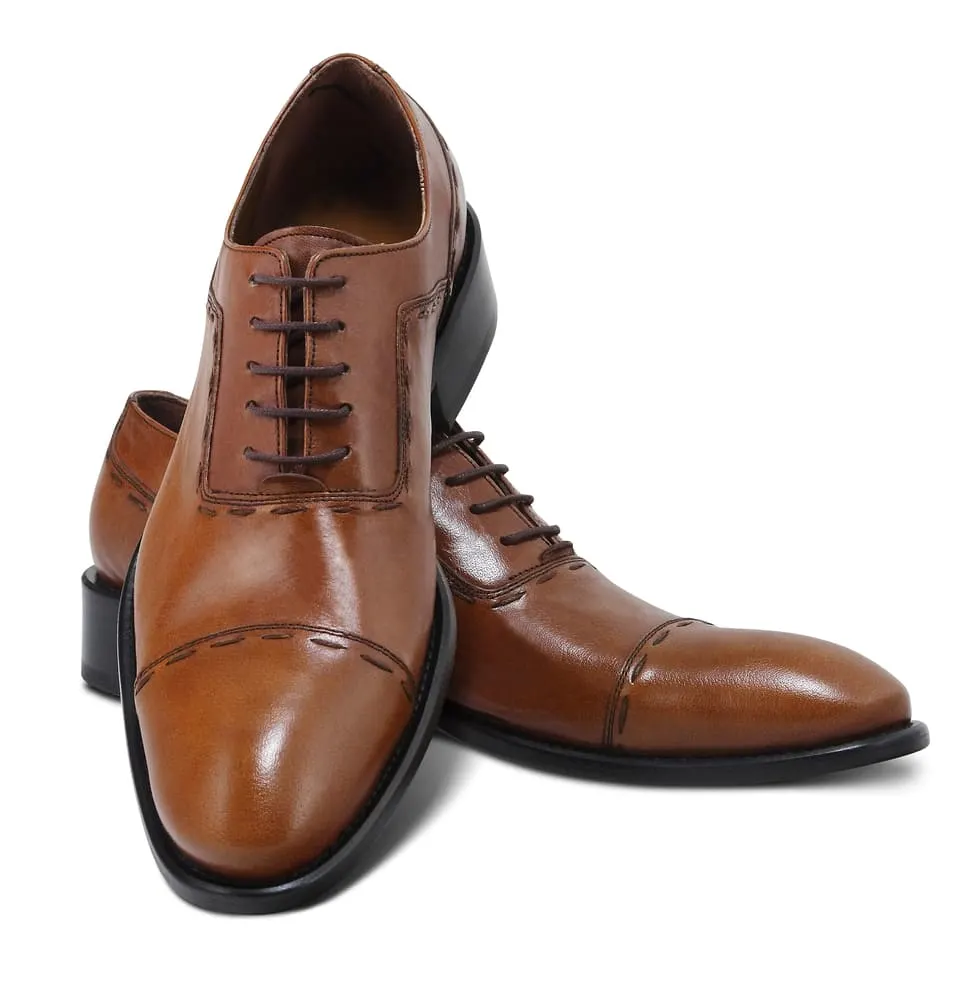 Oxblood and burgundy shoes are commonly worn with grey suits but are usually better suited to more social and smart-casual settings. They aren't quite as appropriate as black or dark brown shoes would be in formal settings.
However, it's not enough to only consider shoe color when thinking about formality.
It's also important to consider the shoe style. In order of reducing formality, here are the main styles of dress shoes you should know:
Oxfords
Derbys
Monk straps
Loafers
A pair of black loafers would still look pretty casual and inappropriate for a formal setting even though they come in the most formal color.
Black/dark brown Oxfords or Derbys would be a lot more appropriate here.
So, both shoe color and style are important to consider.
3. Consider Your Belt Color
Your belt should usually match your shoes.
While it's important to have a range of belt colors to choose from, you may be restricted.
If all you've got is a black belt, wear black shoes.
If all you've got is a brown belt, wear brown shoes.
When buying a new pair of dress shoes, ask yourself whether you've got a belt to go with it. If not, try to get one at the same time.
5 Grey Suit And Shoes Combinations
Now that you've got the guidelines and principles down, it's time to see what these combinations look like first-hand.
Grey Suit And Black Shoes
Grey suits can easily be worn with black shoes for a more monochromatic color scheme, ideal for formal settings. Suits in dark shades of grey such as charcoal work especially well.
Here's an example of a dark grey suit with black double monk strap shoes.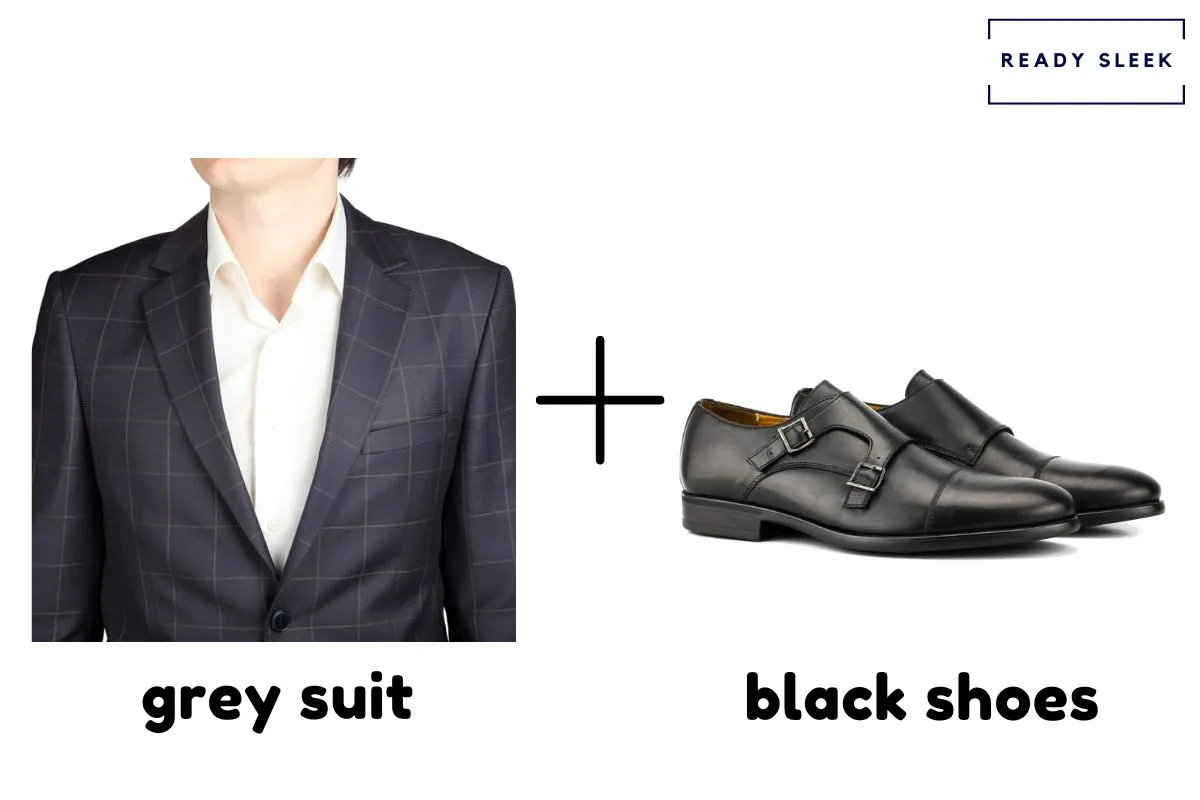 While it's definitely possible to wear light grey suits with black shoes, it simply won't look quite as good. You'd be better off going with light brown shoes instead.
A dark grey suit paired with black shoes would make for a perfect formal or business-professional ensemble. Simple and elegant; it's hard to go wrong with.
When it comes to the shirt and tie, keep things simple.
A white dress shirt would be the easiest option to work with, simply because it makes adding color with your tie/pocket square a lot easier.
Given how neutral and monochromatic the grey suit and black shoes combo really is, use your choice of tie to add a splash of color if you want to.
Go for a dark, "warm" color such as burgundy red or a dark, "cool" color such as forest green.
Alternatively, stick with the neutral color scheme and go for a black or navy blue tie instead.
You've got options, but when wearing a dark grey suit with black shoes, you'll want to keep things relatively formal and professional-looking.
Grey Suit And Dark Brown Shoes
Due to their versatility, dark brown shoes can be worn with both light grey and dark grey suits. This makes them appropriate to wear in both formal and smart-casual settings.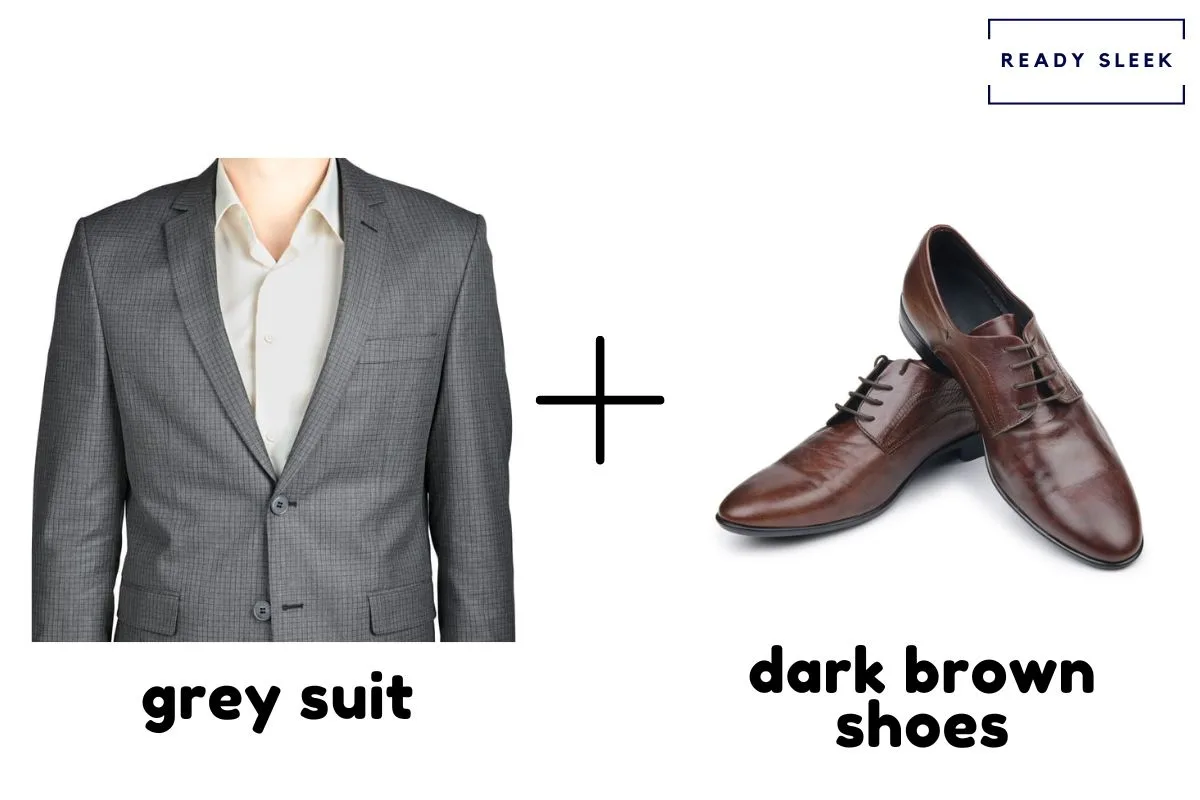 However, it's hard to deny that the darker the shade of those brown shoes, the more likely it is that a dark grey suit would work better.
Wherever possible, try to pair dark brown shoes with dark grey suits. In general, a light grey suit would always work better with shoes in lighter shades of brown.
Suits in more "medium" shades of grey (eg. steel grey or pewter grey) would work very well with dark brown shoes. They give you plenty of versatility.
Examples of settings where a dark or medium grey suit and dark brown shoes would be ideal include weddings, work meetings, conferences, and evening socials.
Grey Suit And Tan Brown Shoes
Light grey suits work exceptionally well with tan brown shoes. The combination can easily be worn in smart-casual and semi-formal settings.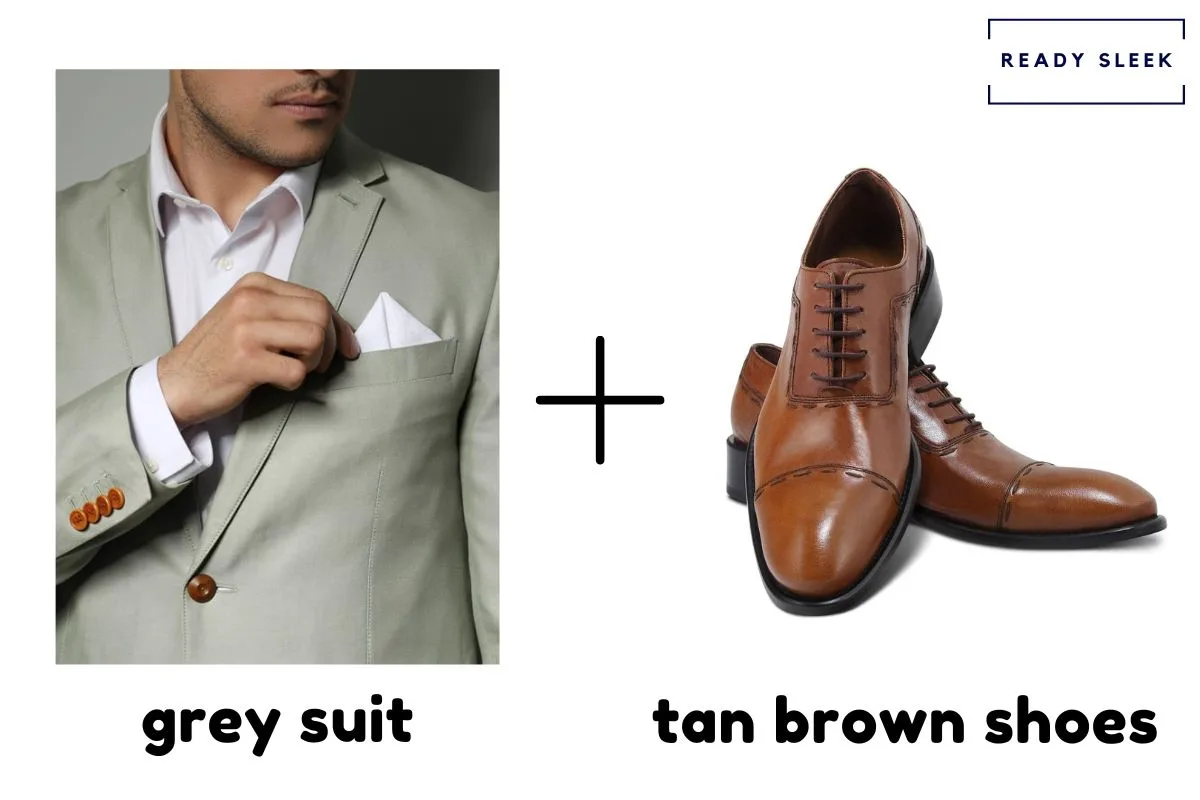 Tan brown is a very popular color for dress shoes. However, it's important to wear them in the right settings.
In general, the more formal the setting is, the less likely those tan brown shoes are going to look appropriate.
But they definitely look impressive with grey suits, especially those in light shades.
The contrast between the tan brown shoes and a light grey suit will be eye-catching without being too attention-grabbing.
Overall, the combination is a great option when the setting you're attending is casual enough for it to work.
It's a good option for daytime social events and wedding ceremonies but would also work well in work settings.
Grey Suit And Oxblood/Burgundy Shoes
Grey suits can be worn with oxblood or burgundy dress shoes in smart-casual and semi-formal settings.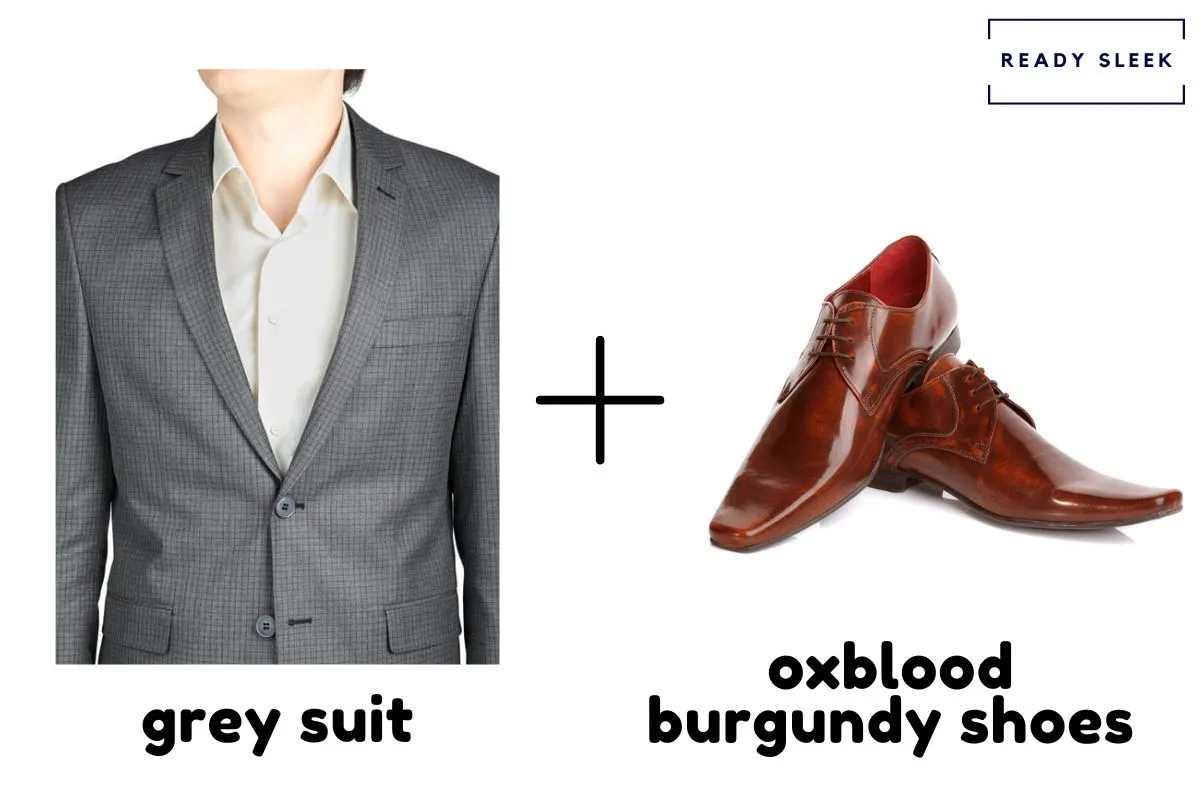 Oxblood and burgundy are good options when you're looking to stand out from a crowd just a little.
They make for a nice change from the straightforward black and brown shoes you usually see worn with grey suits.
However, they won't ever look as formal as black or dark brown due to how eye-catching they can look.
They're better suited to smart-casual and semi-formal settings where you want something a little bolder than a basic brown.
Grey Suit And White Shoes
A grey suit can be worn with white shoes such as sneakers when the setting is casual enough to allow for it. Given how casual white sneakers can look, it's important to make sure it's appropriate before attempting this combination.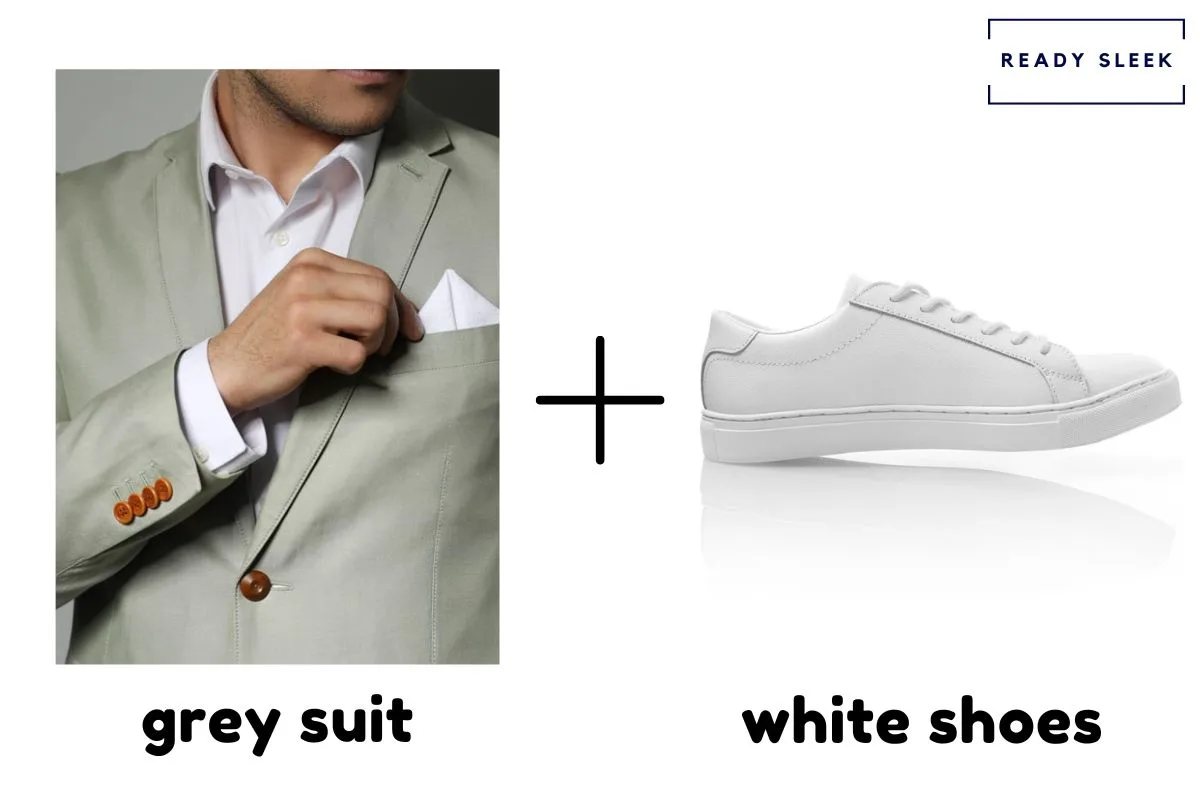 If you're attending a smart-casual setting and you're looking to make a statement, pairing a grey suit with white sneakers would be a pretty good way to do it.
It'll definitely draw attention, simply due to the difference in formality between the suit and the sneakers.
However, when done the right way and worn to the right setting, it can definitely work.
You'll need to choose a grey suit that looks casual enough to not conflict with the sneakers too much.
The easiest ways to do this would be to choose a suit in a light shade of grey and to choose one in a more "casual" fabric such as linen.
Ideally, the suit trousers should be cuffed, exposing the ankles. No-show socks should be worn so that the sneakers are on full show.
This makes it clear to people that the grey suit and white shoes combination is an intentional style decision.
Conclusion
Overall, grey suits are versatile enough to be worn with a wide range of colors, but sticking to the classic ones listed above should make sure you don't ever set a foot wrong.
Enjoy.
Ready Sleek founder. Obsessed with casual style and the minimalist approach to building a highly functional wardrobe. Also a fan of classic, vintage hairstyles.