Most people would say that underdressing to an event is worse than overdressing. Dress codes can be confusing enough for both of those to frequently be a problem. The question is, can you wear a grey suit to a black-tie event?
A grey suit should never be worn to a black-tie event as the dress code will require a tuxedo. Both 2-piece and 3-piece grey suits would normally be considered underdressing, regardless of their color or fabric.
Although that's the short answer, there's more to it.
After going through the key reasons why it should never be done, I'll go through what you should wear instead in a little more detail.
Let's get to it.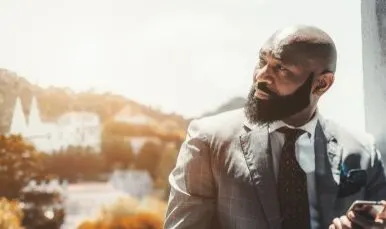 2 Reasons You Shouldn't Wear A Grey Suit To A Black Tie Event
After reading this, you'll almost definitely decide against doing it.
1. You'll Look Underdressed
Both light grey and dark grey suits would be inappropriate to wear to a black-tie event as they'd both be considered underdressing.
"Black-tie" is one of the most formal dress codes in men's attire but it isn't as common as it used to be.
The main problem that this has led to is that people have become more and more confused about what "black tie" actually means.
A simple rule to remember is that any suit would be considered inappropriate to wear to a black-tie event. A tuxedo must be worn instead.
No matter what color or fabric it is, a suit wouldn't be appropriate. That goes for 2-piece suits, as well as the more formal 3-piece suits.
2. It'll Look More "Professional" Than Black-Tie
A grey suit would be considered classic business-professional attire, ideal to wear in the workplace.
It would also be very appropriate to wear a grey suit to a "formal" setting, where a business-professional suit would work perfectly well.
However, it's always important to distinguish professional attire from black-tie.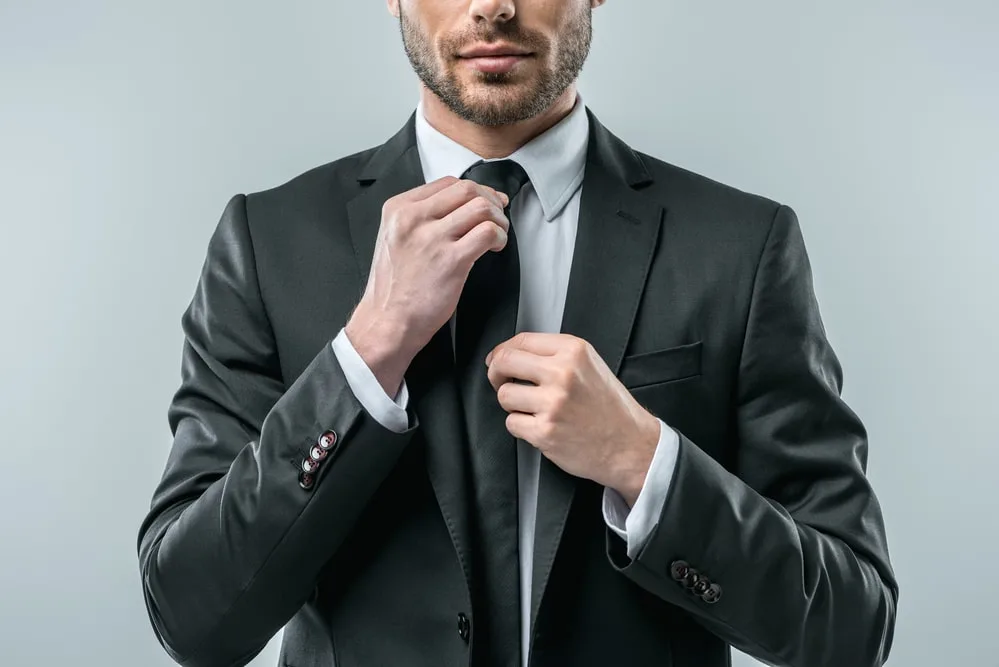 It's inappropriate to wear a professional-looking grey suit to a black-tie event, just like it would be to wear a tuxedo to work.
Black-tie events are almost always social events that take place in the evening. It would be extremely unusual for a professional event to have a black-tie dress code.
So, reserve the grey suit for professional and formal settings. Wear a tuxedo to a black-tie event.
Tuxedos To Wear To A Black Tie Event Instead Of A Grey Suit
Both black and midnight blue tuxedos would be much more appropriate to wear to a black-tie event than a grey suit.
These are the two most traditional and widely accepted tuxedo colors. While you can find tuxedos in a wide range of lighter and brighter colors, in general, it's best to stick to either black or midnight blue.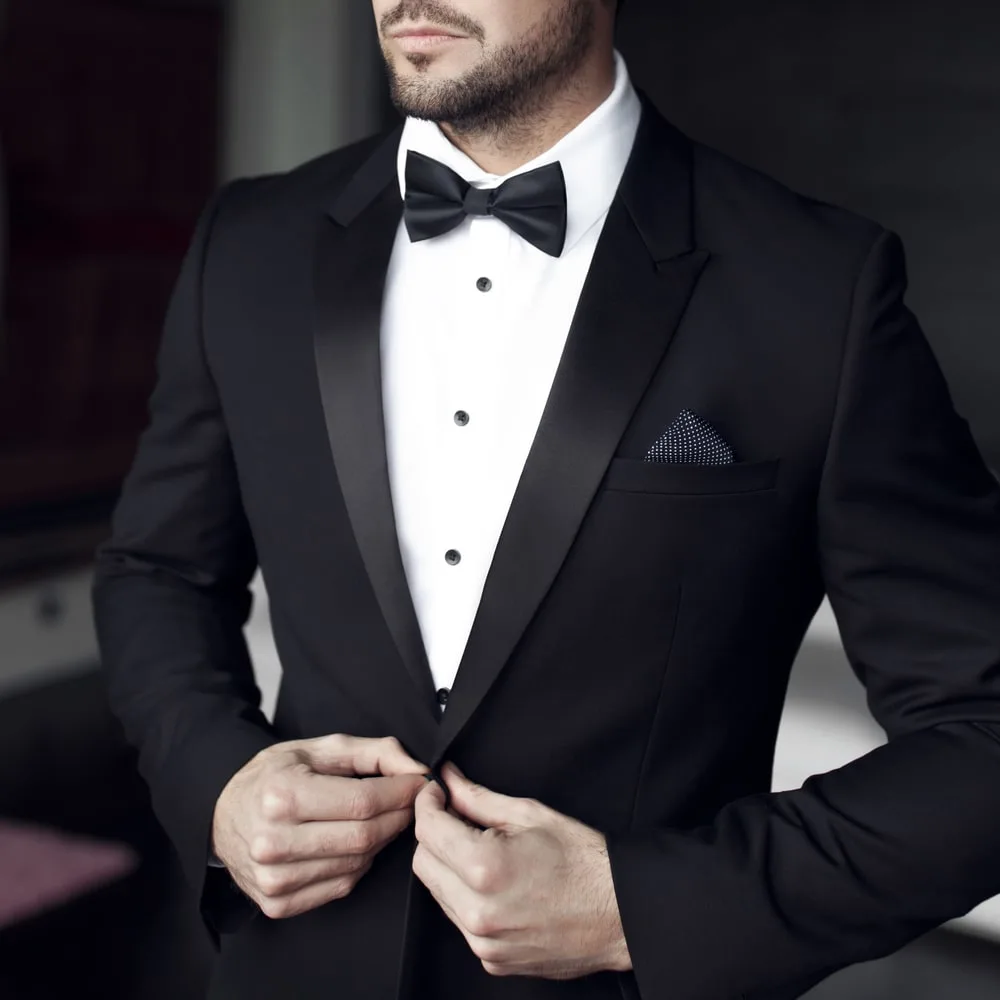 But what exactly makes tuxedos look more formal than grey suits in the first place?
Tuxedos are different from suits in several ways, with the key difference being the presence of satin. Most people would say it was this satin that gives tuxedos such a formal-looking edge.
Tuxedos have satin on the lapels, pocket trim, and trouser leg. They're also commonly worn with formal shoe styles such as Venetian loafers and patent leather Oxfords.
Tuxedo shirts also have more formal features such as concealed buttons and a bib.
Even the most formal-looking worsted wool, charcoal grey 3-piece suit wouldn't be able to live up to a tuxedo in terms of formality.
Frequently Asked Questions
Here are a couple of frequently asked questions on the topic to really round things up.
Can You Wear A Grey Suit To A Black Tie Wedding?
A grey suit should never be worn to a black-tie wedding as it would usually be considered underdressing. If a wedding specifically requests a black-tie dress code, wear a tuxedo.
If ultra-formal attire was requested for a daytime wedding event, "morning dress" should really be requested instead of "black-tie".
Black-tie is traditionally reserved for evening events (usually after 6pm) and a tuxedo would look unusual in the daytime.
A black-tie dress code would be unusual for a daytime wedding ceremony, but it's often requested for a wedding reception that takes place in the evening.
However, if a wedding invitation says "black-tie/formal", it would be reasonable to wear a grey suit if you didn't feel up to wearing a tuxedo.
Can You Wear A Grey Suit To Black Tie Optional?
A grey suit can be worn to black-tie optional although a tuxedo would be the preferred choice. If you do wear a grey suit, try to dress it up by wearing a 3-piece and consider wearing a bow tie instead of a necktie.
"Black-tie optional" sounds a lot more confusing than it actually is.
All it means is that the host would prefer that the guests did wear black-tie (i.e with the men in tuxedos), but makes it clear that it isn't essential.
However, this does mean that you shouldn't attempt to wear anything less formal than a suit.
No blazer and chinos combinations., for example.
But a light grey, plaid suit in tweed probably wouldn't look great either if we're being completely honest.
Instead, try to wear the most formal grey suit you can find.
Go for a shiny fabric such as worsted wool and try to wear one in the darkest shade of grey you can find. Charcoal usually works well here.
As with most things, the darker the item, the more formal it'll look.
In addition, avoid patterned suits and go for solid colors instead.
While a necktie wouldn't be the worst thing you could wear, a bow tie would look so much better. For one, it would make the grey suit resemble a tuxedo just a little bit more.
In addition, it'll make it clear to whoever the guest is that you've at least made an effort to dress up.
Conclusion
There you have it. Hopefully, that's everything you could want to know about a rarely discussed topic.
Dress codes don't need to be as confusing as they're often made, especially if you stick to basic rules and principles.
Black-tie = Tuxedo
It's simple, but it's true and very easy to remember. Once you've got it, you almost definitely won't forget it.
Enjoy.
Ready Sleek founder. Obsessed with casual style and the minimalist approach to building a highly functional wardrobe. Also a fan of classic, vintage hairstyles.