While times gone by had strict rules regarding funeral attire, there is so much confusion in contemporary society about what you should wear at a funeral. So, can you wear a grey suit to a funeral?
While black is the traditional color of choice for funeral attire, grey is also perfectly acceptable. Darker shades of grey are usually preferable to lighter shades. Choosing muted tones for your shirt and necktie is also important.
While old-school traditions have mostly gone out the window amongst most contemporary funeral-goers, certain traditions regarding funeral attire remain in place across the board.
Black is always the color of choice, but dark and muted colors are generally acceptable.
Let's go through exactly how to wear a grey suit to a funeral in the most respectful way possible.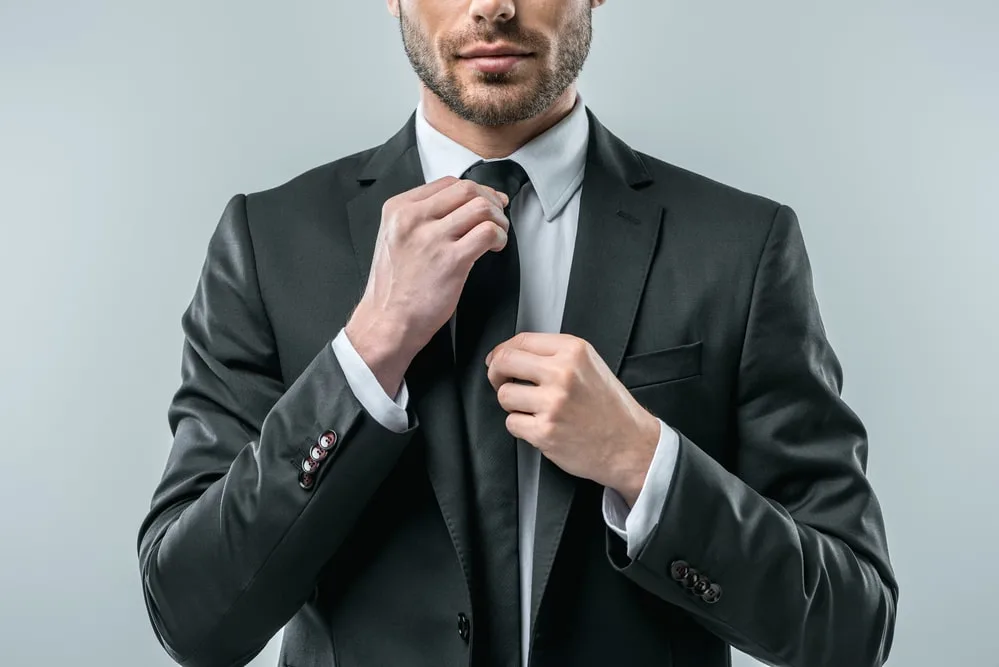 How To Wear A Grey Suit To A Funeral
While the previous expectation was for everyone to wear a black suit to a funeral, times have changed, and contemporary society no longer demands a black uniform to attend a funeral.
While dark colors are still preferable to pay respect to the deceased and not draw attention to yourself at such a solemn event, there is a lot more flexibility regarding what is considered acceptable funeral attire.
Whether light grey, medium grey, or dark grey, a grey suit is considered acceptable. Naturally, darker colors are preferable in the context of a funeral.
Still, the other items forming the outfit often tend to make or break your outfit's suitability for a funeral.
Whether the suit is light grey or dark grey, every other item worn with the suit should be carefully selected to ensure it does not attract unwanted attention your way.
Remember that a funeral is not in any way about you. It is all about paying your respects to the deceased and showing your condolences to the family.
All colors worn with your black suit should be muted and plain, preferably on the darker end of the color spectrum. Accessories should be kept to a minimum, and patterns should be as muted as possible, with bright and lively patterns avoided at all costs.
The cut of your suit should be just right. A suit that is too baggy or too tight will attract unwanted attention. The suit should be clean and in good condition, and so should the rest of your outfit.
Grooming is another important component of wearing a grey suit to a funeral (or any suit, for that matter). Ensure that you are properly groomed.
Your hair should be neat, your beard shaven or trimmed, and you should be extremely presentable overall.
An important consideration is the wishes of the family at the funeral. In some circumstances, the family might request that the funeral or memorial attendees come dressed in brighter, more joyous colors indicative of a celebration of life instead of a mournful occasion.
In these cases, it's always best to dress by what the family requests, as this is most likely in line with the deceased's wishes.
Is a Grey Suit Always Acceptable At A Funeral?
In the past, the only acceptable color for a suit at a funeral was black. In today's society, the rules have become somewhat relaxed, and there is far less importance to the color of a suit. Grey suits are considered perfectly acceptable at a funeral.
The shade of grey does make somewhat of a difference, with preference being given to darker shades over lighter shades of grey.
This is simply because a darker shade of grey, such as charcoal, is closer to the traditional black. It is more somber with less likelihood of attracting attention.
If you only have a light grey suit, the difference will lie in the other items you pair with it to feel more appropriate for a funeral.
By pairing other darker, muted colors with your light grey suit, you will ensure that the entire outfit is suitable to wear in a funeral setting.
Always remember, however, that certain cultures will have specific rules with regards to funeral attire.
For example, the family may want all guests to be dressed in white. It's definitely worth clarifying whether this is the case before attending, although it would be unusual to not be told this beforehand in any case.
4 Tips For Wearing A Grey Suit To A Funeral
Stick to these tips in order to wear your grey suit to a funeral in the most respectful way possible.
Be Careful With Your Choice Of Shirt
The color of the shirt you choose to wear to a funeral should always be a muted color that does not distract from the occasion in any way. Your best options in terms of color include white, grey, or black. Avoid bright colors or patterns for your shirt.
If your grey suit is of a lighter shade, then a darker shirt such as black will help to add a degree of solemnity to the outfit.
The shirt should be ironed, fitted, and in good condition. The collar should be of the medium spread type with barrel cuffs. Avoid shirts with button-down collars or French cuffs, as this would be considered too flashy for a funeral.
Wear An Appropriate Tie
A tie is an important component of your funeral outfit, but this must be also kept as muted as possible. The tie you choose should be solid black or tone-on-tone black with a simple and understated pattern.
If you do not have a black tie, any other dark-colored tie will work. Burgundy, dark grey, and navy blue are all good options when it comes to the color of your tie.
On the whole, it will be a good idea to avoid bow ties as these are considered inappropriate for funerals.
Be Conservative With Your Shoes
Black shoes are generally best, but brown shoes are acceptable if your suit is grey. In terms of style, stick to oxfords, cap-toes, or Venetian loafers, and ensure that your shoes are properly polished, shined, and in good condition.
Keep Jewelry & Accessories To A Minimum
A pocket square can be a good addition to your grey suit, but this should be a simple white pocket square made of cotton or linen. Accessories such as glasses should be kept conservative, with oversized or bold frames to be avoided.
Conclusion
Overall, if you consider every aspect of your outfit when wearing a grey suit, you will be assured of a completely appropriate look to be worn at a funeral.
Remember to keep every part of your outfit conservative and ensure that nothing you wear will make you stand out or attract attention away from the occasion.
Ready Sleek founder. Obsessed with casual style and the minimalist approach to building a highly functional wardrobe. Also a fan of classic, vintage hairstyles.