Interview dress codes can be as confusing as they are stressful. The problem is that you're usually expected to just figure it out without clear instructions. So, can you wear black jeans to an interview?
Black jeans can be worn to interviews in casual workplaces where the dress code isn't defined. Tapered, dark wash black jeans may also be OK for more relaxed business-casual interviews. They should never be worn to interviews in corporate settings where a suit would be required.
Although that's the short answer, there's more to it.
After going through the factors to consider before making your decision, I'll give you tips on wearing it in the most professional way possible if you are able to do it.
Let's get to it.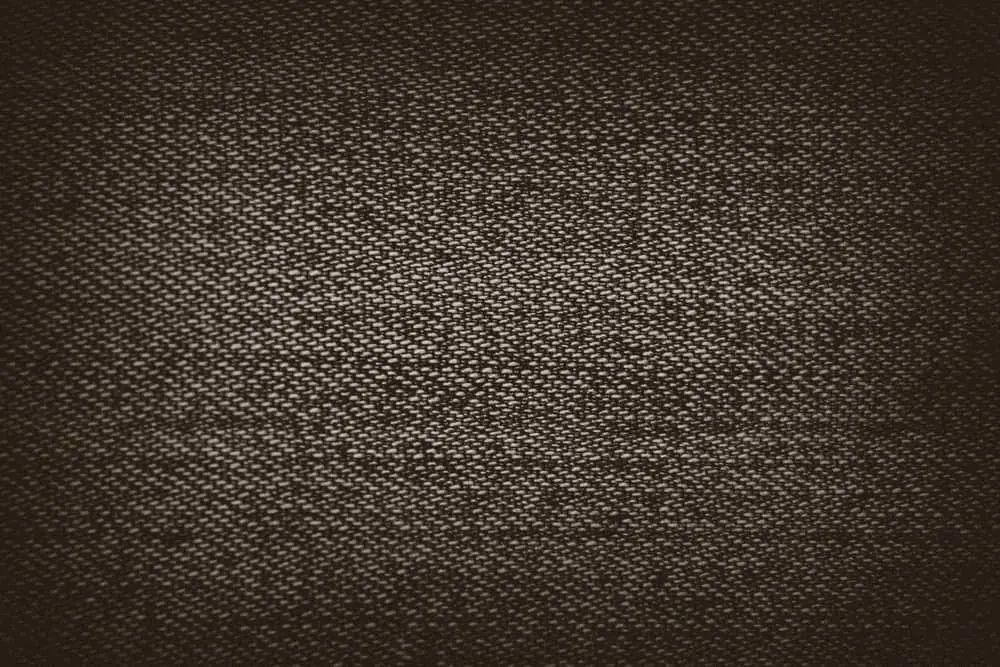 How To Know Whether Black Jeans Are OK For Your Interview
Consider all of these factors before making your decision. There's nothing worse than underdressing for an event as important as an interview.
1. The Industry
When dressing for an interview, consider the industry you're applying to. This includes taking into account the profession itself, as well as the setting you're likely to be working in.
You can broadly split the industries into "business-professional", "business-casual", and "casual".
Let's talk through them one by one.
Business Professional
Black jeans would not be appropriate here.
These are workplaces where you'd be expected to wear a 2-piece suit if you were to start working there.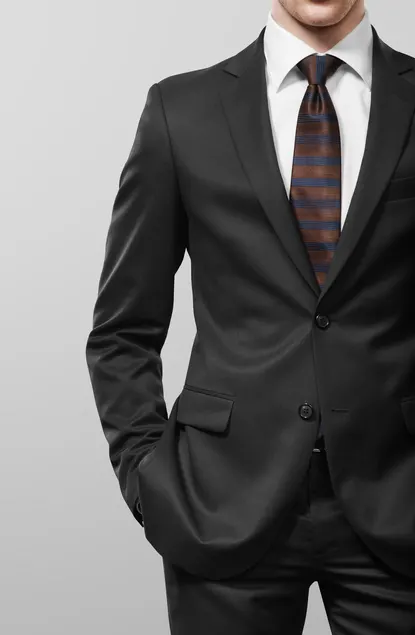 Corporate offices such as law firms and investment banks come to mind.
As a general rule-of-thumb, consider what you'll be wearing for the job itself and take things a notch more formal for the interview.
A pair of black jeans would definitely not be formal enough for an interview at a business-professional workplace like this.
Wear a dark, worsted wool 2-piece suit instead.
Business Casual
Black jeans might be OK for an interview in a business-casual dress code.
"Business-casual" can be a very confusing term as it can mean different things depending on where you are. Modern workplaces such as digital companies, marketing firms, and tech startups may advertise this as their dress code.
In general, the classic items of business casual attire are chinos, OCBD shirts, dress shirts, cardigans, sweaters, and brown dress shoes (brogues included).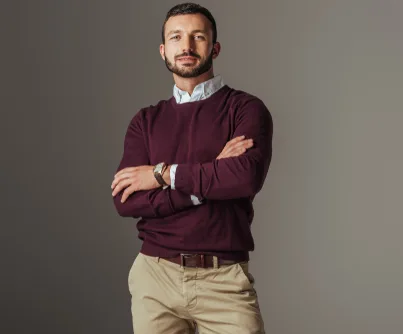 Black jeans wouldn't be the best option as they may be considered too casual, but if they're dark wash, tapered, and have minimal distressing, they may be fine for the workplace.
Overall, wearing the black jeans would still be a bit of a risk when attending the interview, however, as you'll generally want to dress a notch more formally here.
While a more casual 2-piece suit would be the safest option, a blazer and chinos combination would be perfectly reasonable too.
Black jeans may be OK, as long as your intuition suggests that they won't come across too casual for the setting.
Casual
Black jeans would usually be fine for interviews in truly casual workplaces.
Let's say you're a skilled tradesperson performing a manual role where you could comfortably wear a T-shirt and jeans to work without any trouble.
If your role's dress code would really be this relaxed if you were to get the job, wearing a pair of black jeans to the interview usually wouldn't be a problem.
It would still be a good idea to choose a tapered pair of black jeans with minimal distressing, however. It's always good to make it clear that you've made an effort.
2. The Seniority Of The Position
If you're applying for an especially senior position within a company or you're simply widely recognized within your field, you may have a bit more freedom to wear what you want.
In fact, the interview may just be more of a formality.
A pair of smart black jeans might be OK in these instances, as you've sort of "earned the right" to dress the way you want.
This is definitely something to consider carefully because it won't ring true in every industry.
At the end of the day, if you were applying for a job as a senior partner in a law firm, a pair of black jeans would probably come across as pretty obnoxious.
A 2-piece suit would still usually be required, although you may get away with a more casual one.
Overall, however, consider how much clout you have and how free you may be to wear what you want to your interview. There's a chance it may be more than an entry-level candidate.
3. The Other Items You're Wearing
A common mistake that people make when wearing black jeans to an interview is trying too hard to dress them up.
They feel as though the jeans are too casual and they try to balance things out by wearing dressier items with them.
For example, dress shirts, ties, blazers, leather dress shoes, and so on.
The bottom line here is that if you feel as though these items are required to make things work, there's a good chance that black jeans are simply too casual for the interview you're attending.
While it's possible to wear these sorts of items with jeans, the fact that you feel as though you'd be underdressing without them suggests that black jeans wouldn't be appropriate in the first place.
How To Wear Black Jeans To An Interview (If You Can)
If you feel as though black jeans may be OK for the specific interview you're going to, consider the following tips to make sure you pick the right pair.
Dark Wash
The darker those black jeans, the better.
While "black" sounds like it should be a single shade or tone, the term can actually be used to refer to a wide range.
In fact, what some people refer to as "black jeans" should really be called grey instead.
In general, the darker the black jeans the less casual they'll look. As you want to reduce the risk of underdressing as much as possible, dark wash black jeans would always be a safer option.
Tapered Fit
Avoid baggy black jeans when going to an interview.
The jeans should be slim fit and tapered so that they gradually get narrower as they travel down from the knees to the ankles.
Here's an example of smart-looking, tapered, black jeans with no distressing on Amazon as an example:
Tapered jeans will always look less casual than baggy jeans.
Minimal Distressing
"Distressing" is the process of making jeans look old and worn out intentionally. It gives them a pretty interesting retro and vintage feel, but will always make them look more casual.
Too casual for an interview.
Examples of distressing include ripping, fraying, stone washing, and acid washing.
Avoid these when attending an interview unless you're extremely sure they really don't care what you're wearing at all.
Dress Them Up
What you wear with those black jeans is just as important.
If you feel as though they're appropriate but still want to make it clear that you've made an effort, consider a blazer and OCBD combination.
It's smart-casual when paired with black jeans, but would usually be formal enough.
Alternatives To Black Jeans For An Interview
It's hard to deny that there are several better alternatives to black jeans when dressing for an interview that give you a lower risk of underdressing.
1. Chinos
Chinos are great because they're extremely versatile. They can be worn in casual, smart-casual, and business-casual settings.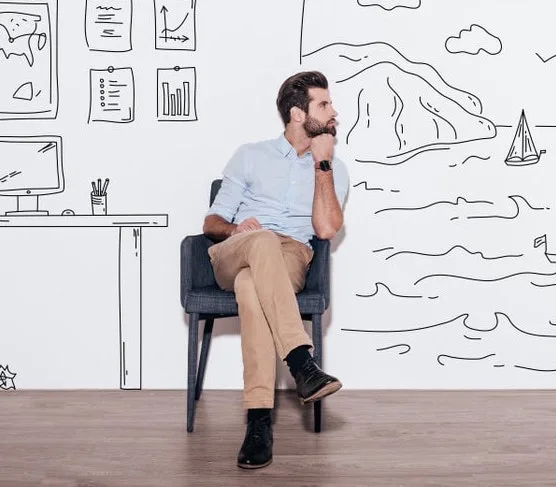 They wouldn't be appropriate in business-professional workplaces where a 2-piece suit would be required at a minimum.
However, they're perfect for workplaces that clearly present themselves as business-casual.
2. Dress Pants
Dress pants are a notch more formal than chinos but aren't as formal as suit pants.
They're generally made from heavier and more rugged fabrics than suits are and so are more appropriate to wear with non-matching jackets like blazers and sports coats.
Once again, they'd be ideal for business-casual settings that don't require a full 2-piece suit.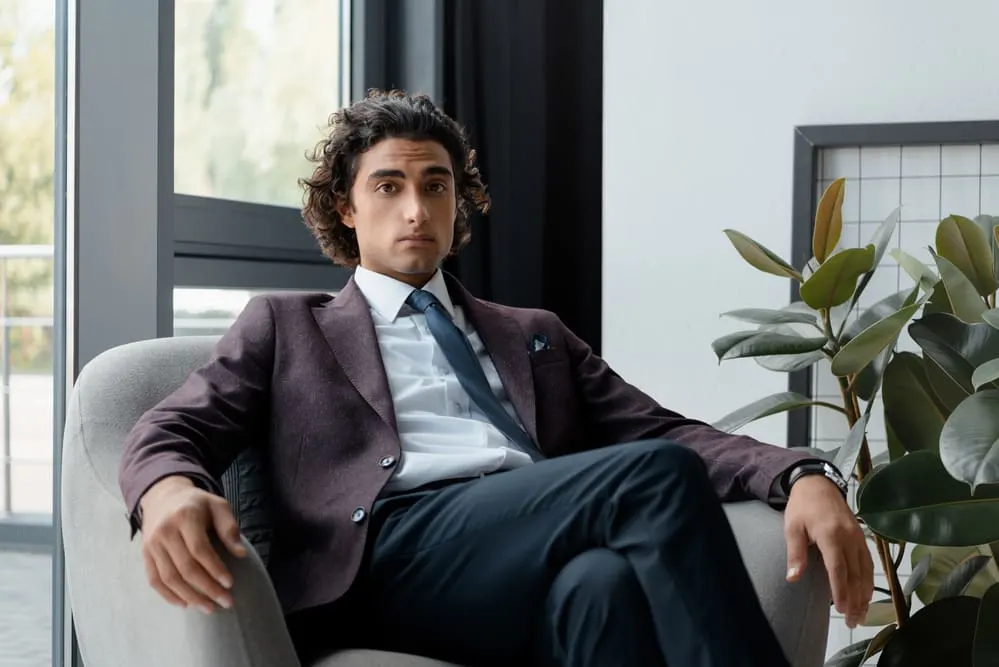 Just like chinos, dress pants are dressier than black jeans and so are in many ways a safer option.
3. Suit Pants
Suit pants should only ever be worn with their matching suit jacket. It's what ultimately forms a complete 2-piece suit.
They would really be the only option if you were attending an interview in a business-professional setting such as a set of corporate offices.
A good indicator that this is required would be if the people that actually worked there wore suits.
If they do, black jeans just won't cut it.
Frequently Asked Questions
Here are the answers to a couple of frequently asked questions on the topic to really finish things off in style.
Are Black Skinny Jeans OK For An Interview?
Black skinny jeans can be worn to interviews in casual work settings that don't have a defined dress code. However, they would be too casual for interviews in business-casual and business-professional workplaces.
Skinny jeans will generally look more casual than slim-fit or straight-leg jeans. They'll usually draw more attention from the interviewer.
While a pair of tapered, slim-fit, dark wash black jeans may be OK in more relaxed business-casual settings, a pair of skinny jeans wouldn't be a good idea.
Only wear black skinny jeans to interviews in workplaces where it really doesn't matter what you wear to work every day.
If a T-shirt and black skinny jeans would be fine for your average workday, those same jeans would probably be fine for the interview.
Are Black Jeans Better Than Blue Jeans For An Interview?
If you were wearing jeans to an interview, in general, black jeans would be a better option than blue jeans because they usually come across as less casual.
You'd still need to consider the industry you're applying to before deciding to wear jeans to the interview at all.
However, if you do feel as though jeans would be fine for the interview, a pair of black jeans would always be a better choice than blue jeans.
Conclusion
While what you wear to an interview may not be the first thing on your mind, it's important to give it some thought.
You don't want what you wear to have any potential impact on the outcome.
Black jeans may not be appropriate for all interview settings, but there are some where they may be worth considering.
Hopefully, you now have a better idea of whether they'd be OK for the specific interview you're attending.
Ready Sleek founder. Obsessed with casual style and the minimalist approach to building a highly functional wardrobe. Also a fan of classic, vintage hairstyles.