Crew neck sweaters should be considered one of the original sweaters, but they aren't the easiest to wear with collared shirts. The question is, can you wear a crew neck sweater over a dress shirt?
Crew neck sweaters can be worn over collared dress shirts. It's important to get the right fit to ensure the shirt doesn't look too bulky under the sweater. Tucking in the shirt collar tips, avoiding neckties, and avoiding French cuffs should also help to make the combination work.
While that's the short answer, there's a whole lot more to it. You're about to learn some essential tips on how to do it in the most effective way possible.
Let's get to it.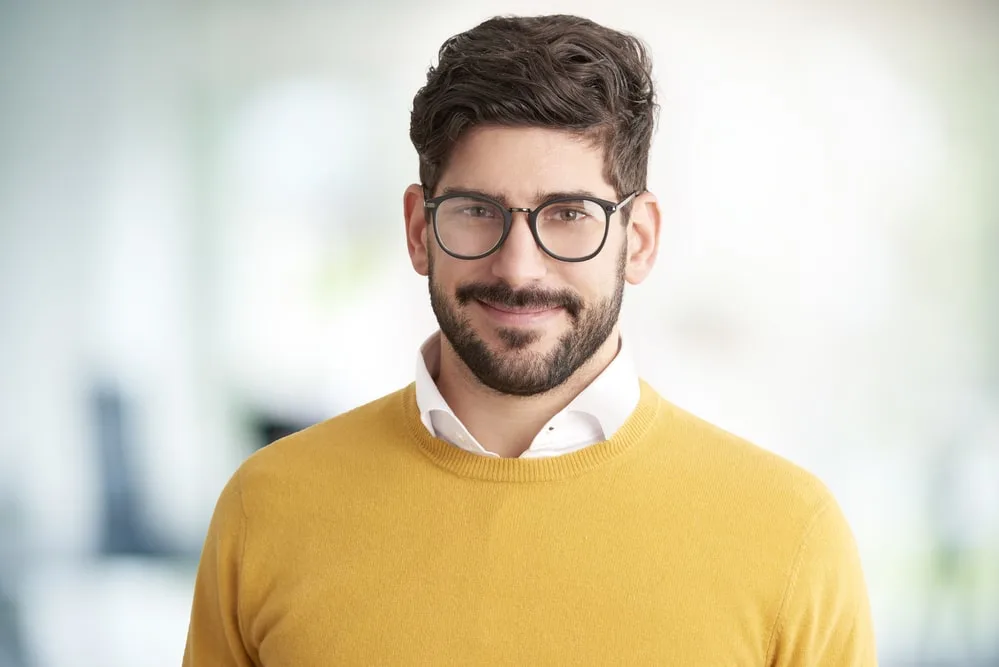 1. Get The Right Fit
Crew neck sweaters aren't as easy to wear over dress shirts as V-neck sweaters.
However, it can often look great when you've got the right fit for both the crew neck sweater and the dress shirt.
It's even more important to get the right fit for your sweater, because they're very difficult to get altered.
If you're planning on wearing a crew neck sweater over a dress shirt, it would be a good idea to try on this combination before you buy it.
In other words, head to the store in a dress shirt so you can make sure it'll fit right before you get the sweater.
Let's talk about the fit of the dress shirt first.
When you're planning on wearing a sweater over it, you'll want to make sure that the shirt fits close against the body. If it's too baggy, it runs the risk of looking bulky and lumpy under the sweater.
Not a good look.
You don't want it too tight, by any means. But you may want to go slightly slimmer than you usually do. Choosing a dress shirt made of a stretch fabric should help maintain comfort.
Here are some tips for getting the right fit for your crew neck sweater:
The shoulder seams should line up with the ends of your shoulders as closely as possible.
The sleeves should gently hug the arms over the dress shirt, without feeling too tight or riding up into the armpits. Not baggy, but not tight either.
You shouldn't be able to pinch more than 2 inches of fabric just below the ribcage. If you can, it's probably too baggy.
The bottom of the sweater should go past the belt, but no more than 2 inches below the buckle.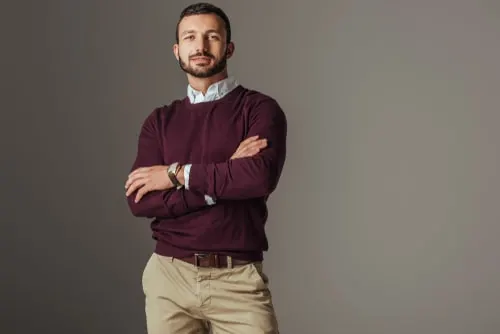 2. Avoid Neckties
When wearing a crew neck sweater over a dress shirt, avoid neckties. There simply isn't enough of the shirt collar or placket visible for the necktie to look good.
You'll probably only be able to see some of the tie knot – that's about it.
Neckties are a better option when wearing a V-neck sweater over a dress shirt, simply because you're able to see more of it. In fact, this can be a pretty sophisticated and put-together look.
But it can look awkward when you try to do the same with a crew neck sweater.
So, this usually means that you'll be leaving one or two shirt buttons undone underneath the sweater.
This is a smart-casual look. If you were looking for a more formal look (with a necktie included), a crew neck over a dress shirt probably isn't the right combo.
But a crew neck sweater over a partially unbuttoned dress shirt can be a fantastic option when you want a more laid-back, semi-formal look.
3. Tuck In The Collar Tips
With the round crew neck sitting pretty high up, it's usually quite easy to tuck the tips of the collar into it.
This is a better option than leaving the tips of the shirt collar hanging outside and over the sweater neck.
While it isn't a terrible look, it just doesn't look as complete.
Keeping the collar tips tucked into the crew neck sweater will keep it looking a lot tidier.
In addition, it'll keep everything in place and prevent the placket from looking too baggy or loose under the sweater.
4. Consider A Shirt Stay
Shirt stays may sound like a lot of hassle, but they're easy to get used to. The main benefit of using a shirt stay when wearing a crew neck sweater over a dress shirt is that it keeps the shirt tucked in.
A shirt stay is an elastic strap of some sort that clamps the bottom of the shirt at one end and your sock or foot at the other.
This keeps your shirt tucked in at all times.
Having the hem of the shirt peek out from under the sweater is never a good look. It looks untidy and sloppy – avoid it at all costs.
In addition, having the shirt slip out from under your pants can cause it to billow beneath the sweater. This can look bulky at the waist – not ideal.
The problem is that it can be difficult to keep track of what your shirt is doing, especially at the back. It's tough to know that your shirt is always tucked in, particularly toward the end of a long and hard day.
A shirt stay reduces this hassle by doing all the work for you. The shirt just won't ever come untucked.
Shirt Stay Plus does a great one. You can check it out on Amazon here.
5. Consider A Placket Stiffener
The placket is the part of the shirt where the buttons are placed. When wearing a dress shirt under a crew neck sweater, the placket will be partly visible above the sweater.
Remember, you'll be leaving one or two buttons undone.
While this can be a great casual look, it'll also often lead to a crinkled collar and a drooping placket with some dress shirts.
This may not be a big deal, but if you wanted a tidier and sleeker look above that crew neck, consider a placket stiffener (a.k.a placket stay).
Placket stays are lightweight strips made of plastic that reinforce the placket on both sides of the shirt.
Essentially, it makes the placket more rigid and less likely to crinkle. It ensures the collar stays more upright and that the shirt placket doesn't flop forward and over the crew neck.
Much like the shirt stay, it isn't essential.
However, it's the little nuances like this that make the difference between an average outcome and an outstanding one.
The Million Dollar Collar is a particularly well-known one you can check out on Amazon here.
6. Expose The Shirt Sleeve
Exposing just the right amount of your shirt sleeve under your sweater at the wrists is always a nice touch.
In fact, it's a great way to make sure that sweater fits just right over your dress shirt.
If there's too much shirt cuff showing, it'll look like the crew neck sweater is too small.
If there's no shirt cuff showing at all, it'll look like the crew neck sweater is too big or baggy.
While rolling the sweater sleeves up in order to expose the shirt sleeve is an option, it can sometimes come across as a little too youthful.
Instead, simply pull the sweater sleeves up just enough to expose half an inch of your shirt sleeve. You shouldn't have to roll the sweater, as it should stay in place by just pulling it up a little.
If you find that the sweater sleeve fabric has to really bunch up when you try to do this, it's likely that the sweater is too big in the first place.
7. Avoid French Cuffs
Avoid dress shirts with French cuffs when you intend on wearing any type of sweater over them.
The main reason for this is that French cuffs fold over, hiding the seam. What this does is make the cuff look pointy and bulky.
It would prevent the sweater's sleeve from being able to wrap around it naturally. It'll make the area around the wrists look awkward and bulky.
French cuffs also require cufflinks. While this won't stop you from wearing a crew neck sweater over it, the sweater would usually completely hide the cufflinks in any case.
In order for the cufflinks to be visible, you'd usually need to pull the sweater sleeve up too much.
Those cufflinks would look so much better under a blazer or suit jacket where they would usually be visible.
When wearing a crew neck sweater, or any other sweater, go for a dress shirt with buttoned barrel cuffs instead.
Sticking to this tip, as well as the others in this list, should help you pull off this combination in a pretty effortless way.
It isn't as classic of a combination as the V-neck sweater and dress shirt, for instance. But as you've seen, crew neck sweaters can look fantastic over collared dress shirts when it's done the right way.
Enjoy.
Ready Sleek founder. Obsessed with casual style and the minimalist approach to building a highly functional wardrobe. Also a fan of classic, vintage hairstyles.