A white suit is a subtle and simple way to stand out from a crowd, but choosing the right pair of shoes to go with one can sometimes be frustrating.
So, here are some potential shoe colors you could wear with a white suit:
Brown
Black
Navy
White
Burgundy
While a list like that is useful, it doesn't give you everything you need to know.
First, we'll go through a couple of "guidelines" for choosing the right shoe color for your specific white suit.
Then, we'll run through the combinations in more detail (with pictures) to help you choose.
Let's get to it.
Color Matching White Suits With Shoes: Guidelines
These aren't rules but are always worth considering before you put your outfit together.
Right from the outset, it's worth mentioning that a white suit should only be worn in smart-casual settings. It wouldn't be appropriate in formal, business-professional, or business-casual settings.
Now, with that said – let's run through those essential tips for getting it right.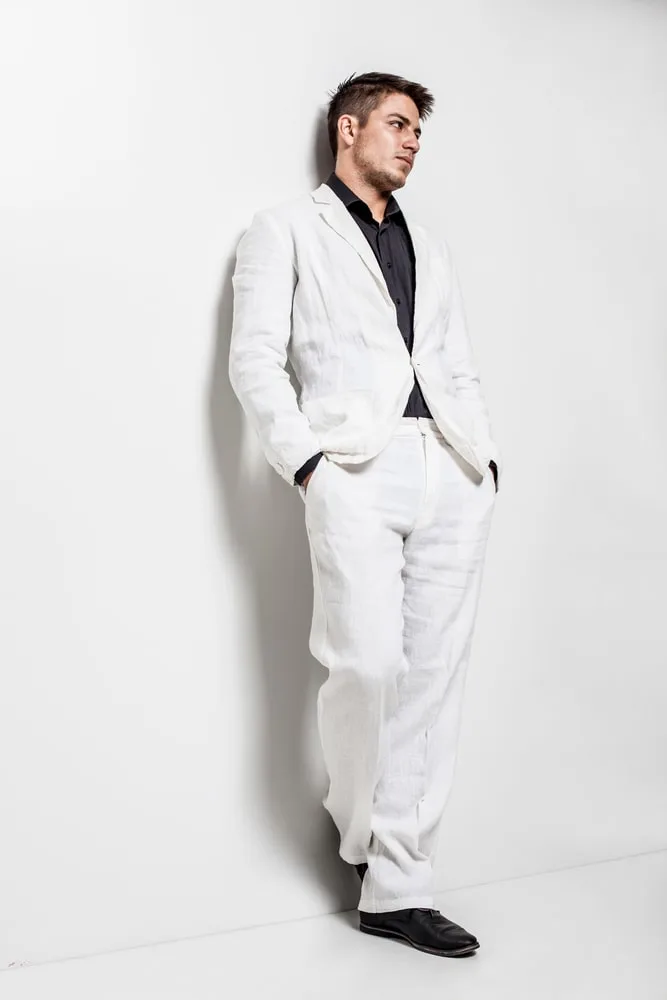 1. Always Consider The Contrast
A white suit is as light as you can get. The shoe color you choose could produce a high level of contrast or a low level of contrast depending on how dark it is.
Neither option is "correct". But always bear in mind that the darker the color of your shoes, the more it'll contrast the white suit and the more attention-grabbing it'll be.
For example, a white suit with black shoes will lead to a high-contrast appearance. It'll be striking and eye-catching.
In contrast, a white suit with off-white or light brown shoes will lead to a low-contrast aesthetic. It's more subtle and understated.
The shoes will simply draw less attention.
So, ask yourself how much attention you want to draw to the shoes.
Do you want them to be a focus of your outfit, or would you prefer that the white suit or the other items you're wearing should take center stage?
2. Consider Your Shirt Color
When choosing the right shoe color for your white suit, consider the items you're wearing with it.
The largest and most dominant other item is the shirt.
While you could go for a similarly white shirt, take the opportunity to wear a shirt with a bit of color. It'll pop out against the backdrop of the white suit.
For example, consider a white suit with a light pink or light blue shirt. Alternatively, consider a pale shade of brown such as tan, beige, or khaki.
If you prefer a more greyscale, monochrome color scheme, consider wearing a black shirt.
But how does this impact the color of the shoes you choose?
Well, when wearing a white shirt, coordinating your shirt and shoes actually works extremely well. In fact, it's a simple way to make it clear that your outfit is well coordinated.
For example, if you've gone for a black shirt, consider a pair of black shoes.
If you've gone for a light blue shirt, consider a pair of navy blue shoes.
It gets even more interesting with the more vivid and vibrant shirt colors. If you've gone for a light pink shirt, consider a pair of burgundy shoes.
While pink and burgundy are very different, they're both on a red spectrum and will coordinate to a noticeable extent.
Loafers, Derby shoes, sneakers – let the dress code determine the style. Ultimately, it doesn't matter.
The color coordination will be obvious, but not too obvious. That's the perfect place to be.
5 White Suit And Shoes Combinations
Here are those white suit and shoe combinations in more detail. Descriptions, pictures – everything you need to choose the right one for your circumstances.
Note that in the images, we haven't coordinated the shirt and shoes. Just remember that this is always an option and a great technique to use when wearing a white suit.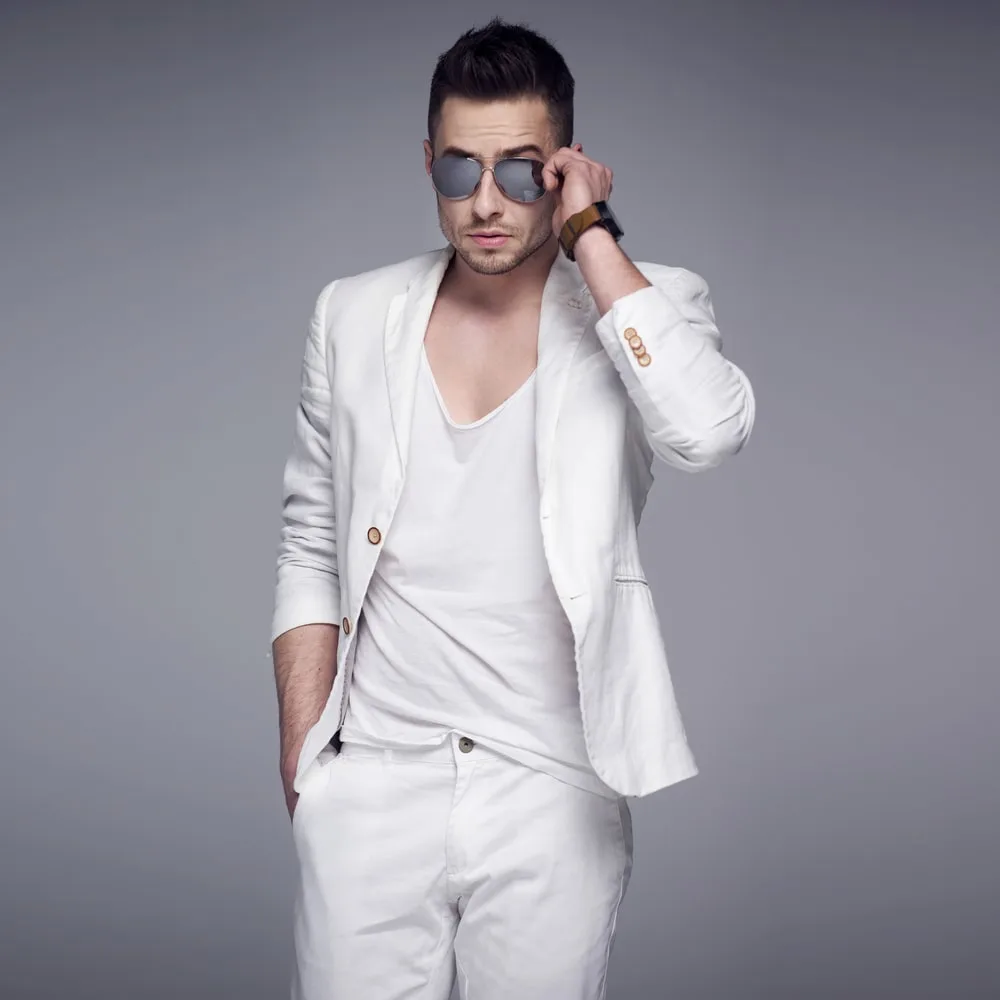 White Suit And Brown Shoes
A white suit can easily be worn with brown shoes. Consider a pair of light brown shoes (eg. tan or caramel) for a low-contrast and subtle aesthetic.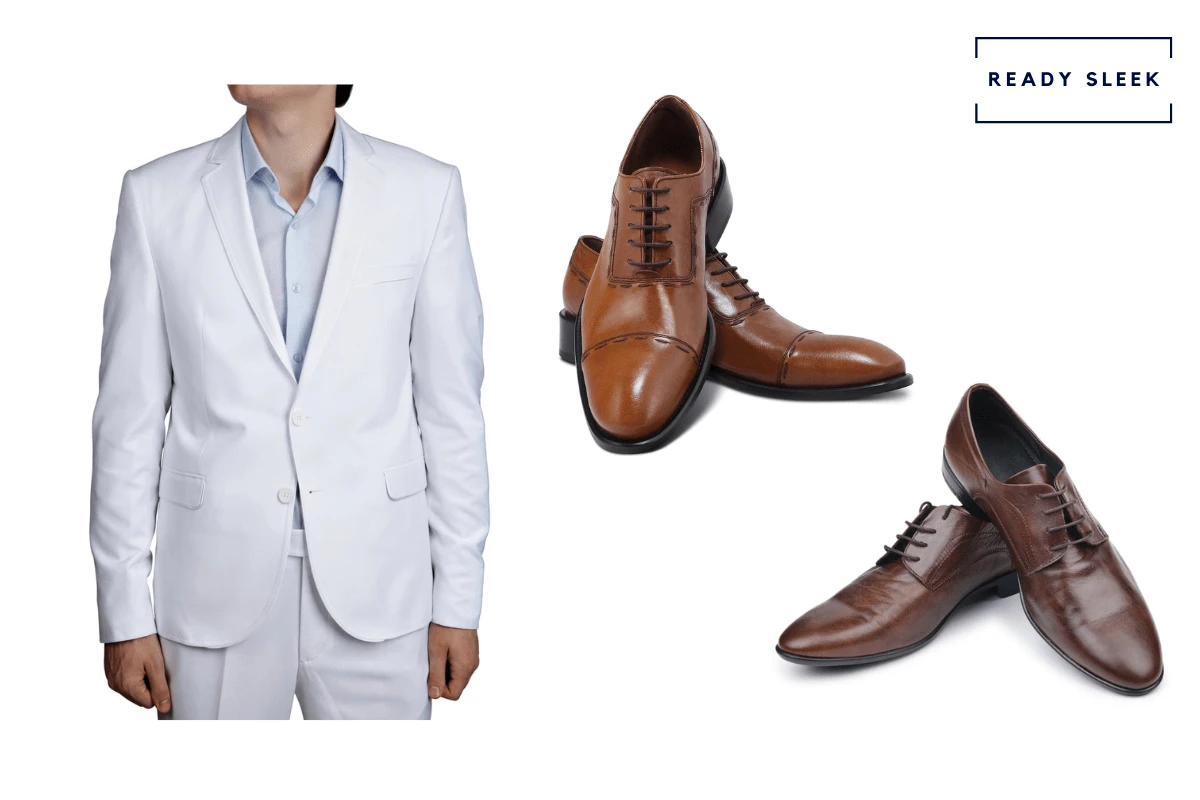 A pair of dark brown shoes would also work well, but the contrast between the suit and shoes would make the ensemble more attention-grabbing overall.
When it comes to white suits, brown is arguably the most commonly worn shoe color.
This is especially true of shoes in light shades of brown.
This is most likely because white is a relatively uncommon and in-your-face color for a suit.
If you were looking to keep things low-key, it's usually best to go for a more traditional shoe color. In addition, it would also be best to choose a color that would produce less contrast with the white suit.
Light brown shoes would tick both of these boxes.
Light brown suede shoes work very well here, mainly because they epitomize the laid-back, smart-casual, and summer-friendly aesthetic that a white suit generally produces.
White Suit And Black Shoes
Black shoes can be worn with a white suit to produce a high-contrast and eye-catching combination.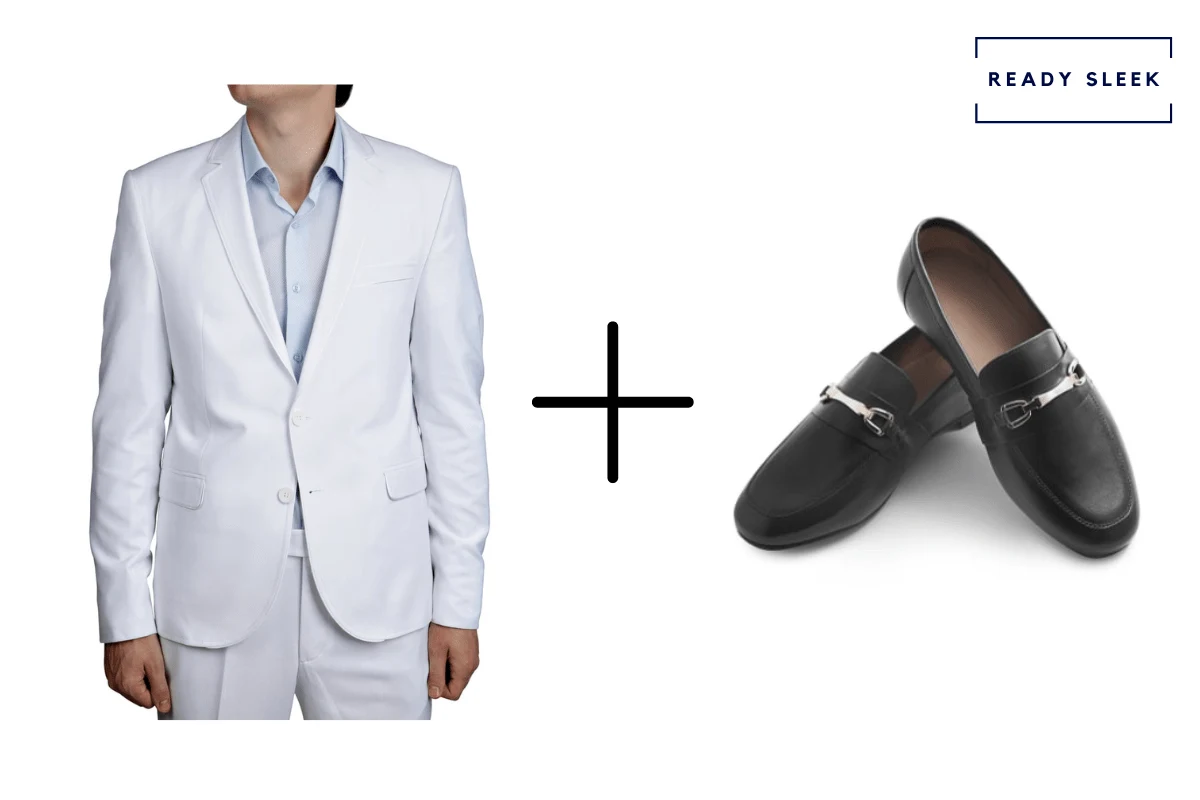 A monochrome combination like this may not be for everyone, simply because a black and white combination is about as high in contrast as you can get.
However, for those looking to make more of a statement, it could be ideal.
Ultimately, it'll coordinate effortlessly. Both items are extremely neutral.
The style of black shoes should be determined by the dress code. If you were looking to dress up, consider a pair of black dress shoes (eg. Derby shoes or monk straps) in a shiny grain of leather.
If you were looking to dress down a little (but not too much), consider a pair of black loafers (bit, penny, or tassel).
During the colder months of the year, you could even consider a pair of black Chelsea boots here.
When you're really dressing that white suit down, consider a pair of black leather low-top sneakers.
White Suit And Navy Shoes
Navy shoes can work well with a white suit in smart-casual settings. The contrast between the light suit and the dark shoes will definitely be eye-catching.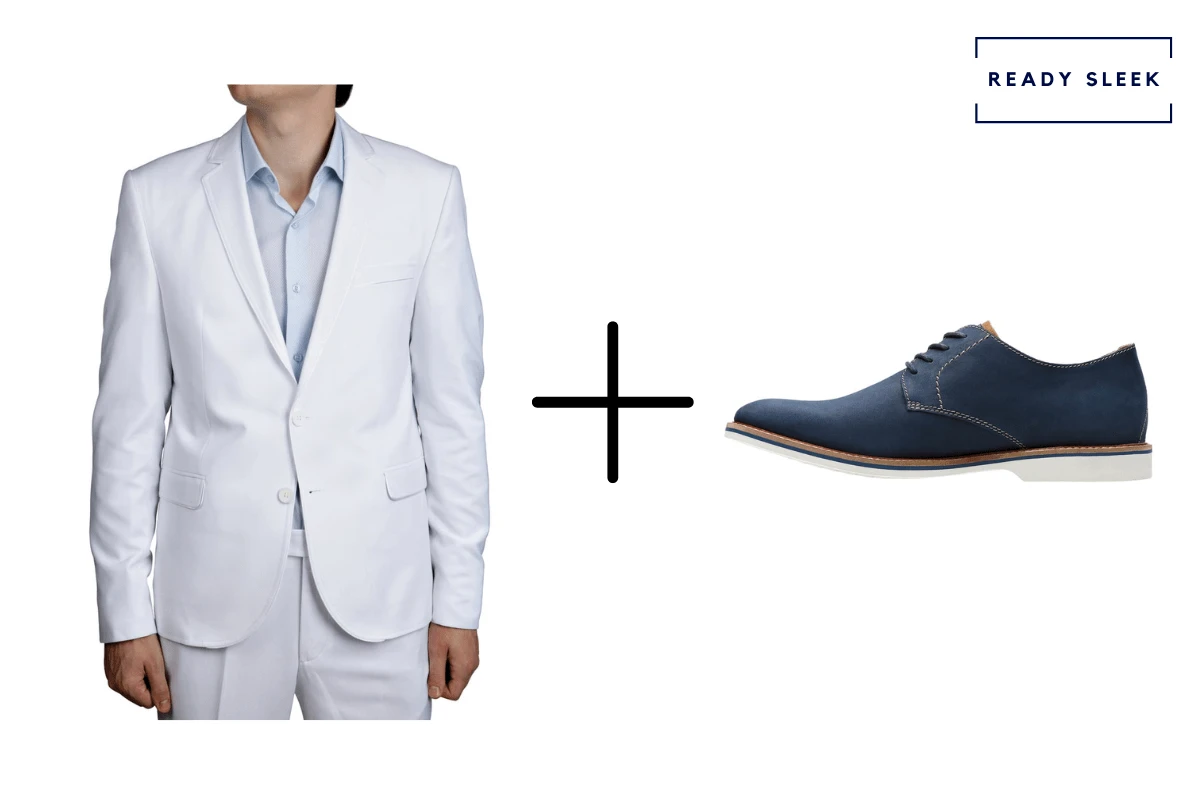 Navy isn't quite as dark as black, but it's still a very dark and muted shade of blue.
It tends to work very well with white, but it's important to recognize just how striking the contrast between the suit and shoes will be.
As mentioned earlier, a great way to ensure the outfit looks well coordinated is by matching the shoes to the shirt.
This is even more effective when you're wearing a more unusual or uncommon shoe color such as navy.
So, consider wearing a navy shirt with your navy shoes. It'll make it clear you really know what you're doing.
It'll work, each and every time.
White Suit And White Shoes
A white suit can be worn with white shoes, especially when you're dressing down and there's minimal risk of underdressing.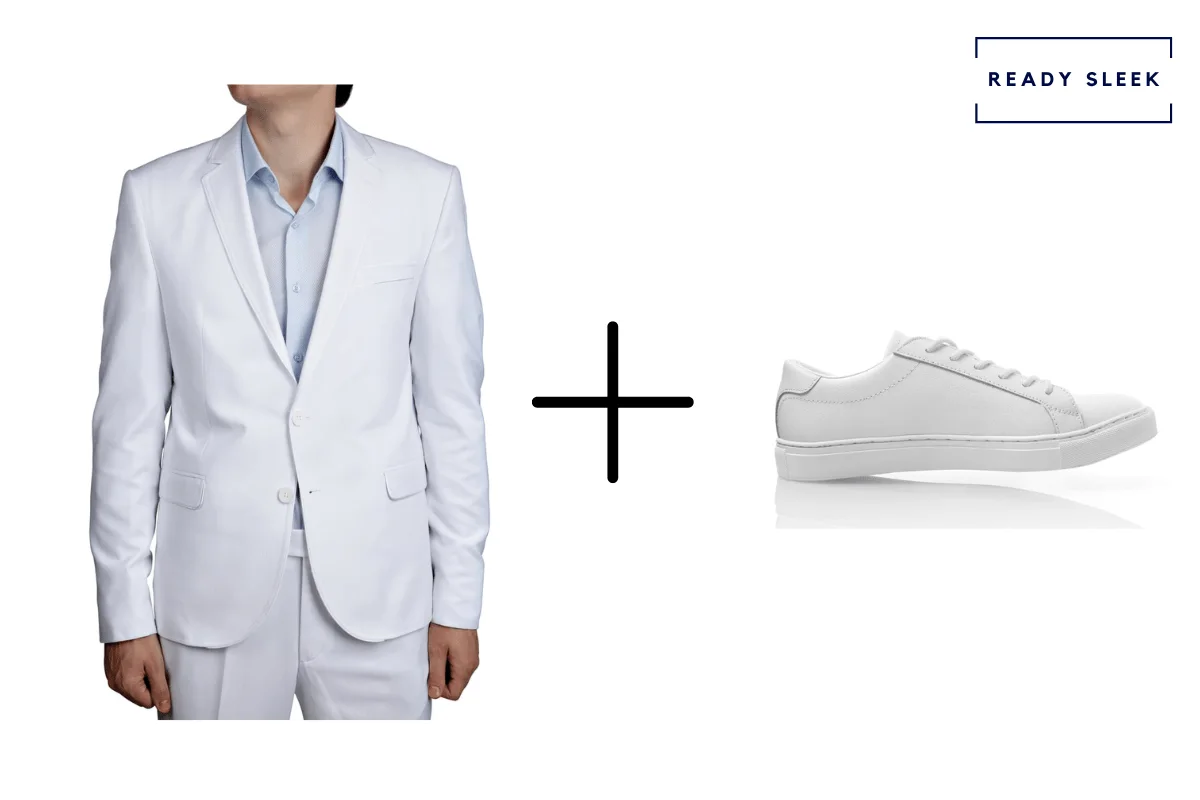 A pair of white sneakers would be the obvious option here.
It's hard to go wrong, assuming the setting is casual enough for a pair of sneakers to make sense.
But when wearing white sneakers with a white suit, try to choose a pair of sneakers that look "smart" and dressy enough to wear with a suit.
All-white leather low-tops are the easiest to pull off.
Avoid sneakers with extremely heavy branding, colorful detailing, or those that just look too chunky and athletic.
You could wear a pair of white dress shoes with a white suit. Although it does come down to personal preference, white dress shoes generally look a little awkward and at times comical.
One thing to note about wearing a pair of white shoes is that you're really embracing an "all-white" aesthetic here.
Consider adding a bit of color to your outfit with your shirt, pocket square, or something else.
White Suit And Burgundy Shoes
Burgundy shoes can look great with a white suit, but often work best when you're also wearing a shirt in a shade of red or pink.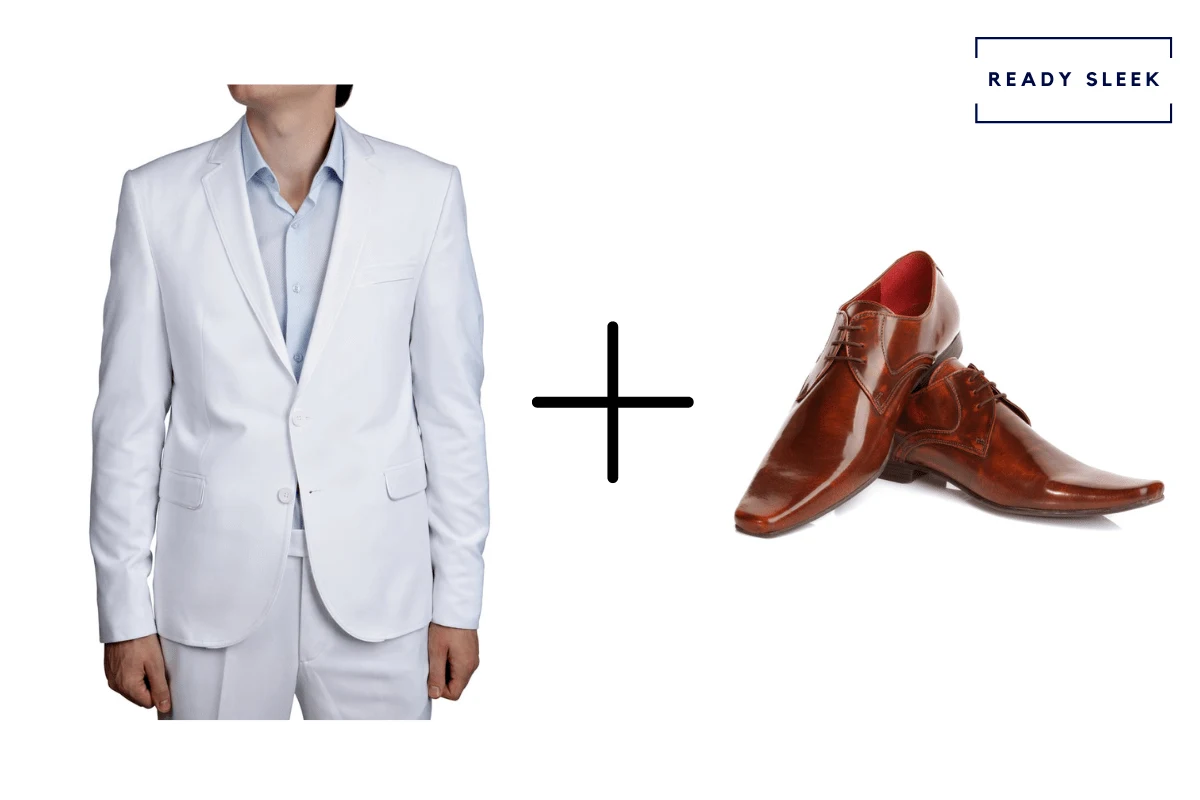 Burgundy is a common color for dress shoes but is pretty bold and vivid. It's a dark shade of red with a noticeable purple hue.
When wearing a white suit, the contrast will definitely be obvious. The burgundy shoes will most likely take center stage, drawing attention away from the white suit and anything else you may be wearing.
As mentioned earlier, when wearing a more unusual shoe color such as this, consider wearing a shirt in a similar color.
It doesn't have to be exact, but try to coordinate them in some way.
As burgundy is a shade of red, consider a color that's on the same spectrum.
That could be burgundy, crimson, light pink, salmon pink, or anything else.
Conclusion
Wearing a white suit is a great way to make a statement in itself, but it's important to select the right pair of shoes for the circumstances.
Consider the dress code, as well as the contrast. Always remember, coordinating the shirt with the shoes is often very effective when wearing a white suit.
Enjoy.
Ready Sleek founder. Obsessed with casual style and the minimalist approach to building a highly functional wardrobe. Also a fan of classic, vintage hairstyles.