Weddings are typically considered pretty formal. However, in some cases, the dress code may be a little more casual. So, can you wear a short sleeve shirt to a wedding?
Short sleeve shirts are only really appropriate at less formal summer weddings. Weddings are always somewhat formal, so to prevent the shirt from being too casual, pick a formal shirt fabric and color.
Although that's the crux, there's much more to explore to ensure you pull it off.
So, let's dig deeper.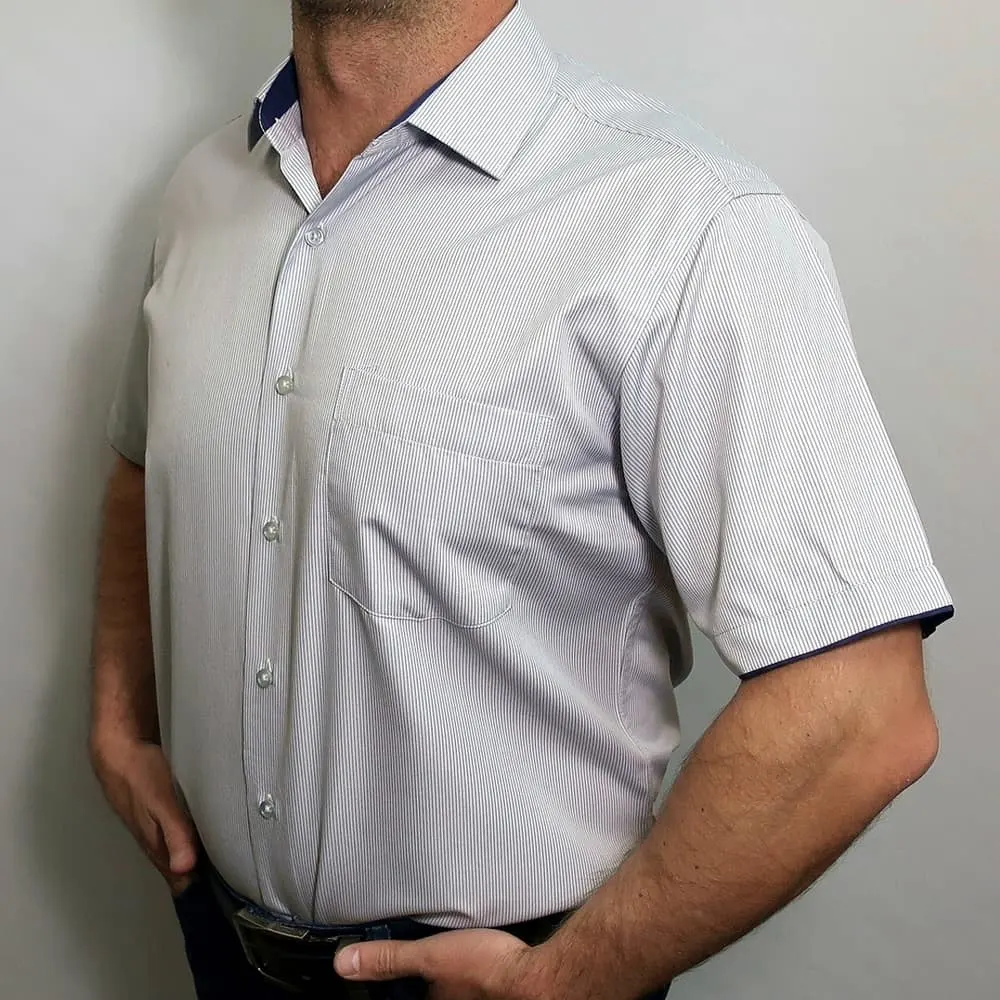 1. Ensure It's Appropriate
Weddings are incredibly special events, and, therefore, you should dress as such.
Not doing so can seem disrespectful to the couple in question, as well as make you stick out like a proverbial sore thumb.
Therefore, it's best to ensure that you know exactly what is and isn't appropriate for a wedding.
Generally, short sleeve shirts aren't acceptable for weddings due to their association with informality and casual attire; however, there are some exceptions to this.
While traditionally, you should wear typical wedding apparel at a warm summer wedding, the rules are becoming much more lenient.
For example, allowing short sleeve shirts to be worn at weddings during hot weather is becoming increasingly common.
If you're unsure whether or not it's appropriate to wear a short sleeve shirt to a particular wedding, your best bet is to stick to tradition and avoid one.
Alternatively, if you're unsure, you can ask the couple if wearing a short sleeve shirt would be appropriate for their wedding.
2. White Or Light Blue Shirts Work Best
When wearing a short sleeve shirt to a wedding, picking the right shirt color is essential.
The color of your shirt heavily impacts the overall appearance of your outfit – picking the wrong shirt color can ruin it.
And due to the casual nature of short sleeve shirts, it's best to go for more formal shirt colors to somewhat balance out the formality level.
Two of the best short sleeve shirt colors to wear to a wedding are white and light blue.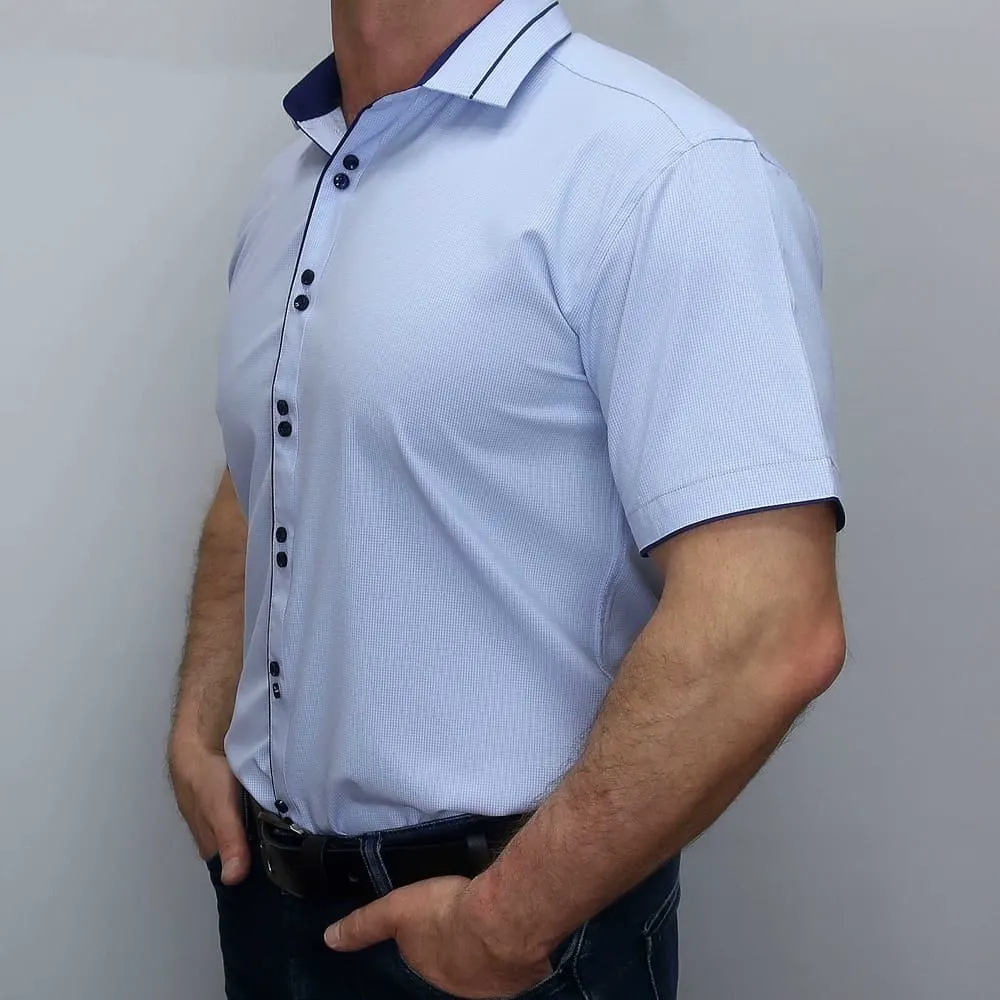 White is traditionally the most formal shirt color and is incredibly versatile, so it goes with pretty much anything.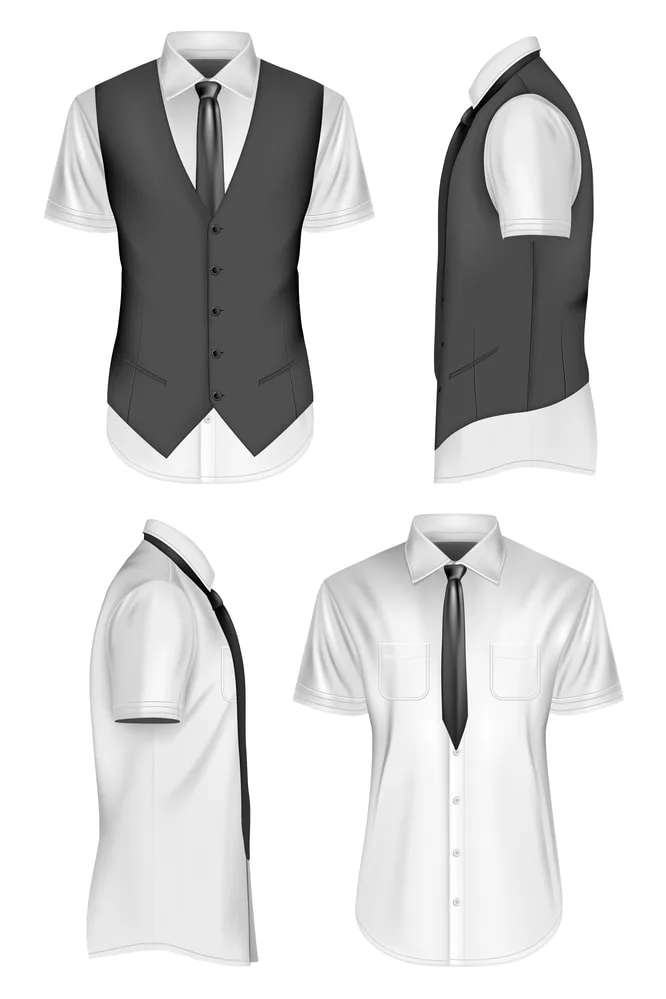 Furthermore, white is a classic shirt color for weddings, so it will help you blend in nicely, despite the short sleeve shirt.
Light blue shirts are also a good choice for short sleeve shirts at weddings.
They share similar light properties with white but add a hint of color to your outfit – while still being pretty formal.
If going for a light blue shirt, it's best to ensure it's incredibly light, such as baby blue, as anything too colorful will stand out.
Standing out too much should be avoided as it could detract attention from the couple and, therefore, be seen as disrespectful.
3. Avoid Shorts
Because wearing a short sleeve shirt is already pretty casual, it's best to avoid shorts with this outfit whenever you attend a wedding.
Yes, this would be the case even for summer weddings.
Wearing shorts would simply tip the scales too far in the way of casual and informal attire for a wedding.
You should always stick to pants when attending a wedding unless deviating from them is specifically requested.
This is because shorts are incredibly casual and traditionally never worn in a formal or even semi-formal or smart-casual environment.
The best pants to wear with a short sleeve shirt at a wedding are – without a doubt – dress pants.
Other pants are too informal for such an occasion – particularly when factoring in the casualness of a short sleeve shirt.
Your pants should always be black or charcoal with this outfit. Both are neutral colors and incredibly versatile.
Furthermore, they are the most formal pants color options, so they will also help dress up the short sleeve shirt.
Ensure your pants are the right length to avoid looking awkward or clumsy.
4. Consider The Shirt's Fabric
While it may seem minimal, the shirt's fabric is an important factor to consider when wearing a short sleeve shirt to a wedding.
This is because different fabrics have different properties and appearances and, therefore, are suited for different occasions.
Some are good for formal situations, while others are ideal for more casual scenarios.
When wearing a short sleeve shirt to a wedding, the best fabrics to wear are the much more formal ones.
Picking the right fabric for your short sleeve shirt will elevate it from informal to almost formal.
This makes it an essential factor when deciding what short sleeve shirt to wear.
Poplin (also known as broadcloth) is an ideal shirt fabric to wear to a wedding.
It has a non-textured appearance and has a light and airy feel, making it ideal for situations when you'd be wearing a short sleeve shirt.
Having said that, it can be incredibly prone to wrinkling and should be ironed thoroughly before each time you wear it.
Twill is another fabric that can be great for formal wear. It has a slightly textured appearance, but not so much so that it's informal or overwhelming.
It, too, is light and airy and is much softer than poplin. Furthermore, it doesn't crease nearly as easily. Ironing it regularly is still recommended, however.
Avoid fabrics like tweed, as these are far too informal and often uncomfortable during warmer weather.
5. Subtle Patterns Can Work
White and light blue are the best colors for short sleeve shirts at a wedding; however, sometimes, it may be possible to consider some subtle patterns.
If going for a pattern, it's best to maintain the white or light blue base color and work around that. This will ensure you uphold the necessary formality levels.
Small checks, polka dots, or other similar patterns work fantastically for this and will add a touch of personality and flair to your outfit.
Most importantly, by keeping it subtle, you won't draw attention away from the couple getting married.
When wearing a light blue shirt, white patterns look fantastic and keep the outfit looking summery and light.
On the other hand, when wearing a white shirt, pretty much any type of subtle pattern will look good.
Just ensure it isn't overly extravagant, as this could attract unwanted attention.
6. Tuck In Your Shirt
Tucking in your shirt will significantly enhance the formality of this outfit. It also ensures a smooth transition from your shirt to your pants.
There are a few things you must do when tucking in your shirt.
The first is to ensure that you wear a belt. A tucked-in shirt without a belt makes the outfit appear incomplete. It also increases the risk of your shirt becoming untucked.
Because of this, it's best to wear a belt with a tucked-in short sleeve shirt at a wedding.
You should go for a slim belt – as these are the most formal – and make sure it's black with a silver buckle.
Silver is much more subtle than gold (which is generally the other buckle color option) and suits the wedding theme much better.
Another crucial aspect of tucking in your shirt is making sure your shirt is long enough.
Often, short sleeve shirts are designed for casual occasions, so they won't be long enough to tuck in.
A shirt that's too short can be uncomfortable to tuck in or won't tuck in at all. Therefore, it's best to aim for a short sleeve dress shirt.
Finally – and arguably most importantly – the type of tuck must be considered.
There are two common tucks – the French tuck and the full tuck. The only acceptable tuck for a short sleeve shirt at a wedding is the full tuck.
It involves simply tucking in your shirt around the circumference of your waistline.
The French tuck is much more casual and isn't appropriate at weddings.