Dressing for a wedding is often more stressful than you anticipate and dress code confusion is often the cause. So, can you wear chinos to a wedding?
Chinos can be worn to weddings where the dress code is very clearly understood to be casual. They especially work well for outdoor, summer weddings. Ensuring that these more casual pants are "dressed up" enough for the occasion can be achieved by combining them with traditionally formal attire such as blazers, waistcoats, and dress shoes.
Miscalculating a dress code is awkward at the best of times. A wedding is definitely one you want to get right.
That was the answer in a nutshell, but I'm going to dig deeper into the main question at hand here.
I'll then talk through some great items you could wear with your chinos to make sure they're up to the occasion, followed by some tips on color matching and coordination.
Finally, I'll run through some frequently asked questions on the topic to really hit this one out of the park.
Let's get to it.
Can You Wear Chinos To A Wedding?
Chinos can be worn to casual weddings and nothing more formal. They wouldn't be suitable for other common dress codes such as black tie, formal, or semi-formal (cocktail attire).
Black tie would require a black or midnight blue tuxedo, whereas with formal or cocktail you'd be wearing a suit at the very least.
With cocktail attire you could get away with spezzato style; a mismatched suit jacket and trousers.
But chinos won't cut it here, unfortunately.
Chinos work very well for weddings where it's clear that the dress code is casual for guests.
It's useful to split casual into truly "casual", "semi-casual", and "smart-casual".
For a wedding, you'll want to go smart-casual. In other words, go for shirts and blazers, for instance, and not polos.
Casual weddings such as these do still allow for a lot of freedom when it comes to style choices.
Wearing chinos does work particularly well for weddings that mainly take place outdoors, with a distinctly summery and warm vibe.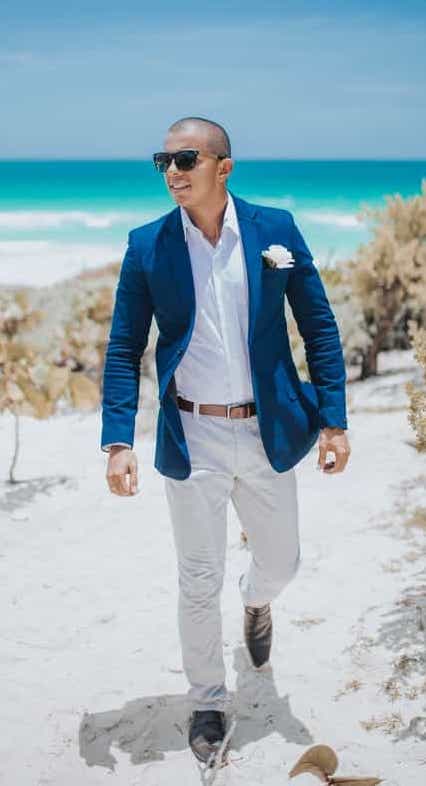 That's not to say that chinos can't be worn to casual fall and winter weddings. They can be, but consider going for wool slacks instead.
When dressing for a wedding, it's a good idea to choose chinos with a more "formal" edge to them.
In other words, you aren't going to want to slip on the same, weathered pair of khakis you wore to the movies last weekend.
Go for a "dressier" pair of chinos.
Yes, there is such a thing.
More formal-looking chinos have features that resemble dress pants. Here are a few you need to be able to identify:
Sharp center creases down the legs.
The seam details at the inner legs are barely visible.
Closer-fitting. Slim-fit is usually a good option.
Welted or jetted pockets. Avoid patch pockets as they will always look too casual.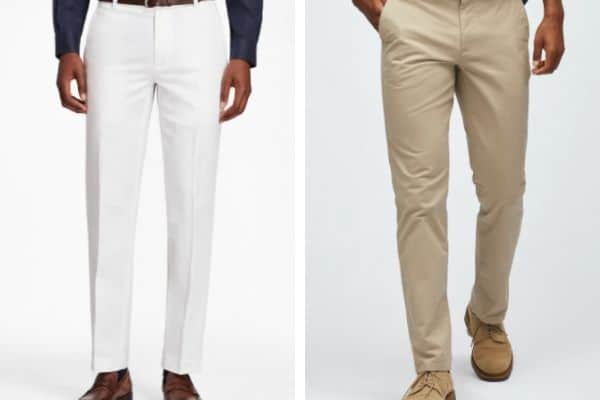 To sum that all up, yes, you can wear chinos to a wedding. But you need to make sure it's appropriate for the dress code, the vibe, and ideally, the weather.
What You Can Wear With Chinos To A Wedding
The beauty of a casual wedding is that you have a very wide range of outfits to choose from.
So, this list isn't by any means exhaustive.
Feel free to use that creative license and add splashes of personality wherever possible.
But here are some items you can use as a foundation for planning your outfit; some staple casual wedding items that won't ever steer you wrong.
Blazers And Sports Coats
The blazer and chinos combination is fantastic for weddings. It's an easy way to add a touch of sophistication to a casual outfit and reduce the risk of underdressing for an important occasion.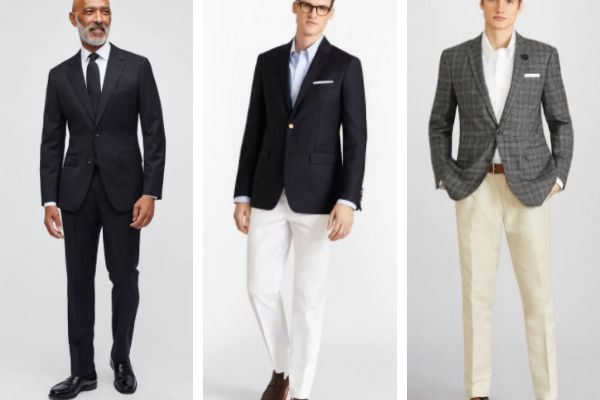 Sports coats also work great with chinos and are a notch more casual yet.
Unlike suit jackets, blazers and sports coats are meant to be worn without a matching pair of pants. Chinos are an excellent option.
There are some key differences between the two.
At the end of the day, a blazer is more formal than a sports coat. Use that to help you decide which one would be more appropriate.
A sports coat has a looser fit than a blazer, with less structuring at the shoulders.
Blazers often come in navy blue, whereas sports coats can be found in a wide range of colors.
Sports coats usually have a more rugged and rough texture than blazers.
Blazers often have sharply contrasting buttons, usually made from gold or mother-of-pearl. Not always, however.
One factor to consider is the climate. There's a good chance you're dressing for a warm, summer wedding, and so you'll want to ensure your jacket isn't too heavy or overbearing.
Consider an unlined jacket made from a breathable fabric such as linen, cotton, seersucker, or silk. It's common to find blends.
Shirts
What choices do you have when it comes to shirts at a casual wedding?
Quite a few.
Wearing a white shirt and chinos to a wedding is always a safe bet. Baby blue or sky blue is also a good option.
Keeping it simple like this will make color matching a lot more simple – but we'll get to that later.
The main choice you'll have to make is the type of shirt you wear.
Although a traditional woolen dress shirt is an option, you may feel that it's a little too formal for the occasion.
Plus, if the climate is particularly warm it can feel quite uncomfortable as the material isn't the most breathable.
Materials such as cotton and linen would be more appropriate and do come across as more casual.
An Oxford Cloth Button Down (OCBD) shirt is a good option as they combine well with chinos in terms of both the level of formality (semi-casual or smart-casual), as well as the fabric.
Linen shirts are also a good option and very summer-friendly. However, do bear in mind that they wrinkle easily.
These "relaxed" wrinkles do give linen a part of its charm, but if you feel it's a little too crushed for a wedding make sure that access to an iron is available.
Waistcoats
A waistcoat can also work well when worn with chinos to a smart-casual wedding. If you're looking to stand out a little and look a touch more formal for the occasion, a waistcoat may be the way to go.
Consider wearing a blazer with it, almost like a three-piece suit with chinos instead of suit pants.
If you choose to not wear a blazer, try rolling up those sleeves for a relaxed and summery look.
The waistcoat you choose shouldn't be shiny. Chinos don't really have any shine, and so a shiny waistcoat will stick out like a sore thumb in your outfit.
Go a matte-finish woolen waistcoat – it'll blend seamlessly into your casual outfit.
Waistcoats work particularly well for barn weddings and weddings taking place in the spring or fall.
As a side note, suspenders are also a good option and can look very sophisticated.
Shoes
So, what shoes should you wear with chinos to a wedding?
You've got plenty of options, but brogue Derby shoes and leather loafers are common favorites.
Let's dig a little deeper into this one, as it's definitely one of the more popular questions on the topic.
When it comes to casual weddings, you want to make sure you keep it as casual as the dress code would suggest, without going so casual that you draw attention to yourself.
At the end of the day, it's a wedding and not a sleepover. Flip-flops, sneakers, and boat shoes probably aren't worth the risk.
Casual dress shoes are perfect because they give you just the right amount of formal. Not too much, and not too little.
Here are some features of casual dress shoes:
Open lacing systems or no lacing whatsoever (slip-ons).
Lighter shades of brown.
Brogue patterns.
Derby shoes aren't necessarily considered "casual". But get them in a cool tan brown with a nice brogue pattern and they'd certainly work great with chinos for a casual wedding.
Leather loafers are a common summer wedding favorite. They're breathable, comfortable, and they ooze a smart-casual vibe.
Suede loafers are even more casual and may be ideal if the wedding is particularly informal.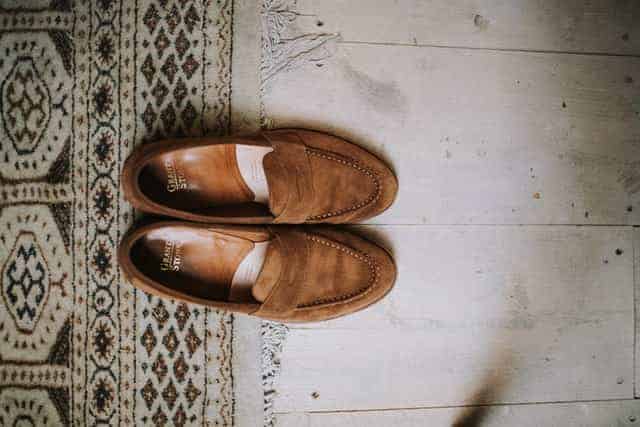 You could even go for a pair of the traditionally more formal Oxfords. However, go for a light shade of brown with a pretty heavy brogue pattern if you want to make this work.
Remember, we're going for smart-casual here and not too formal.
To sum that all up, the type of dress shoe does play a role in determining how casual or formal it looks. But the color, material, and pattern are even more important.
Accessories
When it comes to casual weddings, accessories should be used to add a touch of personality and uniqueness.
But there's a limit here.
The main risk is that you go over the top and commit the unforgivable faux pas of upstaging the groom.
Keep it simple.
Neckties are often a good option, even for casual weddings. Consider linen or seersucker, particularly in warm weather. Anything overly silky will look too formal and also reflect the sun.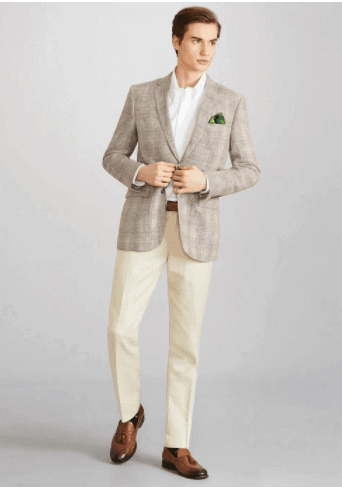 The same goes for pocket squares. They're great for adding a bit of color to an otherwise neutral outfit. Linen and seersucker are good options here as well.
Finally, a watch can really add a sense of completeness to any gentleman's casual wedding outfit.
Choosing Chino Colors For Weddings
Let's talk about color matching.
Once again, keeping it simple should always be prioritized.
Try and stick to a neutral color scheme for your foundational items (eg. chinos, shirt, blazer, waistcoat) and maybe add a bit of color using your accessories (eg. necktie, pocket square).
Neutral colors have very little intensity and saturation and have the benefit of coordinating easily with any other color or neutral color in your wardrobe.
This saves you a lot of grief.
Go for colors such as white, beige, khaki, navy blue, gray, or olive green for your chinos and other foundational items.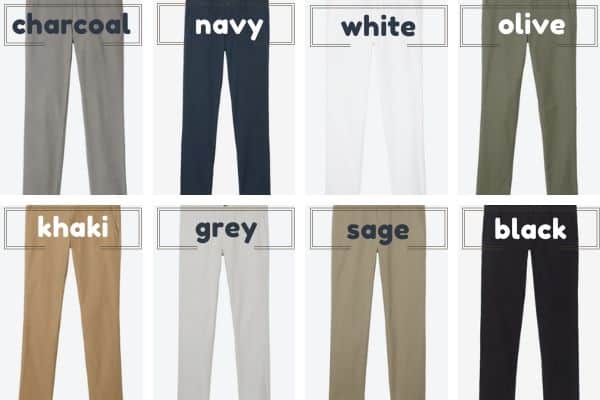 This will form a relaxed and neutral background that won't conflict with the splashes of color you might choose to infuse with your tie or pocket square, for instance.
Lighter neutral colors with warmer undertones such as stone, soft gray, white, or even khaki often look great in the summer.
Here's a basic, yet effective example. You could go for white or beige chinos, a navy blue blazer, an off-white OCBD shirt, and maybe even a soft gray waistcoat.
If you'd rather go for a darker pair of chinos, you could go for navy blue chinos with a gray sports coat instead.
Ultimately, keeping it predominantly neutral will make styling a lot simpler.
Although summer weddings may seem like the perfect opportunity to go for brighter, pastel-colored chinos, it generally isn't a good idea.
It'll make color-coordinating especially difficult, and will also draw too much attention on a day where that attention is supposed to be focused on the bride and groom.
If you happen to be the groom, this doesn't apply to you. Going for standout colors instead of neutrals (without overdoing it) would be a great way to stand out from the guests – I'll be discussing this more later on.
Can You Wear Chinos And A Suit Jacket To A Wedding?
A suit jacket would almost never be suitable to wear with chinos regardless of the occasion you're dressing for.
Wedding or no wedding, try and avoid it as a general principle.
The reason for this is that suit jackets are meant to be worn with the matching pair of suit pants they were designed with.
They come from the same roll of fabric and are meant to be worn together.
Disconnecting a suit and wearing the jacket with a pair of chinos can often look very obvious, awkward, and incomplete.
Suit jackets are different to blazers in several ways:
They're more structured at the shoulders.
They fit slimmer.
They're often made from wool or worsted wool (the most formal) and have a soft texture and visible sheen.
They're usually around an inch longer than blazers, often giving an obvious "tailed" appearance when worn with contrasting pants like chinos.
Certain suit jackets may be a little more suitable for wearing with chinos. These are generally ones which look more casual, for example, with patterns, or made from materials such as linen or seersucker.
But in general, it should be avoided if at all possible. Stick to blazers and sports coats.
Can The Groom Wear Chinos To His Own Wedding?
Modern grooms are choosing to wear chinos to their own weddings more and more. If it's acceptable for their guests, there's no reason why it wouldn't be for themselves.
One point to note is that a groom should generally aim to upstage their guests with their outfit.
Not in a narcissistic way – it's just a tradition.
Chinos and a blazer or sports coat, for instance, may be perfectly fine for a groom to wear to his wedding.
But spice it up a little.
Pleated or brighter-colored chinos, patterned shirts, or bowties instead of neckties are all examples of how you could potentially stand out from the guests.
It's one of the few instances where I'd recommend not going for neutral colors and choosing something more in-your-face instead.
Can You Wear A Tweed Jacket And Chinos To A Wedding?
Absolutely. Tweed jackets work great with chinos, and a lot of sports coats are in fact built from tweed fabric.
The rugged texture blends well with chino cloth.
It's a great option for casual fall and winter weddings, as tweed is traditionally worn in cooler climates. The fabric is usually too heavy for those warm, summer weddings.
A tweed jacket would work great with a matte-finish waistcoat and chinos for barn-style weddings. It's subtle, yet sophisticated.
Can You Wear Chinos To A Wedding Reception?
If the wedding reception dress code indicates that casual attire would be appropriate, chinos would definitely be possible.
It's really no different to the wedding itself – let the dress code guide you.
There are plenty of wedding receptions where the dress code is indeed formal, and so a suit and nothing less would be necessary.
But for a casual wedding reception, chinos, blazers, sports coats, waistcoats, and OCBD shirts would all be very reasonable and effective options.
Conclusion
Dressing for weddings doesn't need to be complicated. At the end of the day, there are only a few dress codes you'd ever be asked to stick to.
If you've got a good understanding of what black tie, formal, semi-formal (cocktail), and casual really are, you shouldn't go too far wrong.
Hopefully this article has given you a better understanding of casual wedding attire, with a specific focus on chinos and how to make them work in the best ways possible.
Have fun with it. Enjoy.