There are so many different ways to wear them and it's important not to overcomplicate things. But in short, how do you wear chinos casually?
Chinos can be worn casually in a wide range of outfits; some truly casual, some semi-casual, and some smart-casual. Items commonly worn with chinos include T-shirts, polo shirts, hoodies, OCBD shirts, and even blazers or sports coats. Knowing when to wear which should be determined by just how casual the occasion, setting, or dress code is.
The glorious versatility of chinos does give you a lot of choice and freedom. There won't be many items in your wardrobe as easy to coordinate as they are.
The main way you could get it wrong is by underdressing or overdressing for the occasion.
I'm about to run through some example chino outfits, going from casual all the way up to smart-casual.
The aim is to make your outfit selection and coordination so much easier.
Let's get to it.
6 Different Ways To Wear Chinos Casually
Use this list as a guide to spark your own imagination. Feel free to take bits and pieces from each outfit as you see fit.
1. Short-Sleeve Tee And Chinos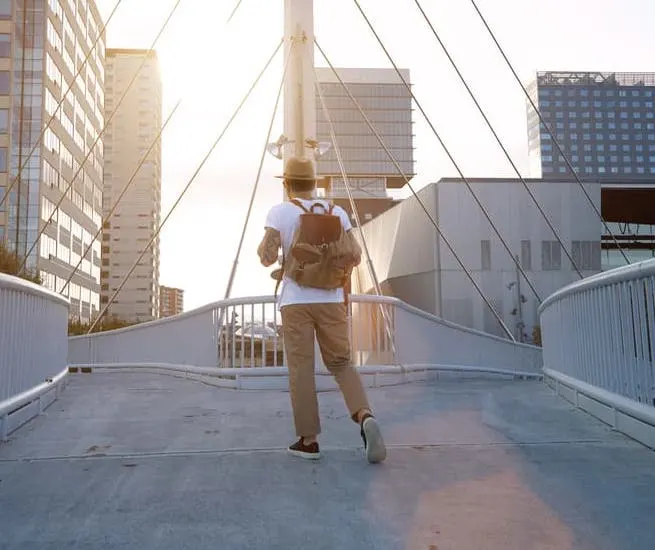 Dress Code – Truly Casual
Climate – Warm
This subtle and easy combination can be worn for such a wide range of purposes.
Although it's a distinctly casual look, wearing chinos are a good way to prevent a T-shirt from looking too casual.
Examples of appropriate occasions may be a regular night out at the movies, a casual dinner, or a family barbeque.
Try out different necklines and collars; Henley's, V-necks, and crew necks all bring their own unique flavor to the outfit.
For those breezy summer evenings, you could always pop on an overshirt open over the T-shirt as an outer layer. Breathable fabrics that won't make you too warm but will still pair well with chinos include cotton, linen, or denim.
Shoes you could wear with this outfit include canvas sneakers, boat shoes, sandals, and espadrilles. It really depends on how casual you're looking to go.
2. Hooded Sweatshirt And Chinos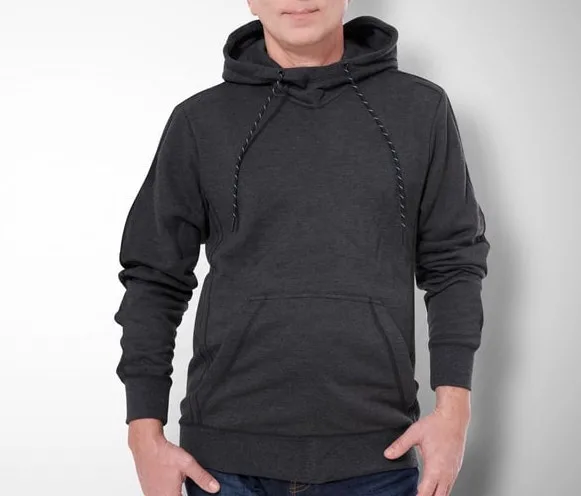 Dress Code – Truly Casual
Climate – Mild / Cool
Let's switch up the season. You've got a pair of chinos, you're looking to go casual, but it's too cold for a basic tee.
A sweatshirt is a good way to go and a hooded one can give you a very cool aesthetic when combined with chinos.
Go for lightweight cotton in breezy, yet warm climates, and heavyweight cotton if you want to keep a little warmer.
When going as casual as this, you really could pull off any pair of chinos. But a laid-back, regular pair with typically casual features will work particularly well.
Here are some features that make a pair of chinos look more casual:
A more relaxed fit
Patch pockets
Obvious inner seam details
Bar tack
No center creases over the trouser legs (i.e flat front)
As you can see from the picture above, cuffing the chinos at the hems will also add to the relaxed, casual vibe.
Similar to the outfit above, shoes that would work great with this outfit do lean toward the casual end of the spectrum.
Boat shoes and espadrilles would once again work well in warmer temperatures.
But boots work great in casual outfits with chinos in milder or cooler climates. Chukka boots and Chelsea boots will serve you very well, particularly in the fall and winter.
Choosing boots in a medium shade of brown will allow for more versatility when it comes to casual clothing. Going too dark may come across too formal.
3. Polo Shirt And Chinos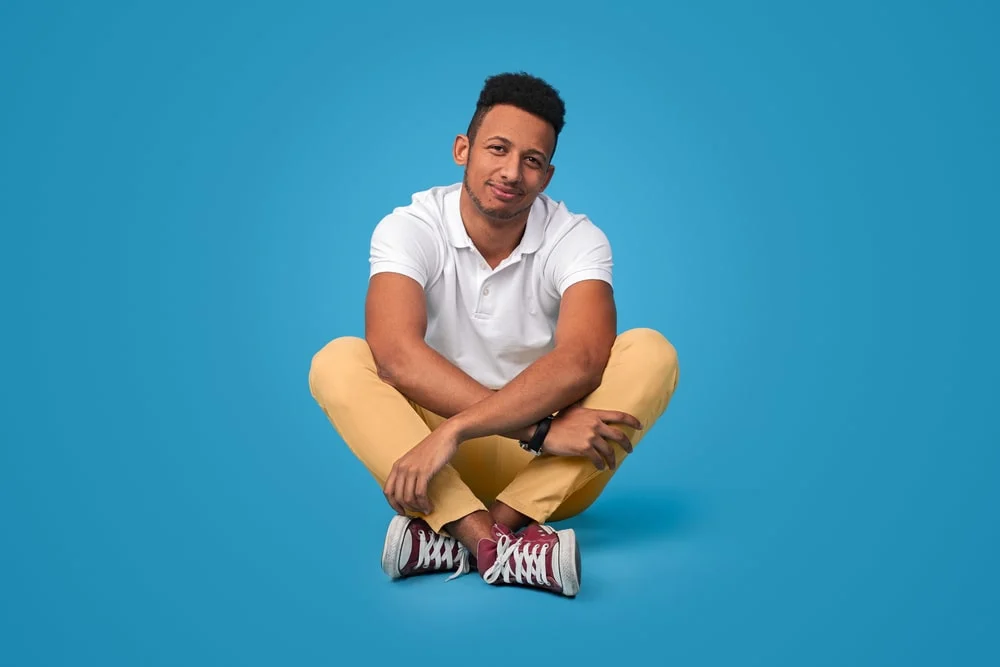 Dress Code – Truly Casual/ Semi-Casual
Climate – Warm/Mild
The polo shirt and chinos combo is something of a classic.
Swabbing a regular T-shirt for this staple of semi-casual apparel is a quick way to add just a touch of sophistication.
It's an easy way to smarten up a regular chino outfit.
Some tips for wearing chinos with polo shirts:
Tucking it in often looks better, particularly if the hem of the polo shirt is particularly long. You don't want a "tailed" appearance at the back.
Go for the usual pique cotton fabric for your polo shirts if possible, as the texture combines very well with chino cloth.
Avoid layering over polo shirts wherever possible. Blazers and jackets just look awkward when worn over a polo collar.
In the summer, you could easily swap your chino pants for chino shorts. They do have the same versatility as chino pants but with the additional comfort of keeping you cool.
It's another classic polo shirt look.
4. Denim Jacket And Chinos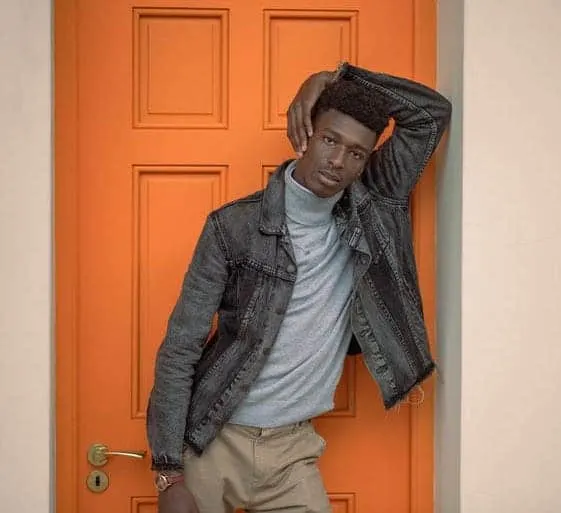 Dress Code – Truly Casual/ Semi-Casual
Climate – Mild/Cool
It's a great option if you're looking to go casual or semi-casual but you want to avoid double denim.
Denim jackets are a classic staple of American workwear and have gradually established themselves as an icon of casual apparel.
The rugged texture of denim blends very well with chino cloth and the combination often looks very natural.
It's a fantastic option if you're looking for an outer layer in milder climates.
For a smarter, more "formal" look, choose a well-fitting, cropped denim jacket. If you're looking to go more casual, oversized and relaxed is the way to go.
Darker denim colors are less casual; think navy, gray, or black.
The wash is also important to consider, with light wash appearing more faded and casual. In contrast, medium wash and dark wash appear smarter and a little more formal.
Other tips for wearing them together:
Experiment with layering. T-shirts, turtleneck sweaters (see picture above), and overcoats all work well with denim jackets and worn with chinos.
Shearling denim jackets – matching the color of the inner lining to the color of the chinos is always an impressive effect.
5. OCBD Or Denim Shirt And Chinos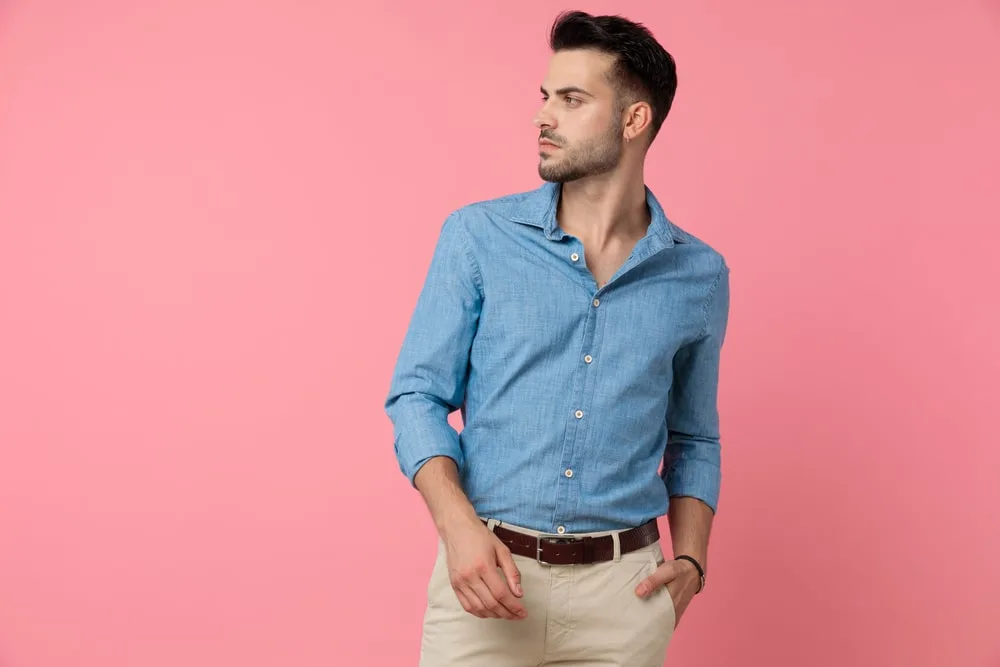 Dress Code – Semi-Casual/Smart-Casual
Climate – Warm/Mild
The image is of a light denim shift, but an OCBD would work just as well and have the same effect.
An Oxford Cloth Button Down (OCBD) shirt is arguably one of the most versatile types of shirts you could own.
Oxford cloth is a breathable, lightweight fabric and comfortable in higher temperatures. But it'll also keep you warm when it gets a little breezier in the evenings.
Wearing an OCBD with a pair of chinos is perfect for semi-casual and smart-casual (i.e business casual) occasions where you're wanting to look smart but not too dressy.
But the beauty of it is that it can be dressed up or dressed down.
If you think the occasion or setting is casual enough to allow for it, try rolling the sleeves up, cuff the hems of the chinos, and wear a pair of moccasins.
But if you're looking to sharpen up a little, pop on a lightweight sports coat (see below), a dress watch, and a nice pair of brogue Derby shoes.
Think of the OCBD and chinos look like a foundation on which you can build on or just keep it exactly as it is.
6. Blazer Or Sports Coat And Chinos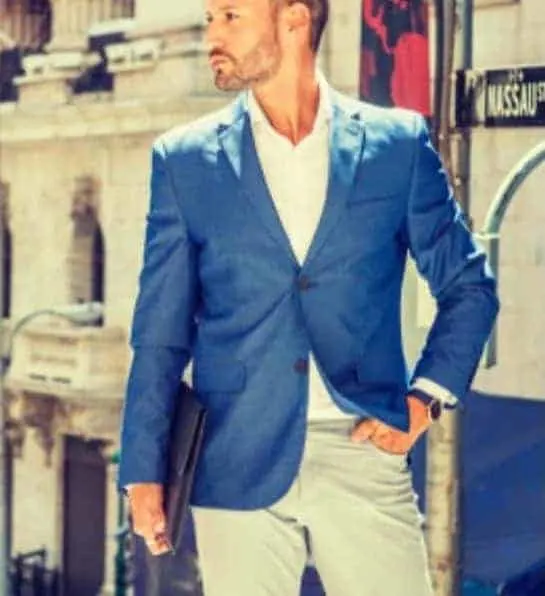 Dress Code – Semi-Casual/Smart-Casual
Climate – Mild/Cool
This may not seem like the most "casual" way to wear chinos casually, but hear me out.
Casual should always be considered a spectrum, and this look may well be considered casual for a wedding or a business event.
Ultimately, wearing a blazer or sports coat as an outer layer is a surefire way to add some serious sophistication to a chinos outfit with minimal effort.
But it's also more versatile than you might think.
For example, you could wear it over an unbuttoned OCBD or dress shirt like in the picture above.
Or, you could dress it down by wearing it over a T-shirt like in the picture below.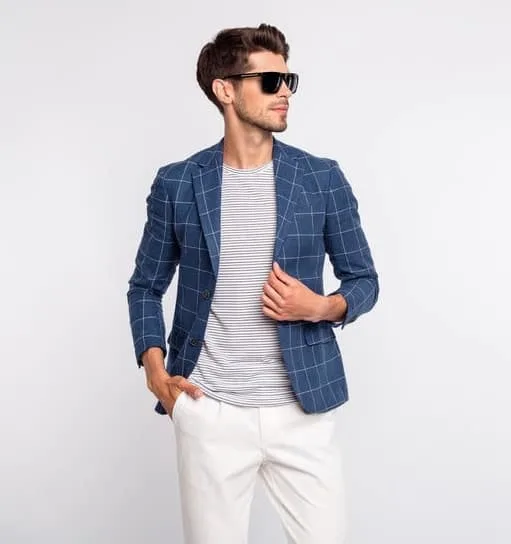 When wearing a blazer or sports coat, however, you won't want to be wearing the same worn-out chinos you go to the movies in.
Pick a pair of chinos with traditionally more "formal" features that you wouldn't usually find in jeans. Here are some examples:
Formal chinos often have center creases down each trouser leg
They usually have welted or jetted pockets
You won't usually find bar tack over stitching as you'd find in casual jeans or chinos
What Shoes Should You Wear With Chinos Casually?
Shoes that are commonly worn with chinos casually include everything from canvas sneakers to Chelsea boots. The type you select should be determined by how formal the occasion or setting you're dressing for is.
It's useful to categorize your options into casual, semi-casual, and smart-casual.
Truly casual options you have include sneakers, sandals, boat shoes, and espadrilles.
You could wear them with chinos in informal settings and with outfits such as the first couple in the list above.
Semi-casual options include moccasins and suede loafers. Great options if you feel as though the casual options above won't cut it but you don't want to go too formal either.
They go very well with polo shirts, for example.
In the fall and winter, strongly consider a pair of chukka or Chelsea boots. These ankle-high boots are durable, stylish, and very effective when worn with chinos.
Smart-casual options include brogues and leather loafers. With smart-casual shoes, you'll need to factor in just how casu.ial the smart-casual dress code really is.
Dress shoes would work well with chinos in smart-casual outfits, but don't risk going too formal or too casual for the specific occasion or setting.
Here are some differences between "casual-looking" and "formal-looking" dress shoes:
The more patterned they are (brogued), the more casual they look
The lighter the shade, the more casual they look
Slip-on shoes will always look more casual than laced
Open lacing systems are more casual than closed lacing systems
So, if you're looking for shoes to wear with chinos, a blazer, and a shirt, you may want to go for a dark brown pair of Derby shoes with a subtle brogue pattern. In other words, a little more formal, but not too formal.
But if you're looking for shoes to wear with chinos and a relaxed OCBD shirt, try a simple pair of tan brown leather loafers instead. In other words, a little more casual.
What Color Is Best For Casual Chinos?
When it comes to chinos, any color can look casual. The fit and features play a larger role than color when it comes to determining how casual or formal they look.
But in general, darker colors will look a little smarter and more formal. For example, black, charcoal gray, and navy blue.
In contrast, lighter-colored chinos such as beige and soft gray will look more casual.
As always, it's best to stick to neutral colors for your chinos as this will make color matching so much easier.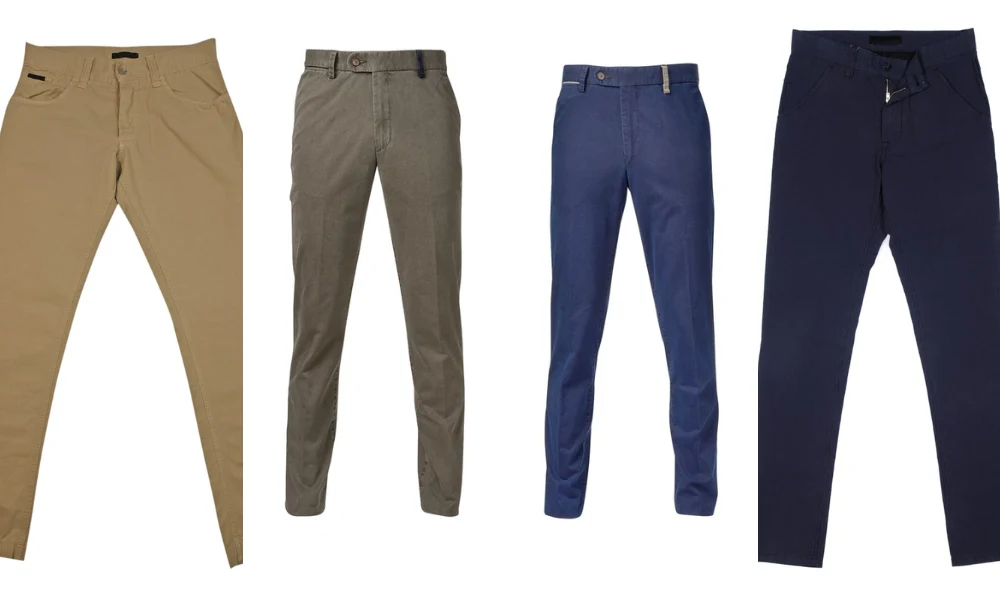 Neutral colors won't conflict with other items you choose to wear and will pair effortlessly with many other items in your wardrobe.
Neutral or nearly-neutral color options for your casual chinos include black, white, gray, navy blue, olive green, khaki, and beige.
Conclusion
The versatility of chinos can be a gift and a curse.
Yes, it gives you a huge amount of selection and choice is always wonderful. However, knowing what to do with it is important.
Hopefully, this article has given you some ideas and inspiration for casual chinos outfits. In addition, it should also provide some guidance on knowing when to wear them.
Experiment and have fun with it.
Ready Sleek founder. Obsessed with casual style and the minimalist approach to building a highly functional wardrobe. Also a fan of classic, vintage hairstyles.