Dress shoes can take many different forms, ranging from smart-casual to, of course, ultra-formal. We all know chinos are as versatile as they come. But can you wear dress shoes with chinos?
Dress shoes can definitely be worn with chinos and the combination works far more often than it doesn't. The main objective is to effectively match chinos and dress shoes in terms of both the level of formality, as well as the color.
The right chinos paired with the right dress shoes often look fantastic. But a casual and regular pair of chinos coupled with the finest black Balmoral Oxford shoes, for instance, can look a little awkward.
This article will teach you how to avoid mistakes such as these and ensure that your coordination works each and every time.
I'll run through the 4 main dress shoes you need to know about and give you example outfits including chinos you could wear with them.
Let's dive a little deeper into the main question first to really hone in on the topic.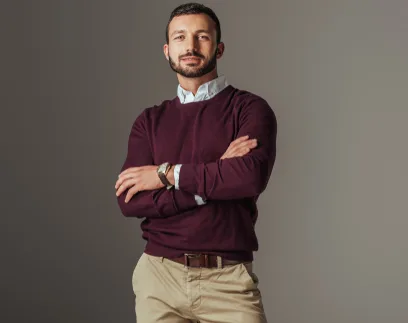 Can You Really Wear Dress Shoes With Chinos?
Dress shoes can be worn with chinos thanks in large part to the glorious versatility that comes with chino cloth.
There are few fabrics that just fit in casual, semi-casual, and business casual settings with such ease. It's pretty safe to say that when a chino outfit doesn't work, it isn't usually the chinos to blame.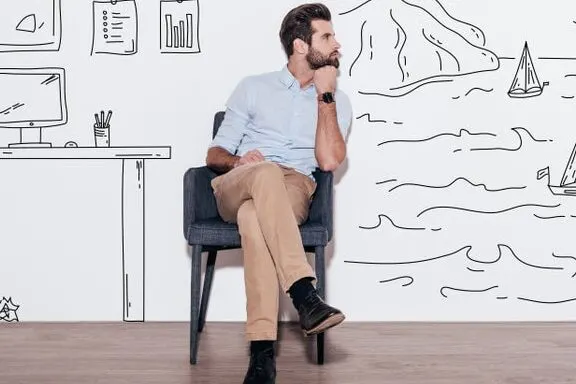 In other words, it's important to combine chinos with the appropriate clothes and accessories. If you get that part right, the chinos are bound to work.
Following on from that, it's important to choose the right dress shoes for the right pair of chinos in order for the combination to be effective.
In order to do that, the main factor to consider is how formal the occasion or setting you're dressing for is.
If you match them correctly in terms of formality, yes, it's going to work.
Let's talk through how you'd do it.
How To Wear Chinos With Dress Shoes
In order to determine how formal you'll need to go, it's a good idea to get to grips with the often-ambiguous terms used for dress codes these days.
"Semi-casual" is more formal than "casual", but less formal than "business casual".
For our purposes, think of "business casual" as being exactly the same as "smart casual". The two terms are interchangeable.
"Business casual" can mean anything ranging from a navy blazer and dress shirt to a sweater and an OCBD shirt.
It's important to use your own intuition when judging just how formal you'll need to dress for a specific setting.
If an event is truly formal – that's easy. It's a suit or a tux; chinos are out of the equation.
It's the gray areas that are more difficult; "business casual" dress codes. But very often, chinos and dress shoes work perfectly in these settings.
Once you've judged that they would be appropriate, it's time to figure out how formal you'll need to go with each one.
Assessing Formality
For example, modern workplaces that often adopt the "business casual" dress code would be fine with a regular, casual pair of chinos and some Derby shoes.
Alternatively, a sporting event or garden party you're pulling out your navy blazer for may benefit from a more formal looking pair of chinos with a nice pair of dark brown Oxfords.
The trick is to match chinos and dress shoes in terms of their level of formality.
Now would be a good time to help you differentiate between a regular, casual-looking pair of chinos from a more formal-looking one.
Once you're able to do that, you'll be able to pair casual chinos with the more "casual" dress shoes such as loafers and Derbys, and the more formal chinos with shoes like Oxfords.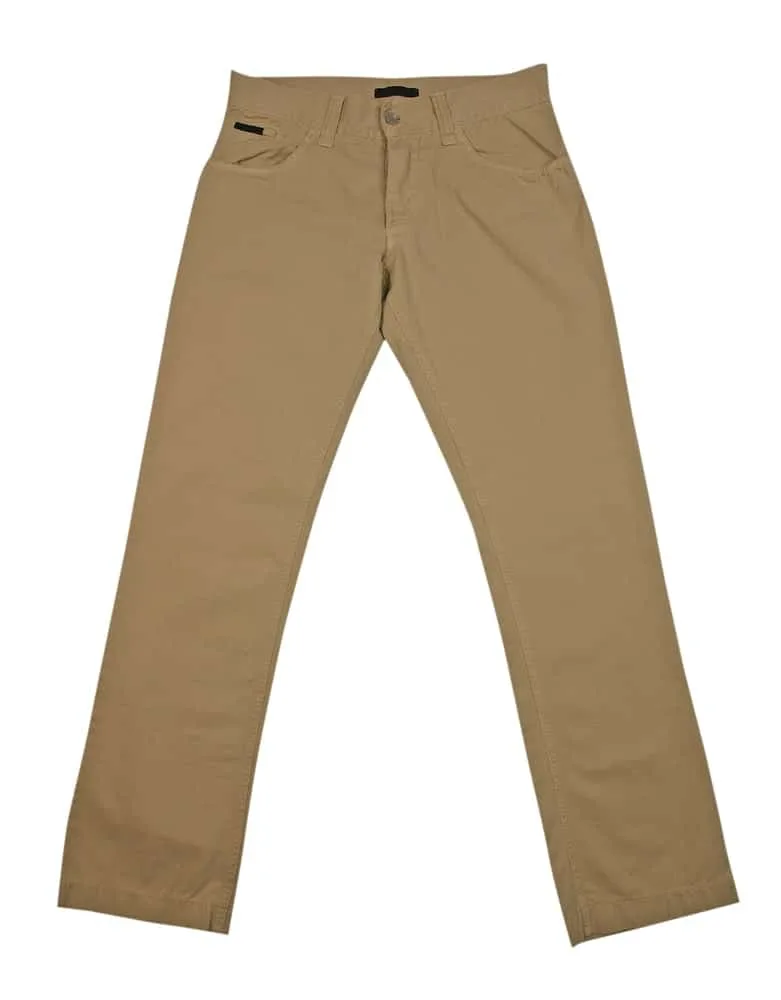 Here are some key differences between formal chinos and regular, casual chinos:
Formal chinos often have a sharp center crease down each leg
Formal chinos often have welted or jetted pockets and not patch pockets
Formal chinos often have minimal seam details on the inner legs
Now it's time to talk through the main dress shoes you need to know about, and how to pair them with chinos in the best ways possible.
4 Dress Shoes You Can Wear With Chinos (And How To Do It)
In line with the main principle we've been talking about, I'm going to list them from the most formal to the least formal.
Although all dress shoes can be considered "formal", it's clear that some of them are just more formal than others.
Here are some basic principles of dress shoes to bear in mind before we start:
Simple, elegant designs with little to no patterns are more formal.
Black is the most formal color. The lighter you get, the more casual.
The more formal dress shoes have closed lacing systems, whereas more casual ones have open lacing systems.
Leather is more formal than suede.
Leather outsoles are more formal than rubber outsoles.
Remember, you can get more formal and less formal designs of each type of dress shoe. For instance, you can get tan Oxfords with brogue patterns.
Although these still look formal, they look less formal than a simple, black pair with no pattern.
Just something to bear in mind.
1. Oxford Shoes
Oxfords really are the granddaddy of formal dress shoes. When you're thinking of wearing a suit or a tux, they'll always be the best option.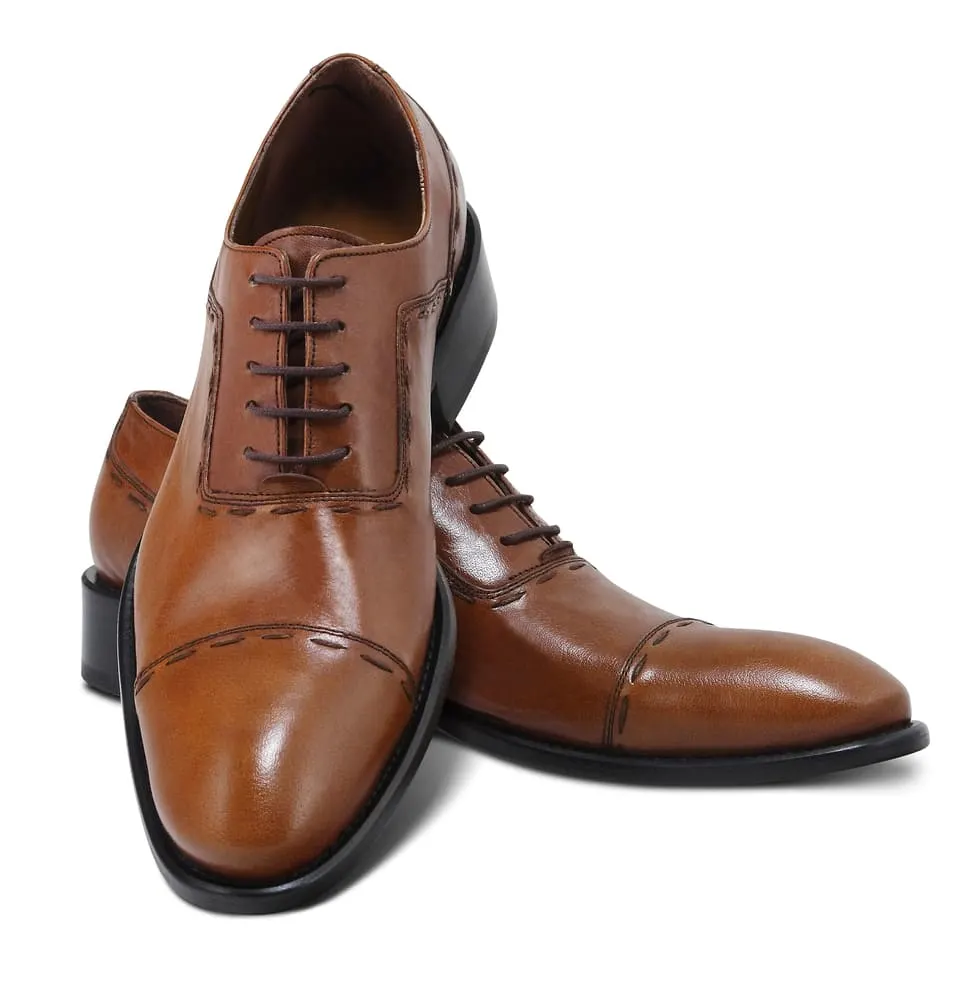 The closed lacing is what makes it look instantly more formal, but the simplicity and elegance of the design contribute too.
Black Oxfords will always be the most formal. But you'll find them in dark brown, oxblood, and many other colors. Remember, the lighter the shade, the more casual they look.
They can also be plain or with a pattern (brogue). The more patterned they are, the more casual they look.
When wearing them with chinos, you'll want to try and make sure the chinos look formal enough to match up to such a formal dress shoe.
You could look for a more formal pair of chinos – look for those center creases and welted pockets.
You could also look for a more casual pair of Oxfords – try brown and brogue instead of black and plain.
2. Derby Shoes
A pair of Derby shoes and chinos usually works very well indeed.
The main reason for this is that the level of formality usually matches up effortlessly and very effectively.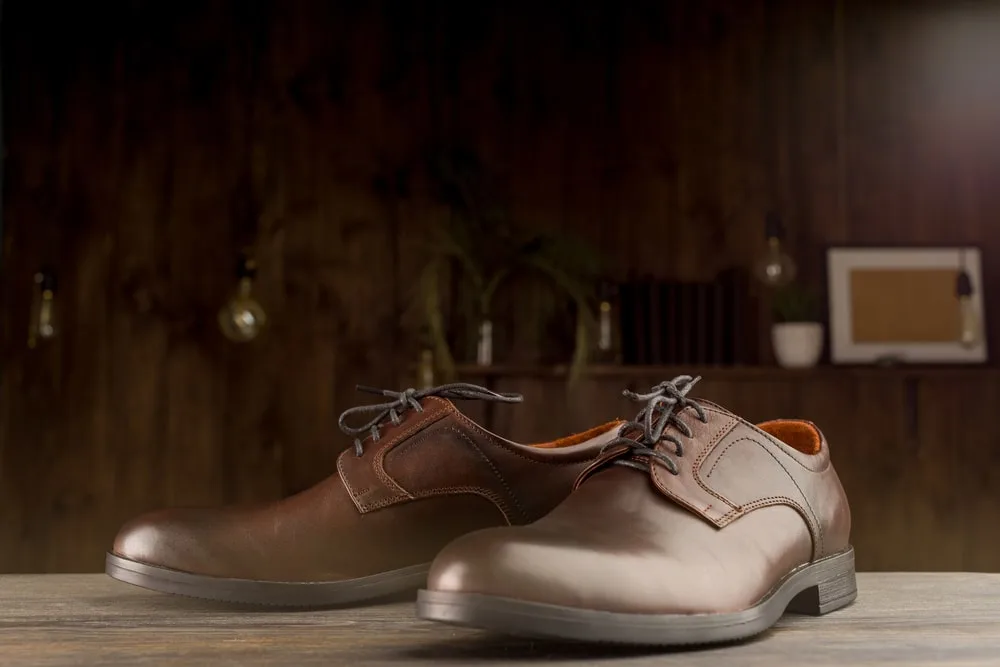 Derby shoes are by their very nature less formal than Oxford shoes. This is thanks to its open lacing system. This makes it look more casual, and also makes the entire shoe more flexible and more comfortable to wear.
The beauty of it is they can easily be dressed up as well as dressed down.
Sure, you can wear a pair of Derbys with a suit – perhaps go for a smarter, dark brown pair with no brogue patterns.
But you could also easily wear Derby shoes with business casual outfits. Combine it with a sports coat and yes – a pair of chinos.
The versatility of Derby shoes would allow you to combine them quite comfortably with both formal and regular, casual pairs of chinos.
Allow the occasion and the setting to guide your decision.
Choose plain, unpatterned, dark Derby shoes with smarter pairs of chinos for more formal occasions.
In contrast, choose Derby shoes that are a lighter shade of brown and brogue-patterned with more casual pairs of chinos for the less formal occasions.
3. Monkstraps
Monkstraps are even more casual and versatile than Derby shoes.
The reason they appear more casual is because of the strap(s) and the buckle(s). The absence of a lacing system makes it instantly appear less formal.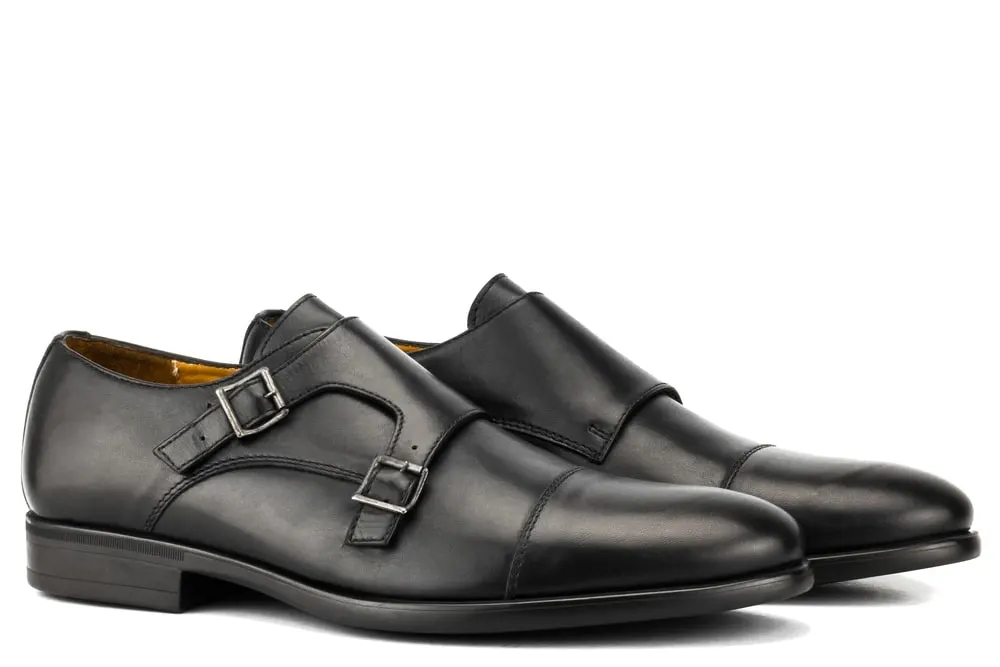 The beauty of this is that they can be worn with just about anything other than formal wear. They wouldn't be appropriate to wear with formal suits and tuxedos – stick to black Oxfords for this.
But monkstraps can honestly be worn with most casual, semi-casual, and business casual outfits you can think of. Jeans, slacks, polo shirts, sports coats, and even T-shirts.
They can easily be worn with even very casual looking pairs of chinos and it would still work. Sure, they're traditionally still considered a "dressy" type of shoe. But it's phenomenal just how easily they can be dressed up or dressed down.
They're great for slipping on and slipping off with ease.
You can get both single and double monkstraps. Which one you choose is mainly down to personal preference.
The doubles are incredibly popular simply because of how unique and smart they can look while still feeling very comfortable to wear.
To sum that up, monkstraps are a great casual pair of dress shoes you can wear with chinos.
4. Leather Loafers
Loafers embody the casual aesthetic better than any other shoe on this list. A loafer is essentially a laceless, slip-on shoe. Unlike moccasins which usually have a more prominent sole, loafers are usually flat.
There is a very wide range to choose from. You've got penny loafers, Gucci loafers, Belgian loafers, tassel loafers, and more.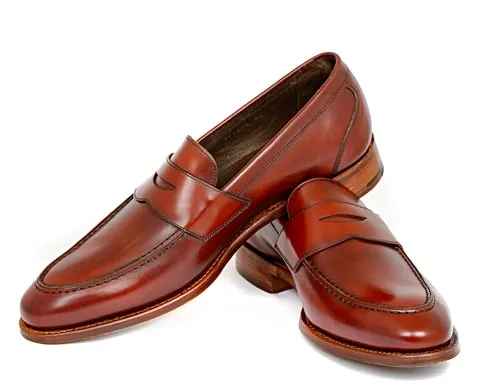 Penny loafers are the most popular and are called as such because men supposedly used to store a penny at the front.
You can get them in different materials, with the most popular being leather and suede.
We're talking about leather loafers here because they are, by far, the dressiest looking type. Having said that, the slip-on design with no laces or fastenings will always mean it looks more casual than the other shoes on this list.
Leather loafers are incredibly versatile, although they would be unsuitable to wear with suits. They can instantly make a casual pair of chinos look smarter, and can even be worn with jeans or shorts.
The design and formality of the chinos you choose to wear is irrelevant when it comes to these shoes. Whatever you choose, the casual nature of chino cloth in itself will ensure that it works.
Color Matching Dress Shoes With Chinos
When color coordinating your dress shoes and chinos, stick to basic principles. Brown dress shoes and neutral-colored chinos will always serve you well.
Let's dive deeper into it.
As always, keep color matching simple. Having the benefit of being able to mix and match between almost all of the items in your wardrobe is a beautiful thing.
This is something to eventually aim for. A "capsule" wardrobe, as they call it, where you've got a small and highly versatile collection of items that can effortlessly be coordinated with each other.
Sticking to a neutral color scheme plays a large role in achieving this.
"Neutral" colors are difficult to define but could be called unsaturated colors that don't compete with any other colors.
The classics are white, gray, brown, black, and beige. But there are other nearly neutral colors that you should feel comfortable using, including navy blue and olive green.
Stick to neutral colors for your chinos.
Neutral colors are restful to look at and don't compete with each other. They form a fantastic foundation on which you can build.
If you did want to spice things up with a splash of color, for example with a colorful tie, neutral colors in the background would allow you to do this with ease.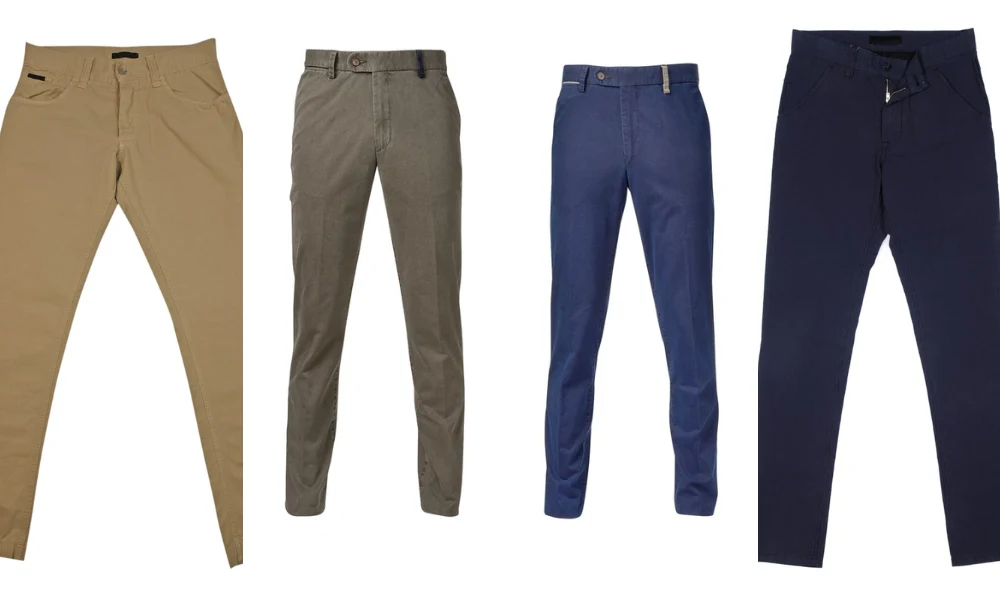 Any of these neutral colors would work fantastically well with any shade of brown you can think of. Because of this, stick to brown dress shoes to go with your chinos and you will very rarely go wrong.
Of course, you'll want a pair of plain black Oxfords to go with those suits and tuxedos. But black dress shoes are a little harder to combine with chinos because they simply aren't as versatile and can often come across a little too formal.
In contrast, brown will always serve you well. Remember, the darker the shade of brown, the more formal it'll look.
Keeping things simple when it comes to color will save you a lot of headaches going forward.
What Are The Best Dress Shoes To Wear With Chinos?
The best dress shoes to wear with chinos will depend on how formal you're looking to go.
Now that you've got a good idea of the range of dress shoes available and how formal each of them will come across, use it to guide your decisions.
The best dress shoes to go with a smart, formal-looking pair of chinos for a business casual event would most likely be a dark brown pair of Oxfords or Derby Shoes with or without a subtle brogue pattern.

The best dress shoes to combine with a casual, regular pair of chinos for a casual or semi-casual occasion or setting would most likely be monkstraps or loafers.
Having said that, a brogued pair of Derbys in a lighter shade of brown would also look fantastic in a casual outfit.
Conclusion
You've gotta love chinos. Dress them up or dress them down, they'll always be one of the most reliable items in your wardrobe.
Hope you found that useful. Remember to stick to basic principles to ensure that this classic combination works each and every time.
Ready Sleek founder. Obsessed with casual style and the minimalist approach to building a highly functional wardrobe. Also a fan of classic, vintage hairstyles.