This isn't one you want to get wrong. Overdressing never feels good. But underdressing for a formal occasion is hard to get over. Which begs the question, which shoes can you wear with formal pants?
In order of formality, the most appropriate shoes to wear with formal pants are Oxfords, Derbys, monkstraps, and loafers. Darker colors, lacing, and a lack of brogue patterns will always look more formal and make the shoes easier to match with formal pants.
While it may sound simple enough, there's a good chance that one of these types of shoes would be more appropriate than the others in your particular situation.
Before we dig deeper into each of these types of shoes, let's go through some rules you can apply to match the right shoes with formal pants (every time).
Let's get to it.
What Exactly Are "Formal Pants"?
Formal pants are pants generally made from a suit fabric – wool, tweed, or gabardine.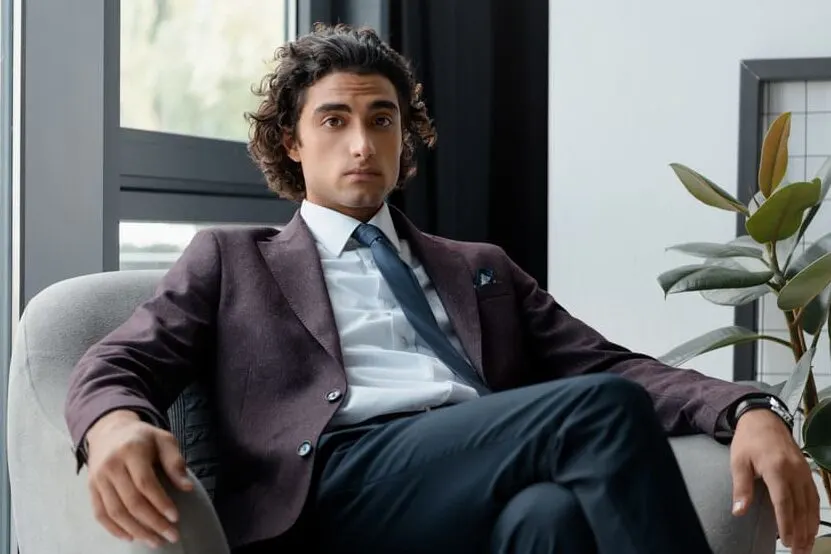 These materials work well when combined with other items of formal attire such as dress shoes, dress shirts, blazers, and so on.
They're meant to be worn to formal events such as weddings, conferences, offices, formal dinners, and so on.
Although these pants often come as part of a matching suit, they don't always. It's possible to wear formal pants without a matching suit jacket – for example, with a dress shirt and tie, or a non-matching blazer.
If you're wearing formal pants with a jacket or blazer that doesn't match, it's important to ensure that the fabrics and colors are suitably different.
This should make it clear that it's intentional and not just a "suit that doesn't match".
Right from the outset, it's important to note that chinos, jeans, and linen pants are not formal pants. They're casual or smart-casual at best.
How To Wear Shoes With Dress Pants [The 4 Rules]
While it's easy to broadly name the best types of shoes to wear, it's no secret that there are so many different variations of these shoes.
Different colors, materials, patterns, and so on.
So, no matter which of the four types of shoes you choose, remember these 4 rules and principles to ensure you get it right.
1. Dark Colors Are More Formal
Black is the most formal color for dress shoes. The lighter they get, the more casual they look.
Dark brown works well and in many ways is more versatile when it comes to color matching with formal pants.
When you get even lighter (eg. tan brown), you need to consider whether they're formal enough for the outfit you're wearing.
2. Lacing Is More Formal
Laced shoes are more formal than slip-on shoes.
Oxford shoes and Derby shoes are laced, while monk straps and loafers are not.
When you're looking to wear shoes with formal pants and you don't want to take any risks, laced shoes will always be a better option.
3. Brogue Patterns Are Less Formal
It's important to understand that the term "brogue" doesn't refer to a specific type or style of shoe.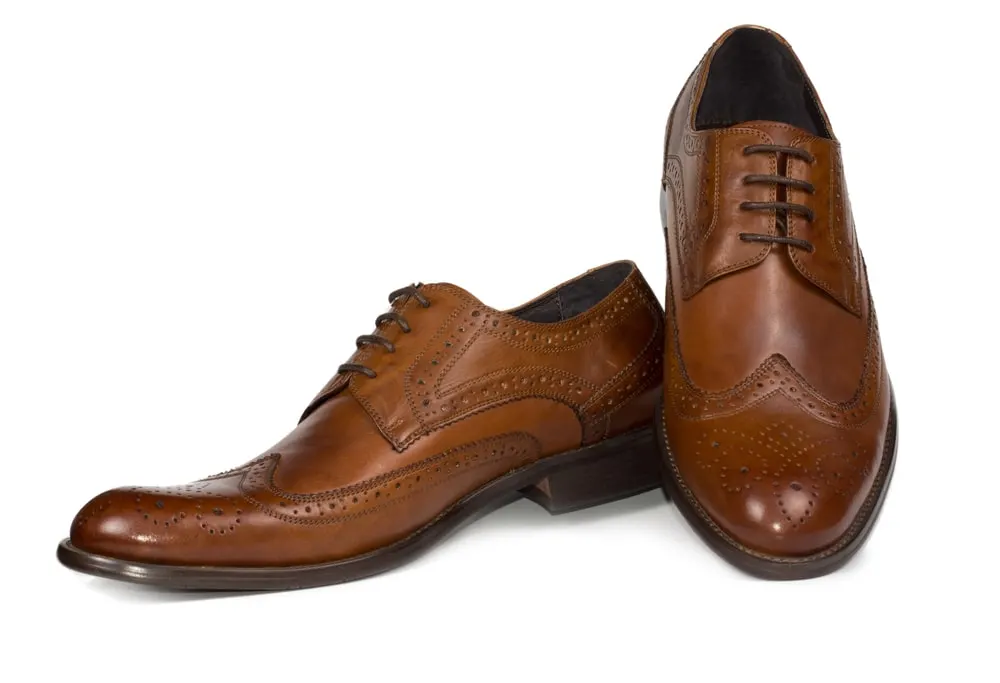 Both Oxford shoes and Derby shoes can be brogues. It just means that they have that typical perforated pattern to them.
Brogue shoes can be quarter, semi, or full brogue (wingtip). It simply refers to the number of holes in the pattern and the extent of the shoe that they cover.
The more perforations (holes), the more casual they'll look.
While it's possible to wear quarter or semi-brogue shoes with formal pants in some instances, full brogues will often look too casual.
4. Leather Is More Formal
Leather will always look more formal than suede, canvas, or any other material. When you're wearing formal pants, trying to wear anything other than leather will often cause problems.
The shinier the leather, the more formal they'll look.
For example, patent black leather is very shiny and often worn for ultra-formal events such as black-tie dinners.
4 Shoes You Can Wear With Dress Pants
Here are those four shoes you can wear with formal pants discussed in a little more detail.
I've listed them in order of formality – going from most formal to least formal.
1. Oxford Shoes
Oxford shoes are universally recognized as the most formal option among the mainstream dress shoe styles.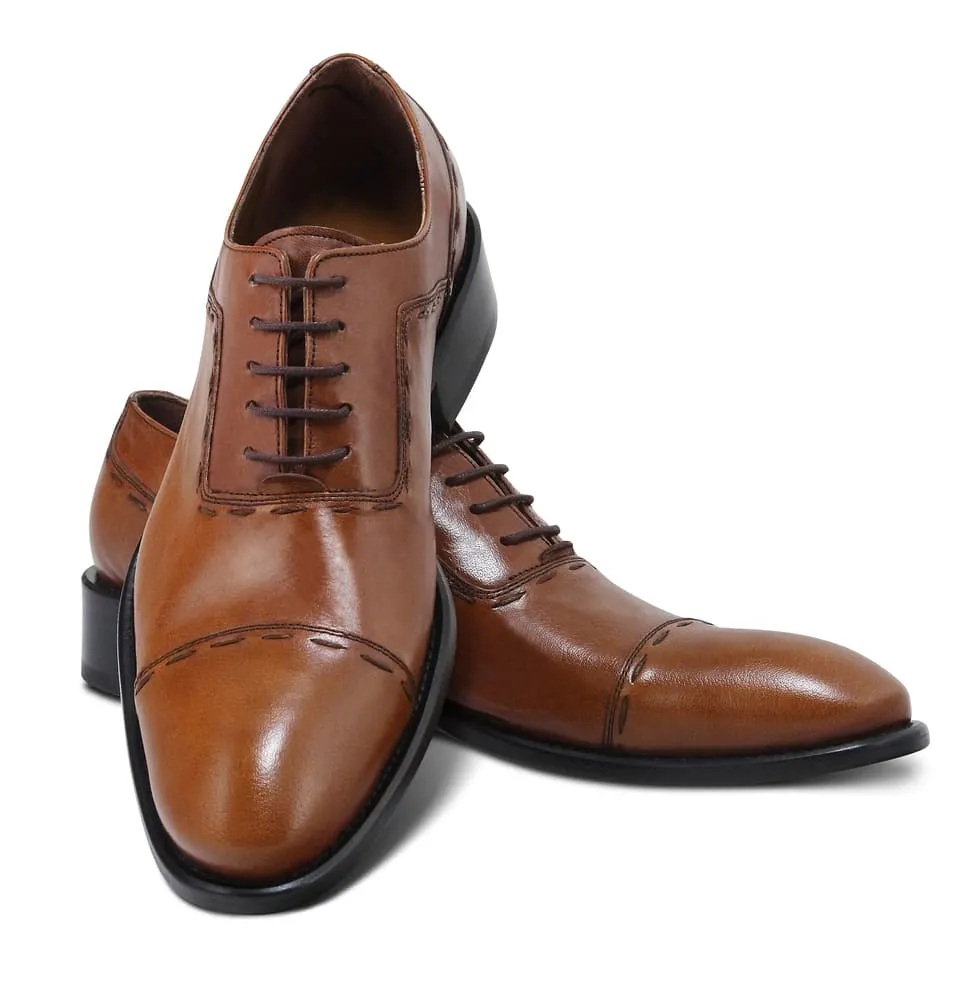 When you're looking to wear a formal worsted wool suit or a tuxedo, a pair of Oxfords will often be the best option.
Even when you're wearing "formal" attire that isn't quite as formal as that and you're not willing to risk underdressing, Oxfords will always be the safer bet.
It's the closed lacing system that defines Oxfords and sets them apart from the other shoes on this list.
"Closed lacing system" simply means that the facing (i.e the panels containing the eyelets) are stitched under the vamp (front of the shoe).
It makes a pair of shoes look instantly more elegant.
Oxfords can come in a variety of different colors and patterns. Plain black leather with no brogue patterns will look more formal than lighter colors or those with brogue-ing.
When wearing formal pants, go for plain black or dark brown leather with little or no brogue-ing.
2. Derby Shoes
Derby shoes are a notch less formal than Oxford shoes but would still be appropriate to wear with formal pants.
Here's a pair of black Derby shoes on Amazon as an example:
Unlike Oxford shoes, they have an open lacing system. In other words, the facing is stitching on top of the vamp.
Practically speaking, this leads to flaps appearing at the lacing – easy to spread apart. This makes Derby shoes easier to slip on and perhaps more comfortable for men with wider feet.
However, it does make them look more casual than the closed lacing system of Oxford shoes.
Because of this, when wearing Derby shoes with formal pants, you need to be a little more careful when it comes to the type of Derby shoes you choose.
As with Oxfords, black and dark brown would always be a safer bet than lighter colors.
In addition, always go for leather and not suede. Even dark suede would rarely be considered appropriate to wear with formal pants.
Try and avoid brogue patterns, as brogue Derbys can often look too casual for formal pants. If you do opt for brogues, try not to go any further than quarter brogues.
If you stick to these principles, there's no reason why you can't wear a pair of Derby shoes with formal pants – whether that's as part of a matching suit or not.
3. Monkstraps
We're getting the more "casual" styles of dress shoes now. All this means is that you have to be even more careful when pairing them up with formal pants.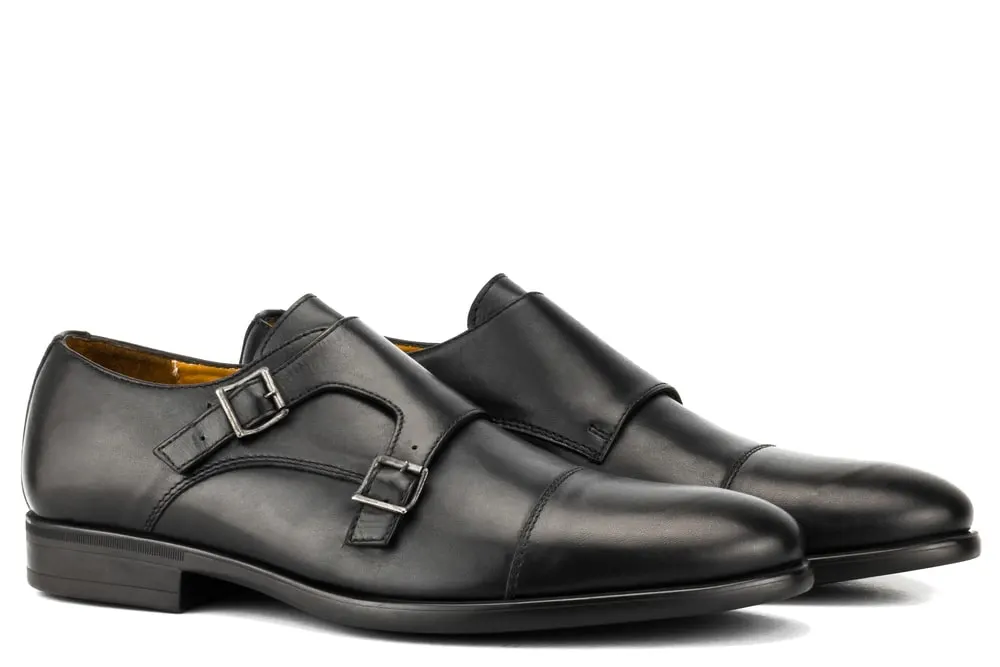 This definitely holds true when it comes to monkstraps.
Monkstraps don't have lacing – an instantly "casual" feature. Instead, they have a strap and buckle.
They're pretty versatile, but shouldn't be worn with full formal suits (i.e matching pants and jacket) or tuxedos.
Casual suits such as linen or seersucker? Sure.
But formal suits would be a no-no.
Monkstraps work best with smart-casual or business-casual outfits. For example, with chinos, sports coats, cardigans, etc.
They'd simply look too casual when worn with a full suit.
However, monkstraps still work well when worn with "formal pants" (i.e wool, tweed, or gabardine pants in a formal cut) and not a matching suit.
It generally works better when these formal pants are in a lighter color or in bolder patterns. Although they're still "formal", they have features that make them look more casual and more appropriate to wear with monkstraps.
In addition, choose leather monkstraps in a dark color. "Double" monkstraps with two straps instead of one, often look more formal as well.
The main point to take away here is that when you're combining monkstraps with formal pants, choose the more "casual" formal pants and the more "formal" styles of monkstrap.
4. Loafers
It isn't easy by any means, but in certain instances, loafers can be worn with formal pants.
It's just important to choose the right type of loafer.
The most formal type of loafer you'll find is the black horsebit ("Gucci") loafer. It has a metal buckle across the vamp in the shape of a horse's bit.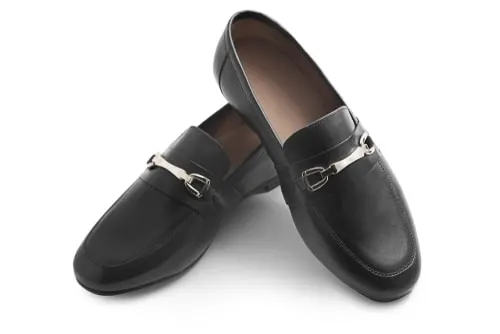 Although it has the typical features of a loafer – the stitched upper seam and the low heel – the buckle adds a sophisticated edge to it.
Loafers are laceless, slip-on shoes that will always look more casual than Oxfords and Derbys.
Penny loafers and tassel loafers should generally never be worn with formal pants.
But the black horsebit loafer is often seen as an exception to the rule. If you were going to wear a pair of loafers with formal pants, these would be the type to choose.
Much like the monkstraps, however, wearing loafers with a full formal suit or tuxedo would be a mistake. Yes, this goes for the black horsebit as well.
But if you were wearing formal pants outside of a full matching suit, the black horsebit loafers may be appropriate.
An example outfit would be those black horsebits, a light grey pair of tweed pants, an Oxford shirt, and a sports coat.
Color Matching Shoes And Formal Pants: FAQ
We talked briefly about why color is important when it comes to shoes and formality – the darker the color, the more formal shoes generally look.
But a common issue people have is actually choosing the right shoes for specific colors of formal pants.
Here are a couple of those questions answered in style.
Which Shoes Match With Black Formal Pants?
The best shoes to go with black formal dress pants are black leather Oxford or Derby shoes. Black is the most formal color for dress pants and it's important that the shoes are suitably formal enough as well.
In a way, it's pretty easy to color match your shoes with black formal pants. It's easy because you have very few choices.
Although you could risk it by going rogue – for example, testing a pair of purple or grey shoes with your black formal pants – is it really worth it?
Probably not.
It's a lot easier to keep things simple. Go for black.
Black is formal – formal enough to warrant the most formal types of dress shoes. In other words, either a pair of Oxfords or Derbys.
Sticking to this rule is unlikely to win you any outlandish style awards. But it's enough to ensure that you never put a foot wrong (pun intended).
Can You Wear Black Formal Pants With Brown Shoes?
Brown shoes should generally not be worn with black formal pants. Attempting to do so will either lead to a color mismatch or an end result that simply looks too casual.
Although many do try to match black pants with brown shoes, it's usually a combination that's best left alone.
The only way to really make it work would be to choose an especially light shade of brown – enough to contrast the black trousers.
The problem with this, however, would be that the outcome would not look formal enough.
Considering the fact that you're wearing black formal pants, there's a good chance this casual end result will not be acceptable to you.
Which Shoes Match With Blue Formal Pants?
Blue formal pants are surprisingly versatile and can be worn with shoes including Oxfords, Derbys, or monkstraps. Suitable shoe color options include dark brown or black, while lighter shades of brown or even beige may be appropriate for more casual settings.
As with most other items of clothing, the darker the shade, the more formal it'll look. Dark shades of blue such as navy or admiral have a distinctly formal edge to them.
But they'll never look quite as formal as black formal pants. Because of this, you've got a wider range of shoes to choose from – both in terms of style and color.
While black and dark brown leather will always be the safest options when you're going formal, it's worth considering whether the setting you're dressing for would allow for something a little bolder.
If the setting is "formal" but not that formal, consider going for something more daring. Perhaps tan brown or beige.
Although blue pants would match with a wide range of other brighter and bolder colors such as burgundy and even orange, be careful not to push it too much.
At the end of the day, you're probably wearing formal pants for a reason.
The brighter and bolder the color or pattern, the more casual the end result will look.
Conclusion
Matching shoes and formal pants is unfortunately one of those scenarios where there is a right and wrong way to do things.
I don't say that very often, but an "anything goes" approach is a recipe for disaster.
Hopefully, however, you now have a much better idea of how to make it work.
Enjoy.
Ready Sleek founder. Obsessed with casual style and the minimalist approach to building a highly functional wardrobe. Also a fan of classic, vintage hairstyles.