Comparing goliaths isn't easy. Both of these shoes are globally popular and have very loyal fan bases. But sometimes, it can be pretty hard to choose between the two. So, loafers vs boat shoes; what's the difference?
Unlike boat shoes, loafers are slip-on, laceless shoes with smooth or textured outsoles. Boat shoes are laced with razor-cut (siped) soles to help with grip. Loafers are considered more versatile than boat shoes and are suitable for both casual and smart-casual settings. Although boat shoes are purely casual, they can't be beaten for comfort.
But knowing when to wear each one can sometimes be frustrating.
This article is going to teach you exactly how to choose between the two for any specific occasion or setting.
FYI – throughout this article, we'll be using the terms "top-siders" and "boat shoes" interchangeably. There are some subtle differences, but for the most part, people like to think of them as the same thing (and that's fine).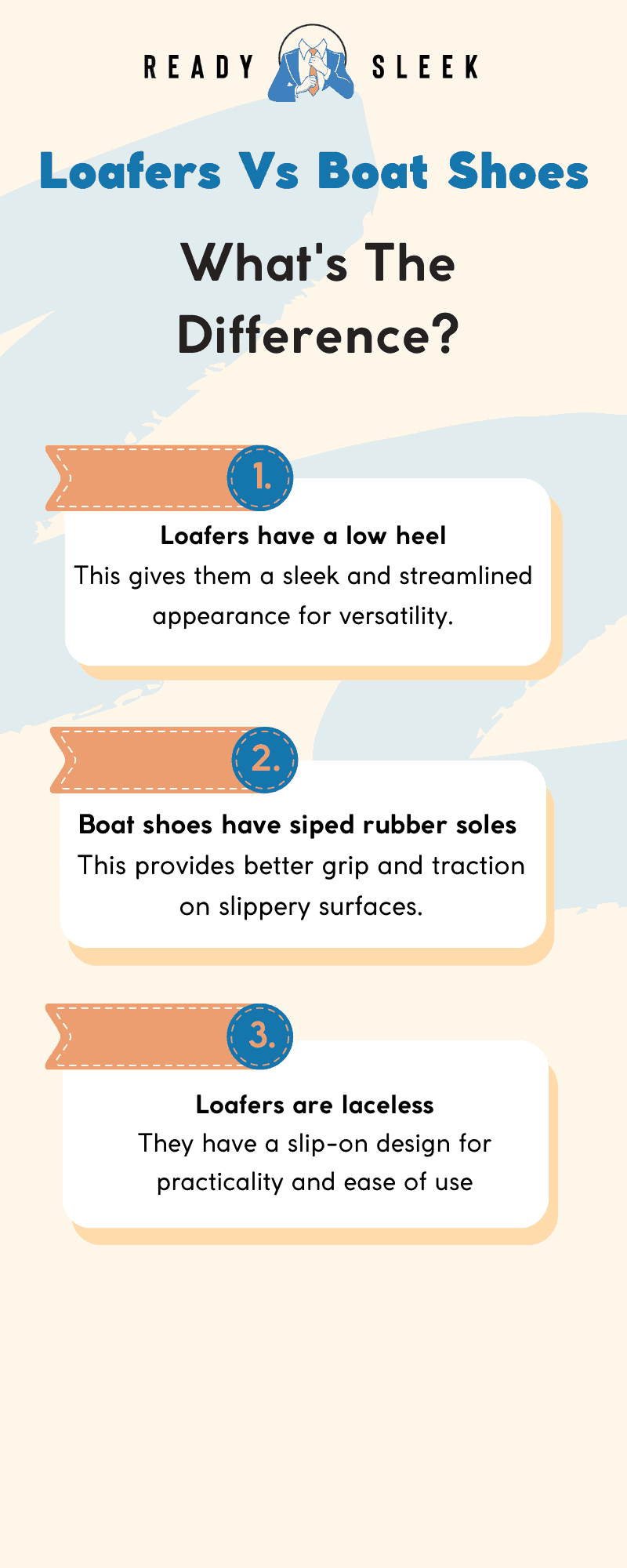 3 Differences Between Loafers And Boat Shoes
The main differences between them are the lacing and the sole. Let's dig a little deeper into each of these.
1. Loafers Are Laceless
Loafers will never have laces.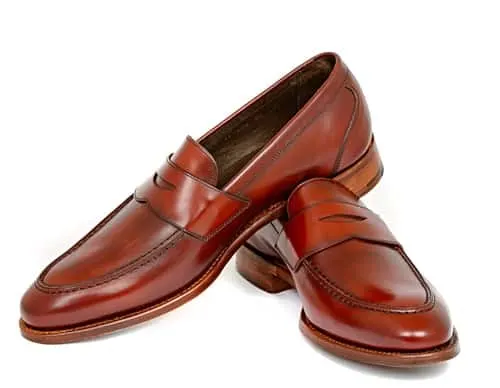 Having been inspired by both the moccasin and the slipper, loafers are widely known for their glorious and incredibly practical slip-on design.
Boat shoes are always laced.


Sperry boat shoe (Amazon)
They almost always have a long lace made of nylon or leather that's tunneled around the heel and eventually through two eyelets at the tongue.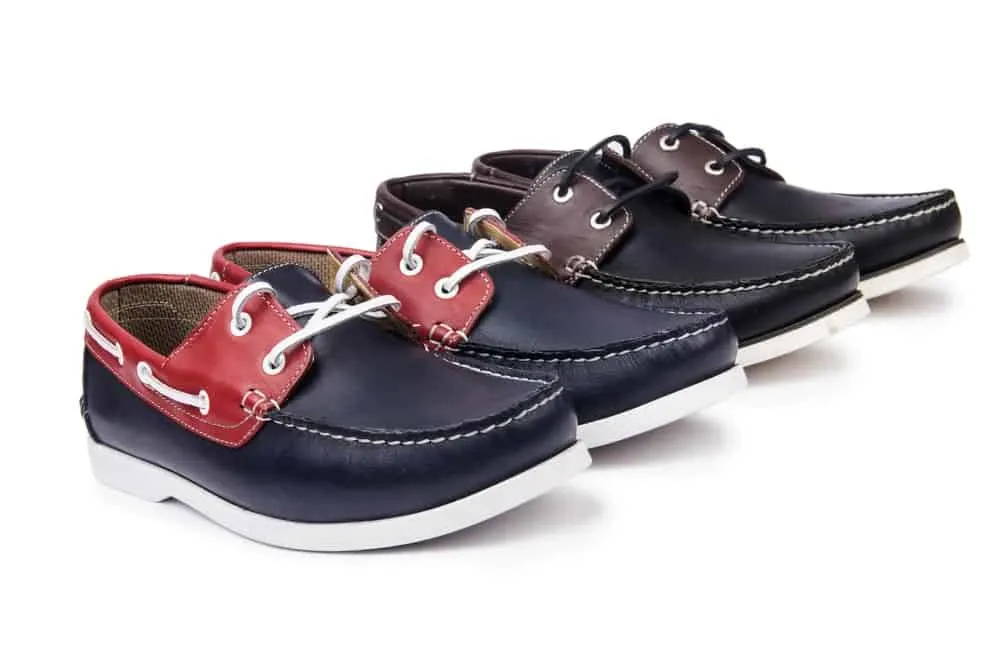 Although it does help to secure the foot, it's mainly for decorative purposes and is arguably the best-known feature of boat shoes.
2. Boat Shoes Have Siped Rubber Soles
Picture swaying on the deck of a slippery boat, tirelessly steering against the brute force of the sea.
Boat shoes were designed with this in mind.
The rubber outsoles are "siped" – razor-cut to produce ridges that allow for better grip and traction. This is perfect for slippery surfaces such as on a boat.
You'll also often find them in white or a light color to avoid marking up a boat deck.
Of course, most modern-day purchases of boat shoes aren't made with the deck of a boat in mind. However, these features do still remain.
The outsoles of loafers are found in darker colors and are made from leather, rubber, or a synthetic combination of either one. They're often textured in some way, but aren't siped and so don't provide the same amount of traction.
3. Loafers Have A Low Heel
Loafers are typically designed with a low or no heel, giving them a sleeker and more streamlined appearance. This is arguably the key reason why they're so easy to dress up or down, depending on the occasion.
It gives them a lot more versatility.
On the other hand, boat shoes have thicker soles and higher heels. While they provide more support and stability when walking on uneven/wet surfaces, it does give them a more casual appearance.
Related Reading:
Boat Shoes Vs Camp Mocs And Espadrilles
Boat Shoes Vs Moccasins, Sneakers, And Drivers
2 Similarities Between Loafers And Boat Shoes
They're actually quite similar, given their heel and their moccasin-like seam.
1. The Heel
Both loafers and boat shoes will usually have low heels. But the heel of a pair of loafers will generally be higher than that of a pair of boat shoes.
Having said that, it's not uncommon to find boat shoes with no heel at all. Plus, if there is one, it's usually continuous, blended, or molded into the outsole.
Loafers will almost always have a heel of some variety, with the heel of most men's pairs being around an inch in height.
2. Stitched Seam On Top
Like the moccasin, boat shoes and loafers have stitched upper seams. This gives each of them more structure and definition.
In fact, the presence of this stitched upper seam differentiates loafers from their not-so-distant slip-on cousin; the slipper.
Loafers Vs Boat Shoes: Which One Should You Choose?
Loafers and boat shoes differ in terms of formality, versatility, comfort, and cost.
When choosing between these two shoes, figuring out what's important to you is important. Each has its strengths; use them to guide your decision.
Here are five factors to consider:
1. Formality
If you're looking for a pair of shoes you can wear for casual, semi-casual, and smart-casual dress codes, go for loafers.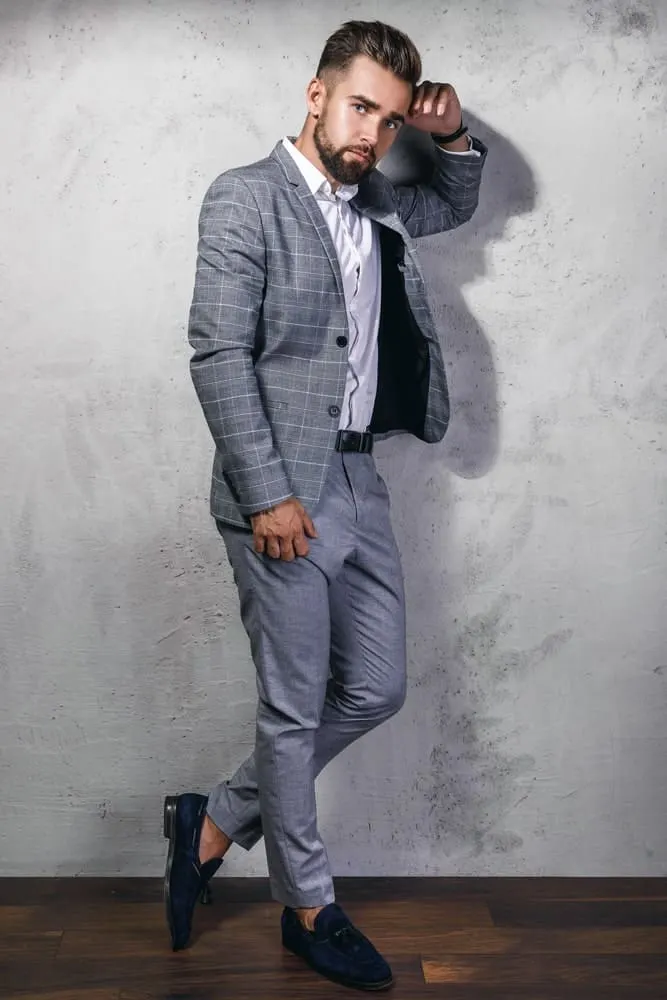 If all you want is casual, boat shoes would also be a mighty fine option.
Although loafers are considered the go-to "casual" dress shoe, they'll always look more formal than a pair of boat shoes.
Ultimately, loafers are incredibly versatile.
They're ideal for those in-between dress codes such as smart-casual (i.e, business casual).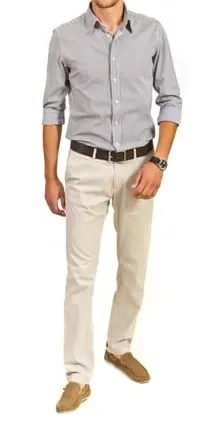 At the same time, you could easily slip them on (quite literally) for the most casual of affairs.
Having said that, certain loafers do look more formal than others. For example, black leather bit loafers will definitely look more formal than tan suede tassel loafers.
Take this into account when choosing your loafers.
They may not be formal enough to wear with a suit. But overall, the range of occasions and settings you could wear them to is wide.
Boat shoes, on the other hand, are strictly casual.
It's a staple of casual apparel and always will be. The often white and siped rubber outsoles, the color-contrasting stitching, and the decorative tunneled lacing just ooze a casual aesthetic.
You wouldn't be able to wear boat shoes to smart-casual settings. But you know what? You may not need that in any case.
2. Originality
Boat shoes are incredibly common in the summer.
So common that it may be worth taking this into consideration when choosing between these two shoes.
It's not to say loafers aren't popular; that couldn't be further from the truth.
But in the summer, the boat shoe really does epitomize the casual college campus aesthetic.
They really are everywhere, and they usually look great. A classic and slightly more sophisticated alternative to sneakers and other forms of casual footwear.
But a pair of loafers could set you apart.
They're a little less common and are a mark of a more style-conscious man. If you're looking to make a bit more of a statement without having to go too wild, a pair of loafers would be a better way to go.
Even when comparing penny loafers vs boat shoes, both incredibly popular staples of casual attire, penny loafers will always just look a tad more original and stylish.
3. Seasonality
As I mentioned before, boat shoes are built for the summer.
They're breathable, light, and comfortable.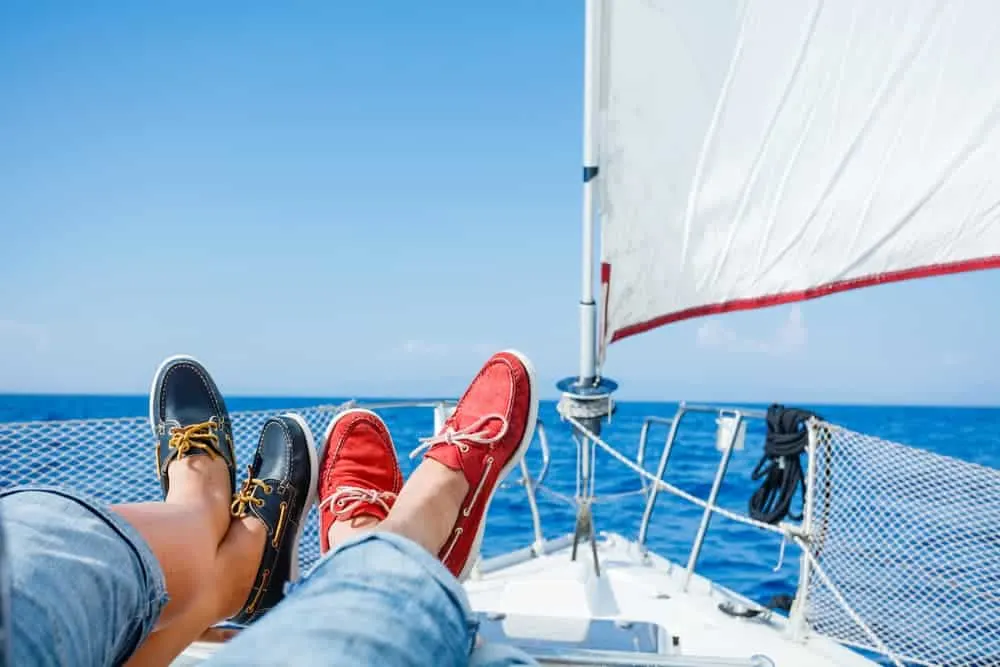 During the warmer months, it's really no surprise why they're so popular. They're a quick and easy way to make a casual outfit a touch more stylish.
But they have no place being worn in the winter. Your feet will get cold and look awkward and out of place.
If your only intention is to wear them in the summer as a casual pair of shoes, they'd be a very reasonable choice.
As their name would suggest, the water-repellant design also makes them great for summer fun near the sea.
But if you're looking for shoes that can be worn year-round, loafers are the ones to go for. Their lack of seasonality is another way in which they're incredibly versatile.
Sure, certain colors are more suited to the colder months. Plus, suede looks great in the winter.
But in general, the same pair of loafers, regardless of the color or the grade of leather, will serve you well throughout the year.
4. Comfort
If you're prioritizing comfort, boat shoes do come out on top. Your average pair of boat shoes will be more comfortable to wear than your average pair of loafers.
Some boat shoes are designed with comfort as their main focus. Features to look out for include:
A soft, padded collar and tongue
Breathable canvas upper allowing for airflow
Cushioned EVA insole footbed
Thicker, cushioned outsole
But don't fall prey to the common misconception that boat shoes make for good walking shoes.
They have no place on a lengthy hike or trek. Plus, they definitely aren't running shoes. This is because they have a distinct lack of ankle and arch support.
But for everyday, casual use, they're hard to beat when it comes to comfort.
Loafers are by no means uncomfortable, but they don't quite match up. They aren't as breathable, and there usually isn't as much scope for cushioning.
Besides hygiene, comfort is an important reason loafers should be worn with socks, while you're free to go sockless with boat shoes.
5. Cost
The cost of both types of shoes does vary quite a lot. It varies depending on the material, quality, grade of the leather (if it's leather), brand, and style.
For example, a pair of leather Gucci loafers will cost more than a regular pair of suede penny loafers.
Full-grain leather will, of course, cost more than suede.
You should expect to pay around the same amount for boat shoes and loafers at a lower price point. Perhaps a little bit more for loafers.
As you get to higher price points, the cost of loafers far exceeds that of boat shoes. This is especially true when it comes to horsebit "Gucci" loafers which are quite well-known for breaking the bank.
That's mainly down to the brand and the reputation of Gucci loafers as somewhat high-end, sophisticated, and elegant products suitable for professional use.
Ultimately, you can expect to pay either a little bit more or a lot more for loafers than you would for boat shoes.
This is partly down to its reputation as a "dress shoe" and its construction and design features.
If you're on a budget and need something strictly casual and for summer use only, boat shoes may be a slightly better option for you.
The versatility of loafers does justify the price in most cases. Just be aware that there is a wide price range, and you'll likely find a pair in your budget if you look hard enough.
Should You Wear Boat Shoes Or Loafers With Shorts?
Although both boat shoes and loafers can be worn with shorts, you should let the formality of the occasion or setting guide your choice.
Shorts can be worn as casual, semi-casual, or smart-casual wear.
If we're talking about casual shorts being worn to a truly casual setting, boat shoes would look great. For example, swimming shorts or casual linen on the beach.
But if we're talking more along the lines of chino shorts and an Oxford shirt at a smart-casual summer garden party, reach for a pair of loafers instead.
Suede would work great.
The main principle here is that boat shoes are very casual, while the versatility of loafers will also allow you to wear them in smart-casual settings.
So, should you wear socks?
When wearing shorts with boat shoes, it's really up to you. Some men prefer to wear socks, while others don't. Either option is completely fine.
Boat shoes were built with the sockless gentleman in mind.
But as I mentioned earlier, loafers should always be worn with socks for the sake of hygiene and comfort.
No-show socks or "invisible" socks are great when wearing either of these shoes with socks. They give you the comfort of wearing socks while maintaining a sockless illusion.
Loafers Vs Moccasins Vs Boat Shoes
Moccasins are different from both loafers and boat shoes because they don't have a separate outsole or heel.
They're usually made from a single material, and the lack of an outsole makes them very soft and comfortable to wear.
At the same time, they provide very little support at the heel and toe. Because of this, they're far better suited to very casual settings or for the home where minimal walking is required.
Like loafers and boat shoes, moccasins do have a stitched upper seam. The moccasin was, in fact, a crucial inspiration for the design of the original loafer or "weejun" in Norway.
The loafer is just a much more versatile shoe than a moccasin. If you had to choose between the two as the only pair you'll buy, the loafer would be wiser.
Frequently Asked Questions
Here are a few FAQs on the topic to really round things up in style.
Penny Loafers Vs Boat Shoes: What's The Difference?
Like all loafers, penny loafers are laceless and have low heels. But they also have a strap across the front with a small diamond-shaped slit. On the other hand, boat shoes have tunneled lacing and a rubber, siped sole.
Penny loafers are ideal in smart-casual settings. They can easily be used to dress up a pair of chinos or dress down a pair of dress pants.
If you were interested, I've written more about the classic loafers and khakis combination in a separate article.
In contrast, boat shoes are much more casual and better suited for outdoor activities.
In terms of comfort, both penny loafers and boat shoes are comfortable and easy to wear. Having said that, most would argue that the boat shoe's cushioned insole makes them a notch more comfortable than the penny loafer.
They both work best during the warmer months of the year when ankle-exposing footwear is preferable.
Can You Wear Loafers On A Boat?
Yes, you can wear loafers on a boat, but it's important to choose the right type of loafers and also consider the conditions you'll be boating in.
Ultimately, if you're going to be boating in wet, slippery conditions, boat shoes would definitely be a better option than loafers as the siped soles provide much more grip.
On the other hand, if you were simply going on a casual boating trip or just lounging on a yacht, loafers would be absolutely fine.
They have a more sophisticated, smart-casual aesthetic to them and are ideal for dressier settings. But wearing them in wet conditions is unwise. Not only is it potentially unsafe, but also risks ruining the integrity of loafers' leather outer.
Are Sperry Shoes Loafers?
No, Sperry shoes are not loafers. Sperry is a popular brand of boat shoes, and Sperry shoes are not considered loafers because they have a lace-up design and distinctive moccasin-style stitching around the toe.
Sperry shoes were originally designed for boating and other water activities; the rubber sole and water-resistant material made them ideal.
Since then, they've become popular for everyday summer-casual wear, often paired with shorts, khakis, or jeans.
In fact, they've become an emblem of the Ivy/Prep scene, along with polos and varsity jackets.
Loafers have a similar association with the Ivy/Prep scene but have a distinctly dressier appearance than your everyday Sperry shoe.
Conclusion
Believe me, neither of them is going anywhere anytime soon.
They've both proven themselves to be globally recognized and even culturally important items of footwear.
Choosing between the two will mainly depend on your objectives, but also partly on your personal preferences.
Hopefully, this article has given you the knowledge to help you decide most effectively.
Ready Sleek founder. Obsessed with casual style and the minimalist approach to building a highly functional wardrobe. Also a fan of classic, vintage hairstyles.