There are those occasions that fall into the distinct grey area of being formal enough to require a hint of sophistication, but not formal enough to warrant a suit. For many men, the versatility of the chinos and blazer combo meets these needs perfectly.
The number of settings and occasions this seems suitable for may initially seem quite small. This couldn't be further from the truth.
The simplicity of these two garments will allow you to slot them into a huge number of outfits. This article aims to teach you some specific tips and tricks for pairing them with the right items for the right settings.
It's first important to clear up some confusion regarding terminology. Understanding the difference between "blazers" and "sports coats" is important when wearing them with chinos.
I'll then give you some specific tips about color matching, shoes, shirts, and wearing this combo to specific occasions like weddings and interviews.
Let's get to it.
Defining "Blazer", "Sports Coat" And "Chinos"
Out of the three, "chinos" are the easiest to define. Made of either 100% cotton twill or a cotton-synthetic blend, "chino cloth" is most commonly used to create the "chino pants" we so commonly see.
The pants are known for their military origins, first made for the US army during the Spanish-American war. They've now become known for their massive versatility, popularly worn in casual, semi-casual, and business casual settings.
FYI – "Semi-casual" refers to a dress style that's more formal than "casual" and less formal than "business casual".
"Business casual" is the same as "smart-casual", although there may be some controversy surrounding that statement.
The definition of "blazer" has been blurred so much over the last few decades. The term is often used to describe what should more appropriately be called a "sports coat" or even a "suit jacket".
Here's a suit jacket: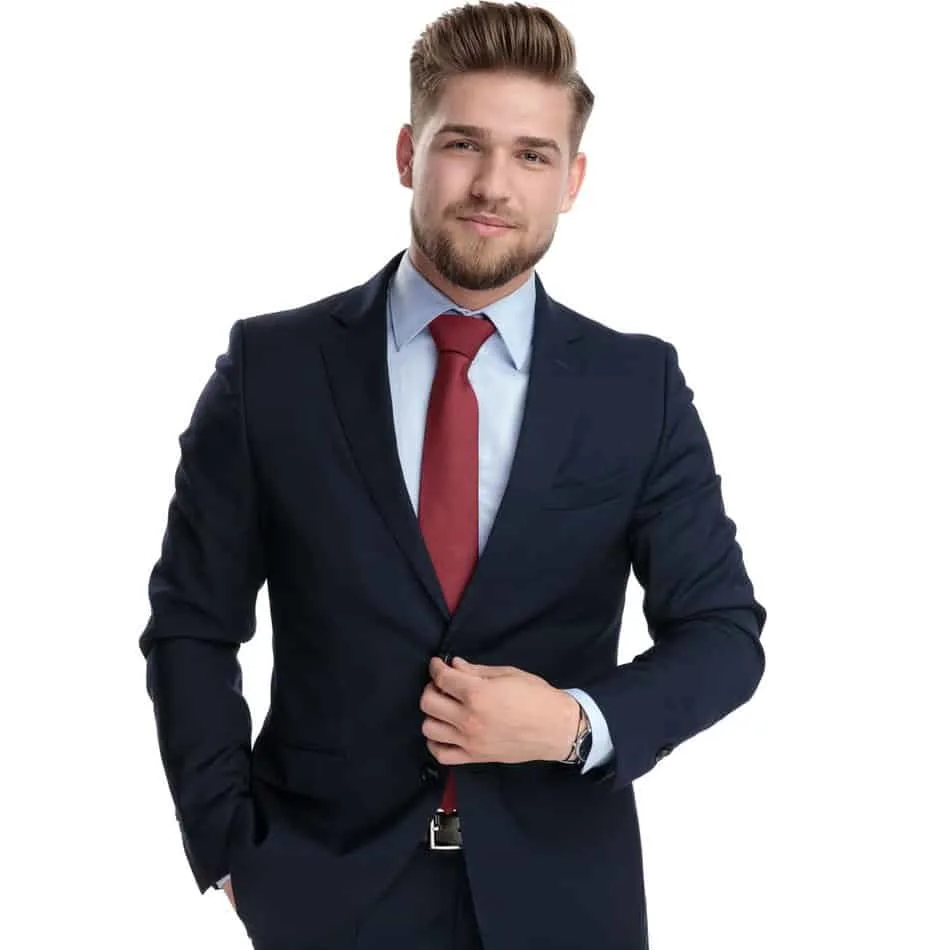 Here's a blazer: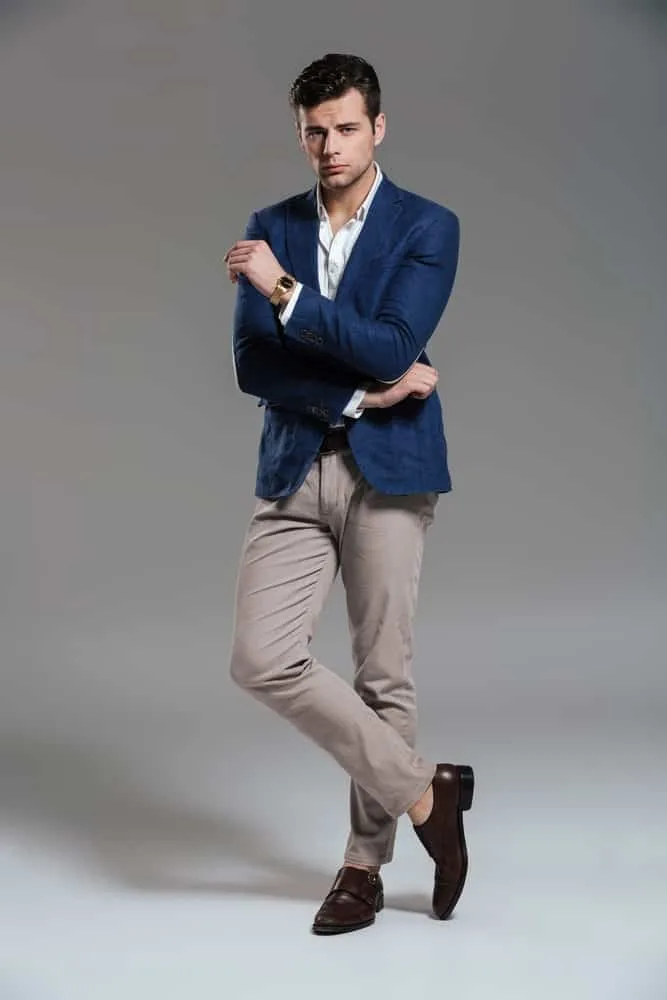 Here's a sport coat: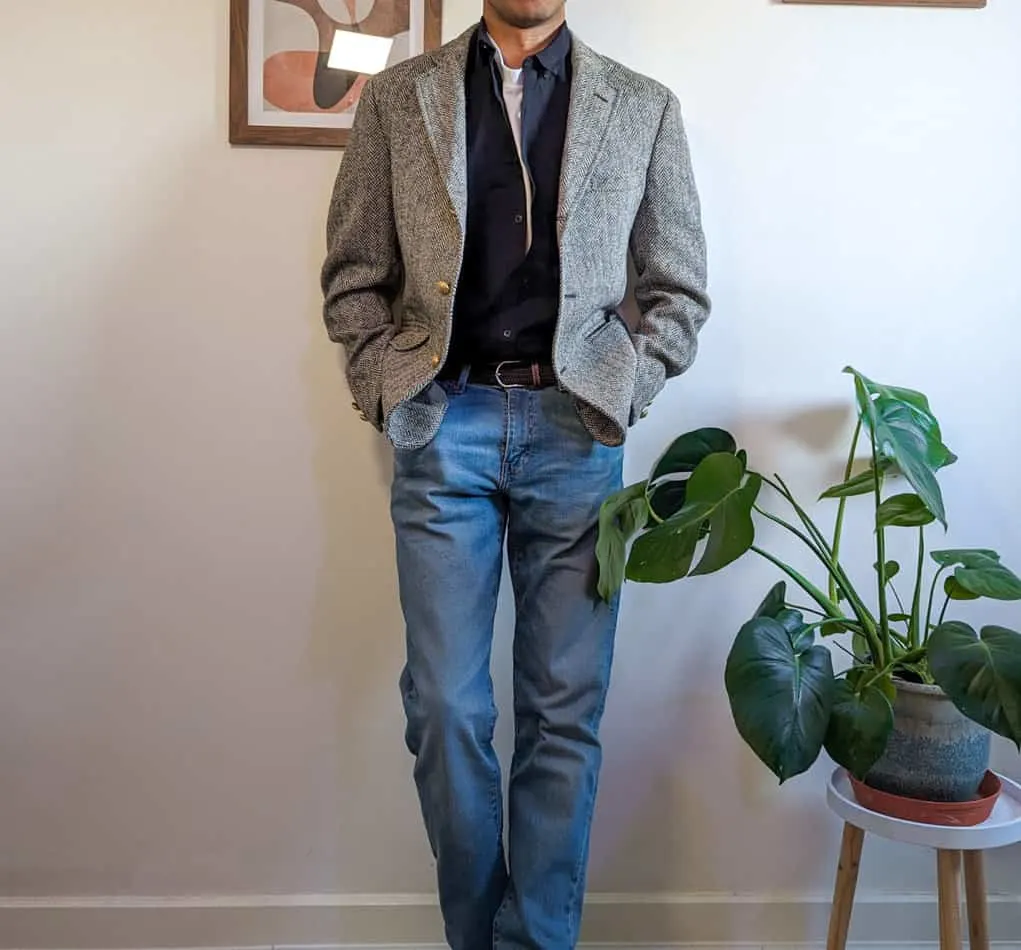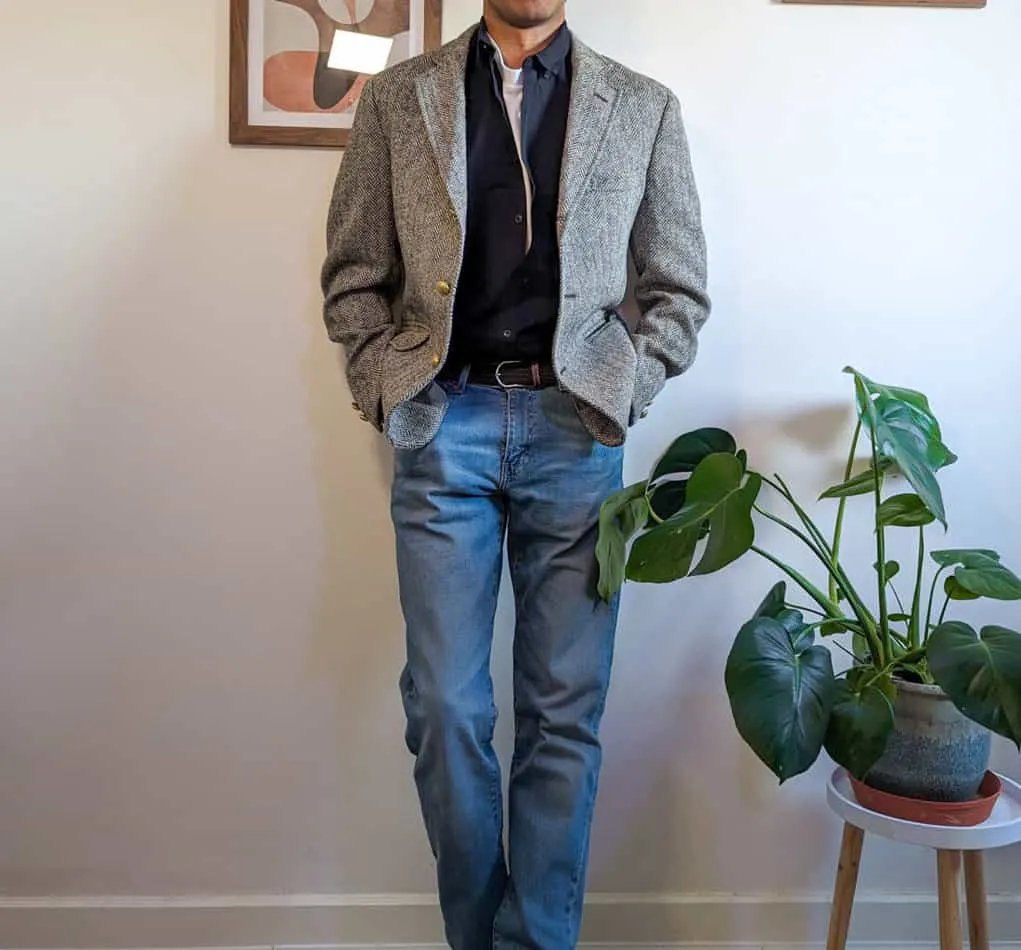 There are some specific differences between blazers and sports coats which may lead you to wear a certain pair of chinos over another.
That's why it's important to understand the distinction between suit jackets, blazers, and sports coats. It's also just a pretty useful thing to understand in general.
Although the differences between blazers, sports coats, and suit jackets can get pretty intricate, I'll keep it nice and succinct:
Suit Jacket
A jacket that comes as part of a complete suit, with matching pants +/- a waistcoat made of the same fabric.
The most formal of the three; think weddings, funerals, business meetings.
Often an absence of pattern or texture.
Solid colors such as charcoal grey and navy blue.
More "structured" with shoulder padding and sometimes increased canvassing between the inside lining and the cloth.
Suit jackets should never be worn with chinos and should only be worn with their matching trousers.
Blazer
Technically and traditionally the most specific and strictly defined jacket of the three.
Unlike suit jackets and much like sports coats, they're worn with different colored pants. I.e they don't come with a matching pair of trousers.
Most popularly colored navy blue. Usually a solid color but at times patterned in stripes. The color is usually bright, or "ablaze" as the name would suggest.
Contrasting buttons, often gold, sometimes silver, or even mother of pearl.
Not as formal as suit jackets but more formal than sports coats, often having suit-esque features such as padded shoulders (although not always).
Blazers can look fantastic with chinos, but you may want to go for chinos with more "formal" features such as those you'd find in dress pants. More on this later.
Sports Coat
Also known as a "sports jacket", it's the most casual of the three.
It's incredibly common. What most people refer to as a "blazer" today should often technically be called a "sports coat".
Often made from more textured weaves and fabrics such as tweed, with a wider variety of patterns. This makes it clear that it's not intended to be worn as part of a suit.
Less structured than suit jackets and blazers, with no shoulder padding, less canvassing, and a generally looser fit.
Sports coats also look great with chinos, with the "business casual" vibe of both pairing well for a number of settings.
What Type Of Chinos To Wear With A Blazer
After you've got a good understanding of the differences between blazers and sports coats, it's time to get an idea of what chinos to wear with each.
Remember, blazers are more formal than sports coats and the chinos you choose should reflect that.
Let's take a traditional, solid navy blue wool blazer with gold-colored buttons and notched lapels. It's fairly structured, fully lined, and has shoulder padding.
The traditionally more "formal" features of a blazer such as this, including an absence of pattern and a smooth texture, would be better suited to a more "formal" pair of chinos.
This can be quite hard to define, but there are certain features to look out for with chinos that make them more "formal".
Essentially, if they resemble dress pants more than they resemble jeans, they're more formal.
Center Crease – A crease down each leg is a typically more formal feature.
Welted pockets – Also a formal feature. In contrast, patch pockets are more casual.
Seam details – More formal chinos have minimal visible seam details on the inner legs.
I'll finish by saying that although chino features such as this aren't essential when wearing a blazer, it does help when the formality of the pants matches the jacket.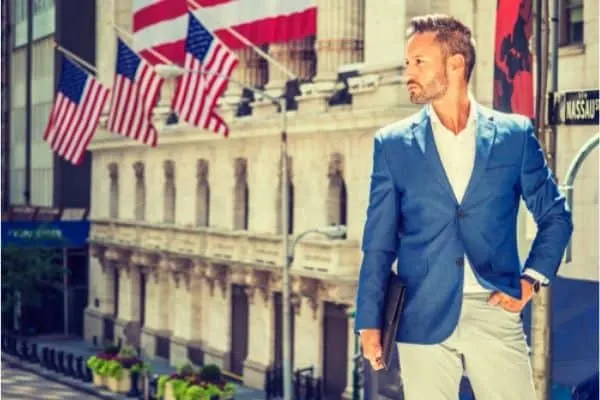 What Type Of Chinos To Wear With A Sports Coat
The casual features of the commonly worn sports coat, including a rugged, textured appearance and more obvious patterns, makes them a more versatile choice when choosing a pair of chinos.
Even the more casual looking chinos, with patch pockets, the absence of a center crease and obvious seam details can pair well with a sports coat.
Such is the versatility of the mighty sports coat.
The combination of a sports coat and a regular pair of chinos may work perfectly well for business casual settings, garden parties, sporting events, and so on.
Having said this, more formal pairs of chinos like in the picture above also work great with sports coats.
Color Matching Chinos With Blazers And Sports Coats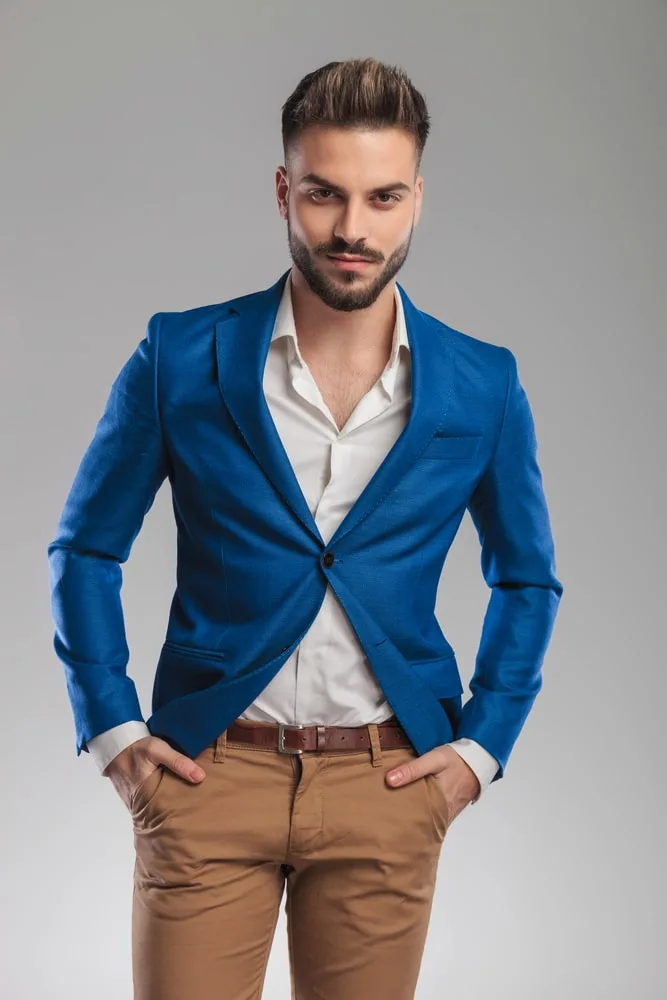 The differences between blazers and sports coats are less relevant here. Regardless of which one you go for, keeping it simple when it comes to color will make your life a lot easier.
As always, sticking to a basic, neutral color scheme will allow you to mix and match many of your items with ease, including jackets and chinos.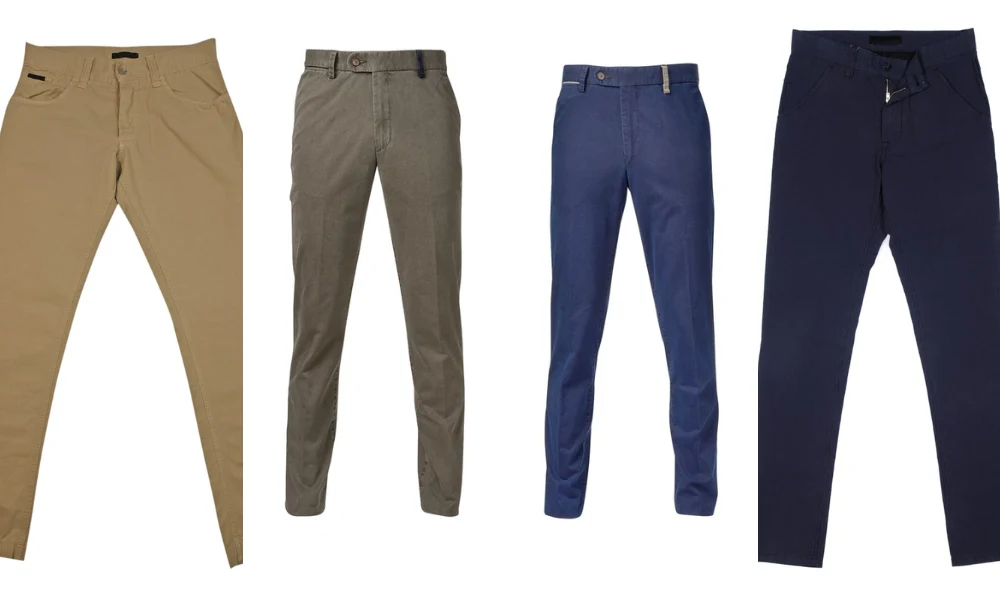 Typically "neutral" colors include black, brown, charcoal grey, navy blue, khaki, and olive green.
Although this may seem restrictive, there are potentially a huge number of color combinations within this scheme.
Let's use a few examples with pictures. I'll use the term "blazer", but when it comes to color, the same rules apply to sports coats.
Navy Blue Blazers And Chinos
The classic navy blue blazer pairs well with cream, stone, khaki, beige, olive green, grey, and black chinos.
Contrasting the dark undertones of navy blue with lighter shades such as stone and beige can be particularly striking.
Grey Blazers And Chinos
Although blazers are more commonly and traditionally found in navy blue, you can get modern hybrid jackets in black, grey and other colors as well.
Of course, sports coats can come in a huge range of colors. But sticking to a neutral, muted color such as charcoal grey brings huge amounts of versatility.
Grey blazers and sports coats work great with navy blue, black, beige, khaki, and olive green chinos.
Lighter shades of grey work well with darker colored chinos such as navy blue and black.
Bear in mind, however, that the more contrast there is between the jacket and pants, the less formal it looks overall.
Black Blazers And Chinos
Although less common, in much the same way, a black blazer or sports coat can be paired with neutral colors such as charcoal grey, stone, and beige chinos.
As you'd expect, they generally work better with chinos of a lighter shade.
What Shoes Should You Wear With Chinos And A Blazer?
Traditionally more formal leather shoes such as loafers, oxfords, Derbys, and bluchers work very well with chinos and blazers.
They'd also work well with chinos and sports coats.
In general, opting for a pair of shoes that leans towards the formal end of the spectrum is a safer option.
The more casual the shoes, the greater the risk of a potential mismatch with the traditionally more formal blazer or sports coat.
Having said that, the blazer, chinos, and boat shoes look can be fantastic for semi-formal garden parties and other summer events.
You'll have to assess how formal the occasion is before deciding whether or not they would be appropriate.
Tips:
The more patterned the dress shoes are (brogue), the more casual they'll look.
The lighter the shade, the more casual they'll look. Black will also always look more formal than brown.
Slip on shoes (loafers and monkstraps) are more casual than laced (Derby shoes and Oxfords).
Although boat shoes and even white sneakers can work well with chinos and a blazer or sports coat, underdressing for a specific occasion will always be a risk.
What Shirt Should You Wear With Chinos And A Blazer?
Both OCBD (Oxford Cloth Button Down) shirts and dress shirts work well with chinos and a blazer.
The same goes for sports coats.
Which one you choose will once again depend on how formal the occasion is. If, for example, you're attending a wedding, a dress shirt would be a more appropriate option.
For casual and semi-casual occasions, the extremely versatile OCBD shirt would most likely be perfectly appropriate.
Much like the chino pants and blazer, go for basic, neutral colors when it comes to your shirt. White and baby blue are the hot favorites when it comes to prepping a minimalist wardrobe.
The white shirt, blue blazer, and stone or khaki chinos will always be a very effectively coordinated outfit that's hard to go wrong with.
The T-shirt, chinos, and blazer look is no-doubt a popular aesthetic. It's a great way to add a bit of zest and formality to an otherwise truly casual outfit.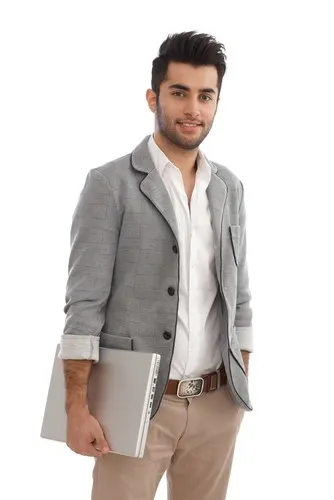 It does work better with a sports coat, however, as the traditionally casual features, textured fabric, and looser fit creates less of a mismatch with the T-shirt.
In this circumstance, going for more casual shoes such as white sneakers, boat shoes, and suede loafers could work very well indeed.
Should You Wear A Tie With Chinos And A Blazer?
A tie can be a great way to add a touch of visual pop to the chinos and blazer combination.
The type of tie worn once again depends on how formal the occasion is and what you intend to wear with it.
Let's say you're intending to wear a tweed sports coat and a regular pair of chinos to a fairly casual garden party. A traditionally more "casual" linen or cotton tie would be suitable. Lightweight, textured fabrics are great for casual settings.
However, linen and cotton crease easily and so wouldn't be as suitable for those more formal occasions where you're whipping out your navy blue blazer and your smartest pair of chinos.
A silk tie or even a woolen tie during those winter months, would be more suitable here.
When it comes to color, you can choose to stick to the neutral, understated colors you've used for your chinos and blazer and select a similarly muted tie.
This will always work well.
However, you may choose to use the tie as an opportunity to add a hint of visual vibrance and zest.
For example, pair a navy blue blazer with a burgundy red tie. Patterns such as polka dots and stripes can also break up the outfit and draw attention.
Having said all this, make sure that the occasion you're dressing for is formal enough to actually warrant a tie. Wearing a tie inappropriately is a quick way to seem overdressed.
This isn't the end of the world as a tie can very easily and discretely be removed. But think carefully about whether it's necessary before putting one on.
Can You Wear Chinos And A Blazer To A Wedding?
Wearing chinos and a blazer to a wedding can often look formal and appropriate enough for the occasion. It's an effective way to stand out, but it's important that the dress code allows for it.
Weddings that demand a formal suit will often specify as such in the details provided.
If it doesn't, although wearing a suit may well be a safer option, a well-coordinated blazer and pair of smart chinos will most likely be fine.
It can work particularly well for the more "casual" summer weddings.
Overdressing is better than underdressing, however. Opt for a traditional navy blue blazer over a sports coat if possible.
With shoulder padding and more prominent canvassing, the more structured appearance of the jacket will give off a more formal vibe.
The chinos you wear should also be formal and smart enough for the occasion; think center creases and welted pockets and go for neutral, muted colors.
Wear a white dress shirt and strongly consider wearing a tie.
If you turn up and find that you're the only one wearing a tie to a particularly casual wedding, simply take it off. No harm done.
Again, overdressing is much less of a problem than underdressing, particularly when it comes to weddings.
Can You Wear Chinos And A Blazer To An Interview?
Chinos and a blazer can be worn to an interview if a business casual dress code is considered appropriate in that particular setting, workplace, industry, or profession.
You may well have been given specific instructions to dress "formally". If this is the case, wear a full suit and don't take a risk on chinos.
The stakes are simply too high.
A simple rule-of-thumb to follow would be that if the job you're applying to will require that you wear a full suit to work every day, do not risk wearing chinos and a blazer.
Wear a full suit to the interview.
Corporate workplaces such as law offices and investment banks come to mind. When attending these interviews, it's unlikely that chinos and a blazer are going to cut it.
But there are plenty of workplaces which pride themselves on their often vaguely specified "business casual" dress code.
These professions are usually and almost stereotypically more "creative". Marketing and design come to mind.
Attending these interviews in a blazer or even a sports coat and chinos may well be absolutely fine. It's likely to be more formal than what you'll typically wear during a normal day of work there if you get the job.
If you aren't sure, be sure to ask whoever you feel would give you a sensible answer. Ask other people in the field for their opinions and dress as appropriately as you can.
To sum that up, the appropriateness of this combination will largely depend on the type of job you're applying for. Do your research and think about this carefully.
Once again, if in doubt, overdress instead of underdressing. If you do choose to wear chinos and a blazer or sports coat, be sure to choose formal leather shoes and maybe even sharpen things up with a necktie.
Conclusion
There you have it. Hopefully, everything you could possibly want to know about this classic combination.
Every man should have at least one of each in his wardrobe, and will most likely find themselves coming back to them time and time again.
The versatility of these items is a gift. There's really so much scope for experimentation.
Have fun with it.
Ready Sleek founder. Obsessed with casual style and the minimalist approach to building a highly functional wardrobe. Also a fan of classic, vintage hairstyles.