Certain blazer combinations ooze an effortless sense of sophistication, while others tend to look awkward more often than not. The question is, can you wear a blue blazer with chinos?
A blue blazer can easily be worn with chinos in business-casual and smart-casual settings, with neutral-colored chinos (eg. grey, cream, khaki) often working best. When dressing up, blazers in dark shades of blue such as navy or midnight blue look great.
That's the gist, but you'll need a whole lot more than that.
After going through some tips on wearing blue blazers with chinos in the best way, we'll finish up with a couple of FAQs you really need to know.
So, let's get to it.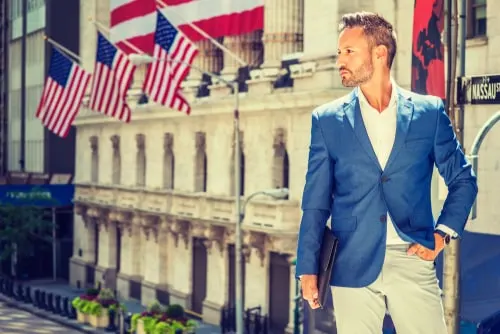 7 Tips For Wearing Blue Blazers With Chinos
It's important to consider all of these before putting your outfit together. Blazers and chinos are both versatile items in their own right.
But combining them does need to be done the right way to get the best outcome possible.
So, let's get to it.
Consider The Dress Code
A blue blazer and chinos combination is best suited to business-casual and smart-casual environments. It shouldn't be worn in formal or business-professional settings.
While it probably goes without saying, it should definitely not be worn in black-tie settings.
While that may sound restrictive, the business-casual and smart-casual dress codes are actually applicable to a huge range of events and settings.
Smart-casual settings are those where wearing a pair of jeans would be too little but a full suit would be too much.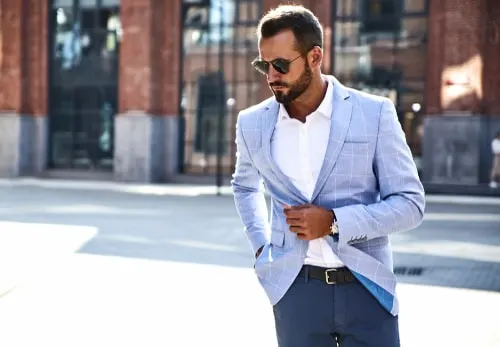 Business-casual settings are those where a mix of casual and professional items is encouraged. It's a broad term that's often used confusingly and incorrectly – but in general, suits, ties, and jeans are discouraged.
A blue blazer and chinos combination is considered ideal business-casual attire.
Consider The Shade Of Blue Blazer
The more you're looking to dress up, the more likely it is that a blazer in a dark shade of blue would be a better option when wearing chinos.
Examples would include royal blue, navy blue, and midnight blue.
Business-casual as a dress code is a spectrum that can refer to a variety of different settings and events.
There will always be those business-casual events where there's still a risk of underdressing. If you feel as though this is the case, go for a dark blue blazer to be safe.
When dressing for a smart-casual event, you've got the freedom to go for a blazer in any shade of blue you can think of. It doesn't matter.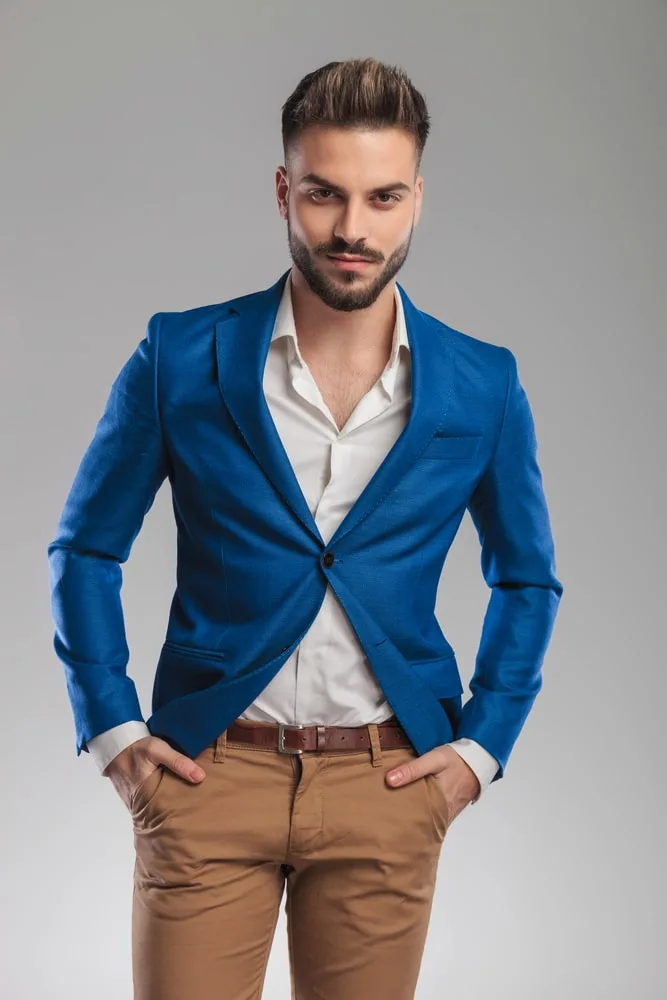 Neutral Chino Colors Work Best
When wearing a blue blazer, neutral-colored chinos work best.
While the true neutrals are black, white, and grey, when it comes to men's style, you've got a wide range of neutral-adjacent colors.
These are colors that aren't technically neutral but are muted enough to be considered as such. They're incredibly easy to pair with other items no matter how bold and vibrant those items may be.
Here's a list of neutral chino colors you could wear with a blue blazer:
Brown
Grey
Cream
White
Khaki
Black
Tan
Olive Green
When choosing, consider how much contrast you want between the blue blazer and the chinos.
A high-contrast combination would be one where you've gone for a dark blue blazer and a light-colored pair of chinos.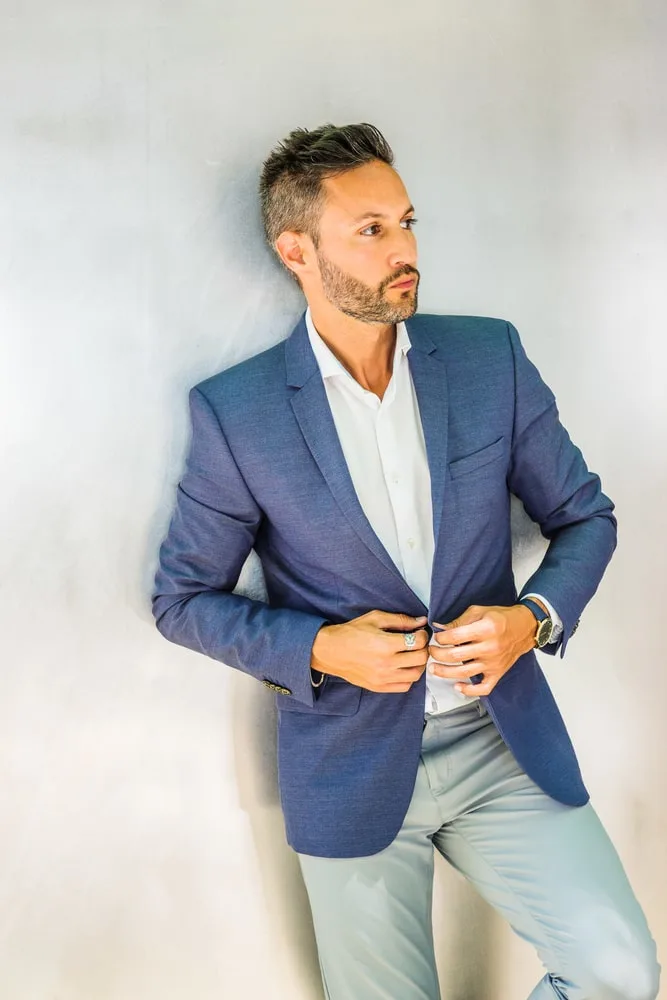 A low contrast one would be where you've gone for a dark blue blazer and a dark-colored pair of chinos such as dark brown, black, or dark grey.
For example, a navy blue blazer with a white or beige pair of chinos.
There's no right answer here. It just depends on how much contrast appeals to you. In general, high-contrast combinations tend to be more eye-catching and attention-grabbing.
Consider The Blue Blazer's Fabric
It's no secret that certain blazer fabrics and weaves will come across as more dressy, while others will come across as more casual.
To keep things simple, the shinier and less wrinkly a blazer is, the more formal it'll look.
Worsted wool is a typically formal-looking fabric that's commonly used to make dressier blazes.
More casual blazer fabrics you're likely to see include serge and linen. Rugged weaves such as herringbone, tweed, and seersucker also have quite a laid-back and casual look and feel to them.
So, when you're looking to wear a blue blazer and chinos combination but want to dress up, consider a more formal-looking fabric or weave.
However, given the fact that you're wearing a chinos combination and not a 2-piece suit, it's quite likely that you aren't dressing up to that extent in any case.
That's why you're probably better off going for a more casual blazer fabric such as serge, linen, or any of the others listed above.
Go For "Dressier" Chinos
"Chinos" is simply a term used to refer to pants made from the cotton twill chino cloth.
They can look very different depending on their color and construction.
When wearing a blazer, "dressy" chinos often work best.
While chinos could never really be considered "formal", it's hard to deny that certain pairs of chinos do look more formal than others.
Going for a neutral-colored pair of chinos is a good first step – these will always look dressier than chinos in bolder and more vibrant colors.
Here are some other features that dressier chinos may have:
Tapered fit
Jetted or welt pockets instead of patch pockets
Minimal seam details
Center creases
To sum that up, the less a pair of chinos looks like jeans, the dressier it tends to look.
Careful With Shirt Color
While a blue blazer is versatile enough to pair with a variety of different colors, it'll still always be more vibrant than a black or grey blazer.
This is especially true if you're wearing a blazer that's a lighter and brighter shade of blue such as baby blue or teal.
In most cases, you'll want to keep things simple with the other items in your outfit to reduce the risk of a color clash.
The shirt is a major item in the top half of your outfit. To keep things subtle, go for a simple white or maybe a light blue shirt.
Shirts in these colors have a traditionally formal look to them and make color-matching your other items much simpler.
No matter what shade of blue blazer you've gone for, it'll always work and won't ever come across as too much color.
Brown Dress Shoes Work Best
When wearing a blue blazer and chinos combination, brown dress shoes tend to work best.
If you were looking to wear the combo in a dressier setting, dark brown dress shoes would be more appropriate.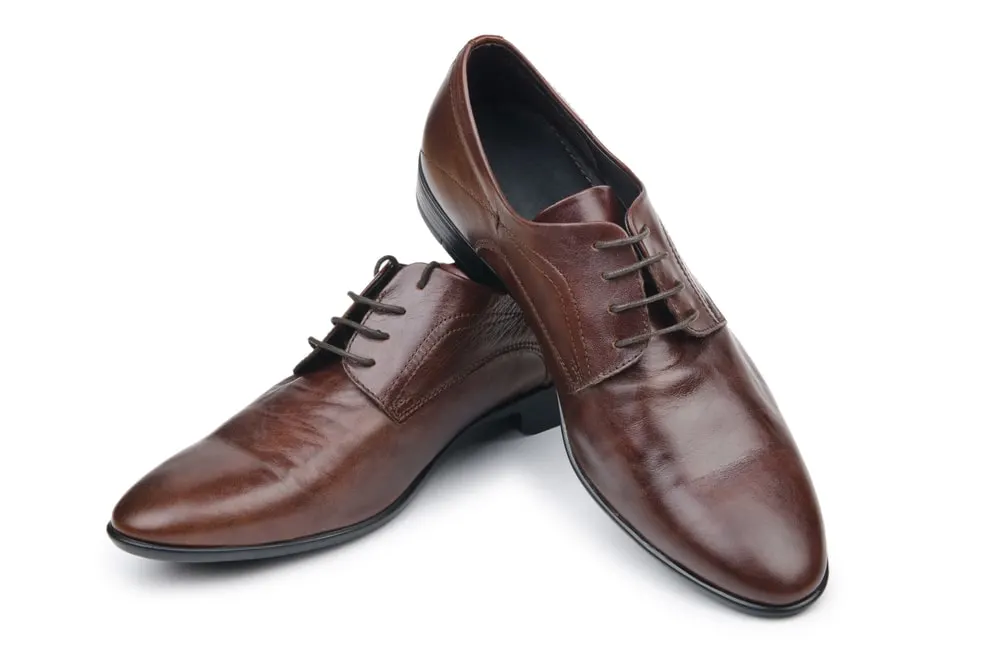 When dressing down, feel free to go for a light brown pair of shoes (eg. tan).
This isn't a hard-and-fast rule. You could go for a less traditional shoe color when wearing a blue blazer and chinos pairing to a more casual setting.
However, brown shoes would always be the easiest option. They're versatile enough to be worn with chinos in any neutral color.
In terms of the shoe style, you've got plenty of options.
A pair of brown Oxfords would likely be a little too formal to wear with a pair of chinos – just something to bear in mind.
Brown monk straps, loafers, or Derby shoes would be much better options.
Frequently Asked Questions
Here are a couple of frequently asked questions on the classic combo to finish up.
Can You Wear A Blue Blazer And Chinos To A Wedding?
A blue blazer and chinos combination should only be worn to more casual weddings. A 2-piece suit would be the more appropriate option for traditional and formal wedding ceremonies.
It's important to be cautious here.
While a blue blazer and chinos may be appropriate for certain weddings, it's important to consider the dress code carefully.
If the wedding dress code is clearly "smart-casual" – a chinos combination would probably be fine.
However, if it's anything more formal than that, avoid the blazer and chinos combination and go for a full suit instead.
Can You Wear A Blue Blazer, Chinos, And Black Shoes?
In general, a blue blazer and chinos option looks better with brown shoes than it does with black shoes.
The reason for this is that black shoes will always have quite a formal-looking edge to them. Black is the most formal color, after all.
While you could wear a blue blazer and chinos combo with black shoes, it'll usually lead to a formality mismatch.
At the end of the day, chinos are a pretty casual item (no matter how dressy your pair may be), and wearing them with formal-looking black shoes often looks a little awkward.
Conclusion
A blue blazer can be worn with chinos in a wide range of settings.
It strikes a fine balance between formal and casual in a way that few other combinations are able to achieve.
Consider the colors, the fabrics, and the dress code and you're well on your way to wearing it in an incredibly effective way.
Enjoy.
Ready Sleek founder. Obsessed with casual style and the minimalist approach to building a highly functional wardrobe. Also a fan of classic, vintage hairstyles.