There's something so appealing about keeping things simple when it comes to color matching your outfit. But does it always work out? More specifically, can you wear a black T-shirt with black jeans?
A black T-shirt can be worn with black jeans to casual and smart-casual settings. Consider tucking it in and choosing tapered black jeans for a more minimalist aesthetic. Add contrast by also wearing white shoes and a belt with a shiny buckle to prevent it from looking too monochromatic.
Although that's the short answer, there's more to it.
Here are some essential tips for pulling off this classic, yet simple combination in the most effective way possible.
Let's get to it.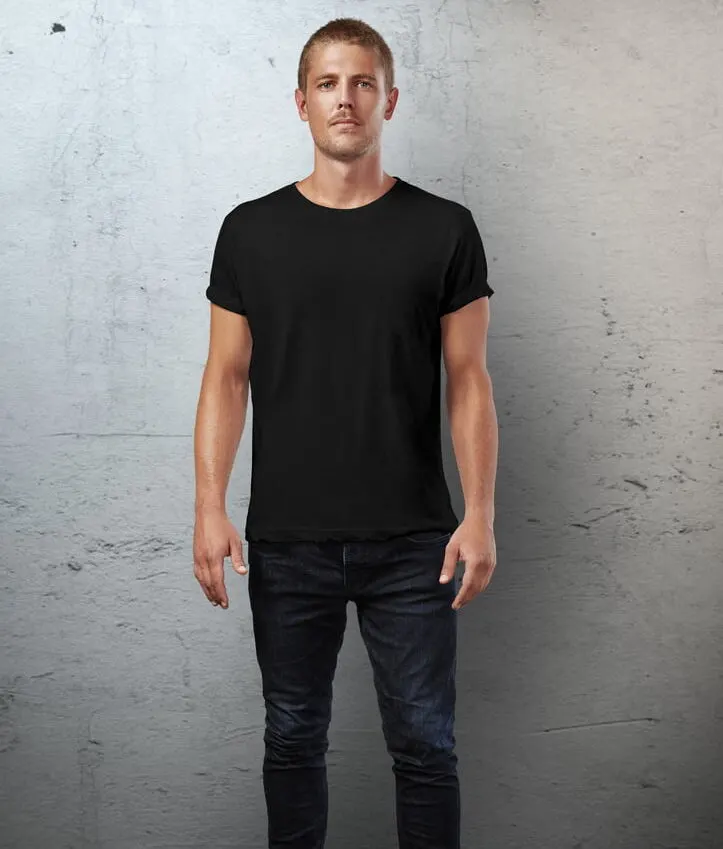 1. Make Sure It's Appropriate
At the end of the day, the black shirt and black jeans combination should only be worn in casual settings.
Whether it's heading to a friend's party or going to the local bar, this look should serve you well.
Now, there are certain ways in which you can "dress up" this look (as you'll see later on). However, the dressiest you could make it would amount to "smart casual" and nothing more.
It wouldn't be appropriate for business-casual settings and it definitely wouldn't be OK for formal settings.
The great thing about black jeans is that they have a more "formal" look to them than blue jeans.
No matter what clothing item we're talking about, black will generally be the most formal-looking color to wear it in. Jeans are no exception.
But ultimately, both T-shirts and jeans are staples of casual clothing and shouldn't be thought of as anything else.
If you feel as though the look could still work great for the setting you're dressing for, read on to find out how to do it in style.
2. Consider Tucking It In
Tucking a T-shirt into a pair of jeans may not appeal to some. After all, T-shirts are a pretty relaxed item of clothing.
What's more relaxed than letting it hang out untucked?
But tucking a black T-shirt into black jeans has an elegant feel to it and is a simple way to make a simple combination look a lot more stylish.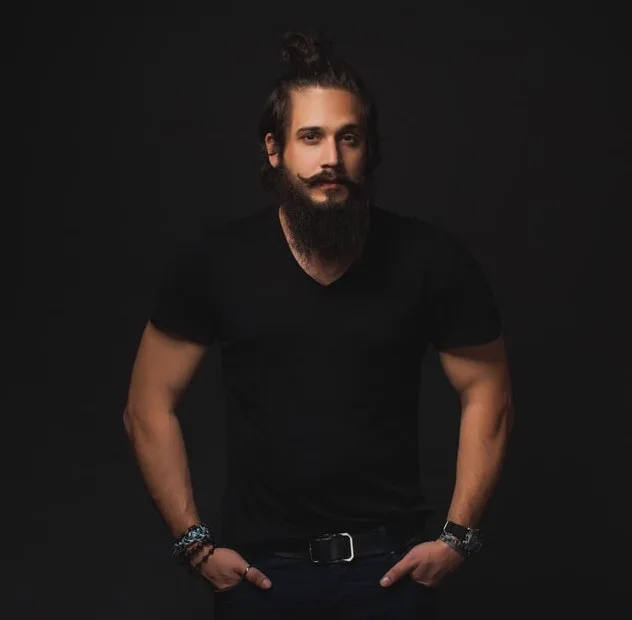 It's also a great way to make an oversized black T-shirt look more slim-fitting.
In general, the tucked-in black T-shirt look does work better when it's a plain black T-shirt with very little branding (if any).
This tends to look more mature and stylish.
3. Tapered Black Jeans With Minimal Distressing
While baggy black jeans have their place, they don't tend to work well with black T-shirts. Slim-fit, tapered black jeans look a lot better.
Overall, you're aiming for a slim-fitting, tapered silhouette from top to bottom.
Tucking your T-shirt in is one way to achieve this.
But going for slim-fit, tapered black jeans is an easy way to make sure of it. It's the way to go if you're looking for a sharper and more sophisticated version of this casual outfit.
The black jeans should gradually narrow as you go down from the knee to the ankle, wrapping around the lower leg while still remaining comfortable.
Overall, this will give them a more "formal" edge than baggy black jeans would.
Another way to make the outfit look more elegant is to choose a pair of black jeans with minimal distressing.
"Distressing" refers to the process of making jeans look more worn out by using techniques such as fading, rips, frays, stonewashing, and more.
While this vintage look has its place, it does make a T-shirt and jeans combo look so much more casual.
Wearing a black T-shirt gives you the opportunity to go for more of a "smart casual" appearance.
Going for a dark wash pair of black jeans with no or minimal distressing is one way to get you there.
4. Choose Minimalist Shoe Colors
When wearing a black T-shirt with black jeans, go for minimalist shoe colors like black, brown, or white. If you do go for more of a contrasting color, choose dark shades such as burgundy red.
Going for a monochromatic, all-black look does mean you have to think a little harder about the color of the shoes you wear.
While you could go for black shoes, you lose the opportunity to add a bit of contrast and prevent a totally monochromatic look.
Brown shoes work well here, as do white shoes. Both shoes are neutral and pair well with black.
Here's an example of a pair of black and white sneakers on Amazon. They add enough contrast to really make it work:
It can be tempting to add a splash of color using your shoes, such as going for red, green, or anything else.
In theory, this is fine. In fact, the contrast can be striking and really make the otherwise entirely black outfit stand out.
But if you do go for colors such as these, it's important to choose dark shades of them so they don't contrast the black too much.
Burgundy red is a good example of a shoe color that would work well with a black T-shirt and black jeans.
It's different enough from black to really stand out while being dark enough to not conflict with it too much.
In terms of the style of shoe you choose, it really depends if you want to go really casual or less casual.
You could go for a pair of sneakers if you wanted to keep things laid back.
Or you could go for a pair of suede dress shoes such as Derby's or monk straps if you wanted to dress things up a notch.
You've got options – color is more important than style and construction here.
5. Black Leather Jackets Work A Treat
A black leather jacket over a black T-shirt paired with black jeans is such a timeless combination. It's really hard to go wrong with.
The sheen from a black leather jacket does give it a dressier aesthetic but it would still definitely fall with the "casual" category.
But layering one over a black T-shirt is an incredibly simple way to make a simple combination more interesting.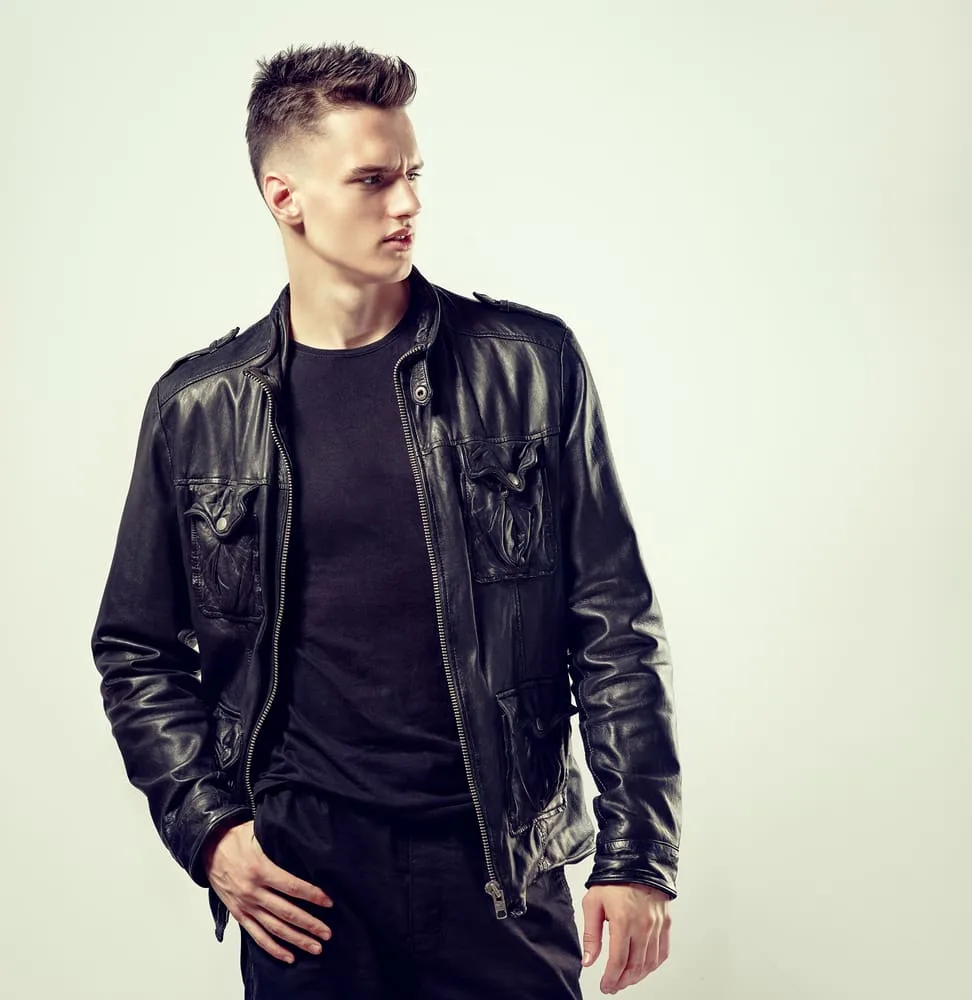 While you could go for a brown leather jacket here, black leather jackets tend to work better.
The sheen and texture of the black leather jacket are enough to stand out from the black T-shirt and add enough contrast to make it work.
However, wearing a black leather jacket on top of this totally black outfit does make it more beneficial to choose a non-black pair of shoes to add some contrast.
If you really wanted to take this classically edgy look to the next level, add a pair of sunglasses and a black or dark grey beanie to really round things off in style.
6. Try Dressing It Up With A Black Blazer
Wearing a black blazer with a black T-shirt and black jeans is a simple way to dress things up. The beauty of a black blazer is that it really can't get any more simple.
It's almost as though it's cheating.
You pop on an effortlessly simple yet casual combination like a black T-shirt and black jeans and can instantly convert it into a smart-casual outfit by simply popping on a black blazer.
The great thing about blazers, in general, is just how versatile they are.
They can be worn with more formal outfits such as dress pants combinations, as well as more casual outfits like chinos or jeans ensembles.
The main thing to consider when selecting the fabric of your black blazer would be the weather.
In warmer weather, consider a black blazer made from a more breathable fabric such as hopsack or a poly blend.
In cooler weather, consider a black blazer made from a more insulating fabric or weave such as tweed. It won't just feel more comfortable – it'll also look more seasonal and stylish.
7. Break Things Up With A Shiny Metal Belt Buckle
Adding a belt with a shiny metal buckle is a quick way to break up a black T-shirt and black jeans combination and prevent it from looking too monochromatic.
The bigger the better (to an extent).
The glare from the buckle will add a good amount of contrast to the straightforward outfit.
It's almost as though it splits the outfit into two instead of each component simply blending into the other.
Now, this is really only important if you're tucking the T-shirt into the jeans (as per the earlier tip).
If you're letting the black T-shirt hang out, it really doesn't matter how shiny your belt buckle is as it won't be seen.
But if you are tucking that tee in, it's a great way to add yet another element of sophistication and elegance into this simple, yet timeless combo.
Ready Sleek founder. Obsessed with casual style and the minimalist approach to building a highly functional wardrobe. Also a fan of classic, vintage hairstyles.