The growing popularity of cowboy boots can't go unnoticed; they're a stylish asset to any man's wardrobe and look great with skinny jeans. So, can you wear cowboy boots with skinny jeans?
Cowboy boots can be worn with skinny jeans and look best when there's a good balance between colors, fit, and accessories. For color, stick to mid-dark washes of jeans with brown boots. The fit should match your proportions. Your accessories should be simple and understated.
This, however, is only the short answer – there's much more to it.
Read on for an in-depth explanation of how to wear cowboy boots with jeans.
How to Wear Your Skinny Jeans Over Cowboy Boots
When wearing cowboy boots with jeans, you must combine these pieces the right way. Considering the length of your skinny jeans is a major factor in this.
While covering your boots with jeans is the most accepted way of wearing this outfit, it isn't the only way. You can also show off the boots – particularly if they have a pattern.
Furthermore, covering your cowboy boots isn't possible when wearing skinny jeans, so we'll show you the best ways to wear them.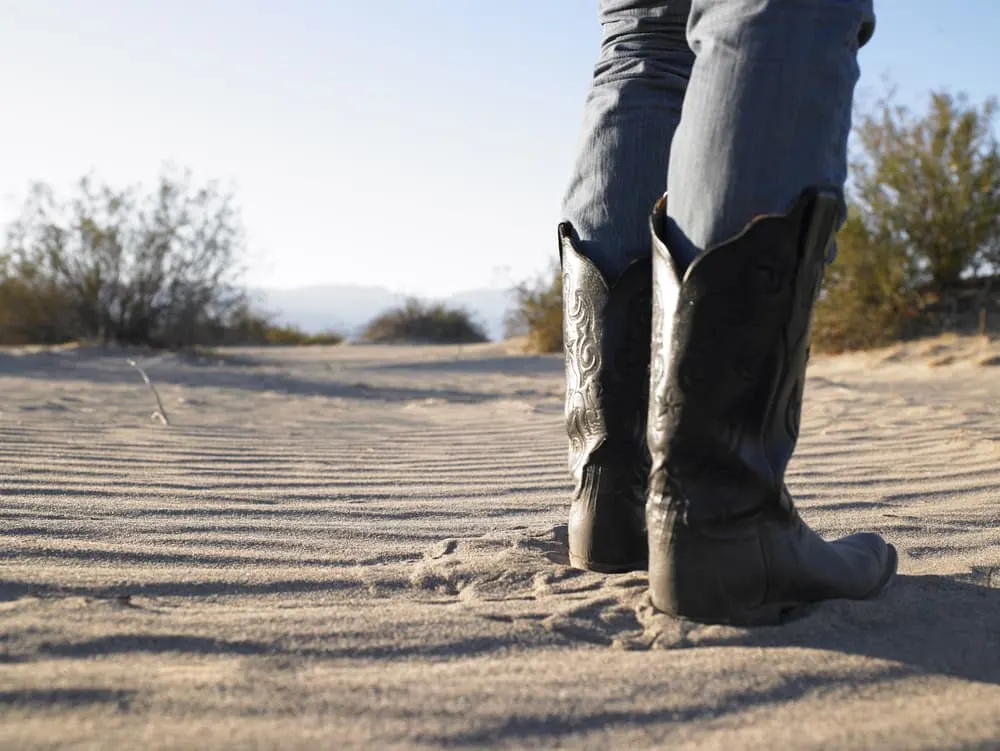 When wearing skinny jeans, there are two ways that you can show off the decorative pattern or the prime leather of your cowboy boots.
One way to make it work is by wearing jeans that fit just above the instep of your cowboy boots.
This looks especially great if you're wearing western boots, as these often have details that can remain visible.
Additionally, this can work well if the boots are in an irregular shape that can't be hidden easily by jeans.
Another way you can wear skinny jeans with cowboy boots is by wearing them underneath the boots, instead of resting them on top.
The thick fabric of your skinny jeans must fit underneath the boots, so it's important to make sure there's a harmonious balance between the two.
Otherwise, you can be left feeling uncomfortable and unnecessarily restricted. Try them on together before you purchase if you know this is the combo you'll wear frequently.
To make sure that they fit underneath your boots adequately, you may also want to look at the best practices for wearing skinny jeans which all comes down to the fit.
Read on to find out more.
Perfecting The Fit Of Your Skinny Jeans Over Cowboy Boots
There's no one-size-fits-all when it comes to skinny jeans. You should take note of the details that will come into the fit of your jeans when wearing them with cowboy boots.
You'll find the most success by being aware of your proportions and body type and knowing what length and width will flatter you the most.
Here are the details you'll need to know:
1. Know Your Proportions
By keeping in mind the best proportions for your body type, you'll be able to balance out the look much better.
This is especially important when wearing them with cowboy boots that will be shown because it can also throw the balance of the boots off your jeans as well.
We recommend that if you have a slimmer build, you opt for standard skinny jeans that are slightly looser so that your overall shape is complemented rather than exaggerated.
If you have a build that is slightly stockier and proportionate, jeans that are more form-fitting will flatter you.
For those with bigger builds, wear skinny jeans with either higher waists or that sit on your hips. Avoid jeans that are too tight around the waist.
2. Get The Right Jeans Length
It's important to note that your skinny jeans will likely ride up more than other types of jeans because of how tight they will be.
To rectify this many will buy skinny jeans that are an inch or two longer than their usual pairs.
This will be especially important to do if you're wearing them above your boots rather than inside them because it will look unattractive if they are too high up your thigh.
You may not need to do this if you are only going to wear your skinny jeans inside your boots, however, if you wear them with other shoes this would be a good idea.
3. Not Too Tight
As already established, how tight your skinny jeans should be will depend on your proportions but there's also more to note about the tightness.
It's paramount that when wearing your skinny jeans they do not restrict your movements in any way. Try on different pairs until you're happy with the feel.
They should be tight enough for the seam to sit closely on your thigh but the jeans should not pull when you bend your knees or sit down.
You should be able to pull up a half-inch to an inch of fabric from the thighs of your jeans, otherwise, it's too tight. Any more, and they're too loose.
If you're unsure, your safer bet is to go for jeans that are slightly too small as these will stretch a little and give room.
Slightly bigger jeans will look more and more unflattering as you wear them, so it's best to avoid this fit where possible.
4. You May Not Need A Belt
Your skinny jeans should fit well enough around your waist so that you don't necessarily need to wear a belt.
Also, wearing a belt for skinny jeans while wearing cowboy boots can make you look as if you're coming out of a western but if you're determined, you can make it work.
Here's how to avoid wearing a belt if you don't want to and some ways to make the look feel modern:
It's important that when looking for the perfect skinny jeans, your waistline is tight enough to fit snugly but not too tight for your midsection to jut out.
You should be comfortable enough to button and unbutton your skinny jeans, and you should have no problem sitting down whilst they are buttoned.
To avoid wearing a belt, you should make sure that the waistline fits you well, regardless of whether you're wearing them high or low on your waist.
How To Wear A Belt With Skinny Jeans And Cowboy Boots
You've probably heard that you should always match the fabric of your shoes with the fabric of your belt, and it's no different here.
It's likely that you'll be wearing leather cowboy boots, so a leather belt will be a perfect match to enhance the outfit.
If your boots happen to be in another fabric, such as suede for example, then you should match this too.
The color of your belt should also match the color of the shoes you are wearing.
The size of your belt matters to keep the look from feeling dated or like you are wearing a costume, especially with your cowboy boots.
It's important that the belt that you wear is 1 and a half to 1 and three-quarters inches and doesn't feature a large buckle, but an understated and simple one.
The color of your buckle can be either gold or black and your decision of which should be impacted by the color of any other accessories you are wearing.
Best Denim Color To Pair With Cowboy Boots
While it can be fun to experiment with different jeans colors and boot combinations, there's still a way to elevate the look and make it classically appealing.
The best denim colors to pair with cowboy boots are those with darker washes. Dark blue and charcoal colors will look great, as will the traditional black jeans.
Mid hues of blues are acceptable, too, especially during the spring and summer months during the day.
However, we recommend avoiding lighter washes because they don't look as good paired with boots.
Lighter jeans with cowboy boots are now more commonly associated with dressing up or recreating a retro look.
But again, we suggest avoiding these looks to maintain a fresh and modern style.
Which Cowboy Boots To Pick For Your Skinny Jeans
The best cowboy boots to choose from will depend on your style and the occasion they are for.
This may be because you want to prioritize their look over their durability or vice versa, so read on to discover what boots would best suit you.
Best Cowboy Boots For Casual Wear
When you're wearing boots casually, the main priority is usually comfort.
For this reason, we'd advise you to wear short cowboy boots. They're the easiest to walk in and are the most versatile.
Short cowboy boots are the shorter version of the traditional style western boots.
They also have the additional benefit of being easy to put on and take off, which can be convenient on days you don't want the hassle of lacing up and down.
The best skinny jeans to wear during casual days such as weekends and evenings after work are mid-dark wash jeans that are rest just above the
Best Boots For Formal Occasions
If the dress code is appropriate, you can wear jeans and cowboy boots to some formal occasions such as a western wedding.
It's best to avoid lighter colors that are more commonly associated with casual wear and stick to matching black jeans and cowboy boots.
The best boots for formal events are a classic pair of black dress cowboy boots. They usually feature intricate stitch work and patterns on the sides of them.
You can also find them in quality materials and may be stained to form a look that makes them appear slightly aged but still smart.
Again, these look best in black and paired with black, fitted skinny jeans, allowing the details to be seen.
Conclusion
And there you have it, you're now equipped with all the details on how to wear cowboy boots with skinny jeans. Hope this helps.
Ready Sleek founder. Obsessed with casual style and the minimalist approach to building a highly functional wardrobe. Also a fan of classic, vintage hairstyles.